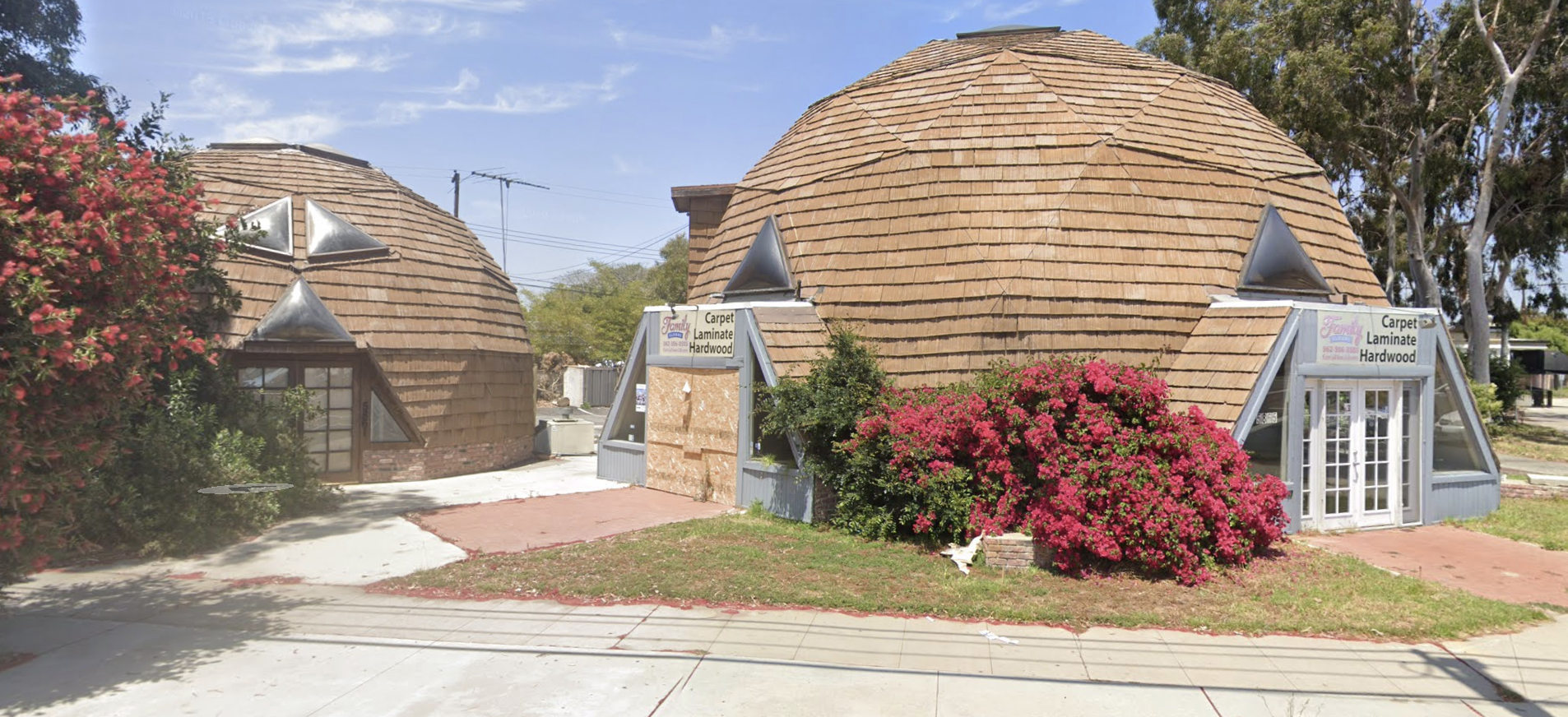 East Long Beach's domes 'dozed, but more coffee's on the way
Thirty-six years ago, a tiny portion of Long Beach leapt into the post-hippie days of new age architecture when three geodesic-like domes sprung up at the unlikely location of the corner of Spring Street and Los Coyotes Diagonal in the decidedly architecturally unadventurous Plaza neighborhood of Long Beach.
It might've been the beginning of a huge building craze in Long Beach, had the domes caught on in the rest of the city, which they didn't.
The domes were inspired by the work of innovative inventor Buckminster Fuller who, in the years following the end of World War II, espoused the concept as the ideal solution to the post-War affordable housing shortage: They were energy-efficient, using about 30% less energy than a similarly sized regular home; relatively inexpensive; could withstand strong winds and extreme temperatures; could be built in days or weeks; and could be constructed using about anything you had at hand, including cardboard, though generally triangular pieces of plastic or wood were used.
Long Beach's domes on the Diagonal were a source of curiosity when they were first erected in 1983. Futuristic and attention-grabbing, but not greeted warmly as an alternative to our beloved rectilinear homes, the domes became homes for your basic strip-mall denizens: your flower shops, your chiropractors, your tax-preparers (with the sign-spinning Uncle Sam or Lady Liberty outside); and your sandwich shops.
Another benefit to the dome structure: They're easier to knock down. In the last week of July, bulldozers made quick work of the buildings and leveled them to make room for a new Coffee Bean & Tea Leaf coffee house, just a couple of blocks from another Coffee Bean & Tea Leaf at Palo Verde Avenue and Spring Street.
Reaction was mixed on social media, where some commenters hailed the loss of the domes, which had fallen into disrepair and, according to one person, had become a "homeless palace." Others mourned the loss of the curious structures and wondered whether the area really needs another coffee house when there are already two nearby Starbucks, one stand-alone on Spring Street east of Palo Verde Avenue, and another inside the Pavilions on Spring at the Diagonal, which is steps away from It's a Grind in the same center and a Grounds across Palo Verde to the west.
"The domes were in pretty bad shape and maintenance was hard and expensive," said the property's current co-owner George Younan, of Pacific West Property Group, Inc. Despite Bucky Fuller's claim of a dome's structural soundness, Younan said a worker couldn't stand on the roof without it caving in. "You had to hire a boom lift to do repairs on the roof," he said.
Younan had hoped to keep the domes, he said, but he couldn't find any tenants who were interested in moving into the outdated futuristic buildings.
"But I'm excited about the new place," he said. "It's just 1,839 square feet, compared with the 5,600 or so square feet of the domes, so there'll be plenty of room for parking and for a patio. It'll just be a nice place to hang out."
Younan says construction will begin on the new Coffee Bean and Tea Leaf  in November with an opening planned early in the first quarter of 2020.
Support our journalism.
Hyperlocal news is an essential force in our democracy, but it costs money to keep an organization like this one alive, and we can't rely on advertiser support alone. That's why we're asking readers like you to support our independent, fact-based journalism. We know you like it—that's why you're here. Help us keep hyperlocal news alive in Long Beach.