Police raid suspected gambling den in Wrigley for second time
An illegal gambling parlor that Long Beach police shut down just a few months ago sprang back to life recently, so officers raided it a second time on Thursday, according to authorities.
Detectives and SWAT officers originally swept through the blacked-out storefront on Pacific Avenue near Burnett Street on Oct. 16. Police said they put the gambling operation out of business by arresting 11 people and seizing cash, drugs, guns and betting machines that looked like arcade games.
But it wasn't long before the department started getting tips and complaints from people that something suspicious was going on again, the LBPD said in a news release.
On Thursday morning, around 9:15, vice detectives returned to seize three more illegal gambling machines, a gun and more than $4,000 cash, police said. They also arrested half a dozen people.
The raid comes as police try to stamp out what they say is a new wave of illegal gambling in the city. A new type of gambling machines called a "fish game" has been popping up in Long Beach.
Police often call the blacked out storefronts that house the arcade-style games "slaphouses" because of the slapping sound made from patrons hitting buttons as they try to catch fish floating by on a video screen.
Because of the large amount of cash that passes through slaphouses, they can be targets for violent crime, according to police.
In the past seven months, two people have been killed and two people have been wounded in shootings at suspected illegal gambling parlors, according to Long Beach police.
Officers have raided at least eight different suspected gambling locations since July.
Authorities are now asking property owners to be on the lookout for signs that a renter is using a space to host gambling or other illegal activity.
The tip-offs, they said, can include:
Curtains or painted-over windows on commercial buildings
Foot traffic in and out of the property outside of business hours, especially at night
Increased security, such as an abundance of surveillance cameras, security personnel or secure doors
Gambling machines that often look like arcade games
Free-standing air purifier or ventilation systems used to control the amount of smoke from cigarettes inside the location
Excessive trash, such as drink bottles, food wrappers, drug paraphernalia or cigarette butts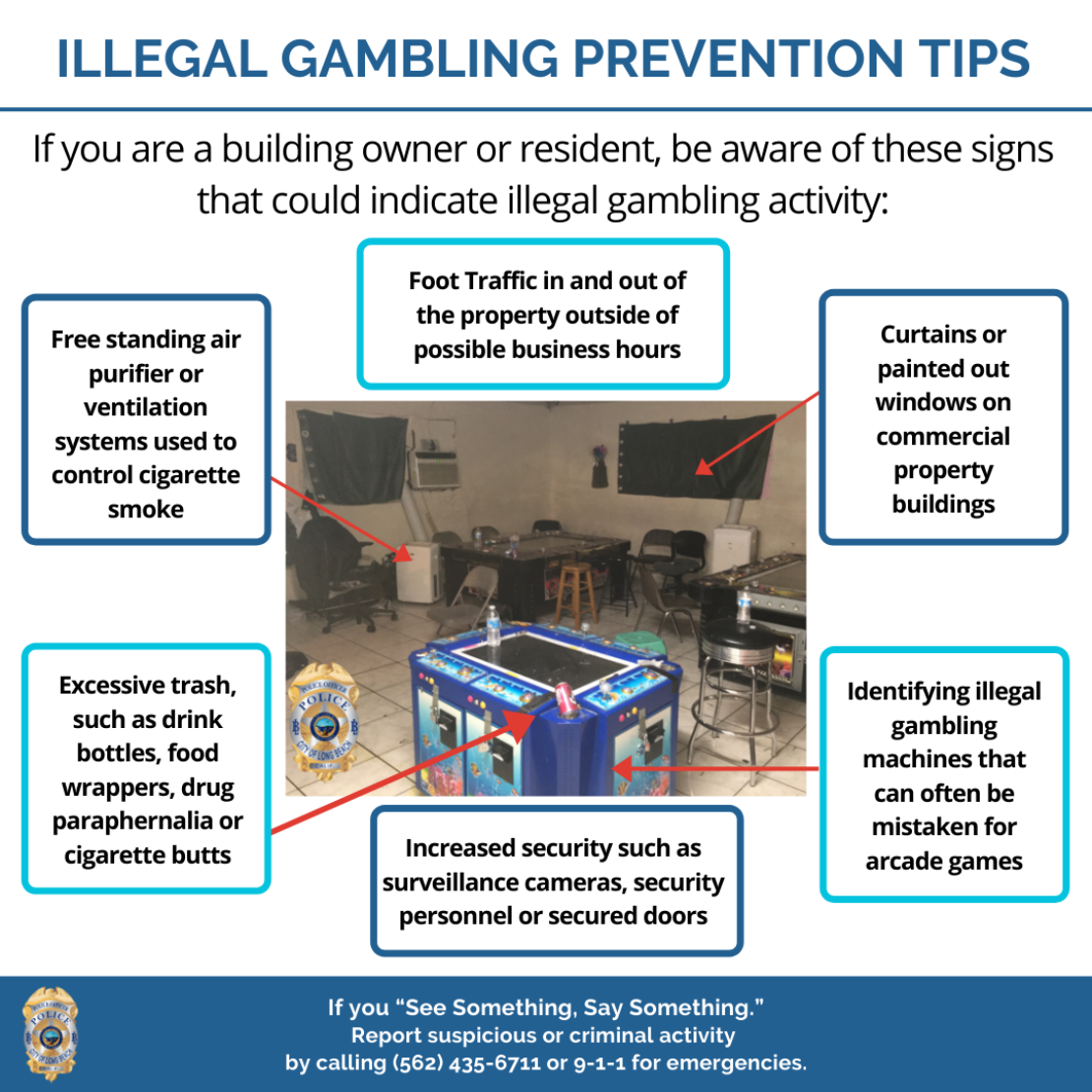 Police said the six people arrested in Thursday's raid were
Maurice McCullough, 39, of Long Beach, who was held on $11,000 bail for having two outstanding warrants
Xavier Vasquez, 33, of Long Beach, who was held on $30,000 bail for having an outstanding warrant
Anthony Johnson, 43, of Garden Grove, who was held without bail on an outstanding warrant
Guillermo Ramirez, 36, of Long Beach, who was held without bail on an outstanding warrant
April Sarte, 38, of Lakewood, who was held on $20,000 bail on suspicion of accepting wagers
Jairus Alberto, 31, of Placentia, who was held on $20,000 bail on suspicion of accepting wagers
Police urged anyone with tips about possible illegal gambling parlors to call vice detectives at 562- 570-7219.
Support our journalism.
Hyperlocal news is an essential force in our democracy, but it costs money to keep an organization like this one alive, and we can't rely on advertiser support alone. That's why we're asking readers like you to support our independent, fact-based journalism. We know you like it—that's why you're here. Help us keep hyperlocal news alive in Long Beach.