Get to know the Hmong community during its New Year festival this weekend
The local Hmong community will celebrate its annual New Year festival this Saturday and Sunday at El Dorado Park, showcasing cultural dances, food and activities.
"For anyone who is curious about the Hmong, our festival is the place to see something unique," said festival director Casie Yang of the Hmong Association of Long Beach.
The festivities will begin with an opening ceremony at 10 a.m. on Saturday, Dec. 7 wherein an honored elder cuts a ribbon that symbolizes opening the gate into the new year.
This year, that honoree is Dixie Swift, the co-founder of Homeland Cultural Center in 1992 and the reason why the Hmong community can continue to teach its culture to the next generation. Located in MacArthur Park in Central Long Beach, Swift's efforts have allowed various cultural programs to be offered for free at the center, including a Hmong program called "Qeej Not Gangs."
"Homeland brings together anti-gang and cultural arts preservation and sharing program at MacArthur Park," said Wang Xiong, president of the association. "Dixie is the reason we have our own program on Sundays at MacArthur Park. We owe her so much gratitude."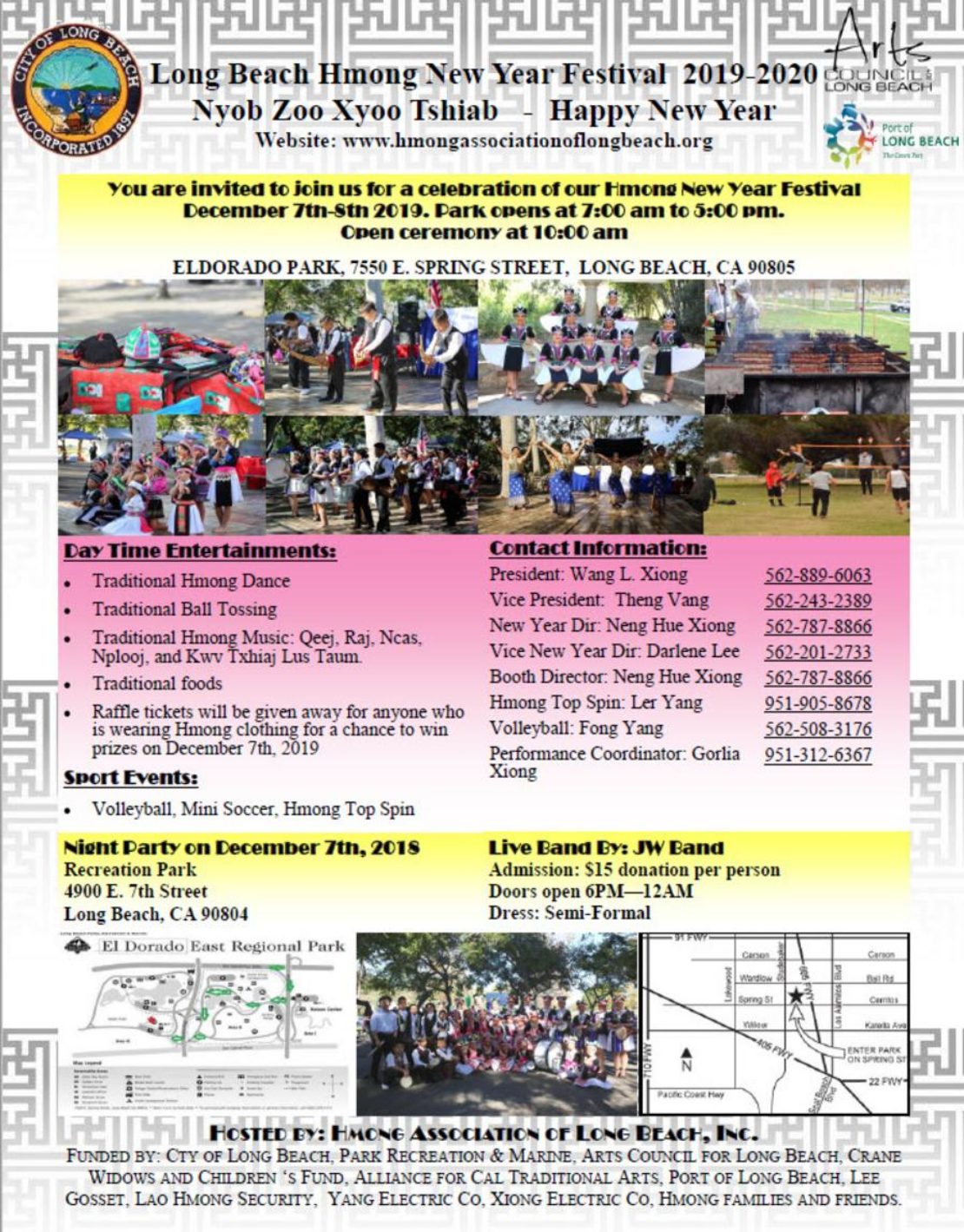 The festival's opening performance will be conducted by the "Qeej Not Gangs" students who will showcase what they've learned all year. It will be followed by local, regional and national Hmong master artists and youth, organizers said.
Guests can also try their hand at ball toss, a traditional courting game where youth would meet each other while attending festivals in each other's towns, according to Qeej Not Gangs Director Gorlia Xiong.
A dance party fundraiser featuring a live band will also take place Saturday from 6 p.m. to 11:30 p.m. at Recreation Park, at 4900 E. 7th St.. Suggested donations are $15.
The Hmong is a Southeast Asian ethnic group mainly from Laos and Thailand. In California, the Hmong are largely concentrated in Fresno and Sacramento.
The festival is funded in part by the City of Long Beach, Arts Council for Long Beach, Long Beach Parks, Recreation and Marine, the Port of Long Beach, Hmong community members and the Alliance for California Traditional Arts among others.
Festivities will take place from 9 a.m. to 4 p.m. Dec. 7-8 in the Golden Grove section of the park. The festival is free to attend. Parking at the park is $8 per vehicle. El Dorado Park is located at 7550 E. Spring St. For more information click here.
Support our journalism.
Hyperlocal news is an essential force in our democracy, but it costs money to keep an organization like this one alive, and we can't rely on advertiser support alone. That's why we're asking readers like you to support our independent, fact-based journalism. We know you like it—that's why you're here. Help us keep hyperlocal news alive in Long Beach.