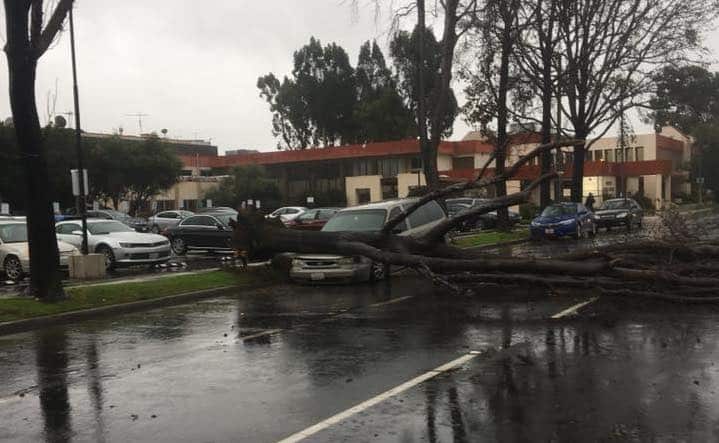 Rain and gusty winds brought down trees across Long Beach today, causing damage to cars and homes.
The Public Works dispatch center received 59 calls about downed trees on Saturday, according to a Long Beach Police Department spokesman. Soil saturated by the rain combined with the wind often causes this, a Long Beach Fire Department spokesman said. By 5 p.m. LBFD received over 30 calls for downed wires.
So far nobody has been reported injured, but crews were working to clear roadways as the rain continued to fall until about 4 p.m.
More than an inch of rain doused Long Beach over Friday night and Saturday morning with wind gusts sometimes topping 35 mph, according to the National Weather Service.
A blocked drain flooded the streets near Orange Avenue and Artesia Boulevard, pushing water into a nearby underground parking garage. The water rose to about ankle-deep, according to an LBFD spokesman, and a swift-water rescue team was called out to help unblock the drain and pump out water.
Nearby, fire station 12 also had minor flooding damage from the blocked drain.
The rain is expected to continue through Monday with winds tapering off earlier on Sunday, according to the NWS. A flash flood watch and high surf advisory were also in effect.
Jeremiah Dobruck is the breaking news editor of the Long Beach Post. Reach him at [email protected] or @jeremiahdobruck on Twitter.
Valerie Osier is a breaking news reporter for the Long Beach Post. Reach her at [email protected] or on Twitter @ValerieOsier
Free news isn't cheap.
We believe that everyone should have access to important local news, for free.
However, it costs money to keep a local news organization like this one—independently owned and operated here in Long Beach, without the backing of any national corporation—alive.
If independent local news is important to you, please consider supporting us with a monthly or one-time contribution. Read more.