'I'm selling a path to happiness': Olympix owner changes name, plans expansion
When he first envisioned Olympix fitness center, developer Kurt Schneiter wanted to build something iconic, and he'll tell you he's achieved that, with plans now to take the successful concept beyond Belmont Shore as Iconix.
Schneiter and business partner Jarrett Tooley announced recently that they've broken ground on what will become the second in a chain of fitness centers. The concept is taking shape at the Hollywood Park development, where it'll sit next to the new football stadium for the Los Angeles Rams and Los Angeles Chargers.
"It's going to be 56,000 square feet and it's being built our way," Schneiter, 55, said about the upscale facility, which will include an indoor spiral slide as well as a rooftop swimming pool and event space with catering capabilities.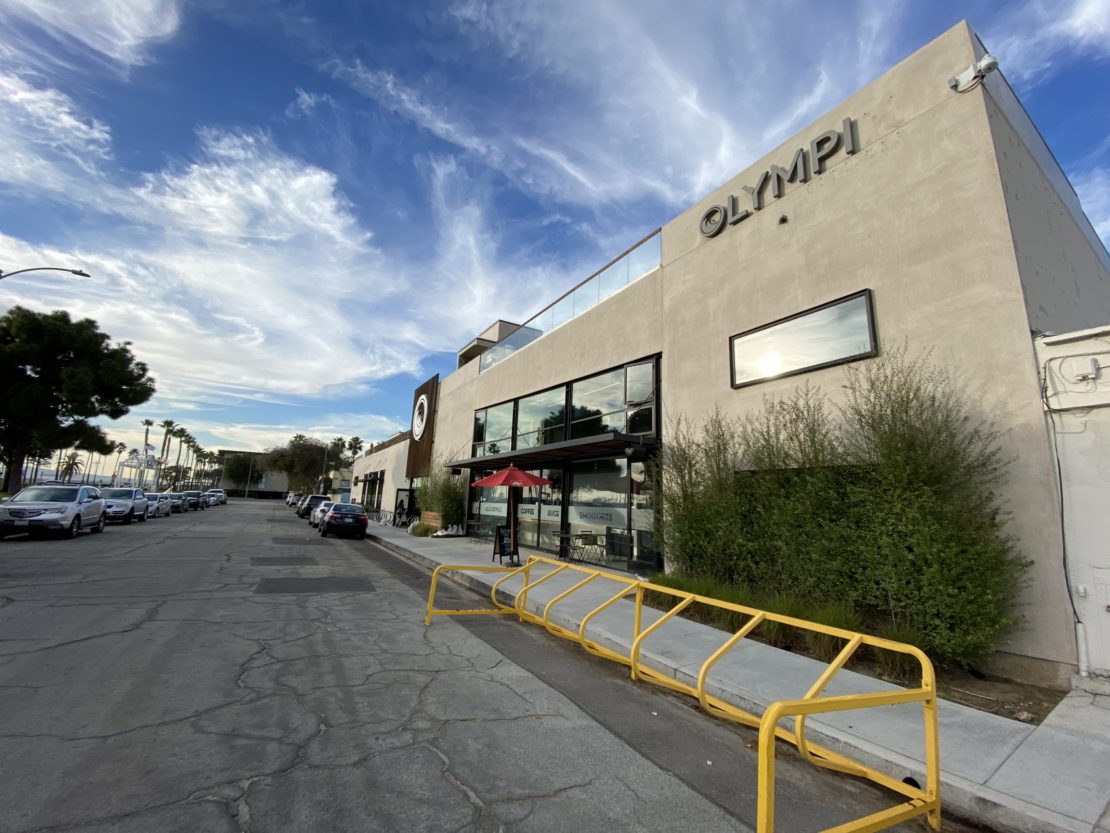 While workers started prying the Olympix lettering off the Ocean Boulevard facade facing Olympic Plaza, Schneiter said the name change to Iconix more accurately describes the future chain and its striking locations. Attention to detail will be the same as it's been at Olympix, the men said, where members use warmed eucalyptus-scented towels, plug their phones into built-in locker chargers and enjoy coffee and juice at the attached café, Portfolio Fit.
"I'm not really trying to get you fit here — I want to make you happy," Schneiter said. "I'm selling a path to happiness."
To that end, they're keeping together the original design team: Alongside Schneiter and Tooley is Jan van Dijs, who partnered with with architect Gary Lamb to create Olympix. One of the biggest differences with the Hollywood Park Iconix, besides its massive size, is that it will be built from the ground up, whereas the 14,000-square-foot Olympix made creative reuse of a historic property that had fallen into disrepair.
In Belmont Shore, Olympix's multimillion-dollar build out completely transformed a cavernous post-WWII building at 4100 E. Ocean Blvd. It was originally Belmont Bowl and then Big John's Billiards, prior to the Yankee Doodles watering hole making its home there in the ´70s. Olympix opened in 2017, juxtaposing segments of the original building, including the 30-foot-high ceiling trusses, with modern elements and natural light.
Gone were the dilapidated pool tables and faded murals of a window-less venue plagued by violence, lawsuits and bankruptcy. In their place, Schneiter said he couldn't be more proud as a longtime Long Beach resident to have replaced blight with a beach-centric, sustainability-focused, upscale gym that employs 74 people and encourages its members to exercise indoors and out, offering 150 workout classes a week.
Sales director Adam Armbrust, coming from a meditation class, said the members have built a real sense of community within the gym—"It's like 'Cheers' but with way less alcohol," he said.
With quality always in mind, Schneiter has been behind several other projects in Long Beach through Maverick Investments. He brought Nick's on 2nd restaurant to a block he owns on Second Street; he's the landlord of the East Village's Fingerprints music store and Berlin Bistro; and he reimagined the Masonic Temple downtown as The Loft on Pine.
"A lot of people in the city undervalue what we have here on the waterfront, and we are starved for quality," he said. "We need to think bigger. I've lived here for 31 years, and I'm finally seeing a lot of change, glimmers of hope."
Demand for Olympix from local residents has been so high from the start that Tooley, 37, said it quickly become clear that that the concept should grow.
Tooley and Schneiter, while pointing out elements in the architectural plans, said they are planning future gyms already, with negotiations ongoing, and they aren't sure just yet how far they're planning to take it.
"One grew to three … then 15," Schneiter said about the number of Iconix in the works. Tooley kept going, "Let's make it 21 …"
Support our journalism.
Hyperlocal news is an essential force in our democracy, but it costs money to keep an organization like this one alive, and we can't rely on advertiser support alone. That's why we're asking readers like you to support our independent, fact-based journalism. We know you like it—that's why you're here. Help us keep hyperlocal news alive in Long Beach.