Plans for concessions in El Dorado Park spark public backlash
City staffers on Tuesday were seeking to clarify what they say is misleading information in an online petition claiming that Long Beach is planning to "develop and commercialize" El Dorado East Regional Park.
The "Save El Dorado Park" petition launched last week in response to the city's plan to utilize three empty buildings in the park for food and beverage concessions, event space, retail, ecotourism or other services.
The petition, which has quickly gained momentum with more than 3,000 signatures as of Tuesday afternoon, urges people to speak out against allowing "more development to take over one of the few remaining large green areas in Long Beach."
The roughly 400-acre green space in East Long Beach features picnic areas, playgrounds, bicycle trails, a dog park, fishing lakes and more. It attracts more than 970,000 visitors a year.
In an interview on Tuesday, Stephen Scott, interim director of Parks, Recreation and Marine, said the city is not planning to develop any of the park's green space, but it wants to utilize a former office building and two concession stands that have been sitting vacant for decades.
The park currently does not have any food concessions. Scott said the addition of small food and beverage concessions in those empty spaces could lead to visitors spending more time and money in the park.
"We're not looking to build anything new. We're just trying to see what opportunities are out there to enhance that park user experience," he said. "Our goal is to get more people out and into our parks and into nature."
The three empty structures include: Lakefront Area 3—a roughly 1,000-square-foot space that was previously used as a ranger station; Golden Grove Area 3—a roughly 500-square-foot space near the picnic area; and Group Campground in Area 2—a 370-square-foot structure.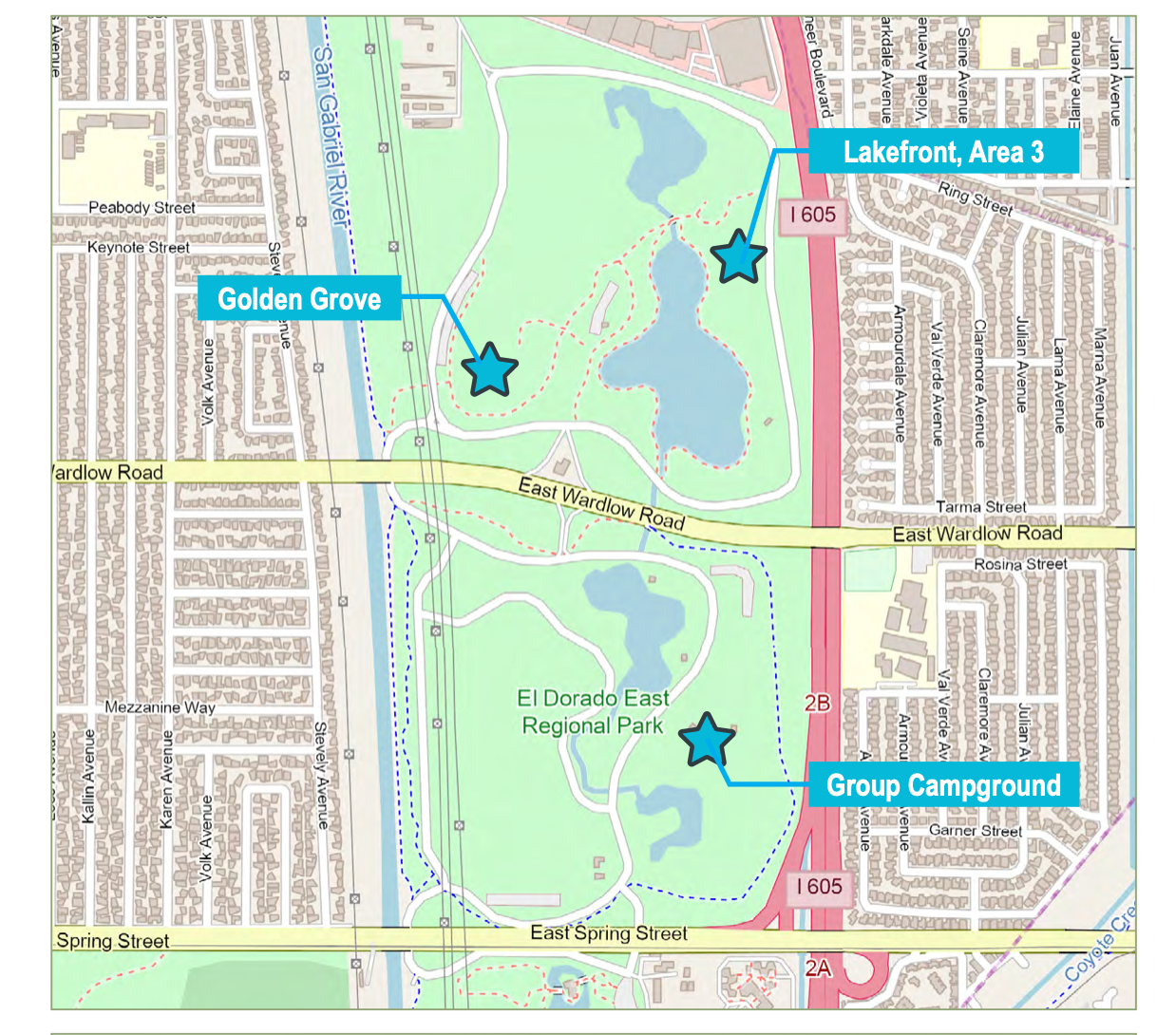 City map of proposed concessions in El Dorado Park.
Sergio Ramirez, deputy director of Economic & Property Development, said the city is considering proposals from two food and beverage vendors that would offer a range of "foodie" options. The plan would ultimately require approval from the City Council and would be open to public feedback.
The petition also raised concern over concessions possibly selling alcohol in the park. Scott said any alcohol sales would require special events permits and approval from the City Council. The plan would also be open to public comment.
Corliss Lee, a member of Friends of El Dorado Park East, on Tuesday said members are concerned that alcohol and food sales will lead to trash problems in the park.
Lee said the park already has problems with wildlife choking on plastic straws and getting entangled in fishing lines.
Local activist Ann Cantrell, an ambassador for the group, said in an email to fellow members that businesses that have tried to sell food in the past have failed.
"Alcohol does not belong in public parks and especially in this one with hazardous and challenging driving conditions, youth camping, kids running and playing and wildlife," she wrote.
Scott said the city does not want to disrupt the park's wildlife or green space.
"Through this entire process we're keeping that in the back of our minds," he said. "Our goal is to have zero impact on the natural surroundings."  
Support our journalism.
Hyperlocal news is an essential force in our democracy, but it costs money to keep an organization like this one alive, and we can't rely on advertiser support alone. That's why we're asking readers like you to support our independent, fact-based journalism. We know you like it—that's why you're here. Help us keep hyperlocal news alive in Long Beach.