The Backroom: We're chasing poison apples with magic mushrooms
The Backroom is a column by the staff of the Long Beach Post with notes and analysis, along with bloops and blunders, from the city's political scene. It runs every Thursday. To contact us, email [email protected]. For questions or concerns, please contact Managing Editor Melissa Evans: [email protected] or 562-437-5814. 
The planet Mercury's in retrograde and the world is out of whack. So we swallowed a sack of magic mushrooms, then fired up our computer and hopped on Facebook.
Perhaps we weren't alone.
---
Be the first to know.
Get the Backroom delivered to your inbox every Thursday.

---
"DON'T EAT THE POISON APPLES," Robert Fox, Council District 2 candidate, bellowed in a post Saturday.
We're taking that out of context; we get excited every time we see words in all-caps. Let's be fair and start from the beginning: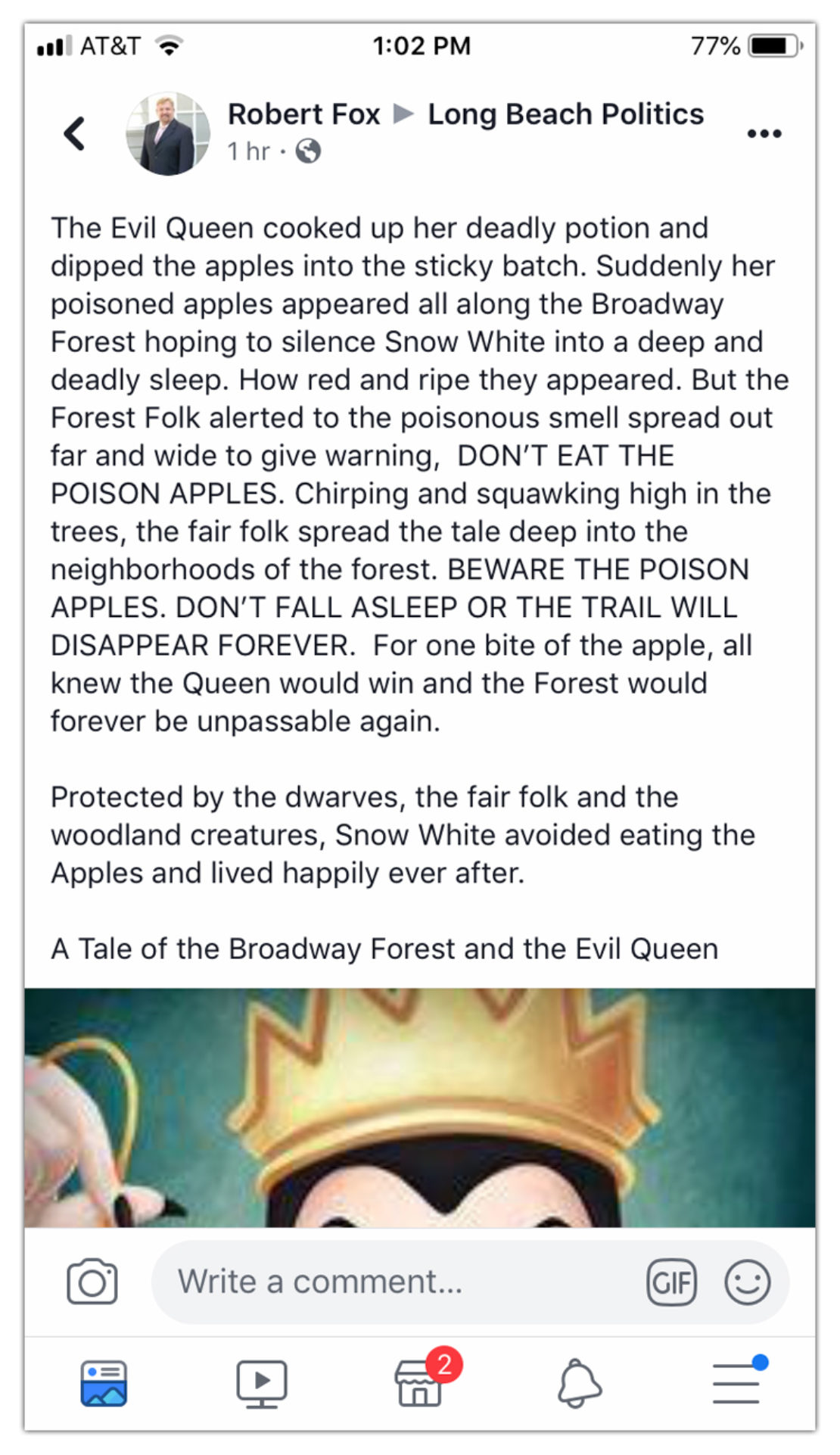 "The Evil Queen cooked up her deadly potion and dipped her apples into the sticky batch. Suddenly her poison apples appeared all along the Broadway Forest hoping to silence Snow White into a deep and deadly sleep."
Yes … we're tracking with you …
"How red and ripe they appeared. But the Forest Folk alerted to the poisonous smell spread out far and wide to give warning…"
After reading his post and showering off the analogies, we got to thinking about fairy tales, neopaganism and numerology, then sank to a very dark and lonely place. We visited the Chaldean fan group on Reddit and—finally!—it all made sense: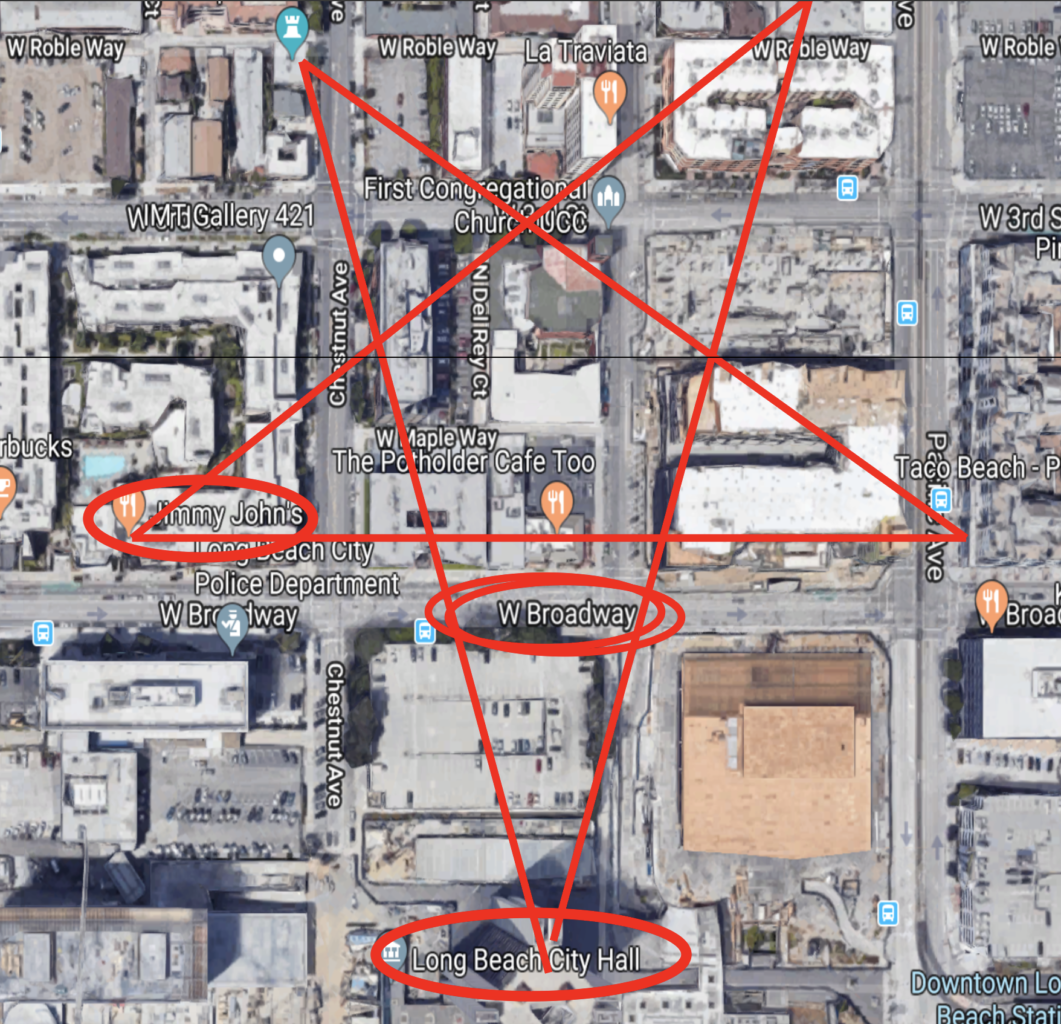 Two lessons here: It's hard to argue with satanic symbology. And deleted posts never disappear; The Backroom keeps receipts.
We're waiting

Fox wasn't the only politico going a little cuckoo on social media this week. His competitor in the District 2 race this March, incumbent Jeannine Pearce, has been musing about Mercury moving in the opposite direction of planet Earth, when things supposedly go haywire.
She's been getting up at 5:25 a.m. on the dot every day, which is fascinating. We suggest she use that time to get her amended 2017 Form 700s turned in to the City Clerk.
The Post reported in May that Pearce had to file amended forms required by the state that tell the public where politicians earn money to shine a light on possible conflicts of interest.
Turns out Pearce left off a few revenue streams. She filed an amended Form 700 for 2018; we're still waiting on the previous year's…
The Broadway Forest
Fox is a smart politician. He knows the art of homing in on an emotional issue and ratcheting up the fear and public outrage. His supporters gathered Monday at Cherry Avenue and Broadway holding signs suggesting the "road diet" on the corridor—which expanded bike lanes and reduced the thoroughfare to one lane in each direction—endangers lives.
We take no opinion on the new road configuration; there are assuredly positives and negatives. We do, however, take issue with misinformation—and there has been plenty of it.
Fox's new claim, made Monday, is that car insurance premiums will rise by $50 to $75 a month extra for residents who live along Broadway. This was a very specific statement, so we checked with an expert at Insurance Center Associates.
A spokeswoman for the agency said insurance rates are based in part on ZIP code, not on specific streets. Insurance companies (she works for 21st Century) may raise rates in a ZIP code that is truly dangerous and accident-prone, but that process would take months, even years.
We'll also note that Long Beach as a whole already tops the list of big cities with the highest premiums.
More candidates?
Council District 2 in Alamitos Beach is soaking up a lot of virtual ink this week, but there's more: We've heard from two well-placed sources that the Long Beach Police Officers Association is conducting polling for various issues on the March ballot, including the Measure A extension—and possibly additional candidates for District 2.
Jim Foster, president of the POA, did not return a call Wednesday.
The slate now includes five people, with Fox and Pearce taking up most of the oxygen. The powers-that-be may want additional choices, with one name in particular making the rounds: Cindy Allen, a friend of Mayor Robert Garcia, owner of a local advertising agency (and former publisher and owner of the Post), and also a retired Long Beach police officer. When reached by phone Wednesday, Allen said she is not running, but people tell us things all the time. We'll believe it when we don't see it.
CD1 
We do have significant news to report about the District 1 (Downtown Long Beach) special election in November. Monday kicked off the official filing period for the race, and a bevy of candidates have already filed their paperwork, most of them you've never heard of (nor will you ever again): Shirley Huling, Ray Morquecho, Hashim Muhammad, Asha Nichols, Mariela Salgado, Misi Tagaloa, Mary Zendejas and Elliot Gonzales.
As expected, state Sen. Lena Gonzalez, who left the seat vacant after a successful campaign to replace Ricardo Lara, has endorsed Zendejas, a member of the Long Beach Transit Board of Directors. Will Mayor Garcia be sure to follow?
Observing the @LBCityClerk candidate workshop for the Nov. 5th Special Election to fill the vacancy in @LongBeachCity Council District 1. Good to see so many community leaders interested in running and serving. pic.twitter.com/WFcF5o5Ecd

— David Sommers (@david_sommers) July 15, 2019
New digs
The CD1 candidates assembled at City Hall for a candidate workshop Monday. Staff opened the curtains for the occasion, and we've truly never seen Council Chambers look so bad; it was like someone shined a black light inside a room at a certain PCH motel. Don't act like you don't know what we're talking about. Rotted seats. Broken hand dryers. Drapes the shade of phlegm. It's gotten so bad that one councilperson, we're told, has avoided the Brutalist structure (except for council meetings) ever since the seismic issues came to light in 2015.
Forget an earthquake—the building could crumble the next time Larry Goodhue pounds on the lectern.
He'll have just one more chance: The City Council meeting next week will be the last at 333 W. Ocean Blvd. In August, head over to the new Long Beach Civic Center Plaza at 411-415 W. Ocean Blvd.
If you want to check it out early, the city is hosting a public party at the new offices July 29. We'll be rifling through the old structure to get our hands on those curtains; we saw them in the window and couldn't resist.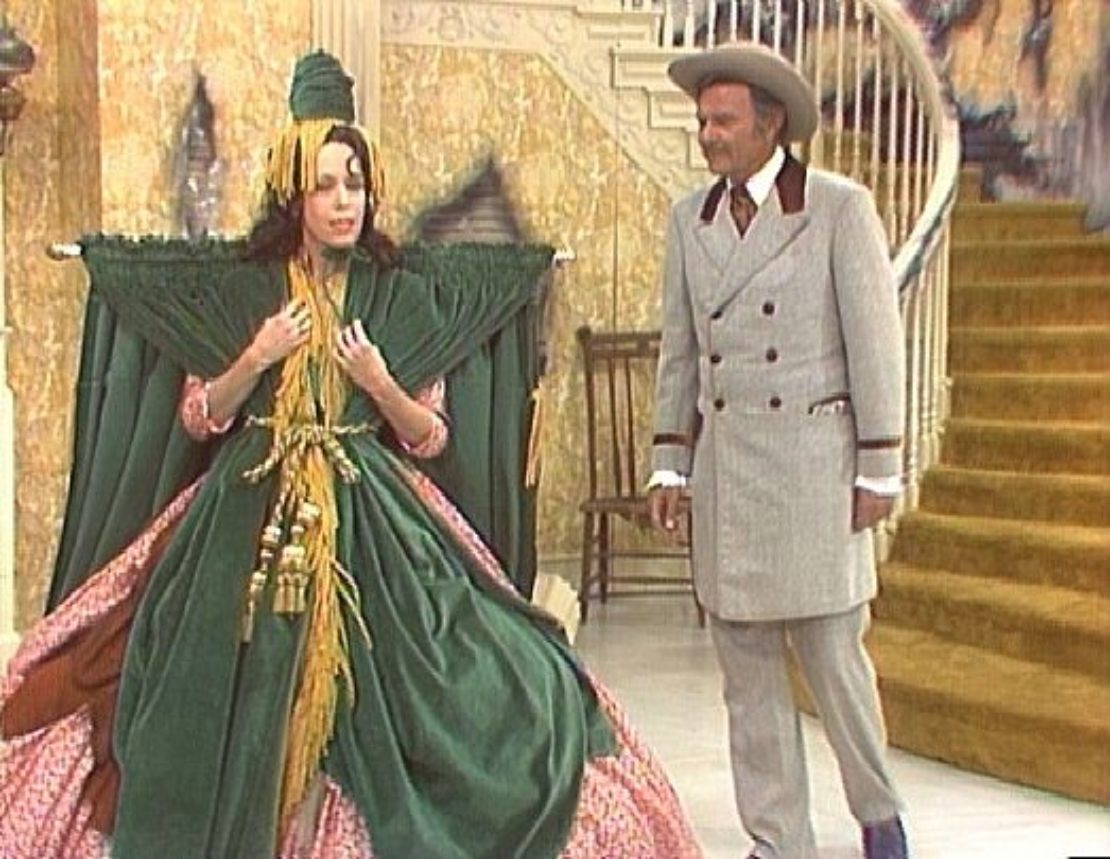 Support our journalism.
Hyperlocal news is an essential force in our democracy, but it costs money to keep an organization like this one alive, and we can't rely on advertiser support alone. That's why we're asking readers like you to support our independent, fact-based journalism. We know you like it—that's why you're here. Help us keep hyperlocal news alive in Long Beach.