Why we're partnering with you to rewrite our mission statement
From the crime on your block to the best new restaurant, information is the lifeblood of any community. But in these quick-hit times, it's hard to know where to get the most important kind: news you need to make informed decisions about your life.
The Long Beach Post is determined to change that.
As part of a new strategic plan that is rooted in community listening, we are writing a brand new mission statement—and we can't do it without you. 
Please join us this Wednesday, Sept. 25 at The Cove Hotel for free pizza from 4th Horseman and an interactive guided discussion in which your voice will impact what we report on and how it will be reported for years to come.
Long Beach Post Mission Statement Community Forum 


Wednesday, Sept. 25, 2019
6:30-8 p.m.
The Cove Hotel
Meeting Room
200 E. Willow St.
Long Beach, CA 90806
*Food and drinks will be provided
We believe that journalism is a public service and that everyone deserves access to local news, regardless of their ability to pay for it. Since coming under new ownership last year, the Long Beach Post has leaned into this goal by quintupling the size of its newsroom and expanding accessible coverage of city hall, local politics and arts and culture in the second largest city in L.A. County.
Long Beach deserves even more.
This year, we are partnering with residents and readers like you and investing in a strategic plan that puts community at its core. Through forums like these, we are re-establishing our commitment to the city of Long Beach and re-defining what local news can and should be.
For the record, this event is not a sales pitch. You will eat some free pizza and chat with each other about how news is gathered and shared in our community. We will emerge with insight that the Long Beach Post can use for its reinvigorated mission statement, one that embraces and embodies the values of our readers, our stakeholders and our city.
The future of journalism is not bleak or depressing; it's exciting and full of possibility. We hope you'll be a part of this important civic work. Together, we can build a reliable information network for tomorrow, a news source that's truly by and for the people of Long Beach.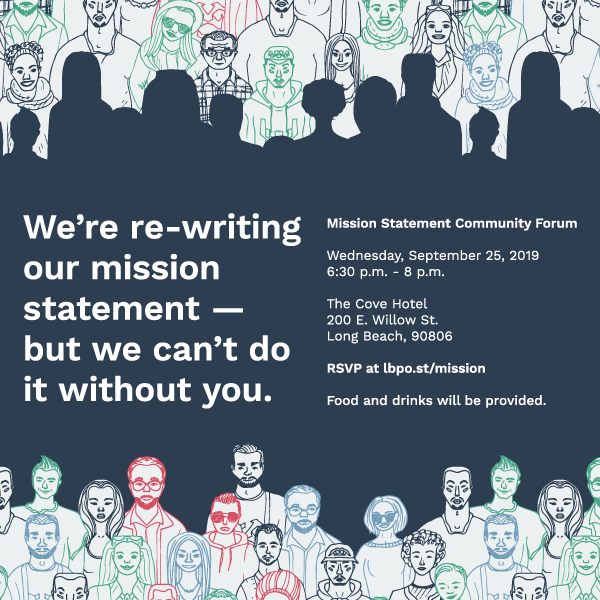 Support our journalism.
Hyperlocal news is an essential force in our democracy, but it costs money to keep an organization like this one alive, and we can't rely on advertiser support alone. That's why we're asking readers like you to support our independent, fact-based journalism. We know you like it—that's why you're here. Help us keep hyperlocal news alive in Long Beach.