Cal State Long Beach museum and Wilmington-based art collective collaborate in 'Call and Response'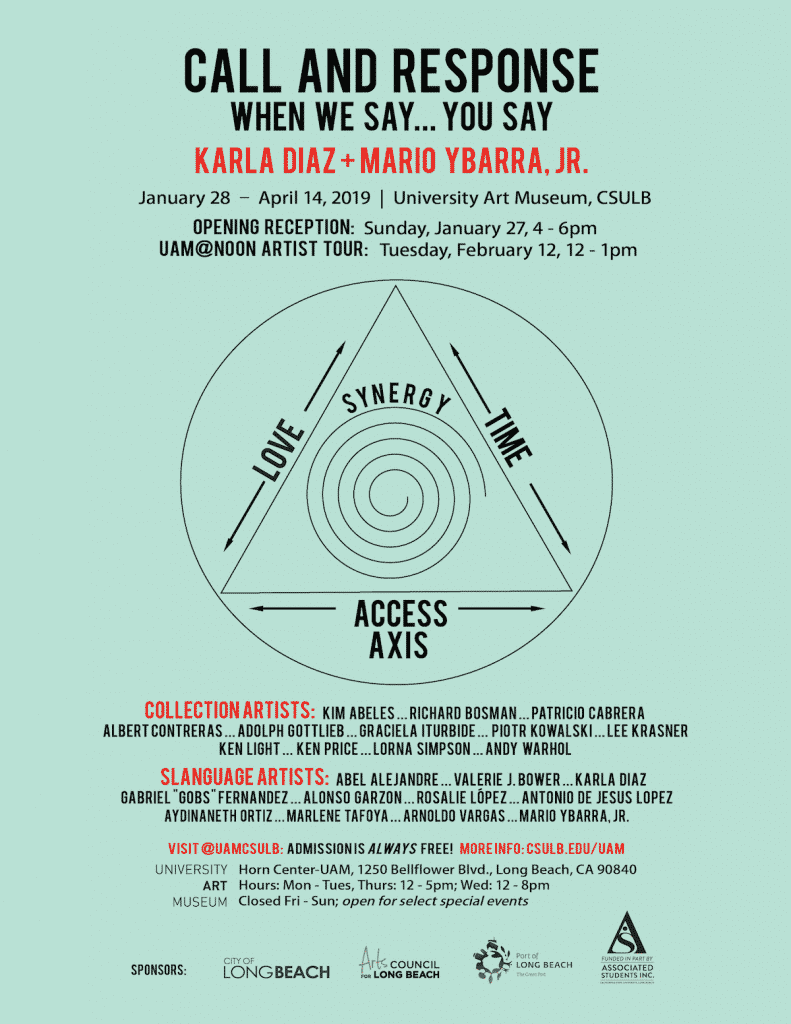 Selected artworks from the University Art Museum's permanent collection will be used to "examine how 'high art' and pop culture intersect" during "Call and Response, When We Say… You Say", a new exhibition opening this weekend, the museum announced.
The artworks on display were selected by co-founders Mario Ybarra Jr. and Karla Diaz of Wilmington-based art collective, Slanguage, and chosen based on their cultural significance. These works make up the "call" in Call and Response.
Diaz and Ybarra, alongside a handful of Slanguage artists, "respond" with their own artworks, turning the galleries into a dialogue between artists spanning different generations, encouraging students and visitors to consider the varying perceptions behind fine art.
One of the galleries will be used by university students as a classroom and lab space to discuss "social inequities in the art world", while community conversations and class sessions will be held to "challenge institutional practices and attempt to inspire a deeper appreciation of the arts."
Diaz, who recently showed embroidered portraits of forgotten or estranged family, confronting the gentrification of East Los Angeles and her family's abandoned home in Mexico at Long Beach-based art space, C.A.C.T.t.U.S., will be showing work among other Slanguage artists.
Ybarra, an artist activist and lecturer in fine arts at Otis College of Art and Design, creates sculptural, photographic and installation art on Mexican-American identity, art and politics.
Artist and Slanguage co-founders Mario Ybarra Jr. and Karla Diaz by Lluvia Higuera from "Artist Educator Series". Courtesy University Art Museum.
Run by artists, Slanguage has been leading teen workshops, hosting art exhibitions and performance events since 2001. Ybarra and Diaz' work has been shown at ICA Boston, Whitney Museum, MOCA, LACMA, Tate Modern and was also included in the first Made in LA Biennial at the Hammer Museum.
One of the Slanguage artists participating is high school art teacher Arnoldo Vargas, who recently picketed during the L.A. teacher's strike for smaller class sizes and higher pay, according to the Los Angeles Times. Vargas' work critiques social, cultural and political issues.
Other Slanguage members contributing are Abel Alejandre, Valerie J. Bower, Gabriel "Gobs" Fernandez, Alonso Garzon, Rosalie López, Antonio De Jesus Lopez, Aydinaneth Ortiz and Marlene Tafoya.
Artists represented by the museum's collection are Kim Abeles, Richard Bosman, Patricio Cabrera, Albert Contreras, Adolph Gottlieb, Graciela Iturbide, Lee Krasner, Piotr Kowalski, Ken Light, Ken Price, Lorna Simpson and Andy Warhol.
For more information, visit the website here.
"Call and Response, When We Say … You Say" will run through April 14. Related events include the opening reception on Sunday, Jan. 27 from 4 to 6 p.m. (RSVP here), a free family art day on Sunday, Feb. 3 from 1 to 3 p.m. and a guided gallery walk-through with Diaz and Ybarra on Tuesday, Feb. 12 from noon to 1 p.m., all at the University Art Museum at Cal State Long Beach, 1250 N. Bellflower Blvd.
Support our journalism.
Hyperlocal news is an essential force in our democracy, but it costs money to keep an organization like this one alive, and we can't rely on advertiser support alone. That's why we're asking readers like you to support our independent, fact-based journalism. We know you like it—that's why you're here. Help us keep hyperlocal news alive in Long Beach.