The 7: Things to do this weekend including… Best things and no porta potties
So many good things this weekend, including:
The best thing I've seen since taking this job.
An alternative to the alternative.
A recently opened, nearly 50-year-old concert film.
Where have we seen Ryan Skinner before?
Yeah, lots of great stuff, so why are we wasting time. No, really. Why?
1. "IN THE PENAL COLONY" (All Weekend)
I took this job six months ago, and in that time I've been fortunate to see a lot of great, wonderful things, productions, shows, what have you. But, I'm pretty confident in saying that the one thing that has affected me the most has been the Long Beach Opera/Cal Rep production of "In the Penal Colony."
Apparently, I'm not the only one because the entire run of the production is sold out. Well, was sold out. To deal with the demand, a limited amount of new seats have been made available for this weekend's production, a production so deeply felt that one longtime LBO patron said after a performance that it was the first time she had cried at the opera.
I could go into a lot of detail here about why that is, about the choices made by the production's director that further sharpened the effect of the 20-year-old Phillip Glass opera—based on a Kafka short story—or about how the same was true of the performances of the young cast, particularly one who had a very deep, personal connection to the material.
But why, when you can just click on the video and watch my conversation with director Jeff Janisheski and actor Matthew Limas?
CSULB's Studio Theater is located 1250 Bellflower Blvd. For tickets, click here.
2. FREE COMIC BOOK DAY (Saturday)
We really feel like we've seen Ryan Skinner somewhere before—hmmm, Denny's? Anyway, Skinner works at Pulp Fiction, one of the city's best comic book stores and is pretty excited that Free Comic Book Day is rolling around again. It's really a wonderful thing, not just because of the free stuff, but because of that feeling of community.
We asked Ryan—hmmm, Jiffy Lube?—to fill us in a little.
What should people know about Free Comic Book Day, logistically?
Free Comic Book Day is this Saturday, May 4th which also happens to be Star Wars Day, i.e. May the Fourth be with you. We will be opening our doors at 11 a.m. and celebrating all day until 7 p.m. All of the big comic book publishers make a special comic book to be given away and most comic book stores nationwide participate. For us specifically, everyone that shows up gets to go home with one free comic book. What sets Pulp Fiction apart from other stores is that we coordinate with Long Beach Rescue Mission for a food drive. What that means for guests, is that the more canned goods they bring with them when they visit us, the more comic books and comic book-related goodies they get to go home with!
Curious, does the crazy success of films like "Endgame" have an effect on your business? Are superhero filmgoers also comic book readers?
Unfortunately, not necessarily so. We do see a slight uptick in interest, but in my experience, the thing a person is most excited to do after watching an Avengers movie is see the next Avengers movie. That being said, I ardently believe that everyone is a potential comic book reader and it's all a matter of finding the right books and the right community. Free Comic Book Day is a big opportunity for us to show more casual readers that there is a book for them to fall in love with and a community to share that love with.
If someone wanted to get started with comic books but feels overwhelmed, where do you advise them to start?
Just come talk to me! My favorite part of my job is finding the right book for the right person. I remember when I just starting getting interested in comics, and I also felt overwhelmed. I luckily had a store that was very friendly and open to making recommendations. I try to pass that experience on to my customers whenever I can. It reminds me of what it was like when video rental shops were still around and the clerks knew what you liked, and were always ready with suggestions.
Another great thing: What are some great new comics you're excited about and why?
Brand new titles come out every Wednesday! Without a doubt, the most exciting book that has shaken up the industry and I believe created the most new readers is "Saga." Besides being an incredibly entertaining space opera for adults with gorgeous artwork, "Saga" is successful and exciting because it seems to have as many women reading it as men. Comics have unfortunately painted themselves into a corner the last couple of decades as a boy's club, but with more books like "Saga," that is changing all the time. Comic books are for everybody.
Giving us a moment's pause: Is Silver Surfer still a thing?
Pulp Fiction is located at 1742 Clark Ave.
3. AMAZING GRACE (All Weekend)
If your knowledge of Aretha Franklin stretches about as far as "Respect" this film will get your mind right. She was in the beginning, and remained to the end, devoted to gospel music. The film chronicles the making of her landmark 1972 live album, "Amazing Grace" which remains her biggest seller and the top-selling traditional gospel LP in history.
That the film made it into theaters at all seems to have taken an act of the Almighty. Director Sydney Pollack was terrific at making Barbra Streisand look gorgeous, but he had never shot a musical performance live and he kind of screwed the whole thing up, especially when it came to matching the audio to the visual; kind of a big thing. And then, for reasons still unexplained, Franklin herself fought the movie being made public. That is why, after it happened nearly 50 years ago, "Amazing Grace" is being seen for the first time.
Just to be clear, the film is not really a documentary, no, it's a document of a musical performance. A document of a musical performance by Aretha Franklin. Amazing.
Another great thing: This is yet another example of how blessed Long Beach is to have TWO great art movie houses. The Art Theatre, rightfully, gets a lot of attention. It does great stuff. But it's important to remember that the Regal UA Long Beach 6, does great stuff also. For example, "Amazing Grace" is showing very few other places and this isn't the first time that the theater has brought a film to this city that otherwise would be practically unavailable.
Giving us a moment's pause: You think we're gonna say anything remotely negative about Aretha Franklin? Please.
Regal UA Long Beach 6 is located at 6601 Pacific Coast Hwy. For more information or times click here.
4. BLACK CRYSTAL WOLF KIDS (Friday)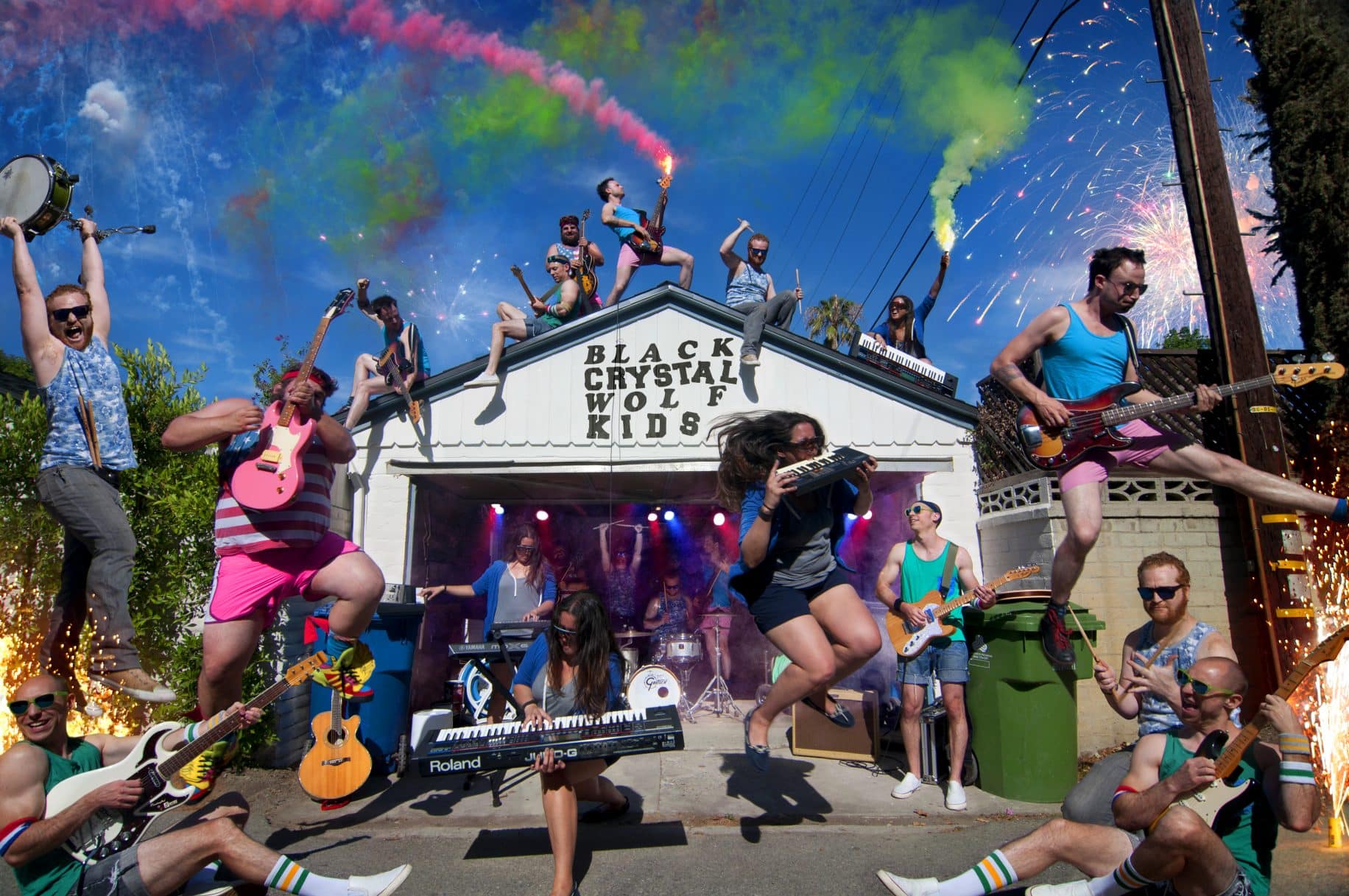 This weekend a lot of people will be heading out to Just Like Heaven, yet another music festival out by the Queen Mary, this one celebrating music from about 10 years ago. We'd go into more detail, but the whole thing is sold out and it would kind of feel like going into any great length about the Yeah, Yeah, Yeahs and MGMT would basically be rubbing your nose into the facts of a party to which you were not invited.
Not cool.
Especially, when you can go see Black Crystal Wolf Kids at Harvelle's on Friday and hear, in their words, "the world's first indie-rock tribute band, paying a costumed, sing-along-encouraged homage to the best music of right now (The Killers! MGMT! Billie Eilish!) as well as indie's storied past (The Pixies! The Talking Heads! The Cure!)."
So, basically, Just Like Heaven without the porta potties. We caught up with Black Crystal's Jeff Miller and asked him stuff. He obliged with answers.
How did you come up with the idea of the band?
The band came together 10 years ago. I was a huge fan of the indie-rock scene and indie-rock bands, and I'd go see them and would be shouting along with the songs with my fist in the air in the front row while everyone around me was too-cool-for-school with their arms crossed. I loved the idea of starting an indie-rock tribute band on a couple of levels: first, that these were anthemic songs that would be so much fun to present as singalongs, and the second that the whole scene, which I loved, took itself so seriously; there was no reason to wait for nostalgia to play these songs live. I loved the idea of taking the pretentiousness out of the presentation and covering songs that were too "precious" to cover, which has included learning new songs as they hit rather than waiting for some unspoken rule that they're "OK" to cover.
It's clear that your band really do want the audience to be an active participant in the show.
The audience is an active part of our show, we feed off their energy and nearly every song has a moment that necessitates participation, whether that's a singalong, a clapping section or synchronized dance steps—yes, we teach a line dance to "Pumped Up Kicks." Like I said, let's take the pretension out of it.
The name of the band is, of course, awesome. How'd you come up with it?
Thanks! When we formed 10 years ago, it was the most ridiculous amalgam of all the band names that were hot at that time: Black Keys/Black Lips, Crystal Caverns/Crystal Castles, WolfMother/Wolf Parade, Cold War Kids/Cool Kids, etc. The original idea was to change the band names as naming trend conventions changed, but then we had to print merch, get a website, and book shows…
Another great thing: Appearing with Black Crystal as co-headliners will be Tom Kenny and the Hi-Seas. If the name sounds familiar, it's probably because Tom is the voice of Spongebob Squarepants. Jeff said their shows are "always a blast," and Tom sometimes sits in with Black Crystal.
Giving us a moment's pause: A Squidward solo.
Harvelle's is located on the Promenade at 201 E. Broadway. For more information or tickets, click here.
5. RECYCLE YOUR BICYCLE (Saturday)
Fairly straightforward. You've got a bike just gathering dust/rust. Somewhere there's someone who really wants or needs it. So, the city has arranged for eight pickup spots, Saturday, for you to drop off your bike—9 a.m. to noon—so it can be repaired and donated or simply recycled. Good on ya, Long Beach.
The dropoffs: Cycle Link (1375 Pine Ave.), Cycle Link (2975 California Ave.), El Dorado Park West (2800 N. Studebaker Rd.), Houghton Park (6301 Myrtle Ave.), Pan American Park (5157 E. Centralia St.), Pedal Movement (223 E. First St.), Silverado Park (1545 W. 31st St.), Whaley Park (5620 E. Atherton St.).
Another great thing: It is practically the least amount of effort to get done that thing you've been meaning to take care of for so long.
Giving us a moment's pause: What to do with all the clothes you've been hanging on the bike?
6. Pacific Islander Festival (Saturday/Sunday)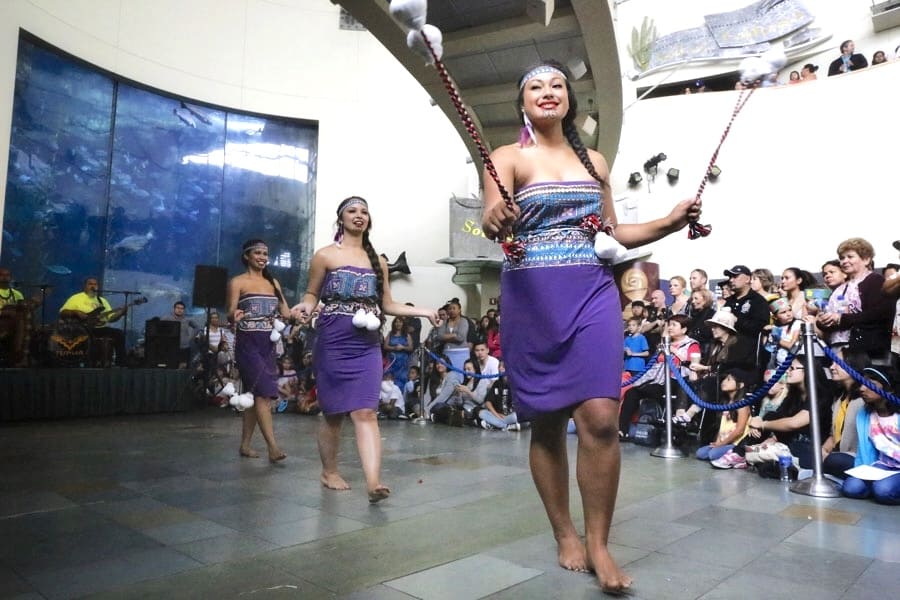 [SPONSORED] Discover and explore the rich and diverse cultures of the Pacific Islands at the Aquarium of the Pacific's 16th annual Pacific Islander Festival. The festival will include traditional craft demonstrations, educational programs, and an ocean of entertainment, including music and dance performances.
The festival takes place from 9 a.m. to 5 p.m., Saturday and Sunday.
Another great thing: You'll enjoy hula, Tahitian drumming and Hawaiian games. See artisans demonstrate their traditional art of weaving. Hawaiian, Samoan, Tahitian, Fijian, Tongan, Chamoru, Kiribati, Marshallese, and Maori cultures will be featured.
Giving us a moment's pause: This may cause you to use all your Frequent Flyer miles.
Aquarium of the Pacific is located at 100 Aquarium Way. For more information click here.
7. DOG DAY AT MOLAA (Sunday)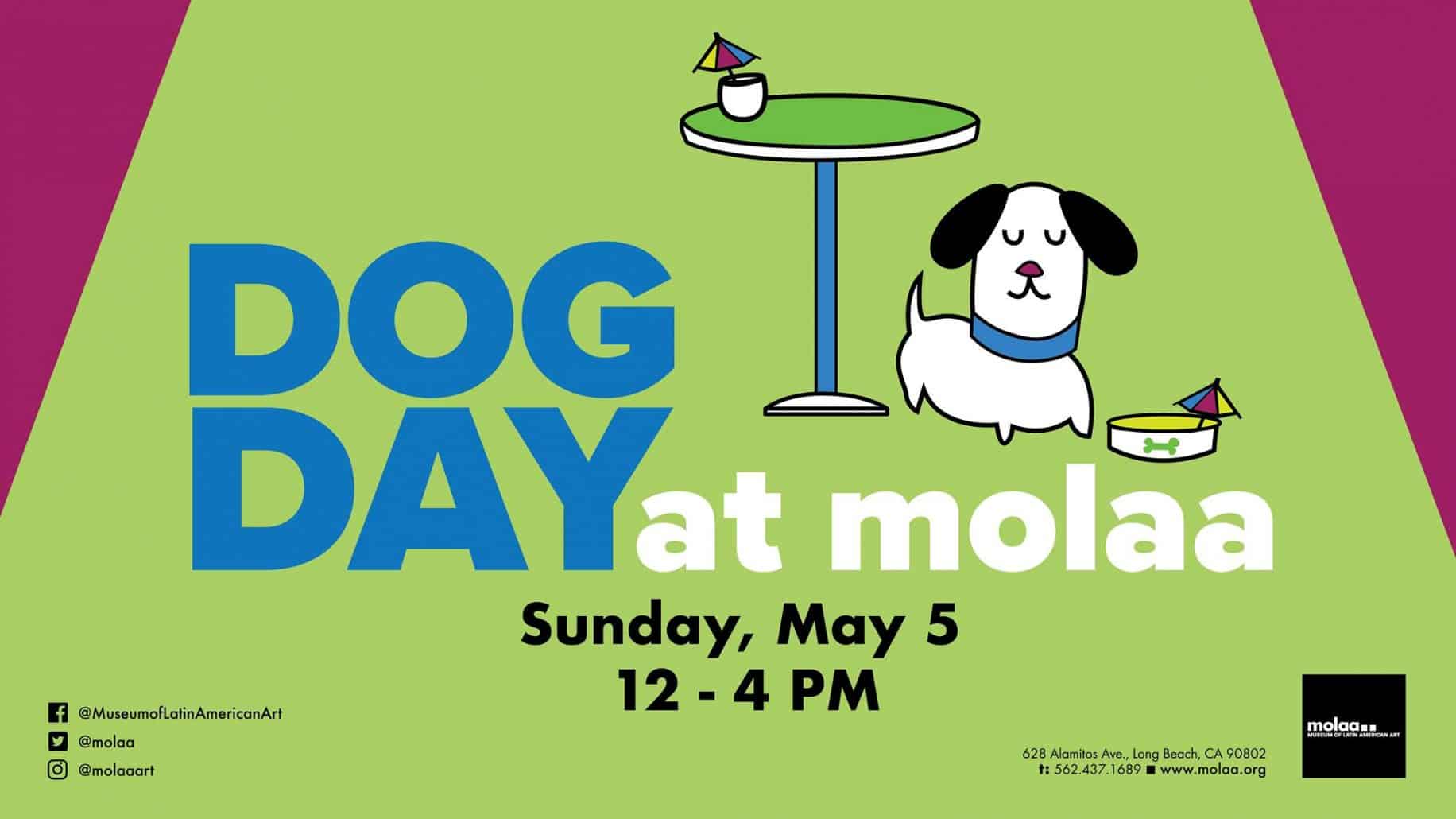 Dogs have a lot on their minds:
Where's the food?
Oh look, that guy, he showed up at the door. Again.
Where's the food?
On Sunday, from noon to 4 p.m. you'll be able to relieve a bit of their stress at the Museum of Latin American Art's "Dog Day at MOLAA." You can do yoga with your dog or give them a pedicure (do you see that we did not write "peticure" because we believe pet puns are the downfall of this nation). Den Urban Dog Retreat will be around to give your dog a massage or you can learn how to give it a massage yourself because, you know, where's the food? Actually, at MOLAA where there will be treats for sale. You can take pictures with them in the Cubby Photobooth, make them a bandana or leave their painted paw print on MOLAA's residential artists Chiachio & Giannone's Pride flag, which will be displayed at the Long Beach Pride Parade. All this, a cash bar and a doggy fashion show.
Another great thing: Why should your pup hog all the attention… again? You deserve a treat yourself, so head on over to The Pie Bar (450 Pine Ave.) before or after MOLAA and take part in its first ever celebration of Cinco De Pie-o. (Ouch). There will be dessert twists like Mexican Hot Chocolate Cutie Pie Jars, as well as, you know, booze: $5 glasses of Sangria, $4 Modelos & Coronas.
Giving us a moment's pause: Dog massage? What's petting?
Dog Day at MOLAA takes place in the Sculpture Garden & Viva Events Center. It is $30, $25 for members. For more information click here. The Museum of Latin American Art is located at 628 Alamitos Ave.
Add the "Today you should…" calendar

Subscribe through Google Calendar or your calendar app and get alerted to the best things to do in Long Beach. Updated 7 days a week.
This feature is experimental. Let us know how it's working.
Support our journalism.
Hyperlocal news is an essential force in our democracy, but it costs money to keep an organization like this one alive, and we can't rely on advertiser support alone. That's why we're asking readers like you to support our independent, fact-based journalism. We know you like it—that's why you're here. Help us keep hyperlocal news alive in Long Beach.