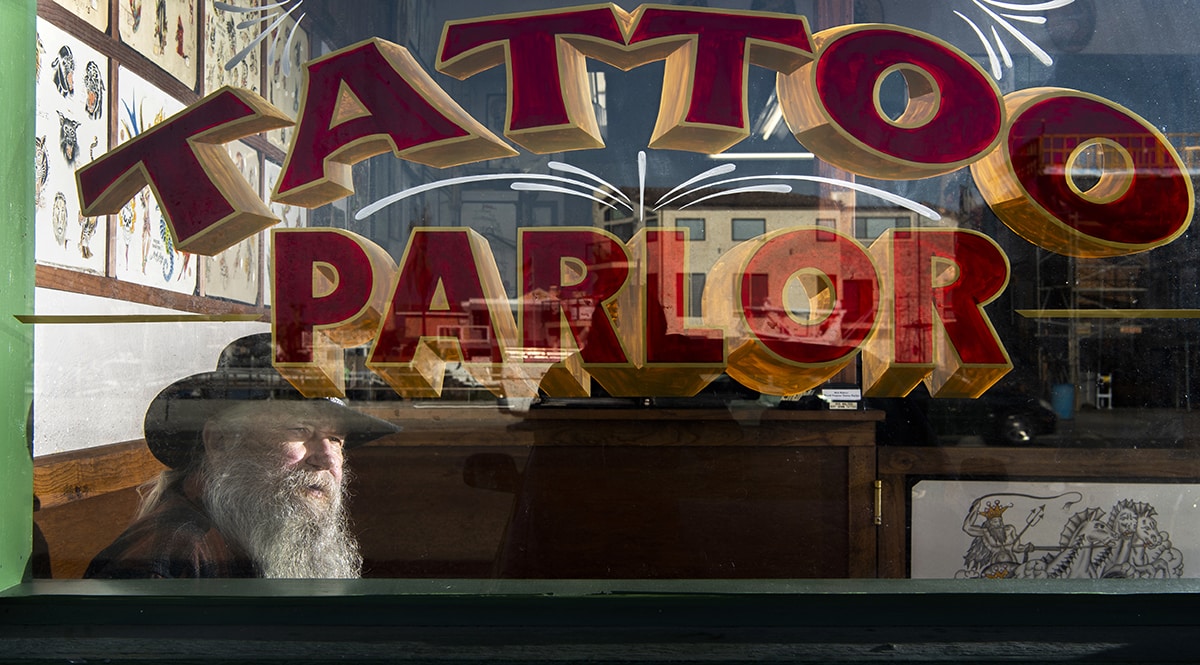 Icon Rick Walters hates you, but the tattoo community loves him
At hundreds, if not thousands of tattoo shops around the world, you'll find the same little, square sticker staring back at you. Smack in the middle of it is a black and white photo of a scowling, bearded biker with dark hair flowing to his black tank top. Surrounding that menacing image are four simple words, white font, all-caps: "RICK WALTERS HATES YOU".
The visual is so iconic within the tattoo community that T-shirts are emblazoned with it and poster-sized versions have hung in museums around the world. But if you went into Rick Walters' World Famous Tattoo Parlor today, the Rick Walters you'd meet might surprise you. Not only is the lengthy hair and beard a shade of white usually reserved for Santa Claus—a role Walters has happily played for fellow tattooers in previous Decembers—but the man under the mane can actually be quite friendly.
Make no mistake, Walters isn't interested in putting up with anyone's bullshit and will absolutely pull a large knife or loaded handgun on strangers, friends and family members either as a joking sign of affection or a perfectly credible threat, generally leaving it to those in attendance to decide which situation is actually occurring.
Of course, Walters' rugged rebelliousness is part of his charm. It's the twinkle in his eye that's made him a legend of the tattoo industry since the 1970s and still endears him to new artists, collectors and fans. But before he was recognized all over the world, Walters made a name for himself by managing Bert Grimm's shop on the Pike for 25 years.
"[In the 1970s], you had a few tattoo shops in L.A. and here and there, but Long Beach was the place, and the shop I ran was the premier shop of all of them," Walters says. "People would come down to the Pike and they'd go to our shop, and then if they couldn't get in they'd go to the other shops. The rest of the Pike pretty much lived off of our overflow."
These days, rapidly approaching his mid-70s, Walters is among the last of the Pike's old guard still tattooing. He's hooked up to oxygen now—decades of motorcycles and cigarettes have finally caught up to him—causing his extended family to come together for a fundraising art show on March 30 to help pay some of his medical bills. They've also set up a GoFundMe page for Walters. Despite any of that, the fiery former machinist still hangs around his shop to chop it up and tattoo a few days each week.
The Sunset Beach location he's owned for the last five years may not have the legendary status of Bert Grimm's, but where else is he going to go where there's a hand-painted cabinet with his face on it and every wall is replete with approximately $70,000 worth of original tattoo flash paintings by the world's most renowned and famous tattooers?
Of course, if it wasn't for a nasty motorcycle wreck about a half-century ago, Walters likely would've gone into the military instead of becoming a machinist which eventually led him to tattoo at a shop in Gardena in the evenings and hanging out at the Pike during his time off. The friendships he built with tattoo legends such as Bob Shaw, Owen Jensen and Hong Kong Tom eventually turned into the gig that made him famous, and then he just refused to give it up. Walters, the artist, became known for his crisp and classic take on American traditional tattooing, defined by bold lines and bright solid colors; "tattoos that look like tattoos" in a more common vernacular.
Virtually everyone who's spent enough time in the tattoo industry has a Rick Walters story that they can only tell in appropriate company. His tales of violence (typically in the form of well-deserved revenge) and debauchery still define the Long Beach tattoo scene of the late '70s through the '90s, and although he half-jokingly refuses to go on record with many of them for fear of legal repercussions, some of the stories that have lasted are the ones about him helping people.
"If he likes you, he'll care for you and do everything and anything he can for you," said tattoo artist Krystin Jones, Walters' daughter, who said that her dad wouldn't teach her to tattoo to spare her claims of nepotism within the community. "It'll be on his terms, but you'll get what it is that you're needing. You may not get it the way you wanted to get it, but you'll come out of it with a lot more knowledge. He's given more people chances than anyone, including people that I don't understand, and people have been going to him my whole life when they've needed something. He's got such a big heart, and it's not just for [his actual] family but also for [his tattoo] family."
Jones is the only one of Walters' familial children (including step-children) who tattoos, but his tattooing family tree stretches around the world. Considering that he spent decades teaching apprentices, fixing machines and selling equipment while he tattooed out of one of the most famous shops in the world, his current tattoo offspring, nephews, nieces, cousins, grandchildren and even great-grandchildren are a who's-who of the industry.
"I think of Rick as my grandfather in tattooing," said legendary artist and Bert Grimm's owner, Kari Barba. "My early mentor Fat George was trained by Rick. In tattooing, that makes him my grandfather."
Virtually every artist in Southern California is likely separated just a few degrees from Walters and the vast majority of tattooers around the world aren't much farther off.
"There are two main tattoo families in L.A. and Orange County, the Captain Jim family and the Bert Grimm family," Walters said. "People who've served a real apprenticeship have pretty much come out of one of those two families. Nowadays you have the internet tattooers who just went and bought a bunch of shit and started tattooing, but if they know what the hell they're doing, they came out of one of those families."
Chris Winn, one of Walters' many apprentices at Bert Grimm's, credits him with not only teaching him the craft but giving him life.
"I wouldn't be who I am at this very moment in time if it wasn't for him," he said. "Not only did he teach me my trade, to be a tattooer I can be proud of when looking in the mirror, but he's taught me my history and respect for where I come from, how I do it, and why I do it. Tattooing isn't a job, it's a life. When somebody gives you that, they're giving you a life. I'd probably be dead or in prison if it wasn't for him."
Although Walters may have moved his business to Sunset Beach, his family ties still run through virtually all of Long Beach's tattoo scene. After all, he was a vocal proponent of his tattoo granddaughter, Kari Barba, buying the location he'd helped make famous when Bert Grimm's closed in 2002; this even when other old-timers were against a woman taking over the iconic shop.
"Rick has stood up for me many times," Barba said. "When others were upset a woman was possibly taking over Bert Grimm's World Famous Tattoo, Rick had my back and had nothing but great things to say."
And his other descendants can be found all over the city. As much as Walters dislikes political correctness and has never been one to hold back on offensive language, his extended family serves as proof that under the gruff exterior is a warm heart that has a place for people from all walks of life. From actual relatives to tattoo apprentices to motorcycle club members, the adoring network in Walters' life is more than just a social media following (though Walters is more adept on an iPhone than many half his age) or a fan club.
Many of Walters' "children" and extended family will come together for the fundraising art show, March 30, at Garden Grove's Collective Ink Gallery. It's a family that spans numerous industries in dozens of countries, and it's not getting any smaller or weaker even as it comes to terms with the realization that its patriarch won't be around forever.
"He wants to make sure that we understand and respect the family part of what he's taken so long to build for us," Jones said. "When he's long gone, we'll still all be a family because he made it. He picked and chose each one of us, and a lot of people got told they weren't suitable or whatever. I'm still going to have these guys, and they're still going to have me. We're still going to have each other because he made us who we all are."
Support our journalism.
Hyperlocal news is an essential force in our democracy, but it costs money to keep an organization like this one alive, and we can't rely on advertiser support alone. That's why we're asking readers like you to support our independent, fact-based journalism. We know you like it—that's why you're here. Help us keep hyperlocal news alive in Long Beach.