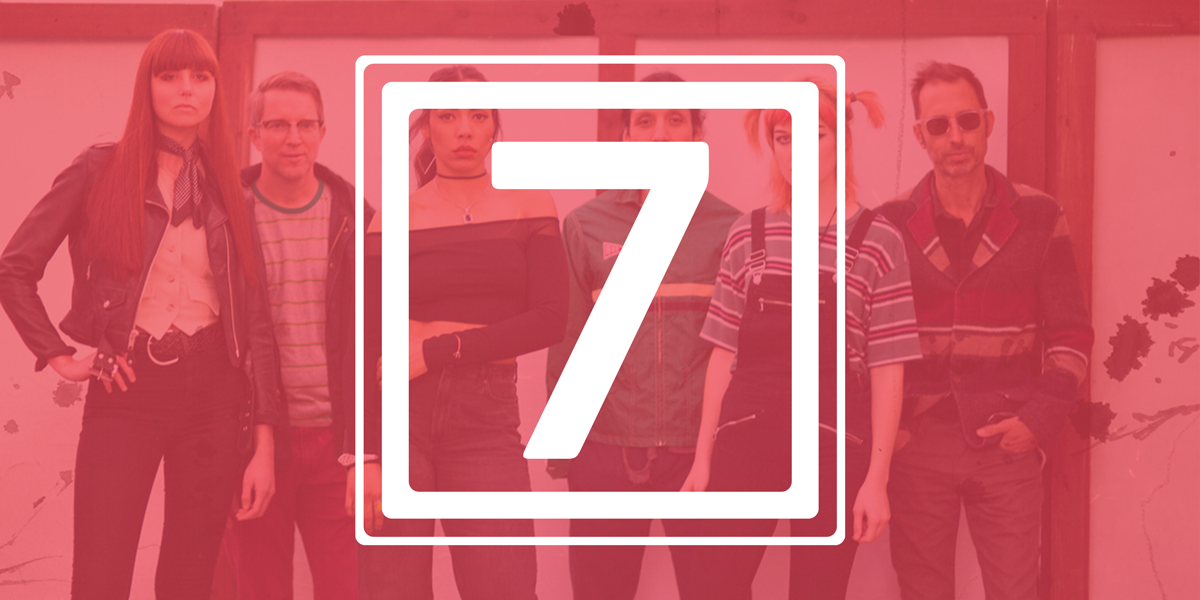 The 7: Things to do in Long Beach this week including… a few light nibbles
In this week's "The 7", there is absolutely no good reason that you should be leaving town because Long Beach has everything. Evvv-a-reeee-thiiing. As far as art and music are concerned. Go forth and attend!
1. BLACK LIVES, THE ARTS, AND MATTERING (Thursday)
The composer of five operas, including X: The Life and Times of Malcolm X for the New York City Opera in 1986, Anthony Davis will be premiering his The Central Park Five with Long Beach Opera on Saturday, June 15. Ahead of this, Davis will sit on a panel exploring music, art and activism on Thursday at the opera's fifth and final Community Conversation. Davis, who has devoted himself to shedding light on political and social issues through his composing, addresses pivotal events and figures in American history. Sitting on the panel, to be moderated by LBO's Manager of Education and Community Engagement, Derrell Acon, will be Councilman Rex Richardson, Marcina Riley from the LB Office of Equity and the Rev. Leon Wood.
Another great thing: This is more than just a panel discussion, also on the docket are performances by Davis and The Central Park Five performers.
Giving us a moment's pause: While attending is free, the last day to RSVP is Thursday, June 6. Also, if you don't show up five minutes early, your seat may be given away. LBO runs a tight ship!
The conversation runs from 6 to 8 p.m. in Long Beach's City Council chambers at 333 W. Ocean Blvd. To RSVP, visit the Eventbrite link here, to learn more about the upcoming opera, visit Long Beach Opera's website here.
2. VINCENT CASTIGLIA: AUTOPSY OF THE SOUL (Saturday)
If you know anything about Dark Art Emporium owner Jeremy Schott, you know that every one of the exhibitions he puts on is top notch, especially in the niche world of macabre art. So when Schott describes an upcoming show he's organized as "really big" you know it's going to be interesting.
Enter Vincent Castiglia, an artist that paints with his own blood—gross or poetic, you decide—and the first artist to have a solo exhibition at the H.R. Giger Museum in Switzerland circa 2008 (if you haven't heard of Giger he was on the Academy Award-winning special effects team for Alien.) Castiglia, expectedly, has also created work for multiple heavy-hitting heavy metal bands, including Slayer, and is a highly regarded tattoo artist. You can learn all about him in this new documentary, expectedly titled Bloodlines. Here's the trailer.
Anyway, DAE will present a career retrospective of Castiglia's works beginning Saturday called "Autopsy of the Soul." The show runs through June.
Another great thing: Walk out the door and around the corner where Hops & Vines will have plenty of artists outside selling their work during LB Artwalk. It's the second art walk in the East Village since the Arts Council for Long Beach officially took over operations and there's lots to see and do (if you can get past the dark, dead space between each shindig). Click here for more info.
Giving us a moment's pause: Blood. So much blood.
The opening reception takes place from 7 to 10 p.m. at Dark Art Emporium; 256 Elm Ave. Click here for more info.
3. ICON LBC (Friday)
One of the few free events during Long Beach Architecture Week will be ICON LBC, a closing celebration of sorts to the 10 days of architecture tours, fancy parties, films and lectures that kicked off Friday, May 31. A collaboration with InspiredLBC and some of the team that brought the first Hello, Welcome mural show to The Ice House Arts Complex in January, a new class of muralists have taken over the space to paint 13-plus pieces on the 5th floor of the mixed-use warehouse.
Artist "RFX1" has painted an aquarium scene based on the Aquarium of the Pacific's new Pacific Visions wing, while partially colorblind artist Eric Michael's mural is an ode to Long Beach's outgoing civic center, according to InspiredLBC founder Josh Garcia. And if you think this event will be like previous Hello, Welcomes, LBAW co-founder Sal Flores-Trimble is ecstatic to prove you wrong.
"We just confirmed state-of-the-art lighting, lasers and sound equipment for the show and party… it's going to be completely different than any other Hello, Welcome show," Flores-Trimble said on Wednesday. We also asked him a few questions about the event, who responded on behalf of, well, himself, and fellow LBAW co-founders Brian Trimble and Dan O'Brien:
Why partner with the group that brought Hello, Welcome to the Ice House Arts Complex?
At a basic level, art and architecture have been inextricably intertwined for millennia. We see it as a natural connection. We also believe that the architecture and art audiences find a natural connection between the two. Murals, as an art form, have long been connected to architecture. Consider the WPA murals of the depression era or POW! WOW! Long Beach. Both are also expressions of culture. One of the reasons we see the partnership between LBAW and HW is that both organizations view building community as a primary goal. This is a perfect opportunity for us to engage different groups and bridge communities.
How did you come up with the theme ICON LBC?
We decided as a group to have the artists paint images that they found to be iconic to Long Beach. Either architecture, person, place or thing, hence ICON LBC. When we think about art and architecture, we tend to brand well-known and well-loved works as iconic. These works become recognizable as representative of communities and culture. So the question became, "What is iconic about Long Beach?"
Another great thing: Expect experimental music from Burning Man DJs Holliday Panasith, Kenny Zhao and DeepAura Music.
Giving us a moment's pause: How many different ways can you host a mural show on the 5th floor of the Ice House Arts Complex? We're slowly finding out.
ICON LBC runs from 7 p.m. to midnight at 625 W. Anaheim St. Visit the Facebook event page here for more info.
4. WARGIRL, FURCAST, DEVIL SEASON & PRELOADED SPOON (Saturday)
While the danceable rock of Wargirl may be resonating with audiences in Europe, the band has yet to find as dedicated a fanbase in Long Beach, although they proudly call this seaside city home. The sextet will play a homecoming gig of sorts at Alex's Bar on Saturday night to celebrate their first album.
https://lbpost.com/life/music/wargirl-returns-long-beach-band-plays-alexs-in-support-of-first-album/
Another great thing: A lot of bands playing abroad claim Los Angeles as their base, but Wargirl has always made sure everyone understands they're from Long Beach.
Giving us a moment's pause: I'm not sure how you preload a spoon, though and for what purpose you're preloading said spoon, but I hope it involves a food fight.
The show takes place Alex's Bar; doors open at 8 p.m., show runs from 9:30 p.m. to 1 a.m.; 2913 E. Anaheim St. For tickets, check out the event page here.
5. BEETHOVEN'S 9TH SYMPHONY (Saturday)

The symphony will wrap up its classical music season with Handel's Royal Fireworks Music and, most epically, Beethoven's 9th Symphony. Many have heard the "Ode to Joy" section, but few have experienced it live. Take this chance to let a crescendo of chills run up your spine as the masterpiece, composed by Beethoven when he was completely deaf, is brought to life Saturday night.
Curious as to how "Ode to Joy" became such a hit, we asked Long Beach Symphony Maestro Eckart Preu a couple questions about this "crown of classical music."
"Ode to Joy" may be the most popular and beloved piece of music, ever. Musically, what is going on in that song that has made people react to it in the way they do?
It's the perfect combination of memorable melody, sophisticated counterpoint, and sheer overwhelming raw power. We have to wait for this final movement for quite a while, so the long, anticipated fulfillment of expectation plays a big role in the release of emotions. Also, the main melody of the "Ode" is repeated over and over in various incarnations to make sure we won't forget it. And when 200 people on stage are engaged in the final super fast and heated yelling of "joy!" it's so extreme you have to love it.
Anything else you'd like to add about "Ode" or your symphony's performance of it?
One of the many strengths of this work is the incredible communal effort it takes to perform it. Nothing in this symphony comes easy. It is technically demanding and emotionally draining. Above all, it is the ambitious message of this work that resonates with America, that all men shall be brothers, all men are created equal. It's a celebration of love and a celebration of humanity.
Another great thing: Soloists Kala Maxym, I-Chin Feinblatt, Jason Francisco and Steve Pence will be joined by the Long Beach Camerata Singers.
Giving us a moment's pause: 200 people on stage heatedly yelling "joy!"
The concert takes place at 8 p.m. in the Terrace Theater at 300 E. Ocean Blvd. For more info and tickets, visit the link here or call 562-436-3203.
6. IN CONVERSATION: QUEER FUTURES (Sunday)

Rene Capone has never publicly spoken about his art before, not really, but Sunday afternoon he's willing to lay it all out for the sake of "Queer Romanticism" an emerging field of Fine Art his recently opened exhibition at Hellada Gallery, "Morié: Evolution Under Pressure," encompasses. Join Capone and John Waiblinger, two artists already deep in the discussion about queer art, to ask questions, share thoughts and talk about your's and their "fantasies about queer male love and beauty."
Another great thing: Hellada Gallery will provide "a few light nibbles" during the convo.
Giving us a moment's pause: Will the "few light nibbles" be on the ear?
The conversation runs from 1:30 to about 4 p.m. at Hellada Gallery, 117 Linden Ave. For more info, check out the event page here. "Morié: Evolution Under Pressure" runs through Friday, June 14.
7. FIRST FRIDAYS PRESENTS PROM NIGHT (Friday)
[SPONSORED] It's the first Friday of the month and it's Prom Night in Bixby Knolls! Start off at the Expo Arts Center for the yearbook signing, pose for your group photo, sip some punch and enjoy a slow dance. Surrounding businesses are celebrating, too. Make your own corsage at The Better Half Boutique, check out the classic cars at George's 50's Diner, enter the Best Dressed contest at And Then, enjoy prom slices at Porky's Pizza, live bands and DJs at Lola's, Steelcraft, Ambitious Ales, and much more. It's a family-friendly night, come dressed up and ready to boogie down!
Another great thing: If you've been waiting for an excuse to rent a limo, this is it.
Giving us a moment's pause: Social pressure to look your best.
First Fridays runs from 6:30 to 9:30 p.m. on Atlantic Avenue in Bixby Knolls. For more info, check out the Facebook event page here.
Support our journalism.
Hyperlocal news is an essential force in our democracy, but it costs money to keep an organization like this one alive, and we can't rely on advertiser support alone. That's why we're asking readers like you to support our independent, fact-based journalism. We know you like it—that's why you're here. Help us keep hyperlocal news alive in Long Beach.