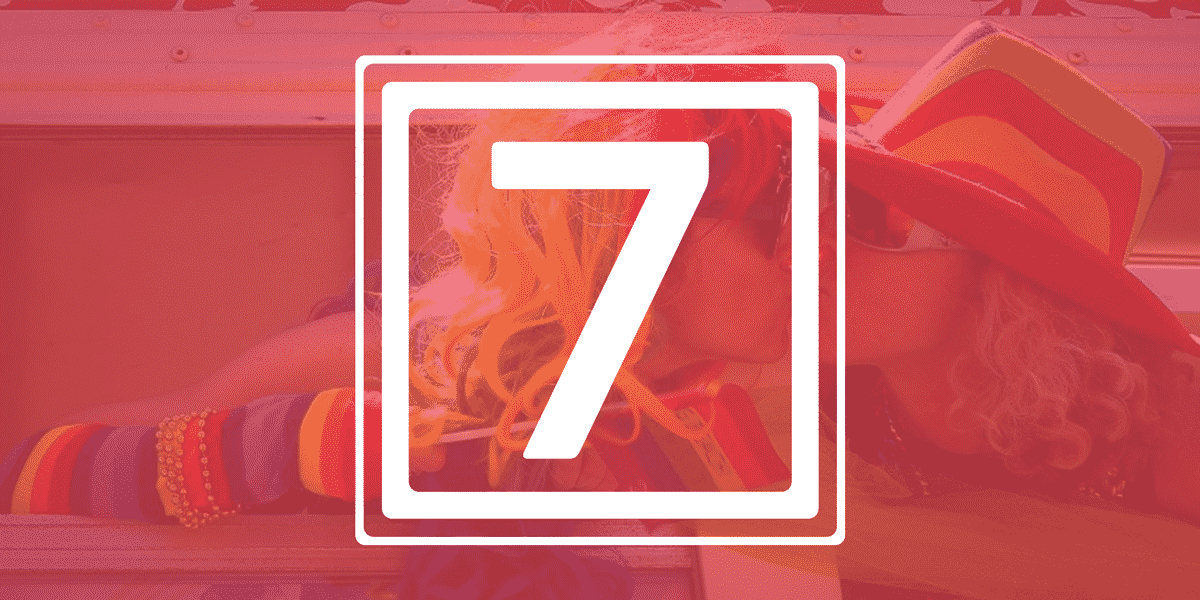 The 7: Things to do this weekend including … so much Pride
We've got Pride, yes we do.
We also have a bit of history, some TV—both good (British) and bad (network)—music, bikes, art and judgmental dogs.
But, of course, it's Pride Weekend in Long Beach, one of the city's defining events, annually. So. Much. Pride…
1. LONG BEACH PRIDE PARADE (Sunday)
The 36th annual Long Beach Gay Pride Parade runs on Ocean Boulevard, starting at Lindero Avenue and ending at Alamitos Avenue. The Pre-Parade Show begins at 9:30 a.m. at the parade grandstand located on Ocean between Cherry and Junipero avenues. The parade step-off is at 10:30 a.m.
This year's parade and festival honor the 50th anniversary of the Stonewall riots in New York which are generally credited with starting the modern gay rights movement. You've probably heard of Stonewall, but may not be up with why it is so significant. The above clip will give you enough to sound smart at a party.
While Stonewall is no doubt significant and worthy of recognition, we'd like to point out that 10 years before it happened, another significant event in the gay rights movement occurred nearly 60 years ago to the day, right here in Southern California. In May of 1959, what is considered to be the first gay uprising occurred at Cooper's Donuts, a popular gay meeting place located on Main Street in what was called Los Angeles' "gay ghetto." Tired of having their friends arrested merely for legally congregating, a group of LGBTQ individuals fought back against LAPD officers well-known then (then?) for their brutality.
Would Stonewall have occurred if Cooper never happened? Probably. Would it have occurred in 1969? Hmmmmm …
Another great thing: Actually, Stonewall wasn't the next big uprising after Cooper. That occurred seven years later at the Black Cat Tavern. In Silverlake.
Giving us a moment's pause: You hear Ripples is closing?
For more information or tickets, click here.
2. LONG BEACH PRIDE FESTIVAL (Saturday and Sunday)
The Festival takes place at Marina Green and Rainbow Lagoon parks located on Shoreline Drive between Shoreline Village Drive and Alamitos Avenue… actually, don't worry about specific locations, if you just get close, you'll hear it. The fun starts each day at 11 a.m. and runs to 10 p.m. Admission is $20 online and $25 at the gate. Kids under 12 are free but must be accompanied by an adult, they also will not be allowed to be at the festival after 5:30 p.m. Folks 65 and older, veterans and active military with ID all get in free.
Another great thing: There will be lots of entertainment including headliner Big Freedia as well as Pablo Montero and Diana Reyes and the Selena Tribute Band will perform on the Latin stage.
Giving us a moment's pause: All good.
For more information or tickets, click here.
3. MARIACHI ARCOIRIS de LOS ANGELES AT FUEGO, HOTEL MAYA (Sunday)
There are so many reasons to hit this gig. First, and we know we're not the first to say this, Fuego at the Hotel Maya has our favorite view of the city, looking back over the bay, from its outdoor perch kinda next door to the Queen Mary. So there's that. Then, there's the opportunity to experience a truly one-of-a-kind band in Mariachi Arcoiris de Los Angeles, the world's first, and we believe, still only LGBTQ mariachi band. The band will perform at Fuego on May 19 from 11 a.m. to 2 p.m.
This unique ensemble was created as a safe haven for mariachi musicians who identify as LGBTQ to come together and perform traditional Mexican regional music. Mariachi Arcoiris de Los Angeles is part of Hotel Maya's continued program of "12 Months of Maya-Achis," a monthly mariachi brunch at Fuego. The Latin American infused restaurant, known for one of the largest tequila selections in the region, is hosting 12 different mariachi bands – one for each month – throughout 2019.
But perhaps the best reason to go to the show is that Mariachi Arcoiris de Los Angeles is just an awful lot of fun. We've seen them before and not only are they exceptional musicians but skilled entertainers who put on a wonderful, sometimes heartwarming, many times hilarious show.
Another great thing: Yes, it is no coincidence that they are performing the day of the Pride Parade.
Giving us a moment's pause: Choosing between Fuego's Eggs Benedict, Pandulce French Toast, Steak Tampiqueno, Chilaquiles, Achiote Mojo Salmon, Citrus Braised Pork Carnitas, Ropa Vieja or Plantain Crusted Sea Bass. Man, the music business is tough. 
Hotel Maya is located at 700 Queensway Dr. For more information, click here.
4. LIVE AFTER 5 + BICYCLE MOVIE DRIVE-IN (Thursday)
So, this is cool. Downtown Long Beach Alliance's (DLBA) monthly Live After 5 will celebrate Bike Month by putting on a Bicycle Drive-In movie event. What you do is ride your bike to the Promenade parking lot (233 The Promenade North) located between Broadway and Third Street, perhaps making use of the new bike lanes on those streets, taking care not to run into the trucks, trash cans and people who treat the space like it's a loading dock and/or sun porch. Once you arrive, there will be free bike valet—thanks Pedal Movement!—and then you can head over to the "theater" where you'll hear some music and then be shown the teen classic "Ferris Bueller's Day Off" which, frankly, we never thought was all that classic.
Another great thing: There will be food and stuff provided by Beachwood Brewing Company, Kettle Corn King and Kona Ice.
Giving us a moment's pause: Not only do we not think "Ferris" is a classic, but we believe there are much better bike-centric films that could be screened in the future. So, when they do this again, and they should, we'd suggest…
"The Bicycle Thief"
One of the great achievements of world cinema. Granted, this is for an adult crowd and it helps if you speak Italian, but you can't get anymore bike-centric than a film about one's very existence and familial role depending solely on the acquisition of a bicycle.
"Pee Wee's Big Adventure"
Basically, an updated, family version of "The Bicycle Thief" in color, with a dance scene that defined a generation. Behold:
"ET"
Not only are bicycles essential in creating one of this film's, and moviemaking's, iconic images, they are used effectively as what they used to be: the first taste many kids get of independence and freedom. Plus, ours had a bitchen banana seat.
Live After 5 runs from 5 to 9 p.m. at 233 The Promenade North. For more information, check out the event page here.
5. SUMMER EXHIBITION CELEBRATION (Friday)
Artist Patrick Angus (1953-1992) is known primarily for his work in the early '80s depicting young male dancers in New York clubs, work that earned him the nickname "the Toulouse-Lautrec of Times Square." The Long Beach Museum of Art will kick off its large scale retrospective of Angus that not only offers insight into his work but his life in Manhattan's gay scene. The retrospective, titled "Voyeur," opens to the public Friday, at 7 p.m., with live music, food and drinks.
Also opening, an exhibition of the photography of Bob Mizer (1922-1992). "Vintage Physique" documents Mizer's near-50-year career, especially the work he did with his groundbreaking publication, Physique Pictorial. Mizer's unique portrayals of male figures are not only instilled with his passion but also reflect and challenge societal notions of masculinity.
Another great thing: Angus and Mizer illuminated specific gay subcultures and, Saturday, Qhmer will continue the work it does toward providing positive Khmer representation in the LGBTQ community, by hosting its first open mic night at Romeo Chocolates (460 Pine Ave.). There will be information about the organization, their mission and how they go about their task. The event goes from 5 to 7 p.m.; enjoy some happy hour beer and wine paired with delicious chocolates (are there any other kinds?)
Giving us a moment's pause: Inclusiveness and community-building go straight to our thighs.
After Dark runs from 7 to 10 p.m.; 2300 E. Ocean Blvd. For more info, visit the Facebook event here.
6. ANYWHERE BUT HERE: JOSHUA TREE MUSIC FESTIVAL (All weekend)
In its 17th year, the Joshua Tree Music Festival takes place every May and October at the gateway to the Joshua Tree National Park. The four-day festivals are extremely inclusive, consider that this year's lineup includes the likes of rock outfit Vintage Trouble, roots-driven trance of My Baby, Afro-rock and soul of The Cole Williams Band, punk/funk of Thumpasaurus and the psych synth-soul of Night Glitter. And a whole lot more.
If the festival sounds a lot like other outdoor extravaganzas, there's a couple of significant differences: crowd size is limited to about 4,000 and children are not only permitted but encouraged to attend. The festival is very family-friendly. Beyond music, it has interactive art and art installations, yoga classes, an area for mindfulness and meditation as well as a "Kidsville" with arts and crafts, activities and stories.
Another great thing: The Joshua Tree Fest has been the launching ground for many groups such as Edward Sharpe & the Magnetic Zeros, the Avett Brothers and Trombone Shorty.
Giving us a moment's pause: Scorpions? Porta potties? Scorpions in porta potties? Is that a thing?
The festival takes place at Joshua Tree Lake Campground, 2601 Sunfair Road, Joshua Tree, CA, 92252. For tickets and more info, visit the website here.
7. THE BIG BANG THEORY (Thursday)
"The Big Bang Theory" will end its 12-year run on Thursday, going down as one of the most popular TV shows of all time. No, really. It says so in a bunch of things we read online. We attempted to get someone to talk about "The Big Bang Theory" but we couldn't find a single person who watches "The Big Bang Theory." No, really. We have never watched an episode, though we have caught isolated minutes over the years, only to find ourselves staring stonefaced and puzzled—kinda like the look your dog gives you when it catches you performing some personal grooming—wondering where exactly the "com" in this sitcom is hiding? (See above clip.)
Anyways, the people who produce and star in this thing have made an obscene amount of money, so, good for them.
Another great thing: The outstanding, and funny, British comedy "Fleabag" kicks off its second season a day later; Friday, May 17. We suggest you first check out the first season of the Amazon Original production, which airs on Prime Video. What you'll find is a smart, funny, truthful, relentless, sometimes cringe-y show proving once again the British are just better at television than we are.
Giving us a moment's pause: We'll watch the whole second season of "Fleabag" in one sitting, then where are we?
Support our journalism.
Hyperlocal news is an essential force in our democracy, but it costs money to keep an organization like this one alive, and we can't rely on advertiser support alone. That's why we're asking readers like you to support our independent, fact-based journalism. We know you like it—that's why you're here. Help us keep hyperlocal news alive in Long Beach.