These award-winning high school students turned the pandemic into artistic inspiration
When the COVID-19 pandemic forced schools to close last year, it created a period of uncertainty for students who were suddenly quarantining at home. For some students, that sparked inspiration, and motivated them to explore their talents in new ways.
Claire Beeli was just a freshman at Wilson High School, but she used the time at home in a productive and creative way.
"After quarantine started, I began to write a lot. Way more than I ever have in my whole life," Beeli recalled. "I didn't have much else to do, and I just thought, you know, I might as well get really good at something while I can."
It didn't take long for that dedication to pay off.
Beeli is one of a handful of local high school students from Wilson and Poly who were recognized for their outstanding submissions to the 2021 Young Artists and Scholars Showcase (YAAS), hosted by the Sister Cities of Long Beach.
The competition gathered submissions in various categories from LBUSD students, along with students from Long Beach's Sister Cities of Sochi, Russia and Yokkaichi, Japan. The theme for this year's competition was "United in Hope," and the more than 280 submissions received set a new record for the showcase.
Students from Long Beach earned first place in three separate categories, receiving a $200 cash prize as well as consideration in the international competition with submissions from across the globe.
Wilson junior Annalise Mirsec was awarded first place in the Visual Art category for her piece "United in Hope."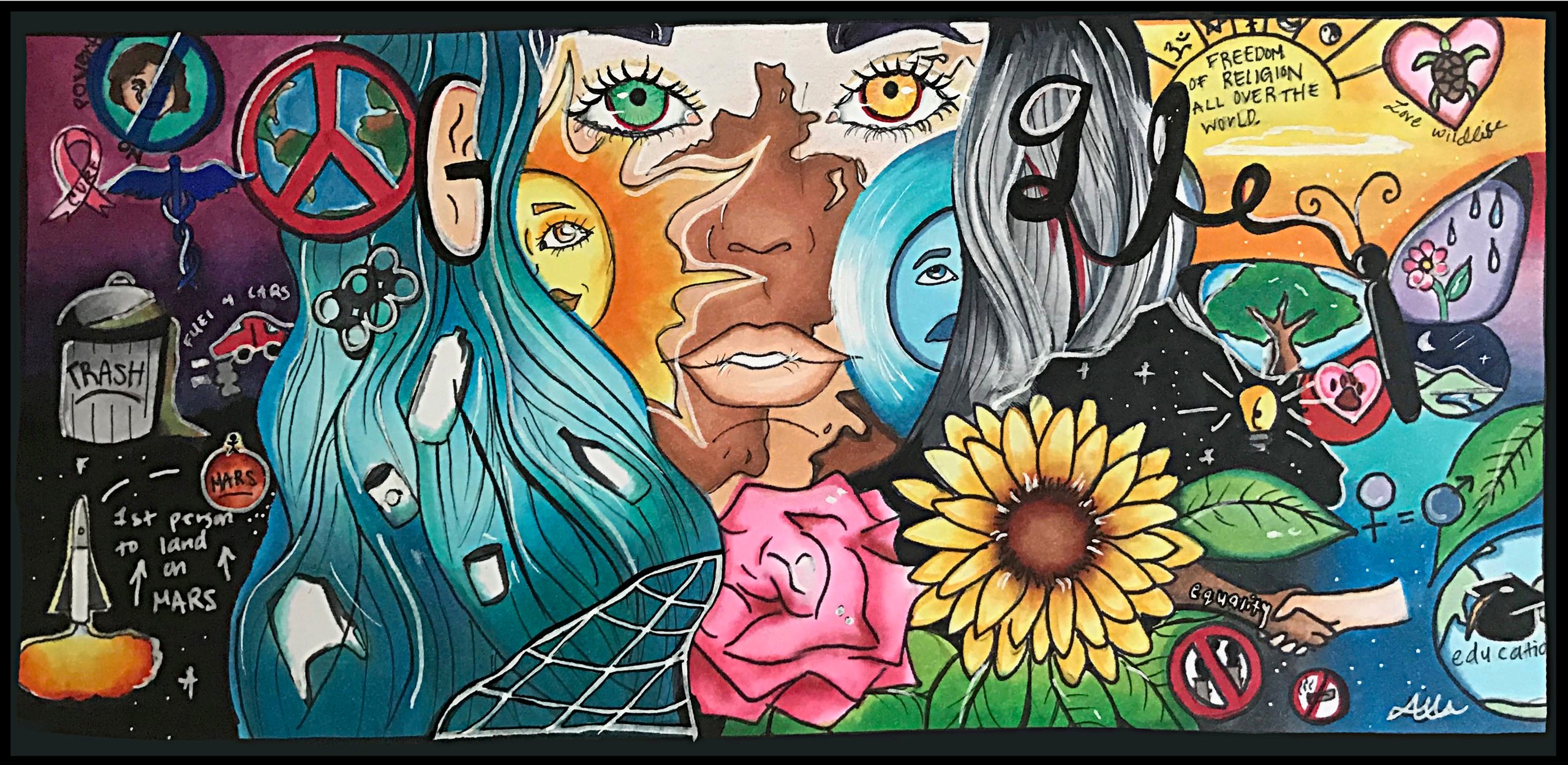 "I wanted to illustrate something that would convey the things that matter most to me," Mirsec explained. "I wanted to include world issues like pollution, gender inequality, poverty, and I wanted to really point them out so that we can prioritize those issues and make a change to better the world."
Mirsec says her mom, Miranda, is the one who encouraged her to submit her artwork for the competition, and that's also where she gets her creativity. Miranda is a photographer, and her work helped inspire Annalise's artistic nature from early on in her childhood.
"She always told me that when I was little, I actually picked up a paintbrush before I picked up a pencil," Annalise recalled. "So I think I've just always been interested in doing art."
Poly's Sofia Farfan also claimed second place in the category.
In music, Poly junior Visud Chang won first place for his submission, "Set in Motion."
Chang's piece was performed on the piano and was inspired by the efforts of scientists across the globe to combat the pandemic.
"This past year we had the Coronavirus obviously, and all these scientists from different countries worked together to create a vaccine that would help the world," Chang said. "Today you don't really see these countries working together so seamlessly because of all the political debates, so it was inspired by all these scientists from international communities who worked together to set in motion a cure to the virus."
Wilson's Tiaja Traylor-Morgan claimed second place in the category.
In the literature category, Beeli's submission was a 500-word essay entitled "The Common Mosaic," which was inspired by how the pandemic brought people together for a shared cause. Beeli's submission was also awarded the grand prize in the international competition, which comes with a $1,000 cash prize.
"It was pretty incredible," said Beeli on how it felt to win. "It was really cool to see all those names on the press release. There was a girl from India who won third place, that was so cool. A kid from Austin, Texas, won second place. In the other categories, there were kids from all over the world and all the different Sister Cities that we're connected to from here in Long Beach. It's an amazing network of different cities that we can connect to."
Beeli says she's already written two books, and hopes to improve on her writing skills in the years ahead. She's most passionate about fantasy writing, which she's been reading since she was first able to pick up a book.
But this particular essay is an examination of the real world, and the very real turmoil we've all been facing. With the theme of "United in Hope" as her charge, Beeli takes a rose-colored view not of where we are, but where we could be.
"Really what inspired me was the theme. I really liked the whole image that it created," she explained. "Which is why I came up with 'The Common Mosaic'; all these little pieces and people all over the world coming together to create something beautiful. And to share hope for what the future might hold."
Support our journalism.
Hyperlocal news is an essential force in our democracy, but it costs money to keep an organization like this one alive, and we can't rely on advertiser support alone. That's why we're asking readers like you to support our independent, fact-based journalism. We know you like it—that's why you're here. Help us keep hyperlocal news alive in Long Beach.