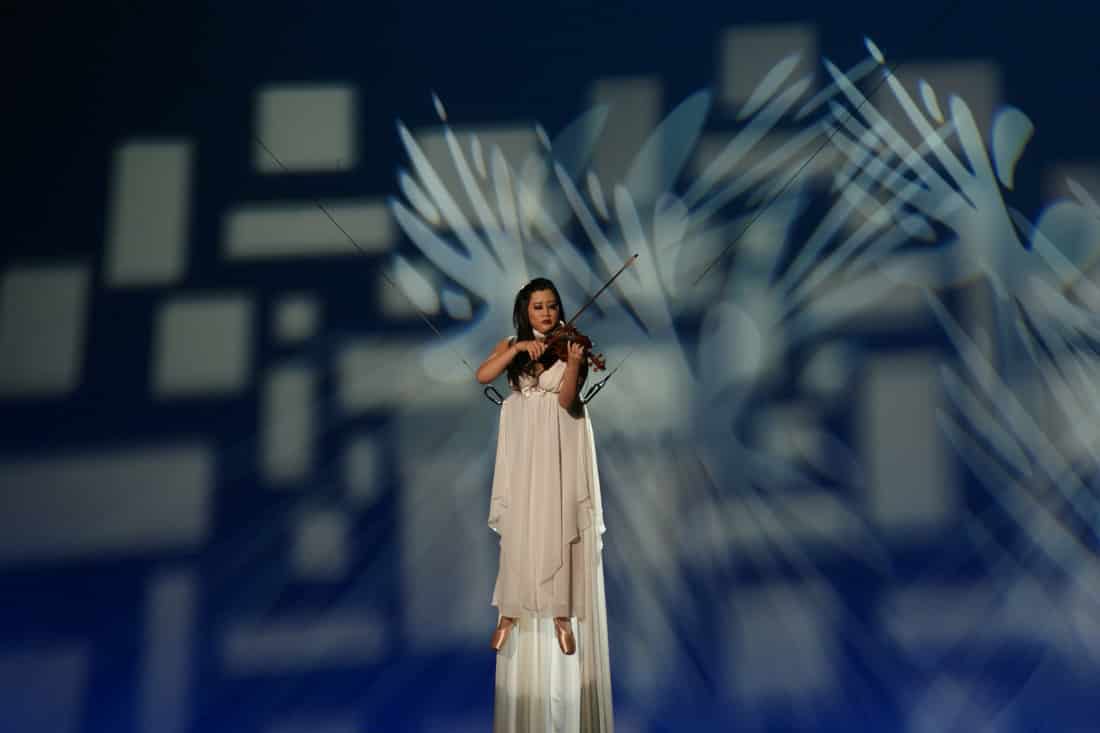 Veronica Gan will soar over Cirque Musica's 'Heroes and Villians'
Long Beach Symphony's Pops series continues, Saturday, as Cirque Musica presents "Heroes and Villians," an amalgam of classical and contemporary music offered with an array of acrobats, aerialists and performers of all stripes, Cirquely speaking. And into this will appear the particular talent of solo violinist Veronica Gan who will go about the business of not only being heard but seen, something she'll do by staying above it all.
Really. Above. It.
So, at some point during Saturday's performance, Gan will be swept up into the air via harness and wires. Now, whether she soars out over the audience or rises in place as sort of a fixed star—she's a dual threat—remains to be seen. When she performs like this, which is not all the time—Gan has a long, hefty and varied resume—she's often referred to as a "flying violinist" which is a thing now; you can Google it.
Of course, when she started doing it, nearly a decade ago, the very idea of going up in the air was a proposition that existed somewhere between a "What-if?" and a dare. In fact, the first time she did it, she never actually played her instrument.
"They asked me if I could do it because, for his birthday party [Dallas Cowboys owner] Jerry Jones wanted to have women, dressed all in white, hovering in these giant chandeliers in the air, pretending to play violins," said Gan, a Texas native. "It seemed an oddly specific request, but I said sure."
And not long after that, Gan found herself with a new career path, life having performed that trick it does when it takes you in a completely unexpected direction; in Gan's case, that direction being up.
She has performed aloft with some of the country's great orchestras, has beheld "an incredible view" while doing as much at the Hollywood Bowl. The whole operation has become so second nature to her now that she will touch down in Long Beach with less than a day to prepare for her Saturday evening flight, one that is significant since it marks the first time Gan has gone airborne since giving birth last autumn.
When played by a master such as Gan, the tone of a violin can be light and sweet, distracting from the fact the instrument requires a significant amount of physicality, particularly a steady bow hand supported by a solid base. This is essential. In fact, it is not unusual to see solo artists, who must play standing up, rehearse in their bare feet to allow their toes to provide them with additional grip. None of which is available to someone suspended in midair.
"Being up there, how do I describe it, you have to create your own base through full body engagement," she said. "Your abs, especially the front of your abs have to be fully engaged."
She says she began to take her fitness even more seriously when aerial jobs kept coming, and started taking aerial fitness classes. Fortunately for Gan, something from her past fueled her future: a "rather OCD" approach to her bow control.
"When I was in school, I would practice my bow without the fingering for hours and hours, trying for exact control," she said. "It would sound so bad that I got the nickname 'Roni Gan, wrong again.' It got so bad, that the maintenance crew thought there was an alarm going off."
But having worked those bow hand muscles to such an extreme amount helped steady things for her while in the air. Not that it solved everything. She's heard criticism from a multitude of directions. Circus performers used to denigrate her for having "ugly feet," that is unpointed toes. And, at least at first, fellow musicians didn't exactly get what she was doing.
"When I first starting doing it, I remember I went to some gathering with a lot of other musicians and when they saw me they all acted like I passed gas in the room," she said. "But then, later, someone said 'How the expletive did you do that?' And that's how it goes, some people are amazed and want to talk about it, some don't say a word. I'm comfortable with either. I'm secure."
That security comes from a rock solid, grounded career that has seen her play with heavyweights both classical and contemporary, her resume presenting an array of musical partners ranging from classical (too many major orchestras to list) to classic (Stevie Wonder, Gladys Knight) to contemporary (Snarky Puppy) to bitchen (Queensryche!)
As far as Saturday is concerned, "Heroes and Villians" will feature a classical repertoire including "The Planets" and "Night on Bald Mountain" as well as popular sci-fi pieces from movies, comics, and television, i.e. "The Avengers," "Star Wars" and "The Dark Knight." Gan will be in among as well as above it all. It's something she never expected, but now see's as part of her evolution as an artist and performer.
"I view myself as a professional," she said. "I can do a lot of things; a jack of all trades, I'd guess you say. I just try and play my violin as well as I possibly can. I did think this was just going to be a one-off, crazy, hilarious thing that would give me a great story to tell. It was so terrifying, I thought no one would ever believe me. But now, I've embraced it. It's still crazy, but I'm embracing it."
Cirque Musica Presents: "Heroes and Villians," Saturday, May 4, at 8 p.m. For more information or tickets, click here. 
Long Beach Arena's Pacific Ballroom is located at 300 E Ocean Blvd.
Support our journalism.
Hyperlocal news is an essential force in our democracy, but it costs money to keep an organization like this one alive, and we can't rely on advertiser support alone. That's why we're asking readers like you to support our independent, fact-based journalism. We know you like it—that's why you're here. Help us keep hyperlocal news alive in Long Beach.