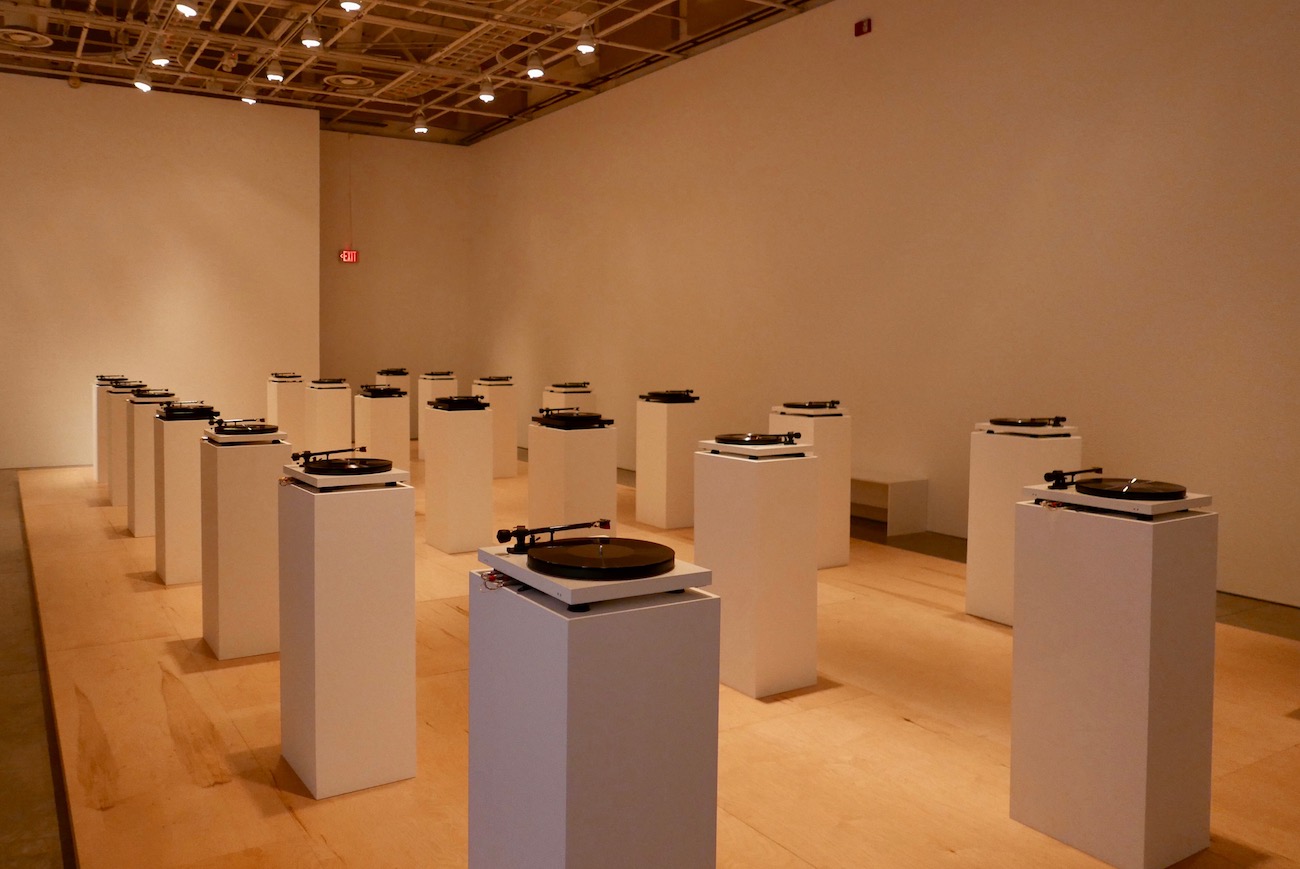 Today, you should… analyze the complex relationship between race, power and violence
WEDNESDAY, OCT. 16
It's a strange feeling, reading a detailed description of what Sandra Bland's cell looked like, from the placement of the sink to the color of her bedding, in a report printed out and displayed in American Monument, artist lauren woods' and co-leader Kimberli Meyer's traveling installation examining the "cultural conditions under which African-Americans lose their lives to police brutality."
Never fully realized at Cal State Long Beach's campus museum (now called the Kleefeld Contemporary), American Monument opened at the Beall Center for Art + Technology at UC Irvine on Oct. 5. The turntables are on this time; the records that were paused for the duration of their stay last year in Long Beach can be played, you'll just have to drive 30-40 minutes down the 405 to hear them (that's sans traffic, mind you).
Though it's been a year since the Long Beach exhibit—you can learn more about why woods placed her own artwork on pause here—the installation's reason for being remains timely in the wake of another high-profile police shooting, this time the killing of 28-year-old Atatiana Jefferson, an African American woman shot while sitting inside a Fort Worth house, playing video games with her 8-year-old nephew.
After firing of museum director, artist walks out of exhibit on opening night at CSULB
The legal document on Bland—an African American woman found dead, hanged, in her Waller County, Texas jail cell three days after being arrested during a traffic stop—is just one of hundreds, maybe thousands of pages viewers can read at the Beall Center gleaned from an extensive Freedom of Information Act request process. This particular document read like a set design, sterile, emotionless, removed. A lot of us receive word of these deaths as news clips, Facebook videos, waves of angry tweets on a screen, a phone, computer, television, often from the comfort of our own homes; removed.
Perhaps the beauty of the artwork's main sound installation, each turntable representing a police killing, the audio materials from record requests, is that it takes you out of that comfort and creates an environment where you can choose, by placing down the needle, to allow sounds of fear and violence to play throughout the gallery. Maybe you'll feel less removed, more present, a modicum of what it was like to bear witness to any of the 22 deaths highlighted, from Alton Sterling to Philando Castile to Trayvon Martin to Bland.
Viewers are even given a sticker upon entrance to the space that reads, "WITNESS."
The installation encourages contemplation of what woods found through close readings of use-of-force reports, prosecutor reports, witness testimonies, 911 calls and video footage, that "police use of white dominant cultural constructions and stereotypes of 'Blackness,' mined from pop culture, to justify fatal violence," according to the press material. She wants you to "ponder how the law is created, interpreted, enacted and perpetuated."
It's likely you'll want to stay awhile. Go alone, and pay for more than an hour of parking. You'll want to listen, sit and read without having to worry if the friend you brought along with you wants to leave and you're not ready to go yet. Fair warning, American Monument contains language and content that may be disturbing and traumatizing. Please be mindful.
Another great thing: We're good.
Giving us a moment's pause: Please, no more pauses.
American Monument is on view at The Beall Center for Art + Technology through Feb. 5, 2020; 712 Arts Plaza on UC Irvine's campus. Paid parking is available in the Mesa Arts Building Parking Structure at 4000 Mesa Rd. and Student Center Parking Structure at 311 W. Peltason Drive, Irvine. Gallery hours are Monday – Saturday, 12 to 6 p.m. Holiday closures: Nov. 11; Nov. 28 – 29; Dec. 15 – Jan. 5; Jan. 20. For more info, visit beallcenter.uci.edu.
Get the "Do This!" email

The "Today You Should" newsletter is now "Do This!" Subscribe and we'll let you know whenever there's something great to do in or around Long Beach.

---

Add the "Do This!" calendar

Subscribe through Google Calendar or your calendar app and get alerted to the best things to do in or around Long Beach.
This feature is experimental. Let us know how it's working.
Support our journalism.
Hyperlocal news is an essential force in our democracy, but it costs money to keep an organization like this one alive, and we can't rely on advertiser support alone. That's why we're asking readers like you to support our independent, fact-based journalism. We know you like it—that's why you're here. Help us keep hyperlocal news alive in Long Beach.