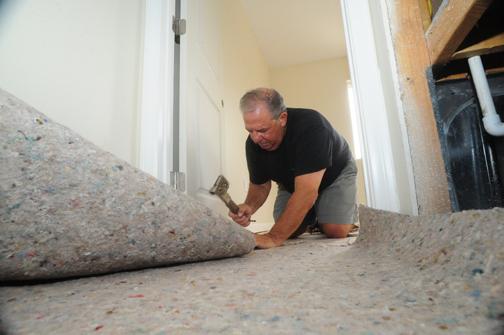 My First Job: Former Mayor Bob Foster
With Labor Day coming, we got to thinking about that often critical, sometimes comical first job we've all had—and sometimes had to endure. We asked a few locals who've journeyed on their own interesting career paths what that first step/job was like. First, Bob Foster, who was mayor of Long Beach for two terms, from 2006 through 2014. Prior to serving as mayor, Foster worked for Southern California Edison, becoming its president in 2002.
Bob Foster, even after he learned to walk, spent much of his younger years crawling on the floor.
Born in Brooklyn, New York on New Year's Day in 1947, Foster's first job was installing carpet with his father Ben in Manhattan.
"I was good at it," he says matter-of-factly. "I could work fast; do a whole house in a day. It's a lot of physical work."
Foster continued working in the flooring business all through his college years at San Jose State University.
"When people ask me how I became successful in my life, I tell them that I was always able to take risks that other people might not take," says Foster. "Because if push came to shove, I could always go back to flooring to support my family. I could make a good living at it."
Foster's first boss was his pop. "Dad's the one who taught me," says Foster.
His dad Ben was a Marine serving in the Pacific during World War II. "When he got back to New York from the war, he paid someone to show him how to lay carpet," says Foster. "It was a different job back then. You had to tack the carpet down inch by inch; it was called tuck-and-tack, and it was much more difficult than it is now.
"You were crawling around with a mouthful of tacks, bouncing off the walls. Later, they came out with tackless strips that you put down along the walls to put the carpet on, but you still had to nail those down so you still had a mouthful of tacks, and finally they came up with pre-nailed tackless strips. I don't know why they don't use nail guns because that would be even faster."
In 2011, when Foster was mayor and a spry 64-year-old, he worked with Habitat for Humanity on the Mayor's Build House, which was given to a low-income Long Beach family.
"The kids who were working on the house said, 'Mr. Mayor, are you going to lay some carpet?' Foster ended up laying all the carpet for the second floor.
"It was like I never left," he says. "I mean, I was kickin' carpet, laying down tack strips and bouncing off the walls. I could still work at the same speed, the only difference was I was always looking for door knobs or window sills—anything to help me get up off the floor."
Support our journalism.
Hyperlocal news is an essential force in our democracy, but it costs money to keep an organization like this one alive, and we can't rely on advertiser support alone. That's why we're asking readers like you to support our independent, fact-based journalism. We know you like it—that's why you're here. Help us keep hyperlocal news alive in Long Beach.