American Monument, the installation first presented at the University Art Museum at Cal State Long Beach that was "paused" by its artist, lauren woods, at its opening as a protest against the firing of then-UAM director Kimberli Meyer, will be "un-paused" at The Beall Center for Art + Technology at University of California Irvine, it was announced today.
After firing of museum director, artist walks out of exhibit on opening night at CSULB
The exhibit zeroes in on police brutality against black civilians and, at the time, was meant to mark a shift at the UAM to include more diverse and culturally critical programming.
David Familian, the Beall Center's artistic director who witnessed woods' protest during the opening in September, 2018, said in a statement, "I am proud that the Beall will now host this significant work of art."
It will be on view starting October 5, 2019 and provide "a vehicle for analyzing the complex relationship between constructed race, material violence, structural power, and monumentality itself," according to the release.
The artwork scrutinizes the cultural circumstances under which African Americans have lost their lives to police violence through the careful reading and interpretation of information, including use-of-force reports, prosecutor reports, witness testimonies, 911 calls and body and dash cam videos, procured from an ongoing Freedom of Information Act request process initiated in 2018 that found "police use of white dominant cultural constructions and stereotypes of 'Blackness,' mined from pop culture" were used to justify fatal violence, according to the release.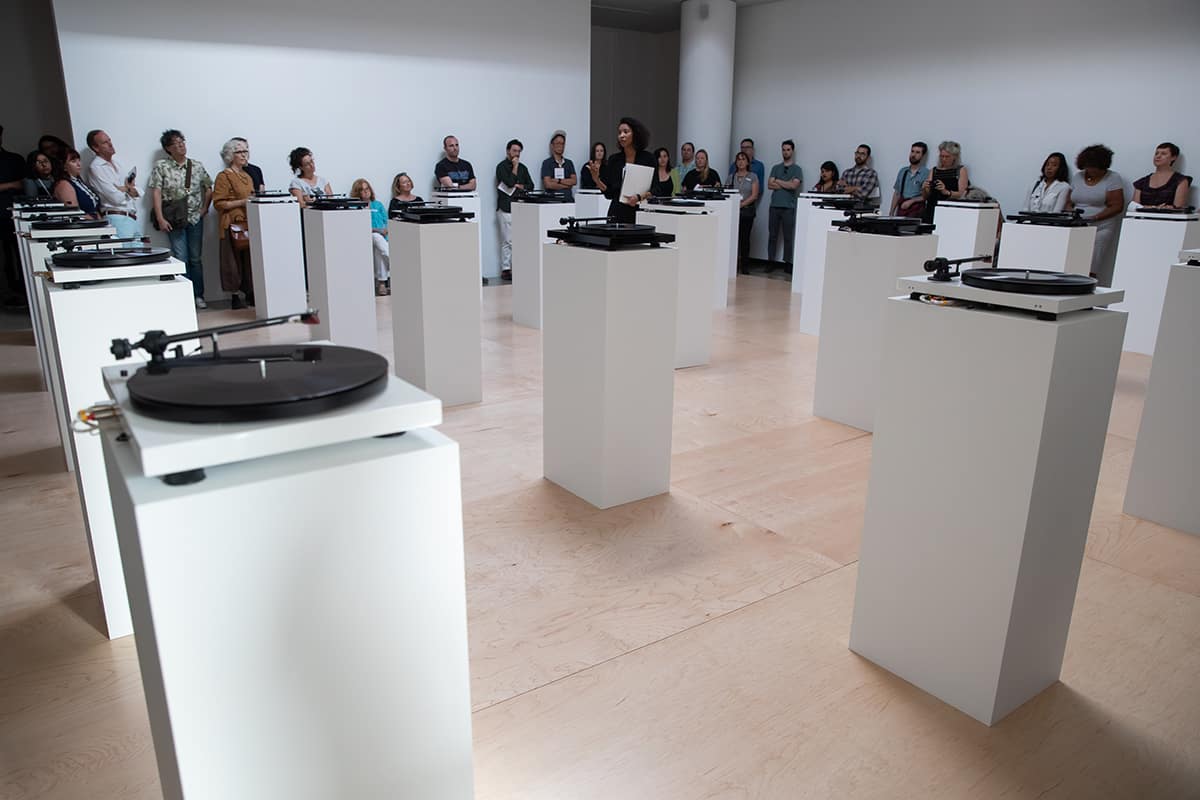 The central sound installation, an interactive grid of silently spinning records, each turntable representing a police killing and each acetate record containing audio materials from the aforementioned FOA requests that visitors can choose to play, was silenced by woods at the UAM who stipulated that she would only activate the installation if Meyer were reinstated as director.
The exhibition remained open, but silent, for the duration of its run at the UAM from September through December 6, 2018 as speculation swirled that Meyer's firing by the university had something to do with the content of the exhibit.
Meyer is now a "co-leader" of American Monument and was invited, along with woods, as researchers in residence as part of the Beall Center's Black Box Project. The installation in Irvine will be the first "full iteration" of American Monument and include public forums.
American Monument will be on view October 5, 2019 through February 9, 2020. The Beall Center is located at 712 Arts Plaza at the Claire Trevor School of the Arts, UC Irvine, Irvine, CA 92697.