Distillation of sounds: Dirty Merlin releases album inspired by the bustle of Cambodia Town
Holed up in a studio, hunched over a desk, fiddling with synthesizers and instruments, producing electronic music can be a solitary business. Working and reworking your compositions, listening to the same bits of sound over and over for hours, hoping inspiration strikes and if it does, you'll be able to make something of it.
Returning from a long walk from the beach, taking Cherry Avenue back up to his home, Benny Edles sat down at his studio and pieced together the song, "When I Get to Heaven," the fourth and final track on his newest album, 15th & Cherry. He worked from an idea, a feeling of being surrounded but also isolated, removed, safe.
"I'm kind of walled off in my little house, surrounded by these big walls, but I hear lots of stuff, tons of people interacting all around me," the 31-year-old said. "So [15th & Cherry] is kind of just me filtering all those interactions I hear around me, the bustle of Cherry Ave and the neighborhood, the parking lot next to me, the local store and market where everyone's always hanging out, endless tailgate party people just chillin'."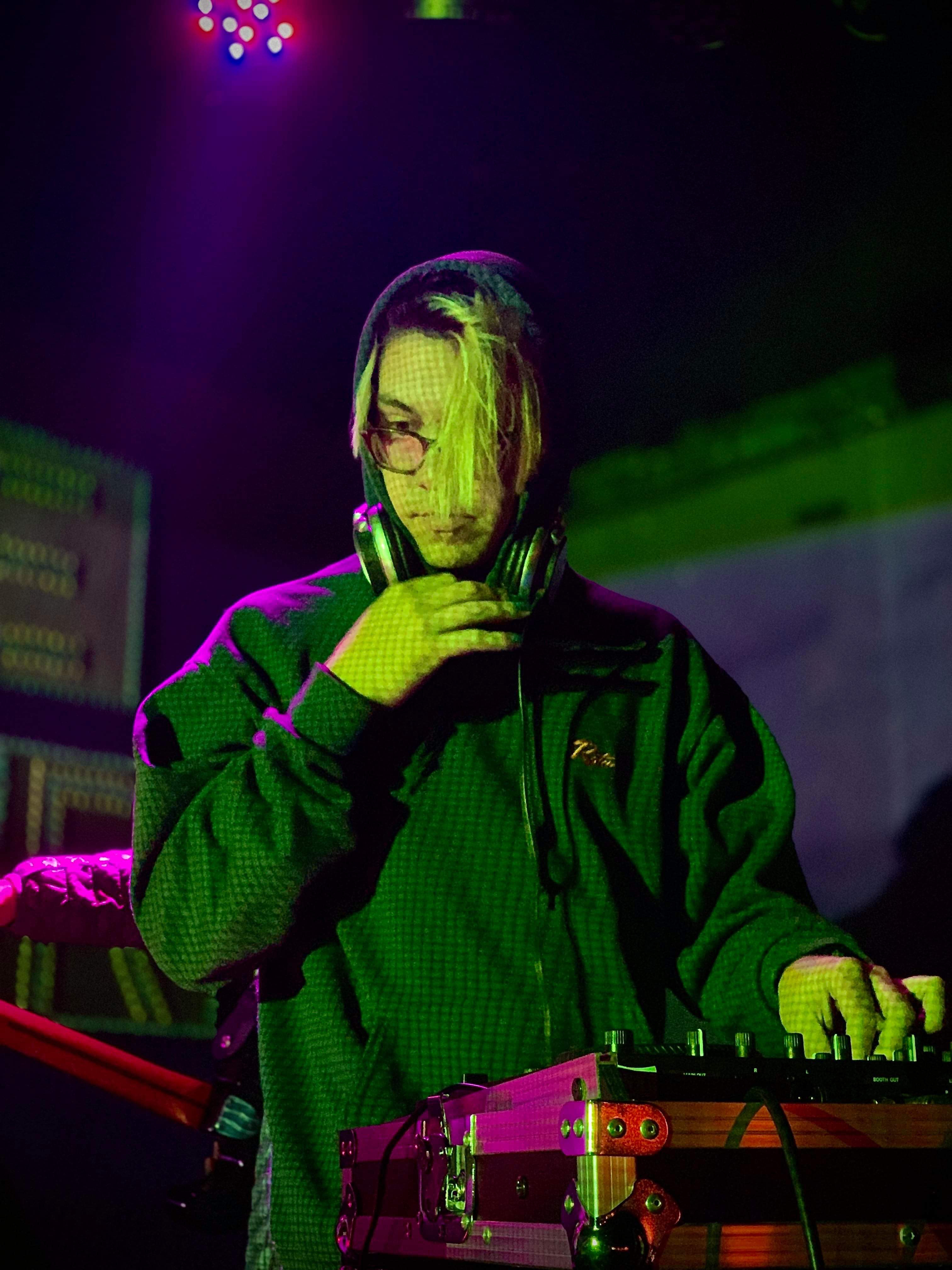 Four years in the making, the album features a collection of psychedelic deep house, techno tracks dedicated to his life in Cambodia Town, living just up the street from the 1.2-mile stretch of Khmer-owned businesses and restaurants that offer the city some of the most authentic Cambodian food, art and culture.
"I wouldn't be where I was if I didn't move here and write these songs, here, in this location," Edles admits. "How that affected my mood. The neighborhood just informed the decisions I made when I was writing the songs."
The EP, released Jan. 17 with L.A. 909, is titled after—you guessed it—the cross streets of his stomping grounds. The album's cover art are photos taken of the neighborhood by GRN+GLD's Joel Mengoni, superimposed and texturally manipulated by Alley Medel.
When Edles moved to Long Beach six years ago, he was years deep into producing his career-making, experimental electronic music under the moniker Dirty Merlin. He was also a few years into the world of event planning and organizing with the GRN+GLD music collective and label he co-founded in 2011, hosting monthly underground techno, house and other EDM styled shows in Orange County.
In-between houses and looking for a new place to call home, the Oakland-born musician found a house in Cambodia Town across the street from the seafood store, USA Daily Live Seafood Market (formerly LBC Seafood Market), an area he wasn't entirely unfamiliar with. He'd been traveling to Long Beach throughout his childhood, visiting his grandparents and cousins in the city that had, once upon a time, brought his parents together.
"I'd hear lots of stories about Long Beach, about my parents meeting and growing up where they did," Edles said. "Their families played a lot of tennis, that's how they met. I went to all the different parks and tournaments they'd play around here."
Edles set about establishing his own roots in the city.
A year in, he carried on the GRN+GLD events, bringing the monthly shows to Que Sera and, years later, the Zaferia district's recently opened Supply & Demand, with the DJ-centric event Neck Brace. He made new friends and slowly expanded connections to the collective, inviting guest artists to perform at the gigs, contributing to Long Beach's greater experimental electronic music scene.
15th & Cherry represents a number of firsts for the artist. The four-track EP is his first release of 2020, but also the first album he's created that's more of a pure deep-house style record—a deviation, he says, from the more abstract, and complex beat-forward fusion of hip-hop and techno derivative compositions he's more well-known for.
He's most proud, he says of how 15 & Cherry showcases the fusion of the two mediums he traditionally wrote with separately—beatmaking and sampling—but was trying to figure out how to merge.
From the near 16 crates of vinyl that make up Edles personal collection, he used dozens of audio bits, layering the sounds over inventive beats and melodies he conceived with synthesizers and other intricate audio equipment that never fully cease to be realized.
"It's painting with a bigger palette, which is really exciting for me," he explained. "All four of these songs are some of the most, in my mind, concise and idealized and done a bit more intentionally, rather than just kind of throwing stuff at the wall."
To get a feel for yourself, you can catch Edles (Dirty Merlin) at the GRN+GLD show Feb. 13, at Que Sera, where GRN+GLD members and guest artists perform every second Thursday of the month. As Edles carries on with his music and curated life in Long Beach, he remains grateful.
"I love that Long Beach feels like a real place," he said. "And by that, I mean a real city, a real town that is not just a collection of people in between destinations."
Dirty Merlin performs Thursday Feb. 13 with GRN+GLD (no. 064) at Que Sera; 1923 E. 7th St. Show starts at 9 p.m., cover is $3. For more information, click here. To hear 15th & Cherry, listen here.
Support our journalism.
Hyperlocal news is an essential force in our democracy, but it costs money to keep an organization like this one alive, and we can't rely on advertiser support alone. That's why we're asking readers like you to support our independent, fact-based journalism. We know you like it—that's why you're here. Help us keep hyperlocal news alive in Long Beach.