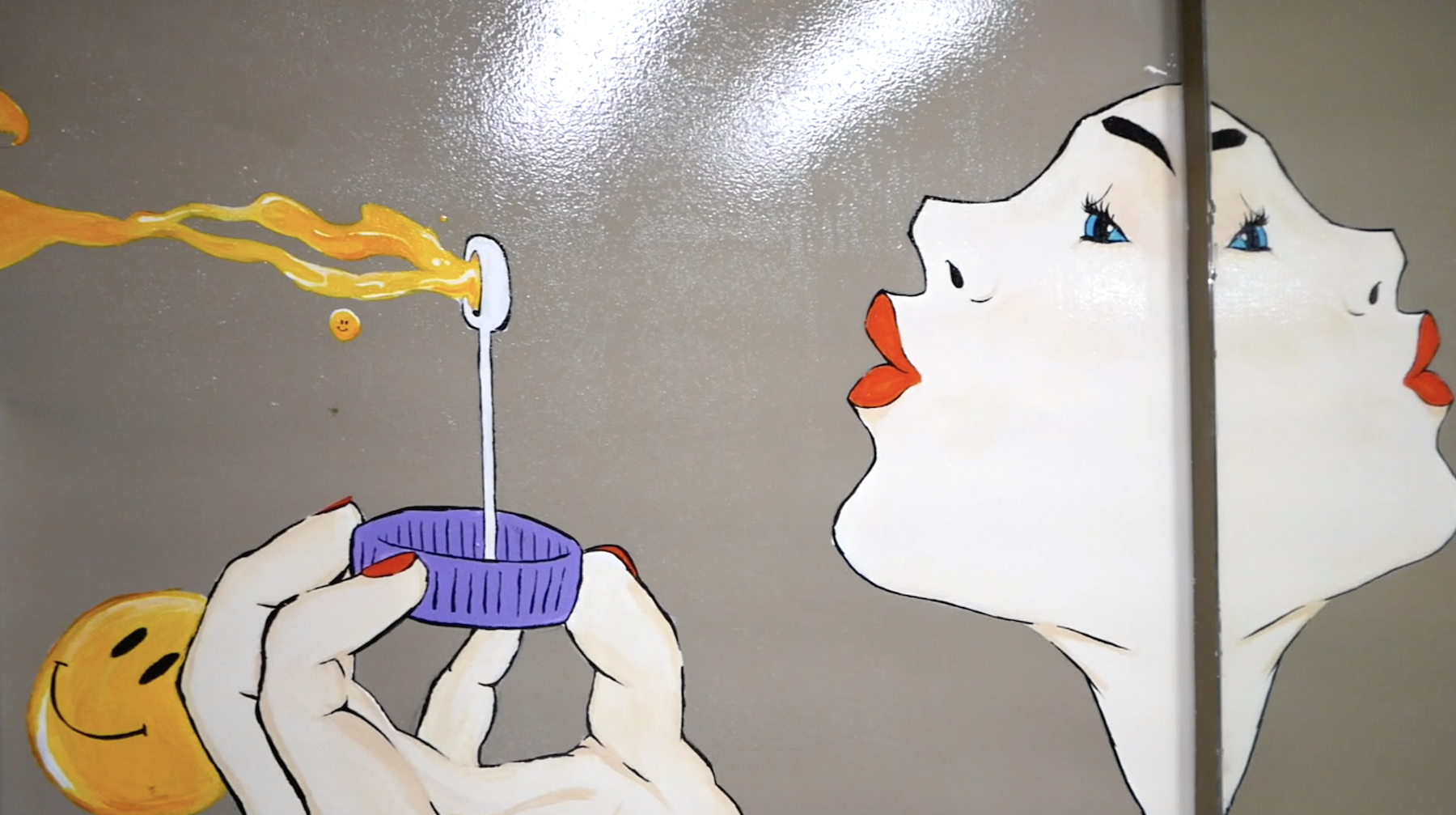 Expo Arts restroom mural is full of familiar, smiling faces that are just a bit off
This is the most time Derrik Diza has spent in a women's restroom.
The emerging Huntington Beach-based artist has spent a good deal of time, recently, in the aforementioned restroom of the Expo Arts Center in Bixby Knolls, creating his first mural; painting on its walls, ceiling and stalls, floating, bubbly, smiley faces that are at once recognizable, even welcoming, while also being just a bit off.
Diza allows that his faces and the room itself are "a little bit confusing because the happy faces aren't necessarily perfect circle happy faces."
Some are half-formed, others upside down, some are busy being born while still others seem content to be in the process of breaking apart. Diza's images form a remarkable marriage of the familiar with the fantastic. And whether it was his intention or not, it seems an appropriate tableau for a space that was once familiar—it is called a RESTroom—but which, over the past few years, has become a flashpoint of the republic's ongoing culture wars.
Diza calls his design "bubble wrapping," something that not only arrests your eyes but is "surprising." Ronnie DeLeon, arts curator for the Bixby Knolls Business Improvement Association, brought Diza in after seeing a graphic of the piece. DeLeon said he believed the design would work well playing off the reflection in the bathroom mirror. And, truth be told, it was about time the women's restroom received some art of its own.
Expo's men's restroom has been home to an original Tom Bob for about two years. The New York-based street artist brought his clever street treatment indoors—the artist transformed a fire hydrant into Princess Leia in 2018 right outside the building—creating an alien-like creature with a noodle neck and lights for eyes wobbling over the paper towel dispenser while using its own urinal.
"The bathrooms, when they were built were very institutional," said BKBIA Executive Director Blair Cohn. "For a city property it's fine, but again, for an art center it should be… we wanted to soften the edges a little bit."
Murals recently completed by graffiti artists Derek Brooks and THOTS now fill the hallway outside of the bathroom, next to the entrance to the children's theater, with the hallway to the women's restroom also a work in progress, Cohn said.
While he said artists are selected based on the merit of their work, not, of course, based on gender or any other outstanding identifiers, the placement and style of these existing bathroom murals do seem to be catering to certain crowds.
The Tom Bob seems to "fit the aesthetic of the men's restroom" with its blatant use of space and somewhat crude urinal action, with the loud graffiti art just outside, while Diza's bubbles are perhaps a bit softer and more feminine.
This is just one interpretation, but it seems almost too gender-stereotypical for an arts hub in Long Beach where it feels like gender fluidity is, at least in some parts of the city, accepted. But maybe that's what fun about it. Are the artworks reinforcing gender norms or making fun of them?
What if the Arts Center had gender-neutral restrooms, would the artistic approach be the same as it is today? Would Diza have been selected to paint something just for "the ladies of Long Beach to enjoy" or something different?
Artists who have ideas for the space outside of the women's restrooms are welcome to submit their work to the BKBIA for consideration.
"It has to be different-slash-unique and just kind of blow our minds in that it fits here, but it's different from the graffiti or anything else in the building," said Cohn. "We want it to be a completely different type of statement and style."
Artists can contact BKBIA's Arts Curator at [email protected] and the BKBIA here.
Support our journalism.
Hyperlocal news is an essential force in our democracy, but it costs money to keep an organization like this one alive, and we can't rely on advertiser support alone. That's why we're asking readers like you to support our independent, fact-based journalism. We know you like it—that's why you're here. Help us keep hyperlocal news alive in Long Beach.