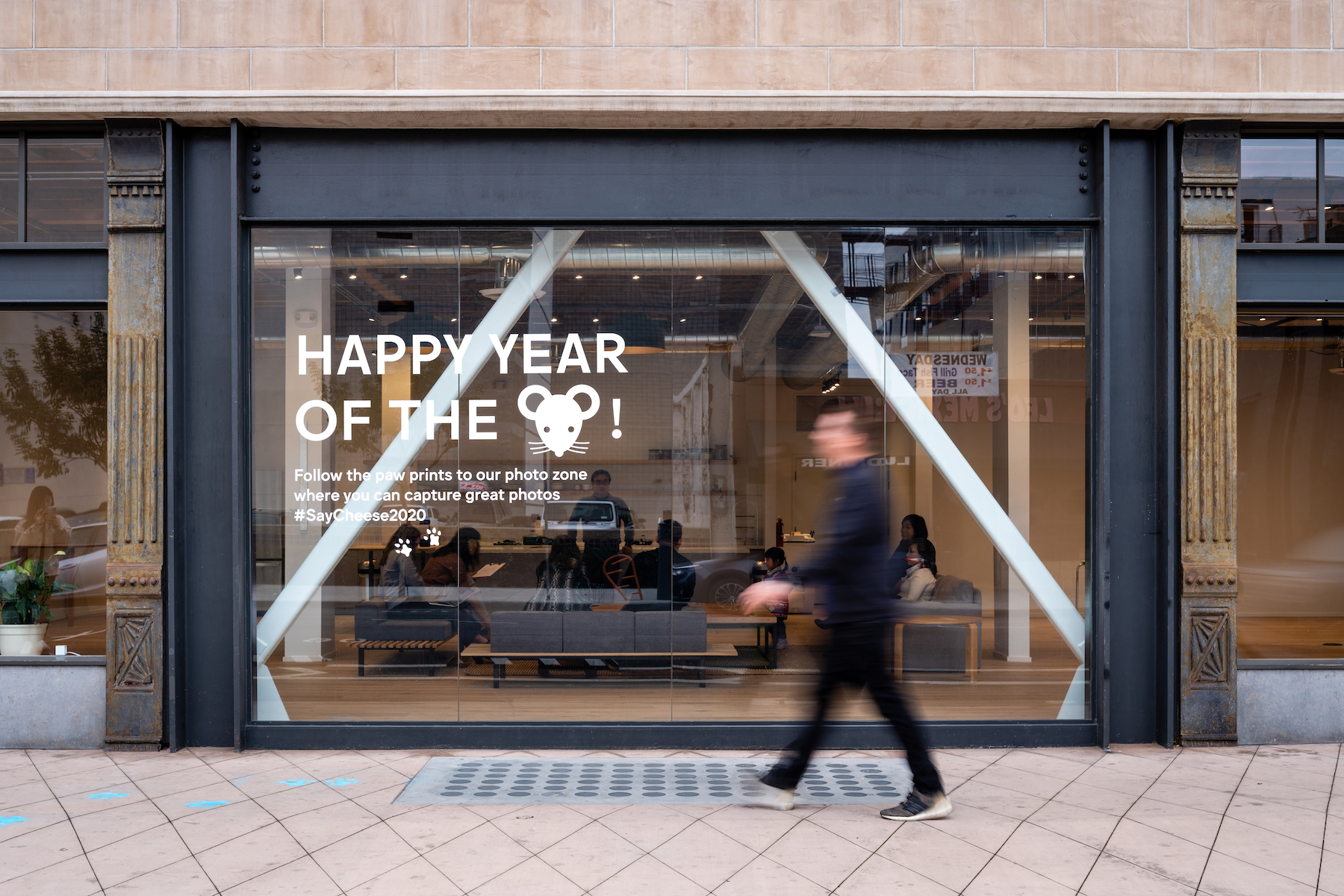 Downtown Long Beach communications agency, Intertrend has gone and done it again, creating an installation for the Lunar New Year that encourages street-level interaction and acknowledgment of a tradition celebrated across Asia.
At dusk, follow the blue paw prints stamped on Broadway in front of the agency's building, a structure of historical significance—in 1905 it was the headquarters for a local cult—and just around the corner, you'll find a neon mouse enjoying a large block of cheese overhead.
Participants can say "cheese," take a photo and hashtag any social media posts with #SayCheese2020.
.@interTrend's Lunar New Year installations really pull you out of that just-have-to-get-from-point-A-to-point-B attitude. Happy to slow down for a moment to acknowledge the Year of the Rat. #SayCheese2020 pic.twitter.com/YqttMuhzP9

— Asia Morris (@hugelandmass) January 28, 2020
"Each year, we challenge ourselves on how we can make people walking by our building slow down and celebrate with us during this time of the year," said President Julia Huang. "Much like the ubiquitous phrase 'Say Cheese,' we hope this installation brings smiles to people's faces."
This is the fifth year the agency has used their Downtown location to their advantage, fabricating a reason for passersby to stop and play. While last year's giant slot machine was vandalized more than once (can Long Beach have nice things?) that didn't stop Huang's team from simply modifying the design so it could still be used to celebrate the Year of the Pig.
UPDATE: Year of the Pig slot machine installation damaged twice in two days
The Lunar New Year marks the beginning of the year on the traditional Chinese calendar, but the Chinese aren't the only ones who observe the 15-day holiday. Saturday, Jan. 25 was the first day of the Year of the Rat, the first of the Chinese zodiac's 12-year animal cycle with this year's creature signifying reliability, stability and fortune.
The installation will be on from 5:15 p.m. to midnight daily for the next two months at Intertrend Communications (the Psychic Temple building); 228 E. Broadway.