Emily Ann Peters began her Fourth of July dog-fostering effort in 2016 through finding temporary homes for dogs before they entered the shelter.
"I was already intercepting dogs at my house around the Fourth of July, or the shelter would call and say, 'We have three on the truck and no kennel space to hold them for a day.' That's where it started," she said.
Peters, the founder of Live Love Animal Rescue, has the bearing of your tasteful neighbor down the hall who'll meet you in a café and talk about tea towels and books. In fact she'll likely do that, and you'll wonder afterward how you got talked into fostering a dog while you were discussing the merits of "Where the Crawdads Sing." Peters has been long dismayed about the number of animals crowding the shelters during the days before and after the pyrotechnical madness that American Independence Day has become. A creative thinker as well as an advocate for animals, Peters grew her Fourth of July activities into a shelter/rescue/community partnership that is Foster the Fourth.
The popping and bang-bang that signal the Fourth of July season—it's been considered a season for decades ever since people began setting off fireworks both "safe" and disturbing everyone else's sleep and peace of mind about a month before the holiday. The noise frays the nerves of veterans with PTSD and survivors of gun violence. Fed-up neighbors don't even deal with it anymore and leave home for a few days.
Cats and dogs leave home, too, and not in the best possible way. They wind up in shelters if they don't get hit by a car or attacked by a predator. The sudden, unexpected banging bursts can send them leaping fences and charging down streets. People also, unwisely, bring their dogs to the beach to watch the bottle rockets' red glare battling the legal displays bursting in air, and when they turn around, the dog isn't there. The following day, social media is full of posts about missing or found dogs on the beach and under porch steps.
'Everything starts with a need'
During the Fourth of July and a couple of days before and after, shelters are crowded with lost or straying pets frightened by fireworks noise. A number of shelters across the country have begun to address this crisis by asking residents to foster cats and dogs already in the shelter to make room for the lost animals and avoid having to perform euthanasia because of overcrowding. Despite successful adoption events scheduled around this time—the June 15 sponsored Pet Adoption Day sent over 100 cats, dogs and rabbits home, 38 from Long Beach Animal Care Services and 64 from spcaLA, the intake flow eats up the empty kennel space in no time.
"Everything starts with a need," Peters said. "I've seen other shelters do it—a 48- or 72-hour thing. But we're the only program that's two to four weeks."
In 2016, Live Love partnered with Long Beach Animal Care Services to take care of smaller dogs, seniors, and dogs that needed attention because of medical or behavioral needs. The rescue provided food and any necessary veterinary visits and medical supplies. They also increased the usual foster time from a couple of sleepover nights to extended bed-and-biscuit doggy vacations that run from two to four weeks.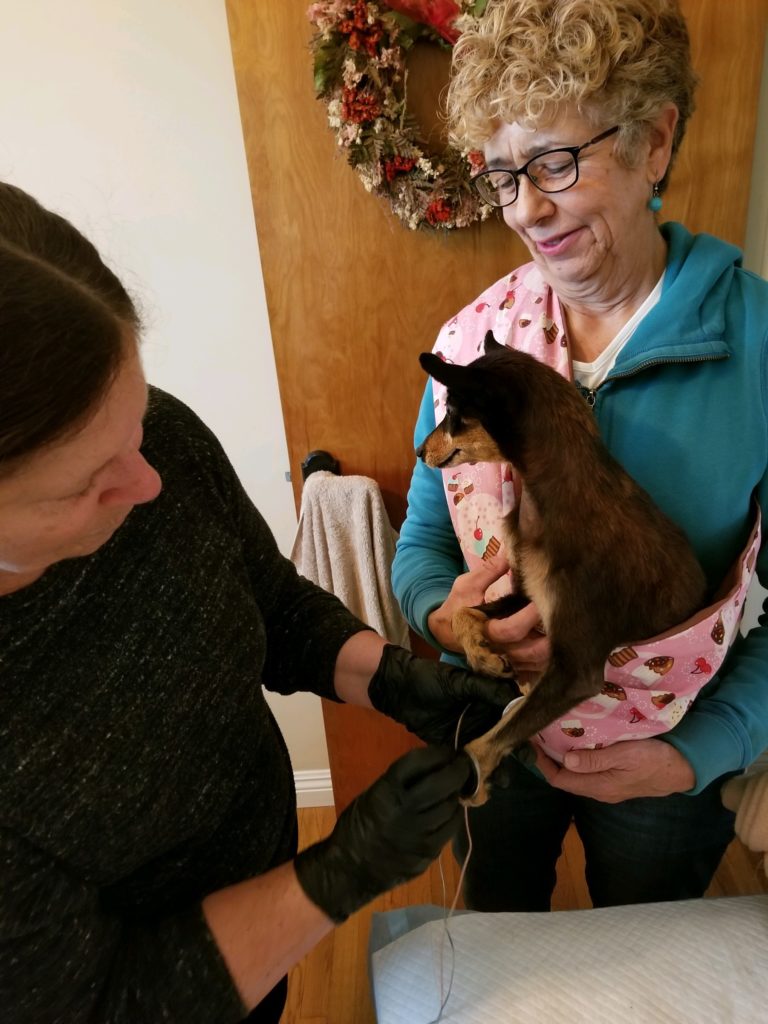 In July 2017, Live Love and the shelter again partnered, taking in 29 dogs, 19 from the shelter and 10 stray intercepts.
"Four [of the strays] we personally reunited," Peters said. "We intercepted dogs who were being brought in to the shelter, giving people the opportunity to foster them while we networked for homes. If we see a dog who looks fragile, such as with an illness or an injury, we'll still network them to find their owners, but we'll also take them to approved fosters while we're looking."
Foster the Fourth didn't return in 2018, Peters said, because the shelter was in a state of transition in an effort to hire a new manager and work out changes. This year, it's returning, fittingly with a bang, with the help of grants from the Edith J. Goode Residuary Trust and the Port of Long Beach. Peters has recruited a PR volunteer, Angela Robinson. She and her committee get the word out about the program through press releases and flyers.
["The Goode trust] is really invested in community outreach—they were very receptive," Peters said. "Angela is putting as much energy into it as her full plate can take."
Orientation is mandatory, but you'll love it
The program will be enriched by a June 29 Foster the Fourth orientation held at the shelter; the training is mandatory for anyone wishing to foster a dog, a condition of the grant.
"It's very important that we're teaching people how to deal with the dog," Robinson said. "It's not just putting the dog in your pocket and going home. We teach fosters about decompression: giving the dog some space, getting used to a new environment, de-stressing after being in a shelter, and retraining—how to safely integrate the dog into your home. And we're the contact for any medical or behavioral issues that pop up."
Crate training will be part of the orientation. Crate training, Peters said, is the "best way to transition a dog from kennel to home." It's not an extension of imprisonment but positive and comforting, particularly to a dog straight out of a kennel in the shelter, especially during July 4. A blankie, a few toys, a quiet location and gradual integration with the new home and humans, and you have a more comfortable and therefore more adoptable dog.
Peters and the other volunteers will look for homes with safe environments, a secure fence or gate, and kids who know how to be responsible pet people—making sure to give the dog time to become acquainted with the home and to not provide escape routes such as open doors. Mainly, the team wants to match the right dog to the right person. Education is important in this area. Live Love will provide food and any medical care; fosters will provide the love and care.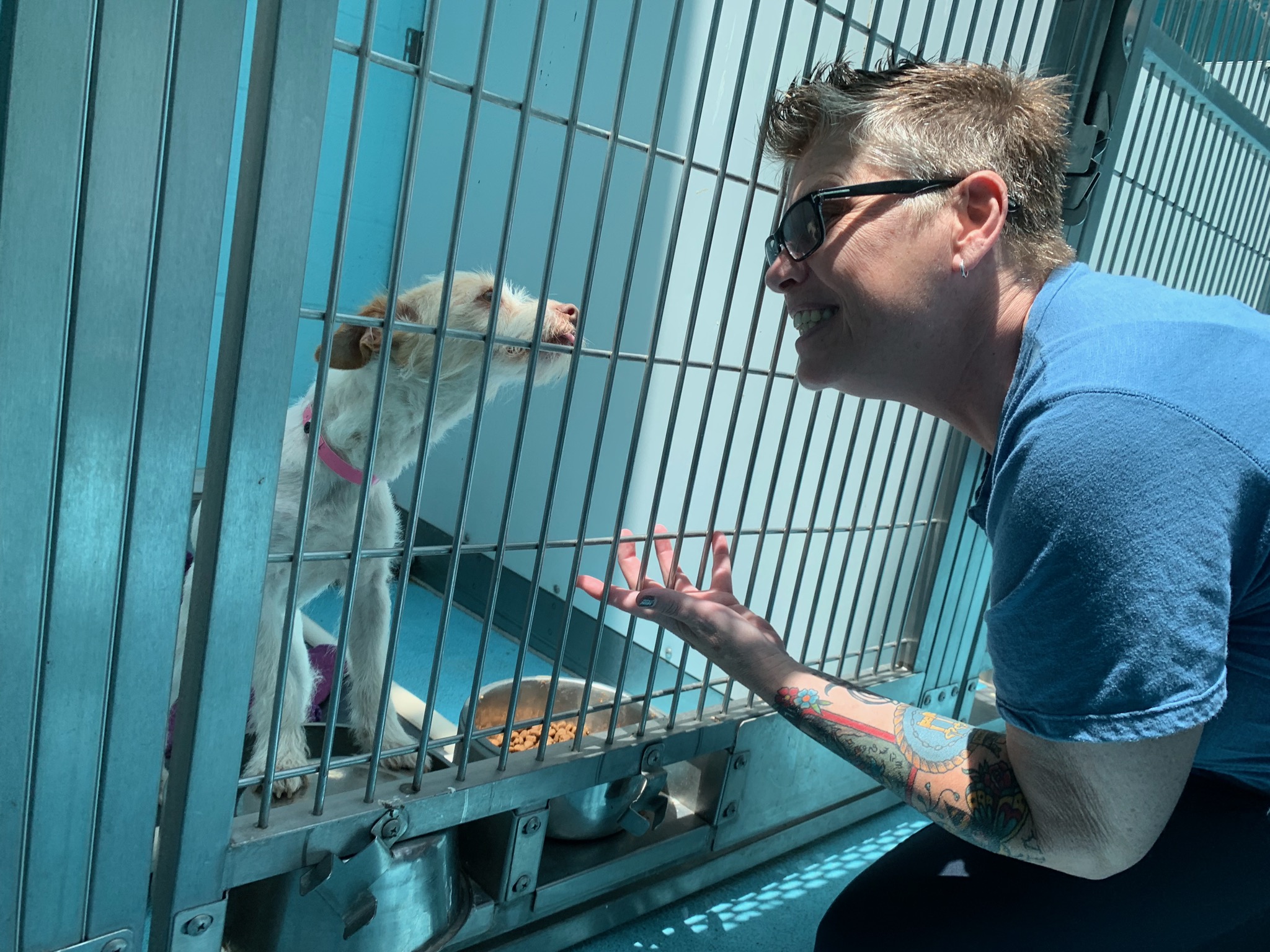 "This is a great opportunity for shelter dogs to get a much-needed break so that other dogs have a safe place at the shelter to stay until their owners can be found," said Staycee Dains, Long Beach Animal Care Services' manager. "Those who foster are heroes—their compassion saves lives."
Peters and Robinson expressed delight at the active role that Dains is taking to make the effort succeed. "She's kick-ass!" Peters said.
Free microchips available for Long Beach residents
The grants have also made possible a free microchip clinic for dogs for Long Beach residents. It will take place June 23 at Primary Care Animal Hospital on Lakewood Boulevard. Microchipping has been shown to be the most effective way to ensure a pet's return. (Cats can be chipped at Fix Long Beach's clinics—the next one will take place Sunday, June 30, at Ramona Park.)
Cats haven't been included in any of the Foster the Fourth events only because Live Love is a dog rescue.
"We love cats but don't have the infrastructure to manage both cats and dogs, and this effort really stems from our rescue," Peters said. "Next year, we'd love to have a cat rescue participate with us if one wants to get involved and run their own Foster the Fourth for cats. We could cross-promote everything."
Cat rescues, prick up your pointy little ears.
Peters mentioned that the Kitten Bloom, in which qualifying people may adopt kittens from the shelter and the spcaLA for $22 during June, helps reduce overcrowding.
Two to four weeks is a good period for a dog to relax and be safe while the shelter looks for the owners of the runaways. It's also a perfect length time for the foster and the dog to bond. There's no pressure to adopt, but are Peters and her Live Love team being a touch crafty?
"Mmmmaaayyybe…," Peters coyly said. "We might have had some adoptions come out of this."
To sign up to foster a dog, visit https://liveloveanimalrescue.org/foster-the-4th and click "I'll Be a Foster." The orientation takes place June 29 at noon at the P.D.
Pitchford Companion Animal Village, 7700 E. Spring St., Long Beach, at the entrance to El Dorado Park (no parking fee for shelter visitors). No RSVP needed.
Make sure your pets don't spend their holidays at the shelter—or worse
Everyone who lives with a pet can mitigate shelter overcrowding by following a few common-sense guidelines put together by Peters, Robinson and me:
Have a registered microchip and an ID tag. Microchips are especially important because tags and collars can be lost.
Keep your pet safe indoors—not in the backyard, not on the balcony—indoors!
Play calming music or keep TV on to drown out noise. Find the quietest area of the house.
Look at calming treats, Thundershirts and other natural remedies. If you'd rather go the prescription-drug route, consult your veterinarian. Do not use prescriptions from friends or ones already in the house.
Make sure that there are toys, an article of clothing with your scent, and anything else to keep your pet occupied.
Thank you, CSULB'S Animation Department, for this great presentation that people will pay attention to!
Video courtesy of CSULB animation department.