'It's a Catalina Island thing:' Pet cemeteries, Uncrustables and not drowning
As Catalina Island loomed closer, its shadowy silhouette slowly revealing itself as the green and inhabited resort many call Los Angeles' best kept secret, I made my way to the front of the catamaran, gripping the edges of the seats, poles, railings, anything to keep me and my heavy backpack from falling over and making a fool of myself. Or drowning.
Did you know that between Long Beach and Catalina lies one of the deepest saltwater channels in the world? How many passengers on the Catalina Express know they're floating above about 4,000 feet worth of deep, dark, oceanic depth?
I imagined the catamaran tipping over and having to tread water, not an outrageous flash of anxiety given that just the week before this journey, a previous attempt at leaving the mainland had been thwarted due to strong winds and 15-foot swells.
But Wendy Waagenaar and Stephanie Bragger, friends since kindergarten who had shown up to the terminal that week in hopes of spending just the day on the island, weren't too put out by the cancellation. Waagenaar shrugged and said they'd go to the Aquarium of the Pacific instead.
I asked them when the last time they'd been to Catalina was, and they answered decades ago, back in the early '90s.
Bragger remembered, when she was 13, visiting the island with her dad and some friends, it was all about the "little stands and the toe rings and the hair weaves and the anklets, the glass-bottom boats." Born and raised in the San Fernando Valley, she said it was "the hippie thing to do at the time."
On the other hand, Waagenaar's first trip was when she'd gone around age 11 with her Girl Scout troop. A wild boar had torn through their campsite, terrorizing the group during its search for food.
"Everyone was screaming," she laughed. The wild pigs have since been eradicated.
So, finally on board the Catalina Express a week later, with clearer skies and calmer waters and no excuse not to go at the invitation of the Catalina Island Company, I crawled to the front of the boat because I needed to see it.
As I'm sure you know, Catalina Island was formed by the subduction of the ancient Farallon tectonic plate below the continental North American Plate, two million years ago. It's been a little less time, 30 years, that I've only experienced the island as a daily embellishment on the horizon. To put it plainly, with the exception of my college years, I've lived in Long Beach my whole life and have never been to Catalina.
Now, finally making the journey, I still felt some anxiety until something I overheard an attendant say to a couple asking about things to do quickly allayed all my fears: "There's a liquor store on every single street, pretty much."
Oh, okay.
Just follow the red brick road
I arrived in Avalon and met Hotel Atwater manager Lisa Castillo who told me to "follow the red brick road" to what would be my home for two nights. Wandering around, I met a local, who would seem to pop up regularly throughout my stay and, truth be told, in my consciousness every day since.
The first time Tom Quinn found me, I was busy trying to get two dogs to pose for my camera, their golf carts as the backdrop and their owners nowhere in sight.
"It's a Catalina Island thing," said Quinn, who then told me to meet him at the plaza at Metropole Market place in 10 minutes—he just had to make a quick trip to the only grocery store in town, Vons—if I wanted to learn more about the island and his background.
A former fisherman, actor and, now, writer, the island resident of 20 years was somewhat cagey, avoiding questions about his day-to-day life and how he makes ends meet—"Oh, I bang around"— but talked extensively about his novel-in-progress, Julia's War, an adventure story set in Australia through the perspective of twins growing up on a cattle station.
Sitting at a table in the plaza, the Avalon poet handed over a newspaper, one of many copies he kept folded in his leather backpack, opened to the page where he said one of his works was printed. He wouldn't let me keep it, but said I could take a picture.
"Casual Visitor,
Tourist over-towner returned,
Bend an ear—or perhaps you've heard it once and must again confirm. Treasured new friends, a tale of interest to you! Sweeter than her lobster, or her urchin, I urge you to listen. Listen closely to the wind and the waves, to the eagles, gulls, and ravens, to the insects only children hear, to the ancient voices emanating from below the streets, to the shell berms and sea in concert with the children on the beach. Close your eyes and have it read to you by someone close and dear, and you will hear a story of when Pimu spoke to me…"
Quinn is practicing being more descriptive, he said, taking his audience to a believable place and time, saying "readers these days expect nothing less than a million words on what a flower looks like."
A man about town, our conversation was interspersed with him waving at someone or something behind my range of vision every 10 minutes. He seemed to know just about anyone and everyone who walked by during the half-hour we chatted at Metropole, people watching being a bit of a vocation for him.
"I read this thing by Paul Theroux, it's called "People and Landscapes," and he travels, but I can sit here, especially in the summer, and travel through everyone's face."
Zip lining
Before long, I was flying 600 feet above Descanso Canyon at about 30 mph, wind in my face and with a harness wedgie; exhilarating.
Even during the offseason, when the island isn't crowded with thousands of visitors and there's ample space on Avalon's beach to layout, plenty of out-of-state and international tourists still make the trip. And a lot of them zip line.
In my group on the Zip Line Eco Tour ($130.35), there was a family from Wyoming, in town just for the day before returning to Long Beach for a conference, and Jaehyeon Nam, a 24-year-old student visiting with friends from Seoul, Korea who wanted to zip through the air because they are fans of the South Korean reality show "I Live Alone," which documents single celebrities going about their daily lives, which has included in past episodes Avalon's zip lining adventure.
Installed in April 2010, the zip line course drew nearly 35,000 people to the island its first year, putting it in the top 10 percentile for busiest zip line in the nation.
Nam and his friends said they identify with the premise of "I Live Alone" because it depicts the single life—there are about five million singles living in South Korea—and seemed to enjoy the adventure despite some nervousness. Next on their itinerary, Universal Studios.
Next on mine, bison; after the pet cemetery.
The pet cemetery is closed
Day two on the island I woke up to wander again, to find more locals to chat with maybe, when I was pointed in the direction of a closed pet cemetery by a sweet woman who stopped to offer me a ride in her Fiat. Keep walking and make a left to go to the Wrigley mansion, she said, or make a right to swing by the cemetery.
I went right.
Mounds of dirt and disheveled graves marked what was probably once a peaceful place of memoriam. Placards and crosses reading "Bernie Mack, My best friend and travel partner" in memory of a lost chihuahua, and "E.T., A Sweet Catalina Cat" were still easy to find among the ruined sanctuary.
About a year ago, Avalon was soaked with five inches of rain over a two-day period, and the cemetery was washed away. A rumor that people who had homes beneath it found some of the bones near their abodes wasn't surprising. No one is allowed to bury their furry family members there anymore.
I stood inspecting the place for a while as tourists in golf carts whizzed by, some pausing for a moment, probably to wonder why someone was voraciously snapping photos of what seemed at first glance to be a hillside under construction.
Searching for bison
One Catalina Casino tour later, it was time to search for bison where, in the back of an open-air Hummer I met Rebekah Orozco from Dallas, who brought her daughter to visit "her island" for the first time. Catalina Orozco, celebrating her 18th birthday, wasn't, in fact, named after Catalina Island, but the Orozcos still claimed the landmass as theirs, if only for a great reason to travel. The three of us bonded in chaos, belted into the back seats of the off-road vehicle, hanging on for what seemed like dear life during the Bison Expedition ($89.95), the jostling about 10 times worse than Disneyland's Indiana Jones ride.
The two-hour journey, which had us screaming and laughing around cliff-side twists and turns and bounding over stomach churning bumps in the dirt road, turned out to be worth it. We "oohed" and "aahed" at not one, but three of the majestic creatures up close, and saw an entire herd.
Apparently our tour had broken a recent "bison drought," said our driver Andrew Quintana. While the bison are fed near the road, recent rains and the resulting lush grasses had given them less of a reason to appear for paying passengers.
Avalon Grille, Luau Larry's and the Uncrustable
Spent and hungry after breaking the bison drought, I woke up around 9 p.m. and left Hotel Atwater in search of food. Someone had tweeted that I had to stop by Luau Larry's, so I wandered into the tiki bar where two people sat chatting. The kitchen was closed, not enough business, but I stayed for an IPA anyway. The man next to me, a scuba and skydiving instructor maybe in his 60s, said "have fun, rookie," before walking out.
That's when I got to know Omar Delarosa, who runs the show at Luau Larry's and is the inventor of the famous Spicy Mexican Lollipop cocktail, named after the candy. Local stories were shared, including when "a long time ago a guy rode a bison into The Marlin Club," when Delarosa was in his 20s (he's 46 now) as well as the history of Luau Larry's, which could have been Kona Ken's but the pair flipped a coin in 1988 and Larry won. Larry's name is on the door, but Ken's picture is on the napkins. Ken bought Larry out, Larry moved to Hawaii and has since moved on to the next life.
RIP Larry.
I left with a significant buzz and wandered into Abe's Liquor Store, where I grabbed an Uncrustable ($1.25), stuffing its crinkling plastic package into my bag for later. Eating at Lobster Trap seemed promising—one of the only spots still open around 11 p.m.—but I had other plans for the rest of what was already a late night for off-season Avalon, seeing some stars sans light pollution.
About a 10-minute walk from Abe's and away from the beach, is the first hole of the golf course, where Hotel Atwater bartender and historian Sean McAlpin told me would offer a clearer glimpse of all the twinkling orbs of space dust above.
I could still make out a couple of constellations more clearly than if I'd been in Long Beach, so I left feeling satisfied, but still really hungry, in stark contrast to the full-blown dinner I had at Avalon Grille the night before, where I'd eaten crispy pork belly taco, and that was just to start, my small table for one quickly filling with plates of steaming appetizers, cocktails to be sipped, the pan-seared scallops embraced by a sweet corn purée I readily devoured.
By midnight, the entire town seemed to be asleep. After visiting the stars at the golf course, walking back to the hotel was pleasantly quiet, aside from the footsteps of a hooded stranger who luckily didn't want anything to do with me. While the street lamps cast an eerie orange glow on the fleets of golf carts and tiny cars lining the street; a welcome silence.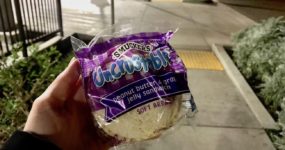 Back in my hotel room I scarfed down the Uncrustable like a kid at summer camp and fell asleep to sugary peanut butter and starchy white bread induced dreams.
I had less luck figuring out my last meal on Wednesday. Eric's on the Pier was boarded up with no signs of life. I later asked someone at a visitor services kiosk what was up when she told me some of the businesses during the offseason don't bother opening on the days the cruise ships aren't dropping off passengers, so you're pretty much out of luck mid-week.
I felt like I was trapped inside Disneyland, as if someone had forgotten to kick me out after the park closed; so much abundance but none of it available. Luckily, Catalina Island Brew House was open where I couldn't get enough of the bread (you get a free pretzel if you order a beer).
Living expenses
Such were the spoils and tribulations of a tourist, but for locals, and for many of those in the service industry who make up the backbone of the resort experience, it's difficult to find housing. In the already tiny city of Avalon (population 3,764) where some multi-story buildings sit empty on the hillside during the off-season as vacation rentals, and the price of a studio apartment hovers around $1,400, a fully furnished one bedroom is 3K, most have to work at least two jobs to be able to pay rent and take care of their families.
"A lot of Hispanic people like me are trying to buy right now because it's getting so expensive," said Delarosa, a resident of nearly 15 years. He bought a house on the island about three years ago and wants to make sure he still has it for his kids.
Another resident I'd met that morning, a woman perched on a golf cart chatting with a friend, told me despite the high cost of living, she feels safe letting her daughters roam around because she knows someone that works at "like every bar around town, and since everyone has to work two jobs to just live here. There's eyes everywhere."
The recent developments in Avalon are both a blessing and a curse. McAlpin, who moved to Avalon 12 years ago from Chicago, said one of the most difficult transitions to island life was not being able to find, say, a Thai place open at 1 a.m., that "the big thing that changed my life was when they opened the Vons over here, that's a big meeting place on the island."
But Delarosa would beg to differ. There used to be two grocery stores, but since the 23,000-square-foot Vons opened a little over a year ago, albeit well received by most islanders, prices have gone up, he said.
Another Quinn sighting
The last and third time I ran into Quinn, I was crossing the street toward the museum. He appeared near a golf cart, hands in pockets as if he'd been waiting for me all my life, for a chance to perhaps open my mind somehow, to offer a new perspective or hand over all the secrets of the universe. Who knows?
He seemed less gruff than usual in a floral-print button-up and responded well to a compliment about his appearance, "You look nice today, Tom!" He gave me another seemingly obscure recommendation for a place to visit, but I, like a good tourist, said thank you and headed straight to my appointment to see a collection of plein air paintings instead.
Catalina plein air paintings give visitors a glimpse of the island only locals see
I don't regret this decision as a first-timer, but am already imagining my second trip should include more Tom Quinn in its itinerary.
Leaving Catalina
On the boat ride home, sipping a plastic to-go cup of chardonnay, I concluded that the magic of the island may be all about the little things, as it seems to be with life.
For instance, when I showed up at Abe's to buy boat snacks, but not having fulfilled the $10 credit card minimum, I threw in a handful of Wrigley's DoubleMint gum only to have the total amount to a perfect $10, the clerk shaking his head with a slight smile. "That was kind of weird," he said.
Even running into Quinn on three separate occasions—his appearance almost book-ending every significant moment I had on the island—seemed like it meant something. What, I have no idea.
I suppose you gaze out at something for 30 years, you expect it to be magical in some way—museum marketing director Gail Fornasier told me the day I left, "There's something about the island that ends up in your heart, more so than other places"—you're just not sure how that works until you're there or until you're on the boat ride home wondering what just happened.
But, we're always "there," Catalina Casino tour guide Joe Katin would argue.
Once we'd reached the top-floor ballroom with its coastline view, Katin offered the conclusion he's given to thousands of tours he's given over 25 years he's lived on the island: "And remember, wherever you go in life, there you are."
It's about slowing down and, as cliche as it sounds, cherishing the moment whenever you can, remembering to be present, without the anxiety of worrying about the future, or drowning in a 4,000-foot deep channel.
"It is what you make it," said Fornasier. "There's a stigma that there's nothing to do here, but you can do a lot."
'It's a Catalina Island thing'
Support our journalism.
Hyperlocal news is an essential force in our democracy, but it costs money to keep an organization like this one alive, and we can't rely on advertiser support alone. That's why we're asking readers like you to support our independent, fact-based journalism. We know you like it—that's why you're here. Help us keep hyperlocal news alive in Long Beach.