Once upon a time in the heat in the LBC
The shuttle—a commandeered school bus—pulled into the Queen Mary parking lot and we immediately saw them: the walking wounded slowly moving toward a destination of indeterminate origin, looking very much like the participants in a battleground re-enactment. These were the hearty souls who showed up around noon for the beginning of Once Upon a Time in the LBC and, through a mad coming together of extreme heat and apparent ignorance that alcohol, though a liquid, will dehydrate you, especially in extreme heat, found themselves unable to see how the story turned out.
We, my nearly 60-year-old self and 50-ish friend/photographer Thomas Cordova, knew that pacing in such circumstance is key, so we arrived at a sensible hour—5-ish—and while Thomas scoped out stage access, I found a sliver of tree to stand behind. Understand that shade held the same value, Saturday, that gasoline did in "Mad Max: Fury Road." People did whatever they could to find and remain in it as the sun did its ADD thing in the sky. Now, I know that this is a Cordova photo page, but let me just offer this as an example of what I'm talking about…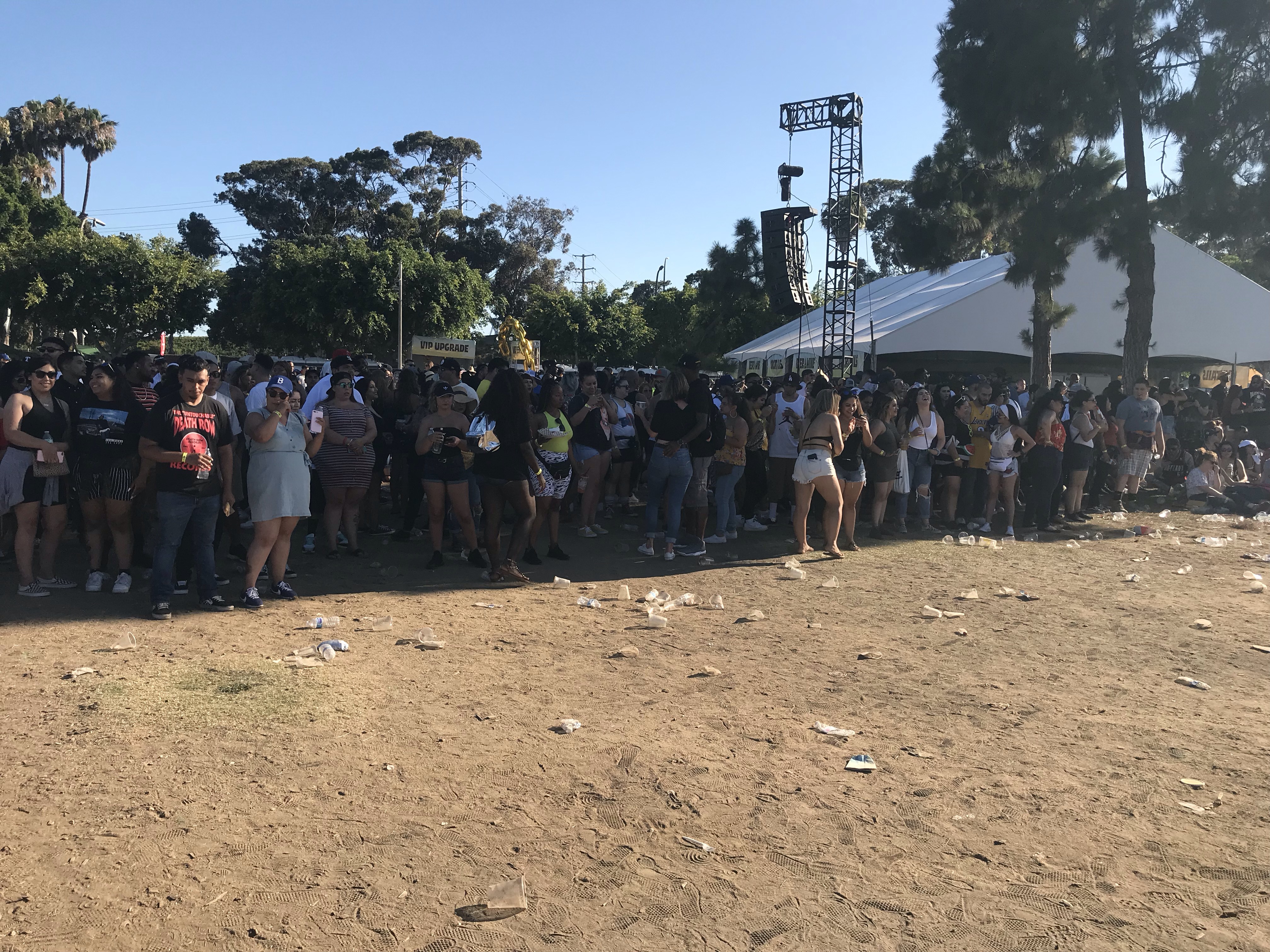 You see? It's like the entire crowd was playing a game of "The Ground Is Lava." And understand that the ground that's in the sun is actually closer to the stage.
Funny thing is, notice how everyone is packed together? Well, where I was standing, in the relatively cool shade, behind a tree, I nonetheless had plenty of space, more like a perimeter around me. This puzzled me for about two seconds, about the time it took me to glance down at what I was wearing—white polo, light blue shorts—and realize that I didn't just look like a narc but like a Yacht Narc.
Anyway, DMX referenced the heat when talking about the 20th anniversary of his album "It's Dark and Hell Is Hot" though it wasn't clear whether he was being informative or just taunting folks. When he'd finished, I headed over to the second stage—the main was called The Marathon, the second The Hustle—in time to see an incredibly energetic performance by Zapp as well as Lisa Lisa. The latter pointed out that she and her crew were wearing the colors of Nipsey Hussle, the artist who had been a co-headliner of this event before he was murdered.
YG, who performed immediately before Snoop Dogg, dedicated his entire performance to his friend, making numerous references throughout his set which had been preceded by a video tribute to Hussle culminating with his spirit being taken up to heaven to be greeted by a winged Tupac Shakur.
It was well into the evening, and much cooler, at that point. Boats had anchored themselves just off the festival park area to steal the sounds for free and once Snoop was done with his set, it was back on the shuttles. And let me just say something about the shuttles and the two stages and all the stuff in-between. This is the first time I've been out to one of these Queen Mary festival thingies and I have to say, in light of the Fyre Festival and Woodstock 2019 disasters you hear about, whoever is responsible to putting this together and making it run is doing a remarkable job. Getting from Downtown to the concert site was relatively simple, the site itself is well-maintained, feels safe and has plenty of all the amenities you need whether food, water or facilities. What's more, the artists show up on stage, on time. In fact, Snoop was early.
OK, just thought you'd like to know. Now, ladies and gentlemen, the photographic stylings of Mr. Thomas Cordova…
Support our journalism.
Hyperlocal news is an essential force in our democracy, but it costs money to keep an organization like this one alive, and we can't rely on advertiser support alone. That's why we're asking readers like you to support our independent, fact-based journalism. We know you like it—that's why you're here. Help us keep hyperlocal news alive in Long Beach.