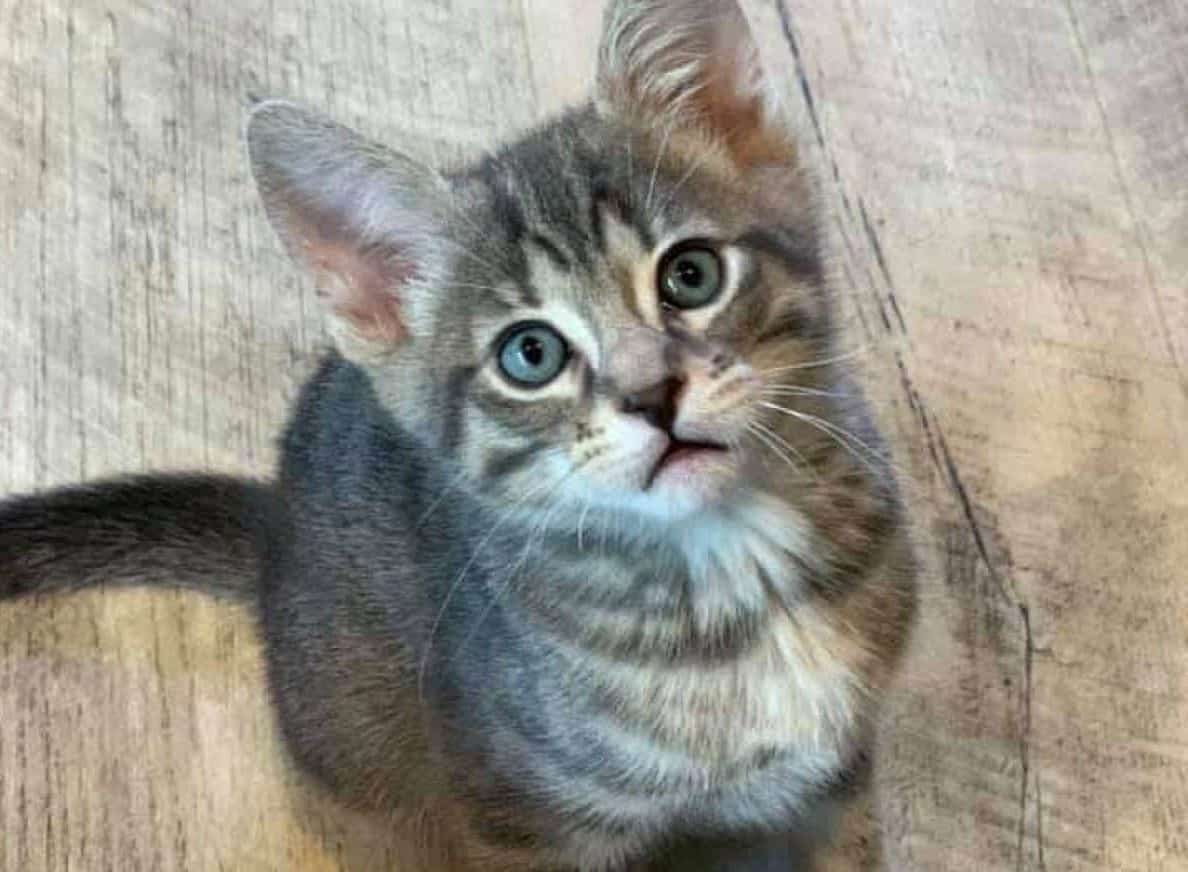 Cats in the Civic Center, Pugs in the park: What a week to get your furry on!
On Tuesday, May 21, a whole lot of cats and their spokespurrsons will crowd the lobby of City Hall from 2 to 5 p.m. They're demanding good, forever homes, and that's where you come in.
The Mayor's Kitty Hall (see Things to do, pets to support) has had three previous felinious invasions featuring cats from the shelter at Long Beach Animal Care Services. A lot of cats have gone home—the mayor's senior administrative deputy, Tim Patton, remembers 38 adoptions at Kitty Hall 2016.
The field will be even more crowded this year. Five rescues, including Animal Care Services, will team up their proteges for a collective cacophony of catcalls that will caterwaul both for attention and for out. Check them out here:
Long Beach Animal Care Services, 7700 E. Spring St. (at entrance to El Dorado Park), Long Beach.
Satellite Cat Adoption Center, Pet Food Express, 4220 Long Beach Blvd., Long Beach.
The Long Beach shelter is the intake for all roaming, injured, dumped, confiscated and otherwise unfortunate animals who've had the bad luck of not having been treated well. Adoptions are conducted at the shelter, but not everyone likes going to a shelter. Thus, Pet Food Express stores provide a good way to view cats (and to create a few empty shelter cages) by pulling cats from Animal Care Services and displaying them at the volunteer-run center.
The following cats live in the Pet Food Express Center:
spcaLA, 7700 E. Spring St., Long Beach (at entrance to El Dorado Park), Long Beach
spcaLA is the private rescue that shares the space of the P.D. Pitchford Companion Animal Village. We're just as confused as anyone over which door goes where, but on the 21st, all the cats will be in one place.
"spcaLA is very excited to attend Kitty Hall by invitation of our partner, Long Beach Animal Care Services!" said Ana Bustilloz, spcaLA's media connection. "While the majority of adoptable cats we bring will be kittens, we'd never miss an opportunity to showcase our adult cats, too."
Lookit the faces!
CatPAWS is an all-volunteer independent rescue that pulls kittens and cats from shelters, spays and neuters them, gets them vaccinated and any medical attention they need, and finds them homes. Cats under their paw are housed in fosters or at the adoption centers at the Marina Petco and at the PetSmart in Seal Beach. Recently, they've intertwined tails with The Little Lion Foundation and the shelter to found the newly opened Long Beach Little Paws Project, where newborn kittens are nursed to health. Their cats will be there, too!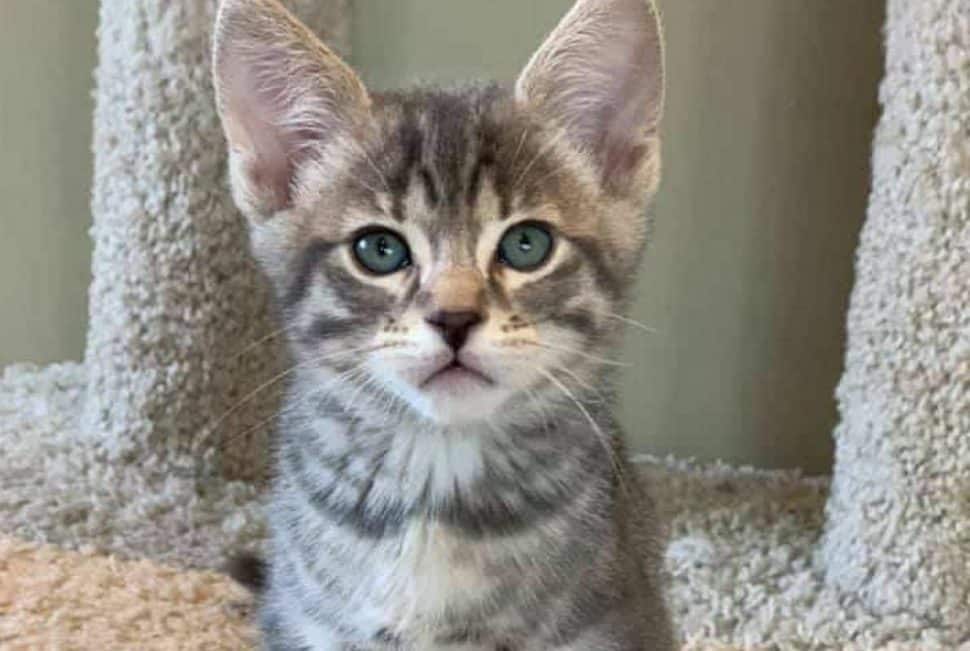 Long Beach Spay & Neuter Foundation
This all-volunteer organization spends endless hours trapping, spaying and neutering, and giving all the medical care they can to further control the unwanted pet population and find homes to all the little guys that are social enough to adopt—the kittens especially. Sadly, among the truly feral felines wander those whose friendly behavior speaks of a comfort of being around humans. Kittens get dumped, too. It's like with the rabbits in the parks—people think that if they dump a cat in a colony, they'll do just fine. Usually, they'll breed like rabbits, get sick or die.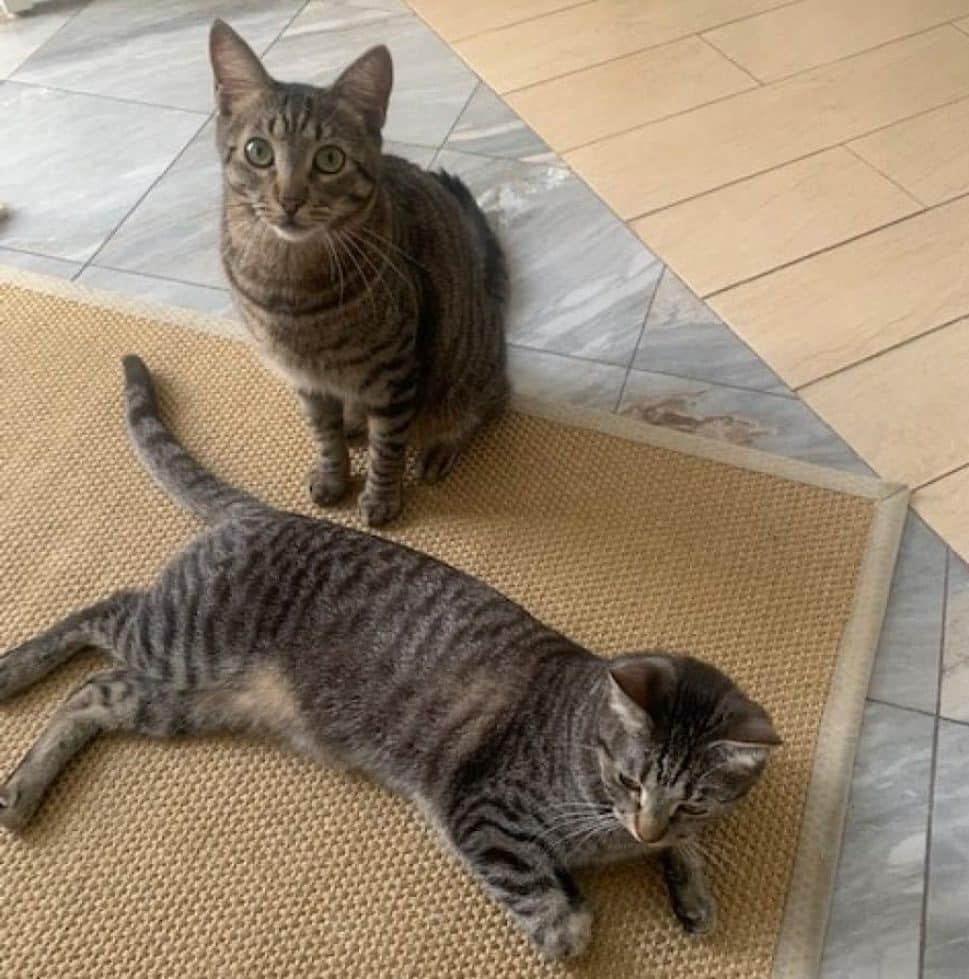 Here are two of these beauties. Jimmy, above, was dumped in an area where the volunteers have maintained a colony since 2008. He was only 3 months old. A colony manager caught him with a net when he went into the feeder house. He's now a year old and is a darling boy who loves to play and snuggle.
Freddy was actually born in a cat colony. The colony manager trapped him when he was 4 months old. He's now a little over a year old and is very self-assured. He loves to play and accepts gentle pets. His nickname is Special Agent Gibbs! Not only is he curious but he also gets things done, out of there, over there and under there! He keeps his poor foster looking for her missing stuff!
They get along with other cats but really trust each other most. They play like teenagers, rest together, and eat together. They're petitioning for a forever home together!
Things to do, pets to support
Please send any Long Beach or Seal Beach pet-related events or projects to [email protected]. Posting subject to approval.
Pug Rescue of Korea Reunion and Celebration: Saturday, May 18, noon–1:30 p.m.; Recreation Park, 4900 E. 7th St., Long Beach, free event
This Saturday, Rec Park will look like a pug version of Being John Malkovich, with about  50 pugs running all over the place making pug noises.
Pug adoptions and pug-lic speakers will be in the crowd. This event is a highlight—it's more than a bunch of dogs being adorable in duplicate, with human gushings of aaaaaawwww and ooohhhhh and "Can we get one please? The celebration is the milestone that Pug Rescue of Korea reached of rescuing 500 of these funny little dogs from South Korea in 10 years and flying them overseas to safe, good homes in the United States, mostly in SoCal. Hye Sook Kim, the organization's head rescuer (pictured in pj's with a bunch of puglets snoring and snorfling around her) will be flying in from South Korea to attend the event and catch up with the little dogs whose lives she saved. According to the press release, South Korea hasn't yet caught up to the U.S.'s pets-as-family culture. Unwanted pets are taken to shelters where they're euthanized after 10 days, and the country's awash in puppy mills and—don't close your eyes—dog-meat markets. The number of pugs in South Korea is akin to any "celebrity animal"—people think they're cute and don't research the breed. Then, they discover their behavior or breathing issues firsthand or just get annoyed when they grow larger and chubbier. Then, they dump them.
Want to know more? Read more about Pug Rescue of Korea here.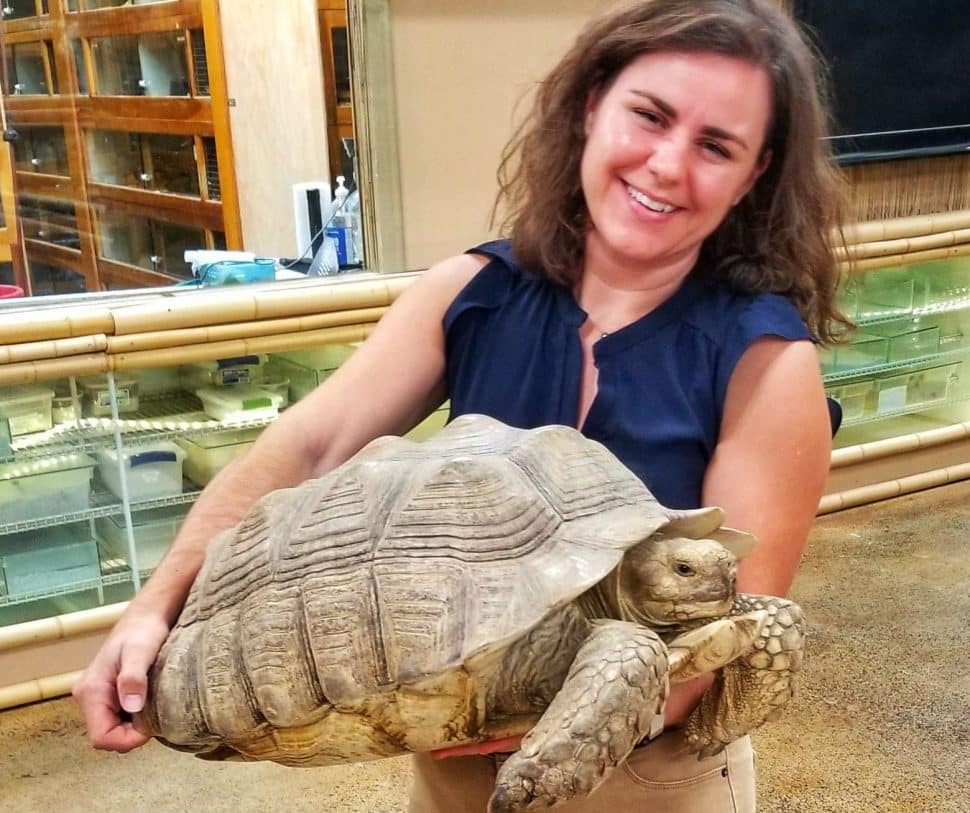 Turtle and Tortoise Care Society, featuring Prehistoric Pets' Laura Brewer: Friday, May 17, 7:30 p.m.; University Baptist Church, 3434 Chatwin Ave., Long Beach, free to tortoises, turtles and their well-behaved humans.
Ms. Chatwin will show a variety of reptiles available through their store and zoo, including a few shelly actors. This chapter has been engaged in turtle and tortoise adoptions since the beginning of the year. Anyone interested in adopting a shelled friend, please submit an application to the chapter email address ([email protected]) or directly to John Kim at a meeting.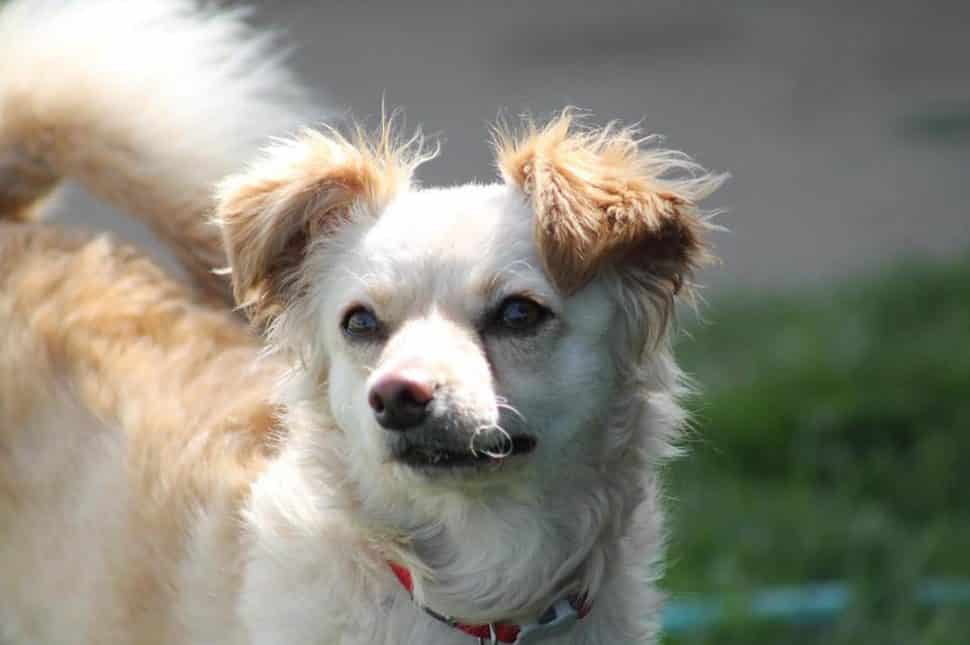 Fix Long Beach Free Spay/Neuter Clinic: Saturday, May 18, 9 a.m.–3 p.m., Ramona Park, 3301 E. 65th St., Long Beach, free spay/neuter for qualifying Long Beach residents, with appointment; free microchips, shots, flea-med doses, dewormers and nail trimmings $10 each—no appointment necessary. Appointments available for future clinics—come make one. Full details are available here.
Fur Baby Beach Ball fund-raiser for Live Love Animal Rescue: Saturday, May 18, 4–8 p.m.; location tba to ticket buyers; $50 online, $60 at door.
Live Love Rescue has pulled hundreds of otherwise unwanted dogs from shelters and fostered or adopted out just as many. All that vetting, neutering, spaying and training costs money. What better way to fund it all than with an exclusive Hamptons-type do at a private home? All dogs and their well-behaved humans are welcome!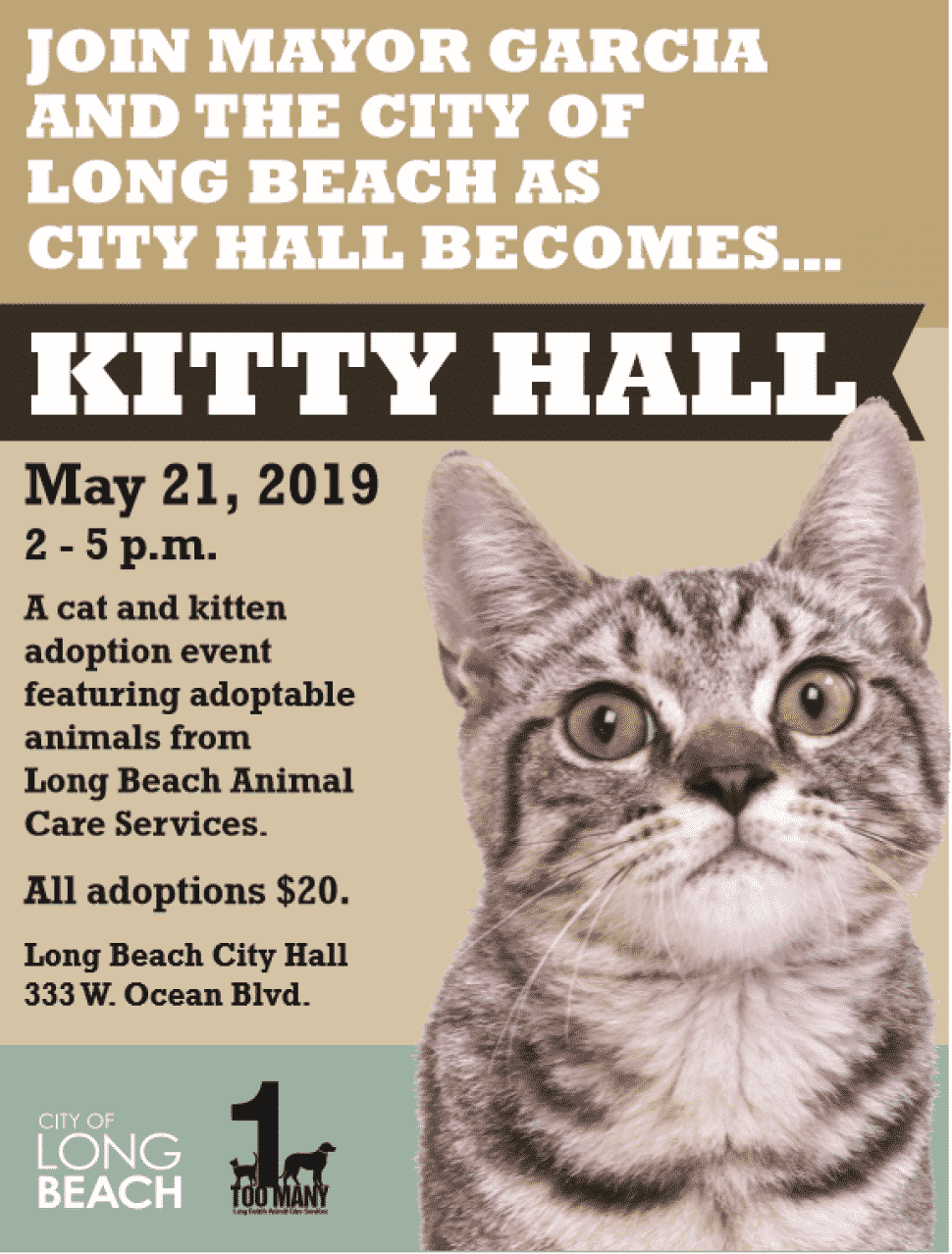 Kitty Hall: : Tuesday, May 21, 2–5 p.m., Long Beach City Hall, 333 E. Broadway, Long Beach, $20 adoption fee.
Cats and kittens from area shelters and rescues will lobby for good homes during this successful event. Each of them will enjoy his or her own platform, as long as something's dangling over it.
Mod Pizza fundraiser for Fix Long Beach: Wednesday, May 22, 10:30 a.m.–10:30 p.m., Mod Pizza, 4230 Long Beach Blvd., Long Beach, menu prices apply.
Fix Long Beach has under its care pets in dreadful shape, and although most of them are doing fine (remember Chloe?), the medical bills need to be paid. So, grab a slice, a whole pie, or whatever you crave, and 20% of the tab will benefit Fix Long Beach.
Friends of Long Beach Animals Annual Membership Meeting, with Long Beach Animal Care Services manager Staycee Dains: Thursday, May 23, 6:30–9:30 p.m., Long Beach Playhouse, 5021 E. Anaheim St., Long Beach, free
Friends of Long Beach Animals, founded in 1990, is among the most venerable pet-welfare nonprofits in town. This year's membership meeting will also be a welcoming party for Staycee Dains, Long Beach Animal Care Services' new manager. The job is no bed of catnip, so this will be an easy meet-and-greet, with appetizers, wine, beer and conversation with Staycee! Please RSVP at 562-988-7647 or [email protected].
Fix Long Beach Free CAT Spay/Neuter Clinic: Sunday, May 26, 8:30 a.m.–2 p.m., Ramona Park, 3301 E. 65th St., Long Beach, free spay/neuter for qualifying Long Beach residents, with appointment; free microchips, shots, flea-med doses, dewormers and nail trimmings $10 each—no appointment necessary.
Newborn kittens are the most euthanized pets in shelters, ours included. The best way to stop a flood is to tamp the source, and that's why we're here. Our appointments are fully booked, but you can come for standby at 10:30 a.m. Appointments are available for future clinics—come make one. Full details are available here.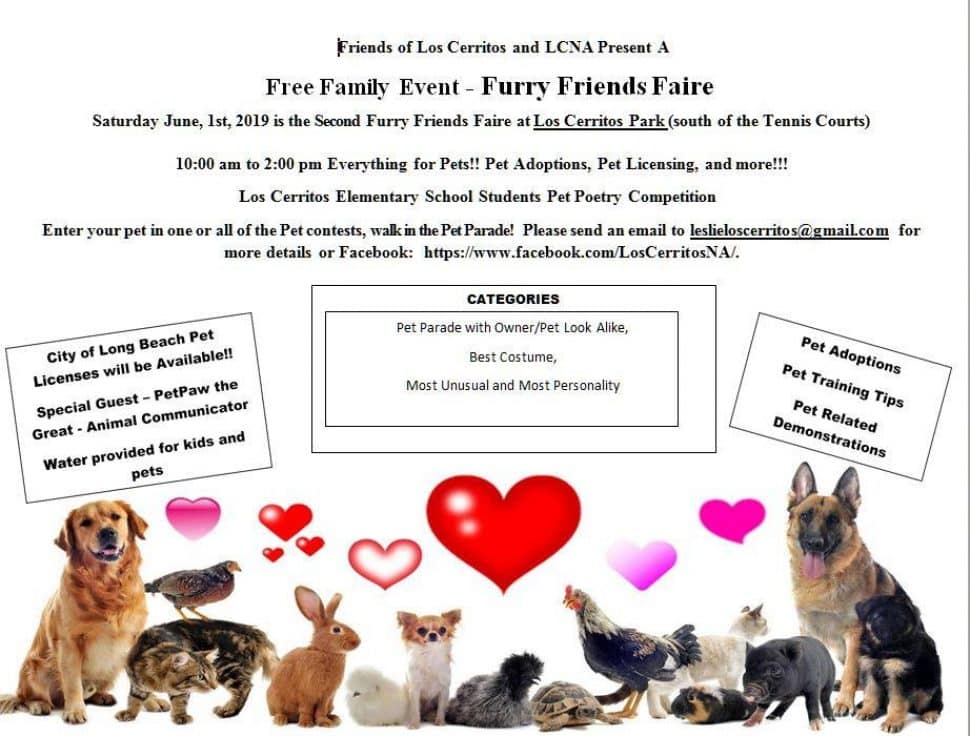 Furry Friends Faire: Saturday, June 1, 10:00 a.m.–2 p.m., Los Cerritos Park, 3750 Del Mar Ave., Long Beach, free.
Please join the Friends of Los Cerritos and the Los Cerritos Neighborhood Association at this terrific family event! Check the flyer for details. You sure don't want to miss Pet Paw the Great.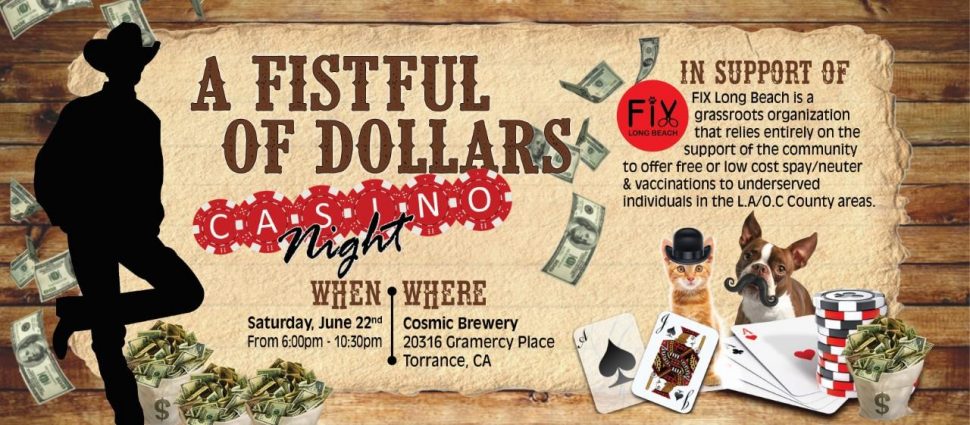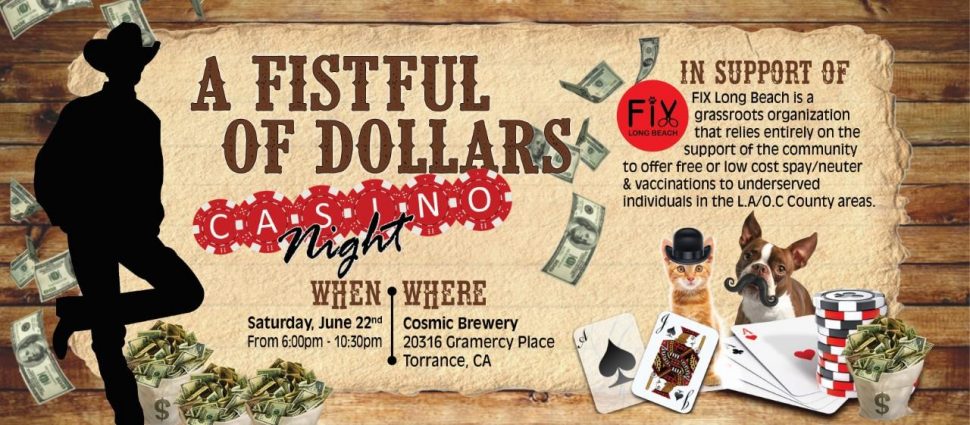 Fix Long Beach's 'A Fistful of Dollars' Casino Night: Saturday, June 22, 6–10:30 p.m., Cosmic Brewery, 20316 Gramercy Place, Torrance, $20 per ticket, available here.
It shouldn't be a gamble to see whether Fix Long Beach can spay and neuter as many cats and dogs as possible as well as support the fosters. But it sure can be a neat way to fund the clinics, if last year's event was any indication! The event includes a burger bar with a vegan option, s'more bar, discounts on beer and wine, and $50 casino cash for full-size craps, poker, roulette and blackjack tables. Come dressed to win in your favorite Western wear, and have fun during the Best Moustache contest; the 50/50 drawing; the silent auction; which includes some amazing trips; and the opportunity drawing. Prizes will go to the biggest casino winners. Tickets are available here.
Support our journalism.
Hyperlocal news is an essential force in our democracy, but it costs money to keep an organization like this one alive, and we can't rely on advertiser support alone. That's why we're asking readers like you to support our independent, fact-based journalism. We know you like it—that's why you're here. Help us keep hyperlocal news alive in Long Beach.