Feline Good Social Club's grand opening is postponed, but you can still have a crepe and a coffee with Chloe
A paperwork glitch—or an oopsie, as co-founder Pam Leslie cat-ladylikely put it—has postponed the city's first brick-and-mortar cat cafe, called Feline Good Social Club for at least 28 days. Leslie said that around 70 volunteers are patiently waiting for the reopening and asks for the public to wait as well.
All reservations made previous to this announcement will be honored after the opening, at no charge. Check here for more information.
A huge amount of labor, all of love, has gone into this project. We're with you paw in paw, Feline Good, and will be patient as a cat at a mouse hole.
Chloe fundraiser
On Saturday, April 27, Long Beach Coffee & Tea, 480 Pine Ave. at Fifth Street, will serve heaping helpings of generosity with their crepes and coffee (see Things to Do, Pets to Support). Proprietors Tom West and Shannon Francis were so moved by the story of abused dog Chloe, who was left to die wrapped in a plastic bag and covered in food matter, that they decided to give back to Fix Long Beach, the organization that worked its own collective tail off to save her life and find her a family. [Proud disclaimer: I'm a volunteer with the organization.] Proceeds from their crepe sales will go to Fix Long Beach, and attendees will get a cold brew as thanks for any donation over $10.
"Since the Saving Chloe incident and being animal lovers ourselves, Shannon and I have been supportive of the important work that Fix Long Beach Pets does in working to help animals in need," West said. "We're excited to have this opportunity to invite guests to spend a fun afternoon tasting our delicious crepes and support this important cause at the same time."
I'm excited to have this event as a frame for the adoption column. Fix Long Beach's board members had carefully considered 75 applications for Chloe before deciding on the James family. That leaves at least 74 with hearts and homes open to a doggie. Here are three of them that Fix Long Beach is fostering. To apply for any of them, contact [email protected].
Things to do, pets to support
Please send any Long Beach or Seal Beach pet-related events or projects to [email protected]. Posting subject to approval.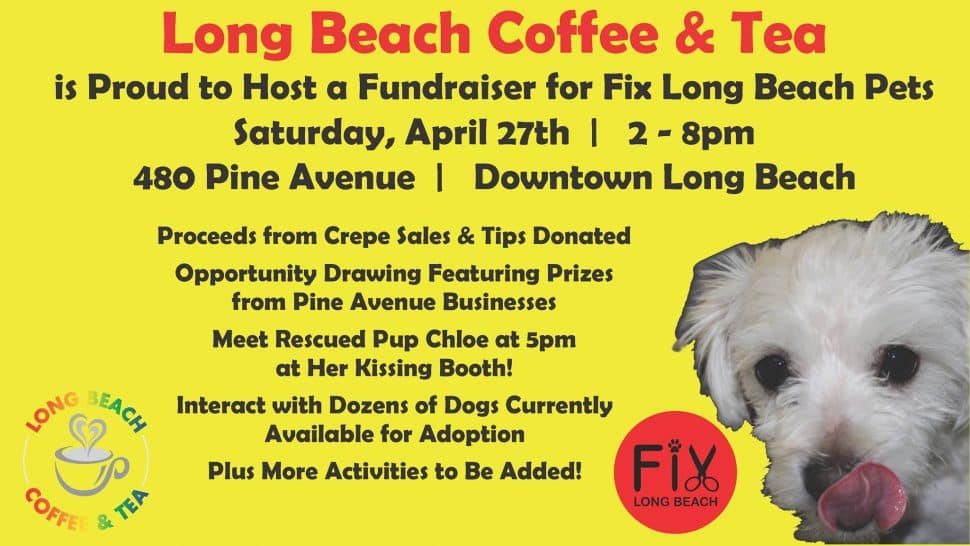 Fundraiser for Fix Long Beach: Saturday, April 27, 2–8 p.m., Long Beach Coffee and Tea, 480 Pine Ave., Long Beach, menu prices apply.
This popular breakfast-and-lunch-cum café spot in Downtown Long Beach will host an afternoon fundraiser featuring their sweet and savory crepes and lots of adoptable dogs from Fix Long Beach fosters. Chloe, the little dog who made good, will be making an appearance with her new family to give wet slurps at the kissing booth. Proceeds from crepe sales will go directly to Fix Long Beach. The grassroots-founded organization has provided free spay/neuter procedures and low-cost vaccinations to Long Beach residents who couldn't otherwise afford it and has recently expanded its good works to finding good homes for unwanted, uncared-for dogs.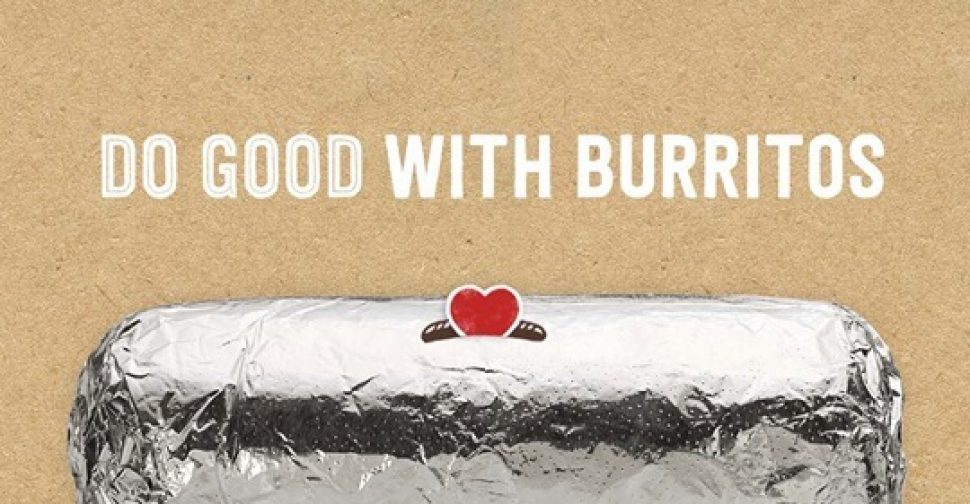 Do Good with Burritos Fundraiser: Sunday, April 28, 4–8 p.m., Chipotle, Marina Pacifica Mall, 6376 E. Pacific Coast Highway, Long Beach, menu prices apply.
Whoever would have thought that fundraising would be such a gas! Dine at Chipotle during this event, show the above flyer on your phone or printed out, and 33 percent of the proceeds will benefit Fix Long Beach to help spay and neuter as many cats and dogs as possible. Cool beans, right?
Mayor's Animal Care Visioning Task Force: Tuesday, April 30, 11:30 a.m.–1:30 p.m., Recreation Park Community Center, 4900 E. 7th St., Long Beach, free.
Agenda items include a review of the Brown Act by deputy city attorney Sarah Green; Task Force Sub-Committee Creation introduced by shelter manager Staycee Dains, and an introduction to the World Cafe Approach by Task Force co-chair Carina Cristiano. Public is invited.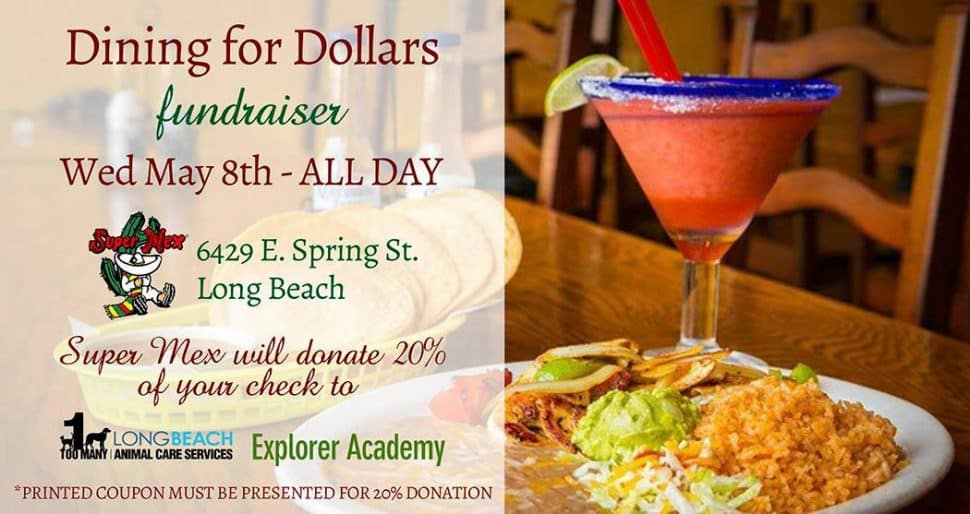 Long Beach Animal Care Services Explorer Academy Fundraiser: Wednesday, May 8, restaurant hours (10:30 a.m.–9 p.m., 6429 E. Spring St., Long Beach, menu prices apply.
The Long Beach Animal Care Explorer Academy is open to young people between 15 and 20 to give them practical experience and information about all aspects of animal-related situations at the shelter. This fundraiser will help keep this great program going.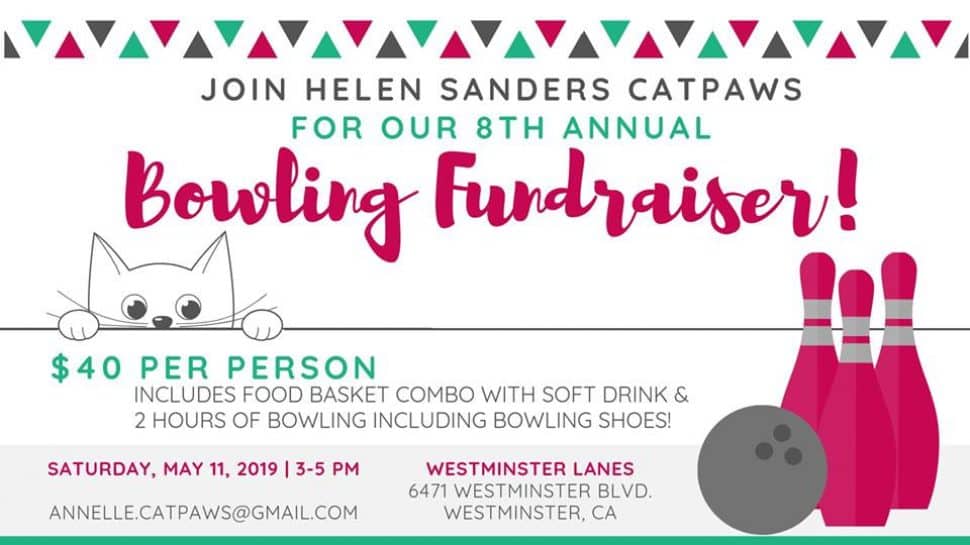 Helen Sanders CatPAWS Bowling Fundraiser: Saturday, May 11, 3–5 p.m., Westminster Lanes, 6471 Westminster Blvd., Westminster, $40 per person, includes food, drink and shoes.
You know that if you draw whiskers on the head of a bowling pin and paste pointed ears on the crown that it'll resemble a cat sitting up? That and the fact that it's a good fund-raising idea for the cats and kittens under the care of Helen Sanders CatPAWS rescue. This annual event raises money for food, veterinary bills (they mount) and neonatal care, including the free DIY kits for bottle-feeders that CatPAWS makes available free of charge at the shelter. Details are on the flyer—so roll one down an alley for the alley cats!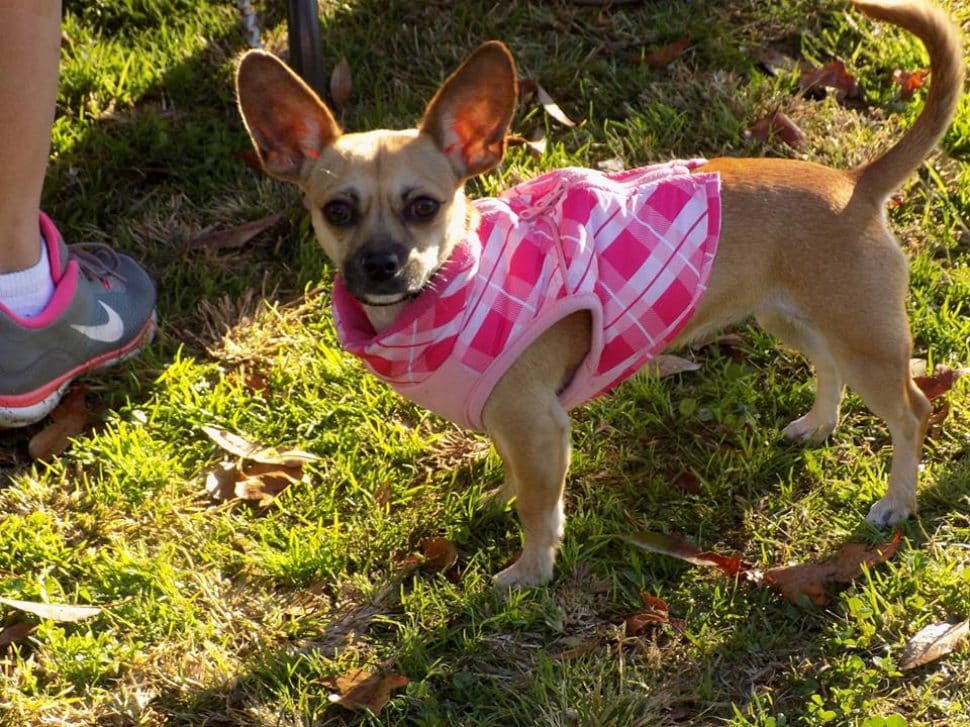 Fix Long Beach Free Spay/Neuter Clinic: Saturday, May 18, 9 a.m.–3 p.m., Ramona Park, 3301 E. 65th St., Long Beach, free spay/neuter for qualifying Long Beach residents, with appointment; free microchips, shots, flea-med doses, dewormers and nail trimmings $10 each—no appointment necessary. Appointments available for future clinics—come make one. Full details are available here.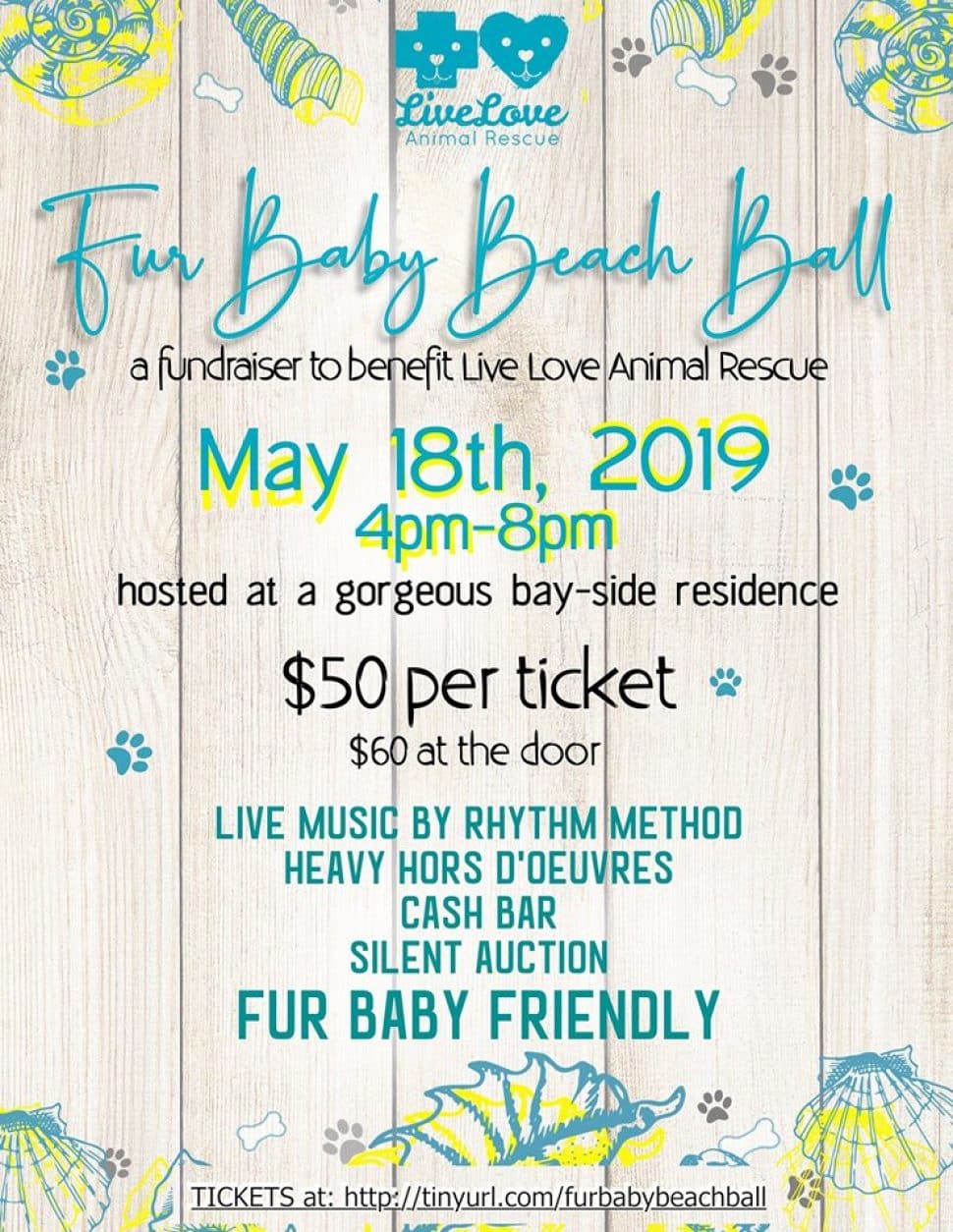 Fur Baby Beach Ball fund-raiser for Live Love Animal Rescue: Saturday, May 18, 4–8 p.m.; location TBA to ticket buyers; $50 online, $60 at door.
Live Love Rescue has pulled hundreds of otherwise unwanted dogs from shelters and fostered or adopted out just as many. All that vetting, neutering, spaying and training costs money. What better way to fund it all than with an exclusive Hamptons-type do at a private home? All dogs and their well-behaved humans are welcome!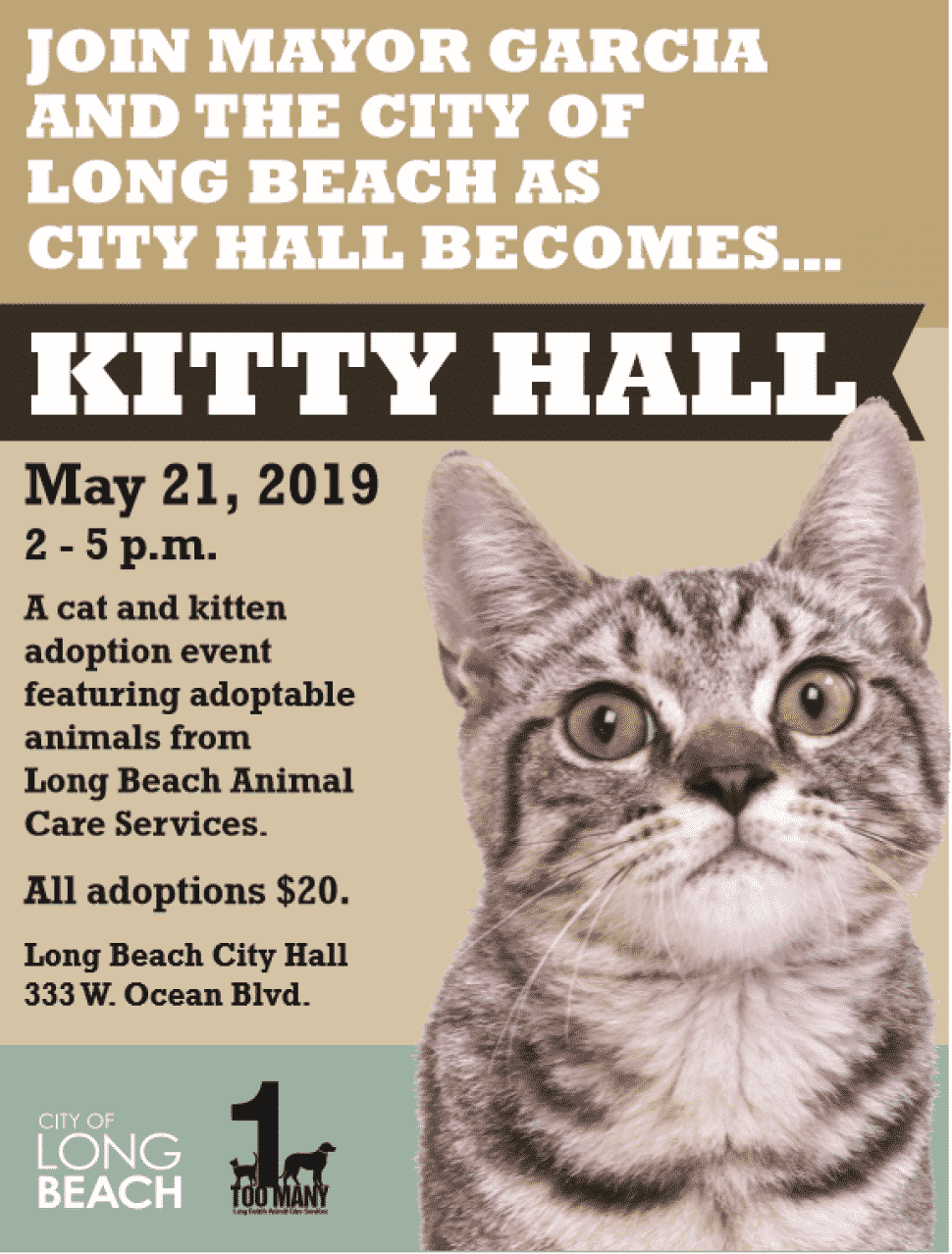 Kitty Hall: : Tuesday, May 21, 2–5 p.m., Long Beach City Hall, 333 E. Broadway, Long Beach, $20 adoption fee.
Cats and kittens from area shelters and rescues will lobby for good homes during this successful event. Each of them will enjoy his or her own platform, as long as something's dangling over it.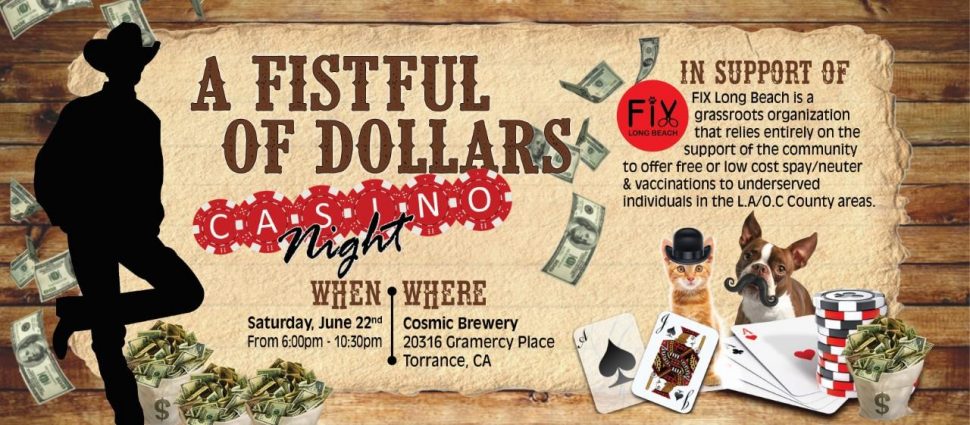 Fix Long Beach's 'A Fistful of Dollars' Casino Night: Saturday, June 22, 6–10:30 p.m., Cosmic Brewery, 20316 Gramercy Place, Torrance, $20 per ticket, available here.
It shouldn't be a gamble to see whether Fix Long Beach can spay and neuter as many cats and dogs as possible as well as support the fosters. But it sure can be a neat way to fund the clinics, if last year's event was any indication! The event includes a burger bar with a vegan option, s'more bar, discounts on beer and wine, and $50 casino cash for full-size craps, poker, roulette and blackjack tables. Come dressed to win in your favorite Western wear, and have fun during the Best Moustache contest; the 50/50 drawing; the silent auction; which includes some amazing trips; and the opportunity drawing. Prizes will go to the biggest casino winners. Tickets are available here.
Ongoing
Adopt, adopt, adopt
The following pet-related businesses regularly feature cat, dog and rabbit adoptions. If you're a Long Beach-area rescue and don't see your adoption event listed here, please email [email protected].
Chase Bank, 5200 East Second St., Long Beach
 Gelson's Market, 6255 E. 2nd St.
Kahoots Pet Store, 18681 Main St. #102, Huntington Beach
Petco Animal Supplies, Marina Shores, 6500 Pacific Coast Highway, Long Beach
Pet Food Express, 4220 Long Beach Blvd., Long Beach:
PetSmart Cerritos, 12741 Towne Center Drive, Cerritos
PetSmart Compton, 1775 South Alameda St., Compton
PetSmart Garden Grove, 9835 Chapman Ave., Garden Grove
PetSmart, Long Beach Exchange, 3871 N. Lakewood Blvd., Long Beach
PetSmart Signal Hill, 2550 Cherry Ave., Signal Hill
PetSmart Seal Beach, 12341 Seal Beach Blvd., Seal Beach.
Unleashed by Petco, 600 Redondo Ave.
Donations accepted for Pets of the Homeless
Pets of the Homeless' home page gives a self-description as the only organization focusing only on providing food and care for pets belonging to homeless people. Businesses and other organizations across the country receive in-kind donations of food and other needs that the dogs and cats' human families can pick up at outreach locations. The following Long Beach businesses will accept your donations:
Trendi Pawz, 255 Redondo Ave., Long Beach
Belmont Heights Animal Hospital, 255 Redondo Ave., Long Beach
Paw Shoppe Pet Center, Inc., 6416 E. Spring St., Long Beach
Food and supplies are available at Beacon for Him Ministries, 439 West Anaheim St., Mondays from 9 a.m. to noon and Saturdays from noon to 3 p.m.; and at Christian Outreach in Action, 515 E. Third St., Thursday from 9 to 11 a.m. Donations will be gratefully accepted at these locations as well.
Shelter-enrichment supplies requested for ACS's cats, dogs and rabbits: drop-off Wednesdays through Fridays, 10 a.m.–4 p.m., shelter side of P.D. Pitchford Companion Animal Village, 7700 E. Spring St., Long Beach
Canned kitten food (Royal Canin), yogurt, beef and chicken broth, pipe cleaners, toilet-paper and paper-towel rolls, catnip, canned pet food, wine-bottle corks (for cat toys) and ice cube trays all are needed. Donations are tax deductible.
Support our journalism.
Hyperlocal news is an essential force in our democracy, but it costs money to keep an organization like this one alive, and we can't rely on advertiser support alone. That's why we're asking readers like you to support our independent, fact-based journalism. We know you like it—that's why you're here. Help us keep hyperlocal news alive in Long Beach.