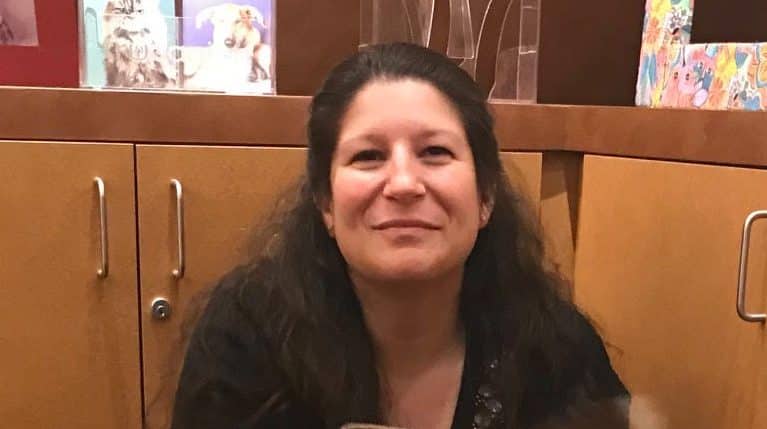 Meet Staycee Dains, the new shelter director of Long Beach Animal Care Services
In the old days, say around as early as 35 years ago, animal shelters served the purpose of getting lost pets found, strays off the streets, and protecting the public from dogs seen as vicious and stray cats as pesky, at best. Protecting the pets from people was something that national organizations or the English did. Here in shelters, animals languished and freaked out in pens, and euthanasia was the way of disposing of them because there were always more coming in. Shelter managers were seen as dog catchers and the staff as ghouls rubbing their hands together at the gleeful prospect of killing another hundred pets.
The only erroneous detail is the last—most shelter staff members' hearts break whenever they have to kill an animal. Thanks to solid community efforts across the country—shelter staff, rescues, veterinarians, spay/neuter providers, trapping and spay/neuter efforts for cats, volunteers and animal lovers in general—animal shelters are continuously evolving from Gehenna into places of increased comfort and security, with more safety nets for the animals.
For the past few years, Long Beach Animal Care Services has been developing in the same way. In 2001, the Long Beach Animal Shelter moved from a dumpy, barren building on Willow Street and was renamed as Animal Care Services by John Keisler, who came in as the new director in 2008.
In 2012, Keisler took a position with Parks and Recreation and handed over the shelter responsibilities to the present director, Ted Stevens, who listened to everything from suggestions for saving animals to biting critics who said that he wasn't doing enough. Through it all, he supported such efforts as two Foster the Fourth events, the first as a brainpup of Live Love Animal Rescue; the construction of a dog play yard and a medical facility with the support of Friends of Long Beach Animals; getting the Long Beach Little Paws kitten nursery in the works; and spay/neuter vouchers for Fix Long Beach [disclosure: the author is a core member of Fix Long Beach].
Although some advocates will stress that the work isn't finished until no healthy animals die in shelters, Animal Care Services has made impressive steps toward increasing adoptions and live release to rescues as well as steep reductions in euthanasia. The statistics show an overall decrease from 6,676 pets in 2005 to 1,065 last year. If the bar graph were a flight of stairs, you wouldn't want to fall down them. (More detailed data may be obtained by submitting a public records act request at this portal.)
"I'm proud of what the team here has been able to achieve while I've been here," Stevens said of his seven-year tenure. "I'm not just the shelter manager but also director of Animal Control. That's a big job—we service four other cities besides Long Beach. There's a lot of passion around this bureau, not just from animal rescuers but a lot of things that go on. The shelter animals are one part of the job."
At a yet undetermined date in the near future, Stevens will move on to the position of Recreation Superintendent with the Parks, Recreation and Marine Department, which also oversees the shelter. He'll be working in particular with senior humans, which should be a respite from what has to be one of the toughest jobs anywhere.
"This is something I've been considering for a while, and I was waiting for the right time and opportunity," Stevens said. "I'm excited to work with seniors."
At the Jan. 8 meeting of the Mayor's Long Beach Animal Care Vision Task Force, Parks, Recreation and Marine director Gerardo Mouet announced the hire of a new director. Staycee Dains is the current director of the San Jose Animal Care Center. She was selected from a pool of applicants and will start her job in Long Beach at a yet undetermined date in the near future.
Anna Wong, Long Beach's Return to Field director for Stray Cat Alliance, described Dains as a strong, dynamic leader who doesn't fold under pressure. Dains and then San Jose shelter manager Jon Cicirelli had helped Wong and the shelter set up their Return to Field program, which involves fixing, vaccinating, and otherwise vetting any adult cat 15 weeks or older, or as Wong put it, old enough to get a rabies shot. The cats are then returned to where they came from, to reproduce unwanted kittens no more.
"Stray Cat Alliance offered Ted a tour of San Jose, and the shelter sent a bunch of staff, including Ted," Wong said. "After that, Jon and Staycee came down and toured the shelter, and helped us teach shelter staff about how we can put Return to Shelter into effect here."
Dains says she's excited to take it all on and planning to carry on Long Beach's vision of a life-saving shelter.
"The City of Long Beach has embarked on a journey of evaluation and planning that includes allocating more resources to its animal-care division," Dains said. "The city and the community are working together to construct a vision and direction for animal care that not only protects its citizens but strives to save the lives of animals in its care, a formerly rare combination for municipal animal shelters. I anticipate many continued improvements for the division, and I am honored to have been selected to lead the agency through the changes that will inevitably come."
Dains' immediate focus will be to work closely with staff, the visioning task force, community advocates and Mouet to build a strong foundation for an ambitious strategic plan over the coming year.
"The first few weeks for me will be spent digging into all aspects of operations, shelter data, feedback from both the staff and community, and to learn what Long Beach Animal Care Services is all about and where we want to go as a community," Dains said.
Task Force co-chair Carina Cristiano said that she's looking forward to assisting Dains in developing best practices and implementing the strategic plan, particularly regarding enhancement of volunteer, foster and adoption programs. She figures that it won't be a smooth road, but she is optimistic.
"With every transition, there might be growing pains," Cristiano said. "It's all for a good change. I have only heard positive things through the community of Long Beach's choice for the new manager, and I welcome her to our city."
Others are less patient. Animal advocates from No Kill Long Beach, whose objective is to end the killing of shelter animals, have been passionate and vocal about what they see as a lack on the part of the mayor and the city at large to implement no-kill programs.
"What the shelter needs to do is just follow the suggestions of the audit, and do it now," said Candace Lawrence, a No Kill Long Beach advocate. "Listening to the discrepancies between our shelter and Sacramento's last night made me ill, and not for the first time."
Lawrence was referring to the Jan. 8 City Council meeting at which Patricia Turner, the founder of No Kill Long Beach, stated a discrepancy between 4,600 pets adopted out of the Sacramento shelter as opposed to 581 from the shelter and spcaLA next door.
Stevens, however, said he knows how much progress was made in seven years and credits his staff and the community for it.
"It really was a team effort—the hardworking staff and the volunteers," he said. "You can do Monday morning quarterbacking—you could say, maybe we would have done some things different, but I don't have any regrets."
He added that he hopes to encourage some of the seniors he's working with to foster some kittens. He'll be within meowing distance of the shelter.
"I won't be far away," he said.
Support our journalism.
Hyperlocal news is an essential force in our democracy, but it costs money to keep an organization like this one alive, and we can't rely on advertiser support alone. That's why we're asking readers like you to support our independent, fact-based journalism. We know you like it—that's why you're here. Help us keep hyperlocal news alive in Long Beach.