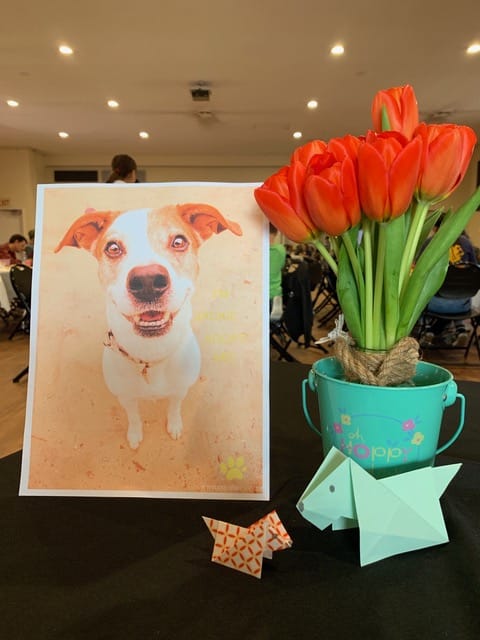 Plated and Served inspires kids to create joy for seniors and their four-legged family members
On Saturday, March 9, kids ages 6 to 16 sat around tables and on the floor in the Marina Community Center creating cards, decorating boxes, and stuffing socks and felt to make homemade toys for pets of homebound seniors.
Plated and Served with Love to Seniors and Their Pets was the second annual incarnation of Seal Beach Animal Care Center's effort to inspire others in the community, children in particular, to express the same unselfishness and compassion that their shelter receives from the public.
Seal Beach Animal Care Services, as its website states, "is a non-profit, no-kill animal shelter committed to finding permanent, loving homes for all the animals that come into our care." The shelter is run solely by volunteers and keeps itself in kibble and veterinary-bill payments through fundraising, legacies, grants and public donations.
"We're blessed as a shelter because we have such generous donors—people who donate to our cause—not just money, but walking dogs, dropping off towels and food, so we decided to pass it forward," shelter volunteer Karen Millet said. "We really believe in giving back."
Last year, Plated and Served chose Long Beach Rescue Mission as its beneficiary. Clients and their pets received gifts of blankets, pet food and other goodies.
This year, homebound seniors who depend on Meals on Wheels for both food and socialization received, along with their own food, tray favors like handmade pet-themed napkin rings, food for their pets, and pet toys made by enthusiastic kids from the Leo Lions Club and the younger children whose families brought them.
Millet told of one family who brought their only child because they wanted to teach him "the importance of working together and for the good of others."
"They really showed their talents," Millet said.
Who'll get the goodies next year?
"We have no idea," Millet said. "We take them as they come!"
Seal Beach Animal Care Center is located at 1700 Adolfo Lopez Drive, Seal Beach. Like all shelters and rescues, they need volunteers whose focus is the well-being and positive outcome for otherwise unwanted pets. Anyone who wants to walk dogs, empty litter boxes, is computer savvy, wants to drive animals to veterinary appointments, or doesn't mind doing a load of laundry can call during shelter hours at 562-430-4993 and fill out a volunteer application. The shelter also accepts both in-kind and monetary donations.
Support our journalism.
Hyperlocal news is an essential force in our democracy, but it costs money to keep an organization like this one alive, and we can't rely on advertiser support alone. That's why we're asking readers like you to support our independent, fact-based journalism. We know you like it—that's why you're here. Help us keep hyperlocal news alive in Long Beach.