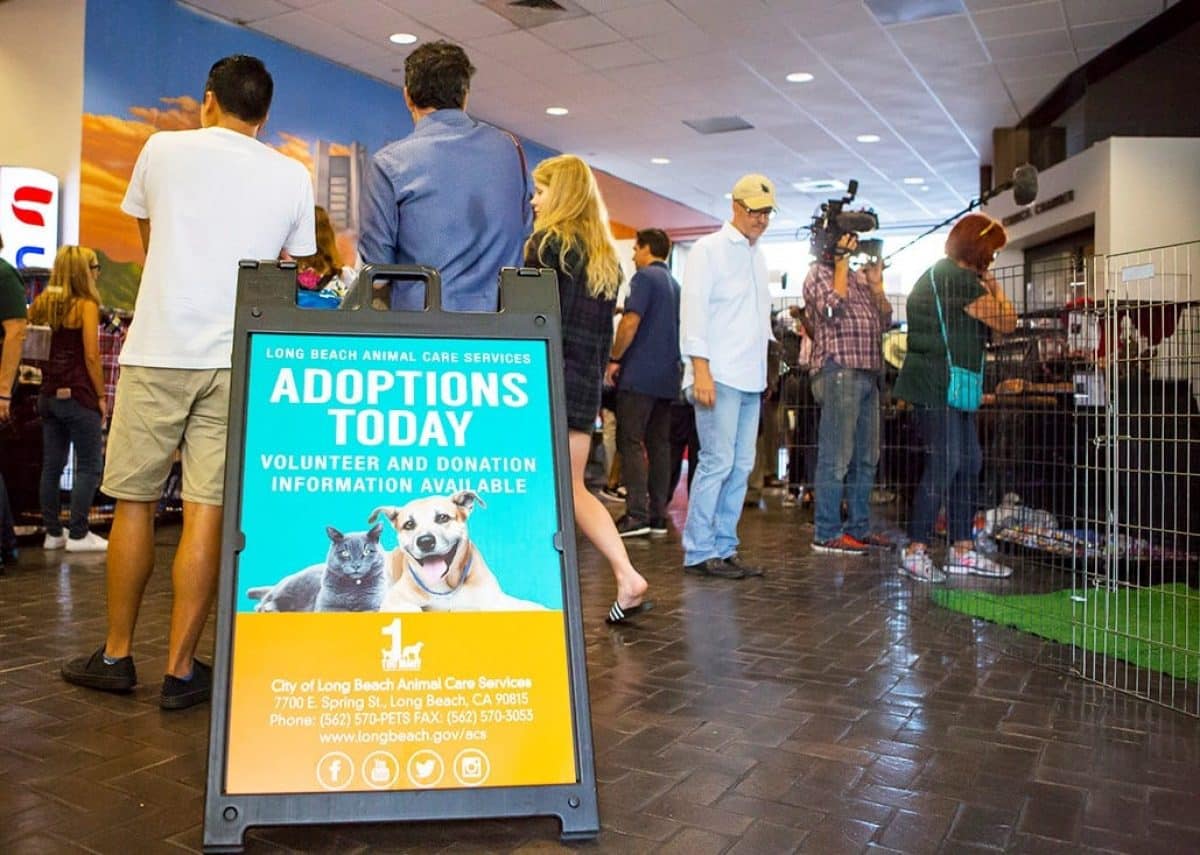 Roofs over their little heads, sustenance, laps to purr on and access to catnip: Cats and kittens chitter out their demands at the mayor's Kitty Hall
On May 21, dozens of lobbyists for permanent housing will storm City Hall along with their mentors. The public is urged to come in force to support them and possibly enable their campaign demands.
OK, storm isn't an accurate word—fog would be more appropriate. You know, like "little cat feet"? Adoptable cats of all sizes and shapes will fill City Hall's lobby—as lobbyists often will—in the hope of getting good homes that will last them all their nine lives, or however many remain of them.
Kitty Hall is the largest cat-only adoption event in Long Beach. Three previous events were held, the last one in 2017. Cat rescues and cat people were disappointed when one didn't take place in 2017; Mayor Robert Garcia said that it was too difficult to make one work with the construction going on.
"We were in the middle of closing down the library," Garcia said. "It's more accessible now—there are always issues, but we think that things are pretty well managed."
Parking will be available in the structure adjacent to the current City Hall, on Broadway. Cats from the shelter will arrive in great style in Long Beach Animal Care Services' Adoption Waggin' and from their satellite adoption center at Pet Food Express, and they'll compete for attention with other furry hopefuls from Helen Sanders CatPAWS, spcaLA and Long Beach Spay & Neuter.
You can play and cuddle with the kittens and cats available for adoption, and staff and volunteers from the rescues will chat about cats in the family and accept adoption applications. You'll also learn about bottle-feeding neonatal kittens, the rewards of opening your home to a foster, how to trap roaming unaltered cats and get them fixed (and any kittens adopted), and where the volunteer opportunities are.
"Kitten season is upon us, and we want to encourage people to adopt and do whatever they can to help," Garcia said.
Kitty Hall is one of the initiatives Animal Care Services has undertaken to continue the sharp reduction in euthanasia rates that the shelter has seen over the past 10 years. Others include the Long Beach Little Paws Kitten Nursery, the Community Cats Return to Field Program, providing vouchers to the Fix Long Beach free spay/neuter program, and the Pet Food Express Adoption Center. The shelter also has vouchers that take not a huge bite but a cat-size nip out of the cost of a spay/neuter operation at participating veterinarians. The vouchers are available to the cities served by Animal Care Services: Long Beach, Signal Hill, Cerritos, Seal Beach and Los Alamitos. Every bit has helped nearly 1,100 kittens that entered the shelter in 2018 to find their way to adoption.
"We are working hard to reduce the euthanasia rate and have seen success through recent partnerships and initiatives," said Staycee Dains, Animal Care Services bureau manager. "And we are committed to placing animals into humane environments and promoting responsible pet ownership."
Garcia said that the next Kitty Hall will take place, with additional community partnerships, in the new facility, where a new group of cats will replace the ones that get what they ask for this year. He said that he enjoys finding out how some of the Kitty Hall alumni are doing.
"I still to this day see pictures on Instagram and Facebook and see that the kittens are doing well," he said. Doubtless they're all cats by now.
The mayor and his husband, Matt Mendez, have a shelter adoptee named Tommy. Will they add to their family?
"Matt wants to—we'll see!" he said.
Hold those placards high, little petitioners!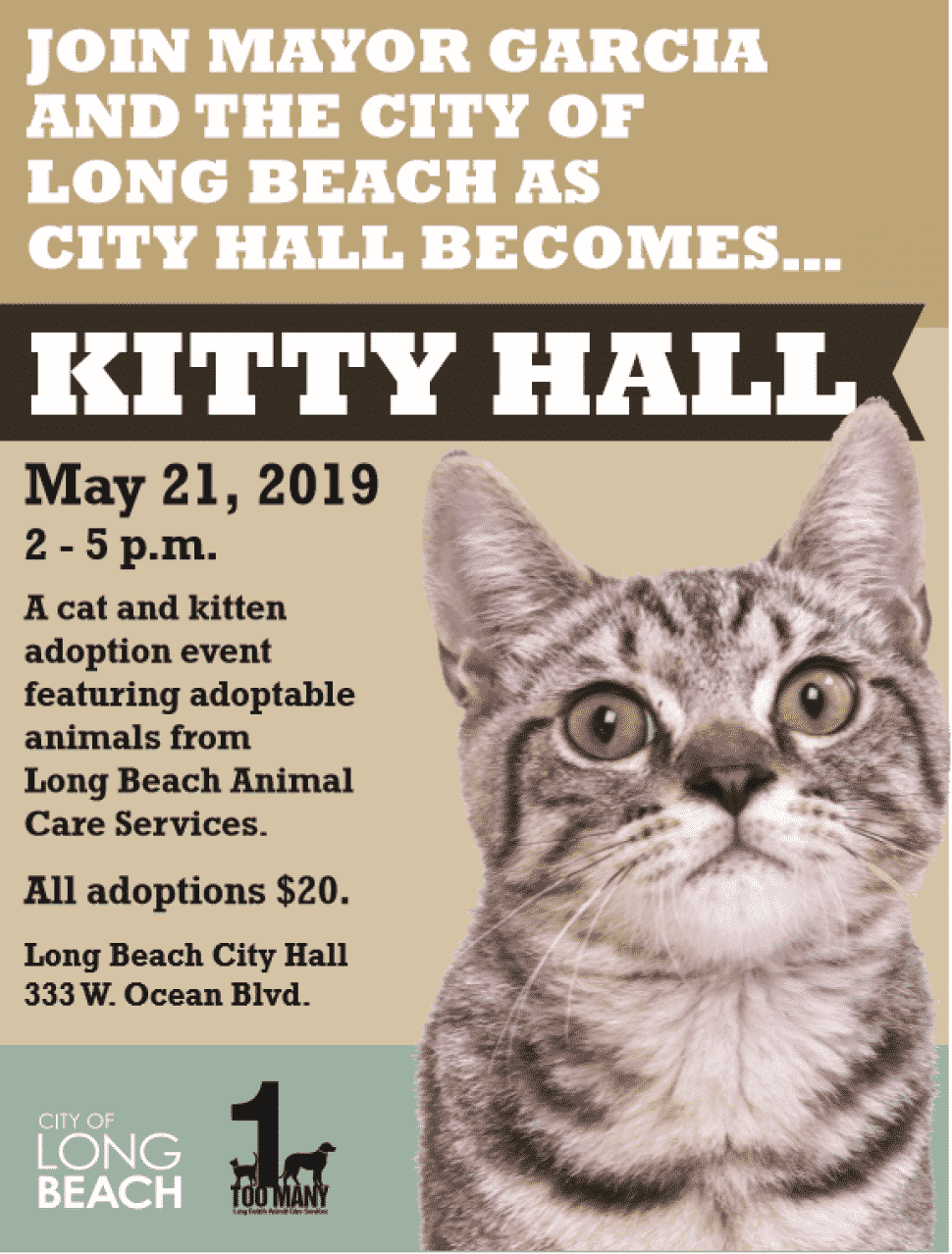 City Hall is located at 333 W. Ocean Blvd. in Long Beach. You can help the cats' cause from 2 to 5 p.m. Tuesday, May 21.
Support our journalism.
Hyperlocal news is an essential force in our democracy, but it costs money to keep an organization like this one alive, and we can't rely on advertiser support alone. That's why we're asking readers like you to support our independent, fact-based journalism. We know you like it—that's why you're here. Help us keep hyperlocal news alive in Long Beach.