The 7: Things to do in Long Beach this weekend including… Bats, Paws and Goths
Well, Halloween falls on a Thursday, this year. Bummer, we know. For those of you who want to go trick-or-treating on the night of, but can't without disapproving looks from strangers, that means this weekend is your last chance to get your fill of this spooky season. Thankfully, we've got seven things to do this weekend that should keep the momentum going, or at least give you a couple more chances to wear that overpriced costume you bought last minute before it's discarded into the depths of your closet.
We've got a historical cemetery tour, a costume-clad dog parade, dance performances of Michael Jackson's "Thriller," and Goths! Goths! Goths! And more than enough spots to try and fill your pillowcase with free candy (people still do that, right?)
1. HISTORICAL CEMETERY TOUR (Saturday)
Every year since 1995, the Historical Society of Long Beach has been performing a history tour of the city's two oldest cemeteries: the Long Beach Municipal Cemetery and Sunnyside Cemetery, which are the final resting place of more than 20,000 residents.
Whenever you're talking about those numbers or about olden times in general, there's going to be some great stories and that's where the performing comes in. HSLB has actors stationed at certain graves, portraying the people in those graves, telling stories about them and the times they lived.
If it sounds spooky, it's not. Yes, it's always performed around Halloween, but the pieces are very family-friendly; more historical than hysterical. (The same can not be said for the shameless frightfest video above. Perhaps scariest of all is the narrator's flat, nasally delivery, reminiscent of Vincent Price being run through a woodchipper.)
The performances begin at 9 a.m. and run until 3 p.m. If you want to see all of them allow, wait for it, three hours. Yep, there's a whooooole lot of history going on. (Steve Lowery)
Another great thing: Another terrific outdoor activity today, and one that is far more Halloweenie-ish, is the El Dorado Nature Center's Howl-Oween Festival. There will be live animals, create critter crafts and meet some of the Nature Center's resident ghosts and goblins. Don't forget to dress up. Parent participation is required for children under 16 years of age. The last trail entry is at 5 p.m. and the event ends at 6 p.m. There is a $5 suggested donation per person goes to Friends of El Dorado Nature Center/Partners of Parks.
Giving us a moment's pause: The narrator…
El Dorado Nature Center is located at 7550 E Spring St. The event takes place from 2 p.m. to 6 p.m. Admission is a suggested donation of $5. Children under 16 must be accompanied by an adult. For more information, click here.
2. ZOMBIE WALK HALLOWEEN PARTY (Saturday)
Creatures of the night, shuffle down the Rainbow Harbor boardwalk at Shoreline Village for this year's Zombie Walk Halloween Party. This free event is for any and all zombies, no matter the stage of decay. Special festivities for kiddos start at 4 p.m. with the Children's Halloween Party hosted by LB Littles and includes spooky story-time, arts and crafts, interactive sensory stations, a costume contest and dance party (located in the grass next to the Yard House). Arrive by 6 p.m. to catch the Thrill the World Los Angeles dance group perform Michael Jackson's "Thriller." And from 7-10 p.m. break out your (un)deadliest dance moves for music by DJ Delvek Entertainment and Zombie Band, Unkle Zombie. There will also be plenty of roaming scarers—rearing to spook—food vendors, and naturally, lots of candy. (Cheantay Jensen)
Another great thing: "Bone Woman" Marguerite Kusuhara invites any brave soul to step away from the crowd and sit with her under the "Ghost Tree" to find out what her colored bones see in your future. Although, she may have been expecting you already.
Giving us a moment's pause:
Zombie Walk Halloween Party runs from 4 p.m. until 10 p.m. at the Shoreline Village; 401-425 Shoreline Village Dr. For more information including performance schedules, click here.
3. "ROLLERWEEN" SPOOKY ROLLER DISCO ON THE BEACH (Thursday)
Rollin' into Monday like …. don't miss this weeks beach roller disco. It's THE LAST OF THIS SEASON. And, it's Halloween so be sure to dress up.📽@lddesignslbc 📽…..#bayshorerinkparty #belmontshore #hornycorner #skateLB #skate #reasonstolovelongbeach #thisisLB #kids #dancing #rollerskate #skater #kids #adults #belmontshore #rollerdisco #sunset

Posted by Bayshore Rink Party on Monday, October 21, 2019
Dress up in your spookiest Halloween costumes for the last Bayshore Rink Party of the year before the rink starts to dampen from the ocean air. Also, Mimi Masher, who has been holding these events once a week for the past eight months (you've had eight months, people) needs a little breather and time to plan the next one. Thank you, Mimi and volunteers! Expect a costume contest, monsters and "synth pop indie music made with love" by Knife Girl and sets by DJ Hawkeye. (Asia Morris)
Another great thing: If you haven't committed to buying a pair of skates yet, message Bayshore Rink Party on Facebook to reserve a pair of rentals for $5. You can also rent a pair at the event, but sizes are limited.
Giving us a moment's pause: Word to the wise, come in roller disco friendly costumage (word?). We're talking to you, ghosts, as in make sure to cut your sheets above your skates.
$10 to enter, $5 to rent skates (reserve them asap). The 7th annual Rollerween runs from 5 to 8 p.m. at 14 54th Place and Ocean Boulevard. For more details, click here.
4. COMING OUT COMMUNITY PICNIC (Saturday)
Enjoy a lovely Saturday at Houghton Park with your favorite LGBTQ organizations, including the LGTBQ Center of Long Beach and Gay for Good, that will provide face painting, picnic food, entertainment, games and more all in celebration of LGBTQ History Month. As you can see, the flyer is Halloween-themed, so we're assuming if you'd like to come dressed spookily, that's OK. Although it is in celebration of coming out, so it may be best not to hide your beautiful face in any way, shape or form. But, you do you! There will also be performances, drag princesses, resource tables, and of course, candy! (AM)
Another great thing: This event is absolutely free, even the food!
Giving us a moment's pause: We're good.
The picnic is at Houghton Park; 6301 Myrtle Ave. from 11 a.m. to 3 p.m. For more info and to RSVP, visit the Eventbrite page here.
5. HAUTE DOG HOWL'OWEEN DOG PARADE (Sunday)
The annual Haute Dog Howl'oween Dog Parade is in full tail-swish with more than 500 costume-clad furry friends expected to strut—humans in tow—through Marina Vista Park this year. Organized by community activist Justin Rudd and his nonprofit Community Action Team (C.A.T), the parade, now in its 19th year, draws thousands of pet owners and dogless spectators alike. The procession is free to watch, but for ample viewing, you can purchase a front-row seat for $5. Think you and your pup has what it takes to win best in show? You can enter the parade costume contest for 10 bones (in advance) and vie for your chance to win a year's supply of dog food. Also on site will be a photo booth where you can pose with your pooch to commemorate the occasion. (CJ)
Another great thing: All proceeds collected from the event will be donated to local spay/neuter clinics.
Giving us a moment's "paws": While this is technically a dog parade, last year there were two pigs and a rooster in attendance.
The parade commences at 2:30 p.m. at the Marina Vista Park (5355 E Eliot St.) on the corner of Colorado St. & Santiago Ave. To register you and your pet in the parade or reserve a front-row seat, click here. For more information visit Justin Rudd's website, here.

6. RELEASE THE BATS (Friday)
After ending its 20-year-run of monthly Goth-themed club nights last October, local death-rock/Goth event Release the Bats is back for their first annual reunion party, just in time for the holiday that ushered in the themed night to begin with. For years, Release the Bats was Southern California's most popular Goth/punk night and served as a sanctuary for generations of Goths and industrial lovers to come chill out and be themselves. Que Sera will once again be transformed into a dark, skull-adorned haunt, draped in black fabric and clouded with fog. DJ's spinning industrial, Goth, post-punk and hardcore vinyl include co-founder of the event Dave Bats (DJ Bats), Shane Dingbat and Dave Graves. (CJ)
Another great thing: It's the last Friday of the month, you know what that means! Fourth Friday along Retro Row will be holding their own Halloween-inspired event they are dubbing "Terror on 4th Street" from 6 p.m. to 9 p.m. We hear there will be a stilt-walker roaming, a "terror trolley" cruising up and down the street, spooky live music performances, and alongside all the businesses and food vendors offering discounts and specials, will be bloody cotton candy and a pie eating contest. Yum!
Retro Row is located between Cherry and Junipero Ave.
Giving us a moment's pause: Bloody cotton candy? Wait… what?
Release the Bats creeps from 9 p.m. to 2 a.m. at Que Sera; 1923 E 7th St. Entry is $5. For more information, visit their Facebook event page, here.
7. SCARIUM OF THE PACIFIC (Saturday-Sunday)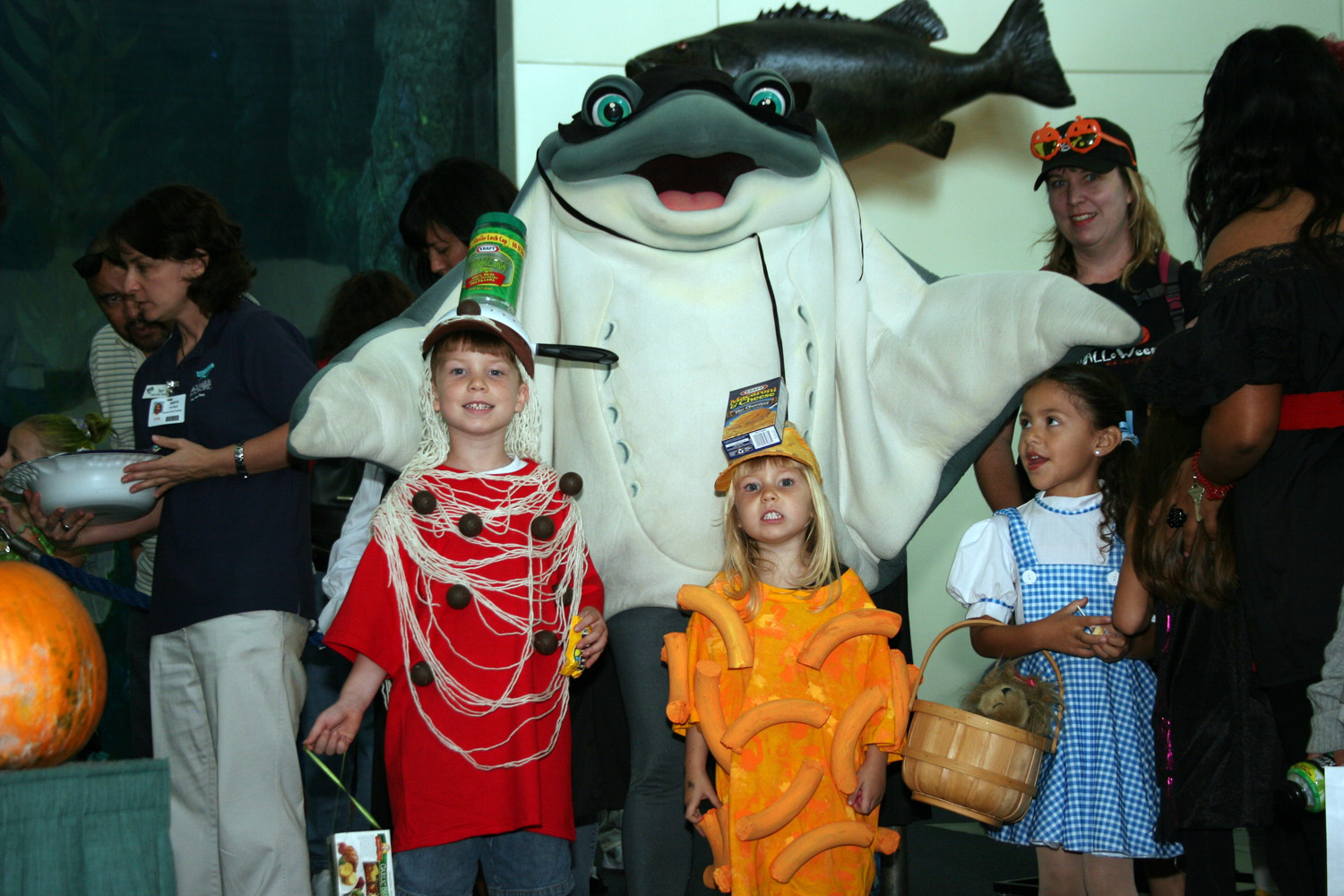 [SPONSORED] Join the Aquarium of the Pacific for their 20th annual Scarium of the Pacific on Saturday and Sunday, Oct. 26–27, from 9 a.m. to 5 p.m. Families will learn about the scary and not-so-scary animals that inhabit the Pacific Ocean, while enjoying special Scarium programs. Activities include magic shows, live creepy creatures, underwater pumpkin carving, a decorated pumpkin display, children's coloring contest and a variety of fun crafts.
Another great thing: Children are invited to come dressed as an underwater creature or in traditionally ghoulish attire to compete in our daily costume contest (must register by noon to participate).
Giving us a moment's pause: Live creepy creatures. Live ones.
Aquarium of the Pacific; 100 Aquarium Way. For more info, check out https://lbpo.st/AoPScariumofthePacific.
Add the "Today you should…" calendar

Subscribe through Google Calendar or your calendar app and get alerted to the best things to do in Long Beach. Updated 7 days a week.
This feature is experimental. Let us know how it's working.
Support our journalism.
Hyperlocal news is an essential force in our democracy, but it costs money to keep an organization like this one alive, and we can't rely on advertiser support alone. That's why we're asking readers like you to support our independent, fact-based journalism. We know you like it—that's why you're here. Help us keep hyperlocal news alive in Long Beach.