The 7: Things to do in Long Beach this weekend including… Baby Shark, Billie and beer
This week on "The 7" we've got live music on the brain. Feel the nostalgia with tribute performances to the late Gram Parsons and ICT's season finale performance of "Lady Day at Emerson's Bar and Grill," a musical drama featuring all the Billie Holiday classics we never get tired of hearing and multiple Grammy-award winning, female mariachi group, Mariachi Divas de Cindy Shea perform at Fuego in the Maya Hotel. But hey, it's all about the kids and their parents who may be regretting their life choices during the "Baby Shark Live" performance at the Terrace Theater.
For the rest of the weekend action of the non-musical variety, well, you know what to do.
1. "LADY DAY AT EMERSON'S BAR AND GRILL" (Friday-Sunday)
ICT closes its season this fall with the ambitious "Lady Day at Emerson's Bar and Grill;" ambitious not because the scale is so epic but because it is so intimate. The musical drama is a fictional account of Billie Holiday's last public performance before her death in July of 1959. The characters include Holiday, her musical accompanist Jimmy Powers, and that's pretty much it.
Karole Foreman, who played Rose in ICT's well-received production of "Fences" in 2017, plays Holiday, while musical director Stephan Terry doubles in the role of Powers. The choice of Foreman, most certainly an actor who sings, rather than a singer who acts, makes clear that what director Wren T. Brown most valued was a performer who would not only be able to recreate a plausible Holiday stage presence, but also communicate the contours of her all-to-short life whether speaking or singing.
The play, performed at the Beverly O'Neill Theater, takes place in a fictional seedy bar in Philadelphia. Holiday performs 16 songs, including such iconic standards as "God Bless the Child" and "Strange Fruit" while recounting the often devastating turns of her life. (Steve Lowery)
Another great thing: These are Holiday classics we never get tired of hearing.
Giving us a moment's pause: Billie Holiday died at the age of 44. Considering that contemporaries Ella Fitzgerald and Frank Sinatra had careers of continued distinction well past their 40s, the mind is boggled, and saddened, about what might have been.
The Beverly O'Neill Theater is located at 300 E Ocean Blvd. For more information or tickets, click here.
2. BELMONT SHORE ART WALK AND SIDEWALK CHALK ART CONTEST (Saturday)
Witness the gray sidewalks of Belmont Shore transformed into a canvas of chalked-up artistry for the 16th annual Belmont Shore Sidewalk Art Competition, presented by local community activist Justin Rudd and his nonprofit, Community Action Team (CAT).
On 2nd St. between St. Joseph and Glendora avenues, nearly 100 artists including students from local high schools and colleges will have seven hours to create 38" x 50" poster board masterpiece illustrated with smooth, chalk pastels and taped down on the sidewalk for all to see.
Eight winners of the contest will receive a cash prize (woo hoo!). Best of show winner will receive a $350, 1st place $250, 2nd place $150 and five honorable mentions will receive $50 each.
The competition will begin at 9 a.m., so come early to check out the artists' frenzy to finish, or wait around until 4:10 p.m. to behold the judging. Awards will be handed out in front of the Chase Bank on 2nd St. (Cheantay Jensen)
Another great thing: If you're 18 or older, it's totally free to enter the competition! Artists as young as 16 may compete but there is a $20 paid-in-advance entry free (not so great for you, kiddos, sorry).
Give us a moment's pause: Hope it doesn't rain.
For more information including artist sign-ups, schedules and rules visit Justin Rudd's website, here.
3. MARIACHI DIVAS DE CINDY SHEA (Sunday)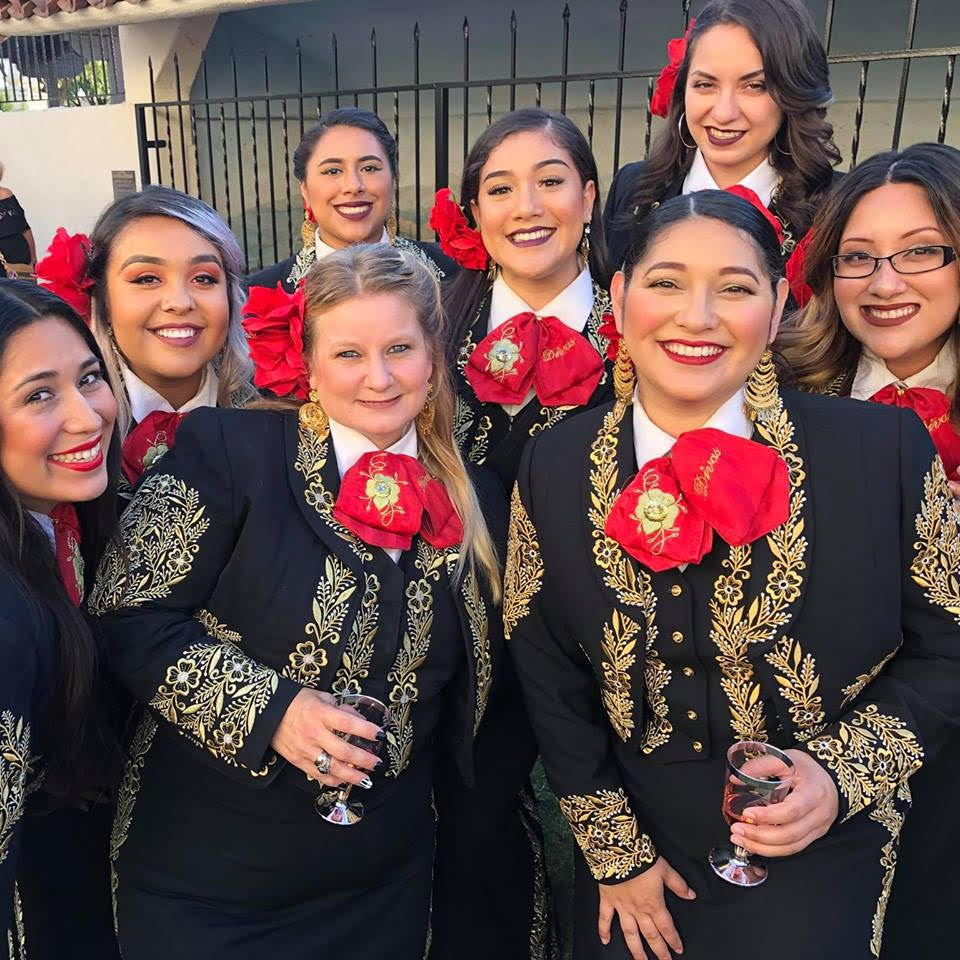 Celebrating their 20th year of existence, Mariachi Divas will be playing at Hotel Maya's seaside restaurant Fuego as part of the hotel's excellent, yearlong "Maya-achis" celebration.
The Divas have the distinction of being an all-female band, one that has won multiple Grammys. They're playing in October to mark Breast Cancer Awareness Month.
Pair their music with the Fuego Sunday Brunch, which begins with a glass of complimentary house champagne or Mimosa, and you've got yourself a nice start to your day. (SL)
Another great thing: Fuego has arguably the best view of the city.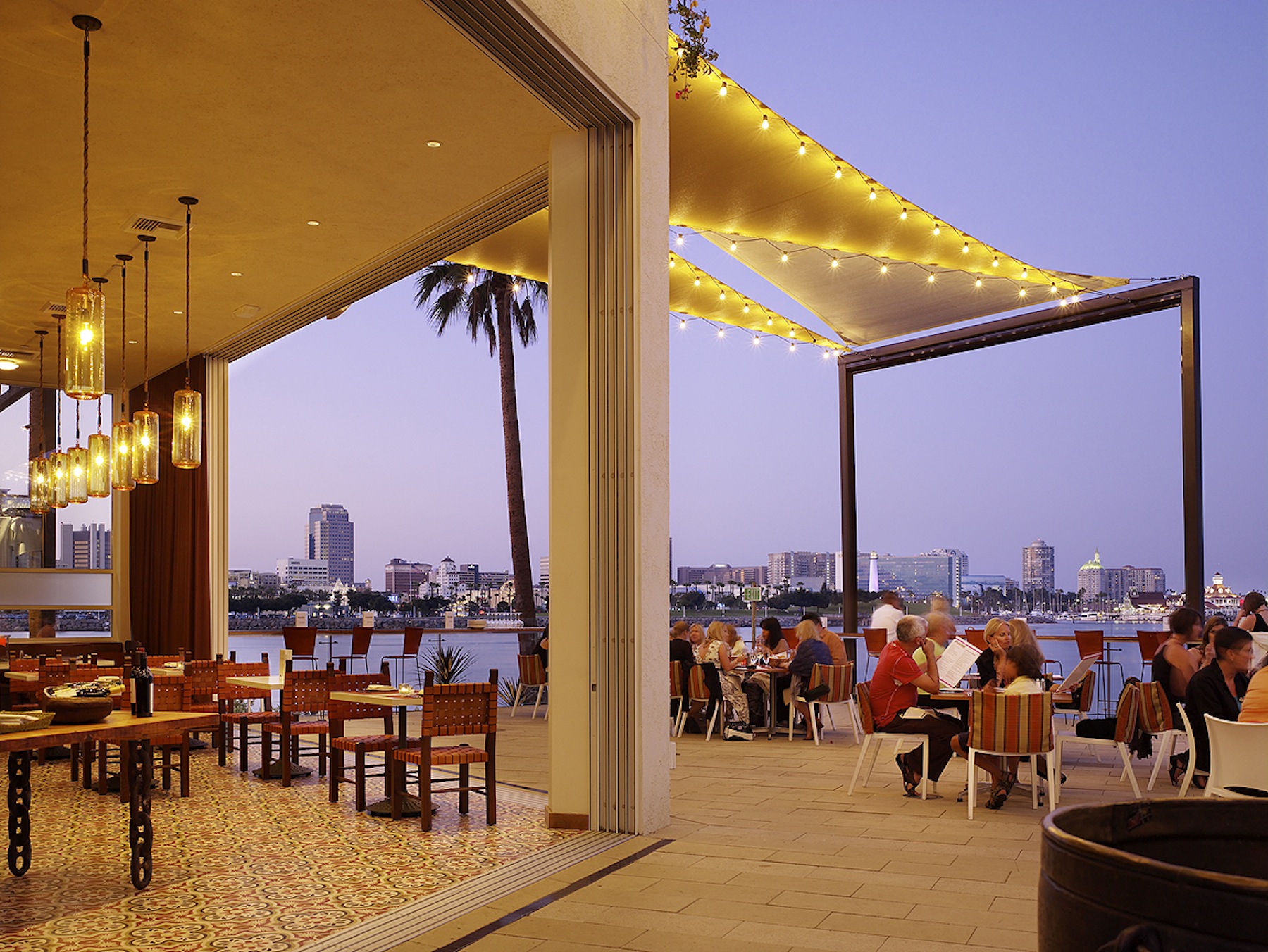 Giving us a moment's pause: It also has one of the largest tequila selections in the region. We have absolutely no problem with this. We just wanted to take a moment to pause and honor this.
Hotel Maya is located at 700 Queensway Dr. For more information, click here.
4. BIXBY KNOLLS WALKTOBERFEST (Sunday)
There's only a couple weeks left of the season that celebrates beer in all it's hopped-up hoopla. This Sunday, Bixby Knolls invites you to their pub-crawl type event where guests can visit nearly a dozen selected breweries, restaurants and wine bars all (mostly) within walking distance of each other.
Breweries in the lineup this year include Dutch's Brewhouse, Liberation Brewery, Ambitious Ales and Smog City Brewhouse.
The dozen participating locations, some of which include Rasselbock Kitchen and Beer Garden, Stateside Crafts, Lola's Mexican Cuisine, Tokyo Guild and Taboon Mediterranean, will have food and drink specials and various discounts, so make sure to ask. Each purchased ticket ($30) comes with a commemorative boot-shaped mug, wristband and lanyard as well as five "freebie" coupons that include three FREE beers and two (also free) food treats. (CJ)
Another great thing: It is WALKtoberfest, but those of you dreading the idea of trudging the whole itinerary, don't worry, the Bixby Beer Trolley will be en route.
Give us a moment's pause:
The Bixby Knolls Walktober fest runs from 12-9 p.m. Sunday, Oct. 20. Pick up your mug and event card (for all the freebies) in front of the Expo Arts Center at 4321 Atlantic Ave. between noon and 3 p.m. Attendees must be 21-plus to drink and tickets are $30. For parents who want to bring their children 12 and under, tickets for the kids are $10. For more information and to purchase tickets, click here.
5. GRAM PARSONS TRIBUTE (Saturday)
You may not know the name but, believe us, if you've listened to the Eagles, Fleetwood Mac, Wilco or anyone else who marries country and rock music, you're party to Gram Parson's vast musical legacy. Whether through his contributions to The Byrds' "Sweetheart of the Rodeo," his band The Flying Burrito Brothers—which included Eagles founding member, Bernie Leadon—or as a solo artist, Parsons helped usher in a sound that became ubiquitous—according to the Recording Industry Association of America, the Eagles have two of the three greatest selling albums of all-time .
But, like so many pioneers, he never saw the effects of his groundbreaking work; Parsons died from a lethal combination of morphine and alcohol in 1973. He was 26.
"Discovering Gram Parsons is kind of like when you discover what the Beatles meant to music," said KP Hawthorn. "You find out he sort of invented a genre of music."
KP and husband Johnny form The HawThorns, one of 12 bands that will take part in a tribute to Parsons at the PCH Club located in the Golden Sails Hotel. Also scheduled to appear are the likes of Big Sandy, Nocona, Merle Jagger, Abby Girl, Emily Zuzik, Coyote Moon, Heather Lomax, Ukulena, Michael Ubaldini, John Surge and Fallen Stars.
The show, which begins at 7:30 p.m.—doors open at 6 p.m.—was ostensibly put together to commemorate the anniversary of the Burrito Brothers debut album, "The Gilded Palace of Sin." But, let's be honest, folks just want to play and listen to Gram Parsons songs.
KP has been doing both since she was a kid, listening to her mother's record collection.
"She was really into the Laurel Canyon music scene, that music got played in my home," she said. "I'd listen to Gram with Emmylou [Harris] and the Burrito Brothers, there was no escaping it. But, as I got older, I realized that Gram kind of gets left out when people talk about influences on music."
It would be nice if Saturday's show went a ways toward changing that. It won't. Still, like the Grevious Angel, it will be lovely. (SL)
Another great thing:
Giving us a moment's pause: On the same weekend, shows dedicated to Billie Holiday and Gram Parsons, two geniuses taken far too soon. And yet, Ted Nugent…
PCH Club is located at 6285 Pacific Coast Hwy. For more information or tickets, click here.
6. BABY SHARK LIVE! (Saturday)
Based on the viral children's song with an infectious chorus, Baby Shark Live! will be heading to the Long Beach Terrace Theater for a 90-minute "fully immersive concert experience" this Saturday, Oct. 19. The live performance is part of a North American tour that includes stops in more than 30 cities over six weeks.
The song "Baby Shark," from Pinkfong and Round Room Live, went viral in the U.S. around August 2018 and has hit Billboard's Hot 100. The video has garnered more than 3 billion views on YouTube.
"Fans of all ages will delight as Baby Shark joins up with his friend Pinkfong to take an adventure into the sea, singing and dancing through new and classic songs including 'Five Little Monkeys,' 'Wheels on the Bus,' 'Jungle Boogie,' 'Monkey Banana Dance' and of course, 'Baby Shark'!"
Shows will be at 2 p.m. and 6 p.m. with tickets ranging from $35 to $65, including meet & greet packages.
Another great thing: Parents and caretakers who have been playing the phone battery-draining song nonstop can commiserate with each other while little ones hopped up on juice boxes and goldfishes struggle to contain themselves and stay in their seats. Enjoy!
Giving us a moment's pause: Doo doo doo doo doo doo.
The Terrace Theater is located at 300 E. Ocean Blvd. For tickets click here.
7. BEACH CLEANUP WITH THE SUNDAY CLEANERS (Sunday)
Dylan Sneed's goal is to get as much of the Long Beach community involved as possible with cleaning up the beach. Right now, he's laying the foundation for creating "a self-sustaining system to consistently clean up parks and beaches," and Long Beach is his first stop.
Next up, he's considering a Venice Beach chapter, but locally, he's just getting started. The new group, called the Sunday Cleaners, meets twice weekly at Bluff Park and alternates between beach and park cleanups all in an effort to lessen the amount of trash ending up in the ocean.
It's clear from the Sunday Cleaners' Instagram that a little social media savvy, aka being a millennial, goes a long way (just look at the Instagram). Plainly put, they make picking up other people's trash and discarded items look cool all the while offering important tidbits of information like "90% of the debris found in the ocean is plastic."
Helping Long Beach become its best and cleanest self is a simple message, one we can easily get behind. (Asia Morris)
Another great thing: If you can't make it Sunday, the group also meets on "Washed Up Wednesdays" at 5 p.m.
Giving us a moment's pause: Wondering if "Dylan Sneed's Beach Cleanup" was considered.
Meet at the cannon at Bluff Park on Ocean Boulevard and Junipero Avenue at 9 a.m. Follow @thesundaycleaners on Instagram for news of upcoming cleanups.
Add the "Today you should…" calendar

Subscribe through Google Calendar or your calendar app and get alerted to the best things to do in Long Beach. Updated 7 days a week.
This feature is experimental. Let us know how it's working.
Support our journalism.
Hyperlocal news is an essential force in our democracy, but it costs money to keep an organization like this one alive, and we can't rely on advertiser support alone. That's why we're asking readers like you to support our independent, fact-based journalism. We know you like it—that's why you're here. Help us keep hyperlocal news alive in Long Beach.