The 7: Things to do in Long Beach this weekend including… monster mashing, pole dancing and ridesharing
You know, maybe when you see that the Hi-lo is the Arts and Culture arm of the Post, you figure our main aim here is to write about arts and/or culture. False! Our main aim at the Hi-lo is to bring value into your life.
Sometimes, that value is a one-of-a-kind event and sometimes that value is in the way of a little, very little to no, dough-ray-mi. Cold hard Kaish!
Four of the events in this week's "The 7" are absolutely free, the others are of a one-off, one-time nature as to be worth what they're asking for in lucre.
1. COLD WAR KIDS X BALLAST POINT (Saturday)
The rows of records and vinyl at Fingerprints Music will be rolled aside this Saturday to make room for a live, intimate performance with Cold War Kids. And by intimate we mean a very limited amount of tickets, so you should probably just stop reading this and go reserve your spot now.
You still here? OK, the Long Beach-based, soulful, rock band is celebrating the release of their newest album, "New Age Norms 1" with a two-fold event: a small show at the local record store and an official release party at Ballast Point Brewing, where you can shake hands with the band, ask them to sign your copy of their album and do your best to think of something not stupid to say in front of the musicians. We suggest "I really like your old stuff." (Cheantay Jensen)
Another great thing: Tickets for the event are $40 and include access to the show and release party, a copy of their new album, one free pint of the Cold War Kids/Ballast Point Collaboration beer: This Will All Blow Over in Time (named after their 2018 compilation album that is a collection of all their radio singles and also an assortment of rare and unreleased tracks), and an exclusive merch bundle including a custom patch, guitar picks and Lyft discount codes, which you will probably be using that evening.
Giving us a moment's pause:
The Cold War Kids x Ballast Point show and release party runs from 12 p.m. to 4 p.m. starting at Fingerprints Music with the live show; 420 E. 4th St. To purchase tickets, click here. For more information, check out the Facebook event, here.
2. FESTIVAL OF FLIGHT (Saturday)
We all love the Long Beach Airport; whether architecture or convenience, history or utility it is truly one of the jewels of city. But did you know that LGB is also one of the few airports designated as both a commercial and general facility? That means it not only is home to commercial airlines but is able to fill such general uses such as business aviation, helicopters and private planes.
That's why the Festival of Flight has such a wide-ranging display of flying contraptions. And not just flying, there will also be ground vehicles as well as food and beer trucks. It's a wonderful event; a wonderful FREE event that allows you to walk around and, sometimes, into a lot of the planes on display. (Steve Lowery)
Another great thing: There will also be live entertainment provided by '80s tribute band, Knyght Ryder.
Giving us a moment's pause: And because it's a great event, a great FREE event, you're going to find a lot of folks will show up at LGB Airfield Taxiway B; an estimated 15,000 did last year. So even though there is free parking available at the corner of Wardlow Road and Globemaster Way, organizers strongly suggest you either rideshare or use public transportation.
The Festival of Flight takes place from 10 a.m. to 4 p.m. The event is free and no tickets are required. LGB Airfield Taxiway B is located at 3590 Wardlow Rd. For more information, click here. 
3. HALLOWEEN ACRO STRIP SHOW (Thursday)
Pole dancer and event producer Jax Rivas had us at "I'm throwing a very unique Halloween party."
Acro Strip Show, or ASS, was created by Felicia Castillo (it's produced by Rivas and Jessica Crowl), a pole dance instructor at Carson's Romance & Dance studio, as a safe space outside of traditional strip clubs for training pole dancers to practice their art. On Thursday, expect a diverse bunch of entertainers, 17 women, men and nonbinary dancers, to wow you with their talents during the show that concludes with a dance party by DJ Angela Michelle. All guests are encouraged to come in costume and yes, tipping is highly encouraged, so bring a stack. After all, Que Sera is a cash-only bar, so you may as well come prepared. (Asia Morris)
Another great thing: Lemon Meringue, a regular performer at Hamburger Mary's Big Top Sundays, and the evening's Mistress of Ceremonies, just opened Wiggle Beauty Supply, a costume, wig and make-up shop at 3937 E. Anaheim St. It's a "drag superstore" and for "anyone extra AF," so if you've yet to figure out what you're wearing Thursday (there will be a costume contest) Wiggles may just have what you're seeking or something even better.
Giving us a moment's pause: If you're thinking this event is solely in the hedonistic spirit of Halloween and sexy dancing, you're wrong. Proceeds from ticket sales go to LA on CLOUD 9, a nonprofit helping the homeless community and their pets by providing essentials such as food and clothing, as well as the LGBTQ Center of Long Beach.
Tickets are $15 online, $20 at the door, 21+; for more info, visit the event page here. The show runs 9 p.m. to 2 a.m. at Que Sera; 1923 E. 7th St. Follow @acrostrip on Instagram for updates.
4. DAY OF THE DEAD MUSIC FESTIVAL (Saturday)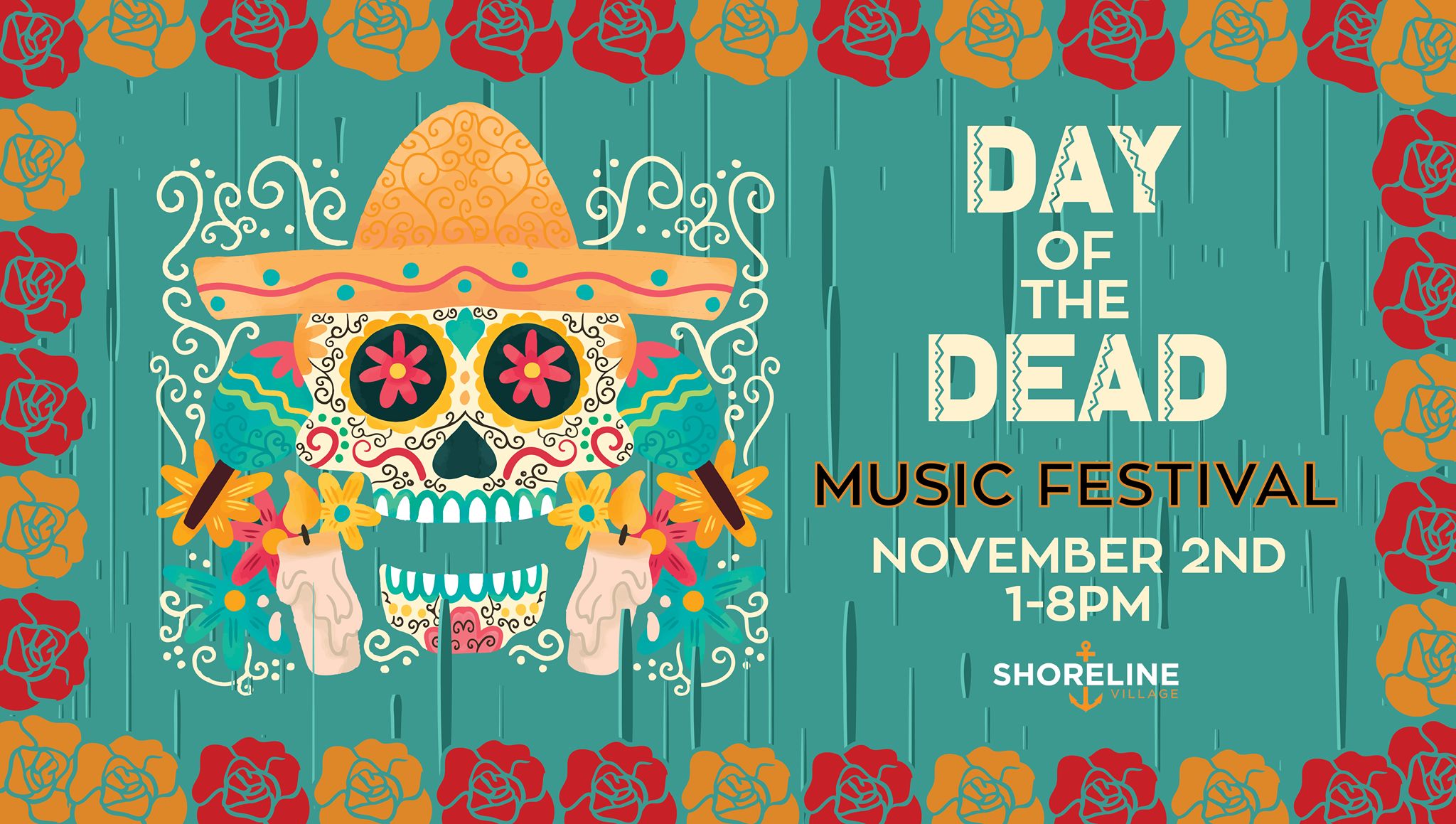 Shoreline Village will be celebrating Dia de los Muertos with a free Day of the Dead music festival, featuring nine local bands (more may be added later.) The bands scheduled to appear: Earl Grey, Light Paranoia, Berries & Toast, Beach Clinic, Drywallero, Sunset Couriers, Jiggily Group, Diphylleia Population U.
There will also be themed art vendors and a self-service photo booth. Day of the Dead costumes are encouraged but not required. (SL)
Another great thing: Not to put too fine a point on it, but the whole thing is free and there are no tickets required. That fact means a lot of people figure to show up and the Shoreline parking lot figures to be packed. You're asked to consider a ride share service, public transportation, scooter rental or parking off-site. C'mon, you know the drill.
Giving us a moment's pause: Well, it's Dia de los Muertos; a moment's pause is kind of the whole point.
Day of the Dead music festival takes place at Shoreline Village from 1 to 8 p.m.
5. MONSTER MASH #4: SLOMP STOMP VS. GOOD FOOT (Thursday)
Funk and soul jams go head-to-head with rock and punk tunes this Halloween at Alex's Bar for the 4th annual Monster Mash dance night. Local DJ collective SLOMP STOMP, comprised of DJs Telegram Sam, Polyester and Master Droog will be spinning all their favorite punk, rock-n-roll and garage rock vinyl, while DJ Dennis Owens, Lili Bird and Scott Weaver will be spearheading team Good Foot with soul, funk and Latin beats.
We know the flyer says "Slomp Stomp vs Good Foot," which might imply a battle of the bands—or DJs in this case—don't expect any heat from either behind the turntables, they're all way too good of friends for that nonsense. So, come dressed in your spookiest—it's kind of your last chance—and boogie. (CJ)
Another great thing: No cover! So come before 10 p.m. to avoid any lines, because there will be lines.
Giving us a moment's pause: "True Blood" fans, you're well within your rights to call Alex's Bar "Fangtasia" all night long.
Monster Mash dance night runs from 8 p.m. to 2 a.m. at Alex's Bar; 2913 E. Anaheim St. The event is 21+, but totally free! For more information, click here.
6. LONG BEACH BEER LAB 2ND ANNIVERSARY PARTY (Sunday)
It's been two years since Harmony and Levi Fried opened their small manufacturing brewery "dedicated to fermentation-forward beverages," equal parts science and creativity, in the heart of the Wrigley neighborhood.
This Sunday, they're hosting their Second Anniversary Party, inviting anyone with a hankering for hops and an appetite for fresh, hand-made bread (from scratch) to stop by and celebrate their achievement. In addition to their listed selections, the brewery will be offering 16 guest tap creations and releasing 100 cans of their new Double Dreamsicle IPA, which stands at a whopping 8.9% abv and features double the orange and vanilla flavor, and hops.
The party lasts from opening until close, but if you stop by between 6 p.m. and 9 p.m. you can sip on a sour and tap your foot to the acoustic tunes of cover band Rosewood, who play the timeless hits of the rockin' 60s & nostalgic early 70s, with a smattering of choice tunes from the 80s & 90s. (CJ)
Another great thing: Long Beach Beer Lab is also hosting a Halloween party the night of they are dubbing "A Night of Brews and Boos." The haunt will feature a special food and drink menu, a costume contest, merch giveaway and vinyl DJ performances to barrel out the spooky season. The Halloween festivities start at 8 p.m., but they'll be keeping their doors open later than usual—until 1 a.m.—so, no need to chug… unless that's your M.O.
Giving us a moment's pause: Although their food menu is notably meat-free, their selection of bread, pizza, appetizers and baked desserts (with a plethora of vegan friendly options), is reason enough to stop by. So stop by.
The Long Beach Beer Lab 2nd Anniversary Party is a 21+ all-day event from 11 a.m. to 10 p.m. No need to RSVP, but for more information, click here. The Long Beach Beer Lab is located at 518 W. Willow St. 
7. MICHAEL BERMUDEZ: BALANCE THROUGH CHAOS (Friday)
Los Angeles born and raised graphic artist Michael Bermudez is fascinated by the duality of life and death. Not an unusual creative inspiration, but his abstract art is notably less morbid and haunting than others who've been inspired by the same subject.
His upcoming exhibition, "Balance Through Chaos" will feature a melding of the left and right brain onto canvas in a retrospective of paintings that mix mathematical, scientific and musical elements with vibrant colors, textures and geometric shapes. The reception will be livened by improvised music performances from Toaster Music, a spacey electronic music duo comprised of local artists and musicians Sumako Sozdatel and Sander Roscoe Wolff (who will be completing the spacey vibe with kaleidoscope art projections).
Also joining them will be a dance performance by experimental dance troupe, Maha and Company. (CJ)
Another great thing: This show is in conjunction with Bixby Knolls' First Fridays and art walk at the Expo Arts Center. So, after you stroll through the gallery, you can also enjoy the rest of the blocks-long event filled with live music entertainment and street vendors. Plus, many of the shops, bars and restaurants along the strip of Atlantic Avenue will be open a little later than usual.
Giving us a moment's pause: We're banking that Bermudez's favorite number is 23, and his favorite series of numbers is the Fibonacci sequence.
Bixby Knolls First Fridays runs from 6:30 to 9:30 p.m. along Atlantic Avenue in Bixby Knolls between Bixby Ave. and 45th St. This exhibition, held in the North Gallery at Expo Arts Center at 4321 Atlantic Ave., will only be open to the public on Nov. 1, so if you are unable to make it you can schedule an appointment to see the show until Nov. 8. For more information including hours and performance schedules, click here.
Add the "Today you should…" calendar

Subscribe through Google Calendar or your calendar app and get alerted to the best things to do in Long Beach. Updated 7 days a week.
This feature is experimental. Let us know how it's working.
Support our journalism.
Hyperlocal news is an essential force in our democracy, but it costs money to keep an organization like this one alive, and we can't rely on advertiser support alone. That's why we're asking readers like you to support our independent, fact-based journalism. We know you like it—that's why you're here. Help us keep hyperlocal news alive in Long Beach.