The 7: Things to do in Long Beach this weekend, including… Good grief? Best grief!
This weekend, celebrate the advent of Hanukkah, the Rise of Skywalker, Handel's Messiah or whatever age-old tradition you prefer. Into ships. Tall ships. We've got that. Like your watercraft a little more kayak-y? We've got all that, Charlie Brown!
1. EXPLORE THE COAST BILINGUAL SAIL (Saturday)
Participate in hands-on experiments in water quality, chemistry and marine biology during this three-hour, tall-ship tour exploring the ecology of the coast, where a group of high school students, some who have traveled as far as Japan and Cuba to present research on ocean plastic pollution, will serve as bilingual educators and interpreters for tour attendees.
A new initiative geared toward Latinx youth entering fields of science by the Los Angeles Maritime Institute's Top Sail Youth Program, 12 monthly sails were made possible by a grant from the California Coastal Conservancy. The first tour took place in November, with the second, holiday iteration readying to embark from Ports O'Call harbor, Saturday afternoon.
"It is the only bilingual marine environmental tour in all of California," said Mark Friedman, who taught Marine Biology at Animo Leadership High School in Inglewood for 14 years, and developed the proposal for the Conservancy grant about a year ago. (Asia Morris)
Another great thing: On top of engaging more budding marine biologists, the tour aims to raise awareness of the need to reduce ocean plastic pollution through learning about the human impact of the coastline and studying its marine organisms.
Giving us a moment's pause: Be sure to wear layers, as it gets windy on the water, as well as closed-toed, soft-soled shoes. No children under eight will be allowed due to safety considerations.
The Tall Ship tour runs from 1 p.m. to 4 p.m., please show up at 12:30 p.m. to board at Berth 78 in Ports O'Call Village, next to the San Pedro Fish Market; take the walk-around that runs along Candy Town and wait outside the dock gate (and allow time for parking as weekends are busy, said Friedman).
2. DAVID BENOIT: A CHRISTMAS TRIBUTE TO CHARLIE BROWN (Saturday)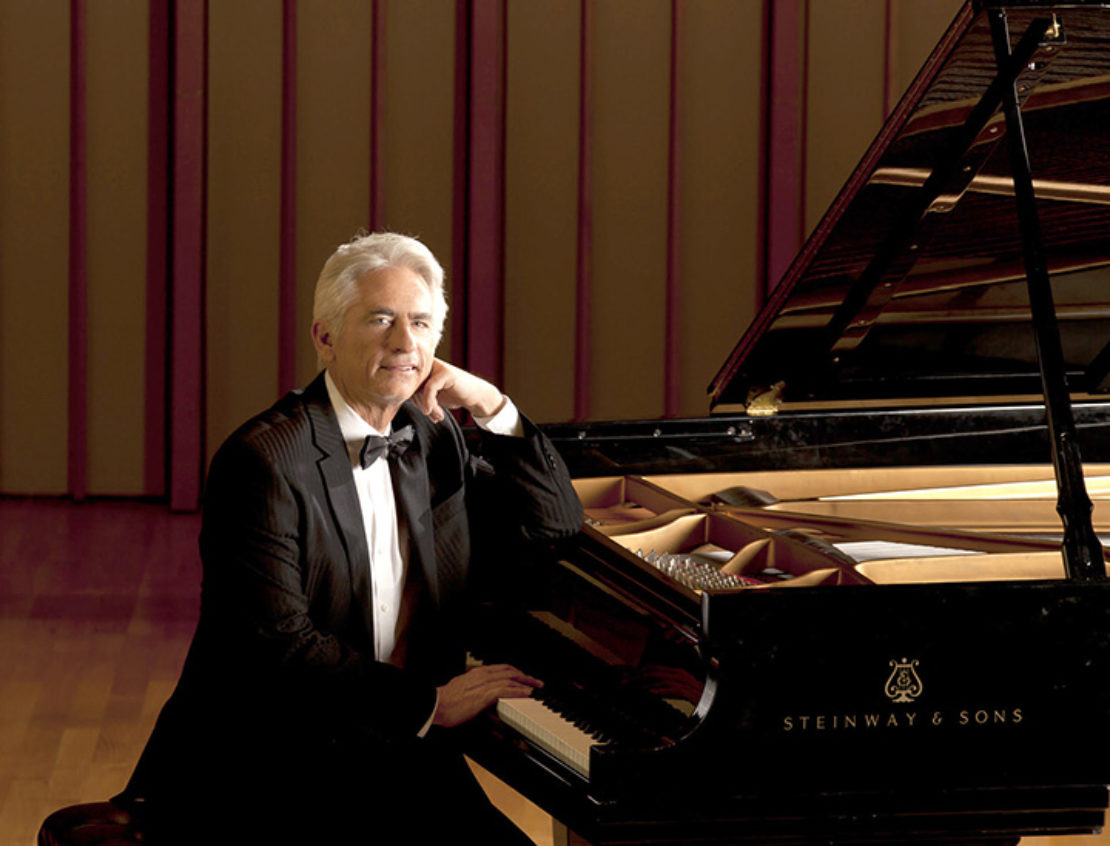 "A Charlie Brown Christmas" is one of the great(est) holiday traditions, in large part because of its soundtrack, created by The Vince Guaraldi Trio. One of the wonderful things about the music is how wonderfully contrary it is to pair a kids Christmas show with West Coast Jazz. But it works! Boy does it. The soundtrack album must rank at or near the top of everyone's contemporary Christmas music alongside the Phil Spector produced "A Christmas Gift For You," and that's pretty much the list.
The album is so good that recreating it has become one of the highlights of the Carpenter Center's season, as acclaimed jazz pianist David Benoit is joined by a special guest, the Grammy-nominated jazz singer Sara Gazarek, along with the All-American Boys Chorus and the Pacific Vision Youth Symphony.
Another great thing: Benoit has said that hearing the soundtrack in 1965 was the defining moment of his professional life, as he decided he would one day play like Vince Guaraldi. Called Guaraldi's heir, Benoit has spread the joy of Guaraldi's classic songs for more than two decades with numerous Peanuts performances, including "The Peanuts Movie." But, of course, "A Charlie Brown Christmas" is the masterpiece of all Peanut productions—we will entertain discussion of "It's the Great Pumpkin, Charlie Brown"—combining childhood angst with the inarguable fact that capitalism demands winners, losers and, saddest of all, those who wonder what is the point, anyway?
Giving us a moment's pause: Good grief? Best grief!
David Benoit—A Christmas Tribute to Charlie Brown begins at 8 p.m. The Carpenter Center is located on the campus of Cal State Long Beach at 6200 E. Atherton St. For more information or tickets, click here.
3. LIBERATION, TACOS & BREWS (Friday)
Christmas Day is right around the corner and while most of us are excited to spend an evening with our loved ones, there are some in our immigrant community who aren't currently afforded that same luxury. Grassroots coalition Sanctuary Long Beach is organizing a fundraiser at Liberation Brewing Co. to help DACA applicants and detainees stuck in immigrant detention centers get home and stay home for the holidays.
All the money raised will go directly towards helping DACA applicants and bonding out a local community member currently in immigrant detention.
To join in on the liberating libations, with live music, tacos and (of course) beer, a donation of at least $5 will be accepted at the door, but if you can, why not give more? If you don't have cash, Sanctuary Long Beach has a Venmo account you can donate to at @fundDACAlbc. (Cheantay Jensen)
Another great thing: Make sure to check out the newest selections Liberation is pouring in their taste room. As of Dec. 2, they've got 10 new bottled and draft beers for you to sip or chug, whatever your style.
Giving us a moment's pause: We're good.
Liberation, Tacos & Brews is Friday Dec. 20 from 7 p.m. to 9 p.m. at Liberation Brew Co.; 3630 Atlantic Ave. For more information about the event, you can check out their Facebook page. To find out more about Sanctuary Long Beach, click here.
4. COMMUNITY MENORAH LIGHTING & CHANUKAH EXTRAVAGANZA (Sunday)
Celebrate the advent of Hanukkah this Sunday for the lighting of a massive 12-foot menorah at retail center 2nd & PCH. The event, organized by Rabbi Abba Perelmuter from Shul by the Shore, is part of a worldwide Hanukkah campaign and is one of more than 15,000 large public menorah lightings sponsored by Chabad in more than 100 countries around the world. So, it's a pretty big deal.
"The message of Hanukkah is the message of light," Rabbi Perelmuter said in a press release. "The nature of light is that it is always victorious over darkness. A small amount of light dispels a lot of darkness. Another act of goodness and kindness, another act of light, can make all the difference."
Councilwoman Suzie Price and other community members will be in attendance for the grand display and following the ceremony there will be new and traditional live music, dance, food (hot latkes!), a grand raffle, balloon twisting and craft activities for the kiddos. (CJ)
Another great thing:
For the third night of Hanukkah (Dec. 24), following the lighting of the menorah, is a sing-along showing of the 1971 classic film, "Fiddler on the Roof." Guests are encouraged to come dressed as their favorite Fiddler characters and belt-out all their favorite Fiddler tunes like "Tradition," "If I Were a Rich Man," "To Life," "Sunrise Sunset," "Do You Love Me?" and "Anatevka," among many others. Think you know all there is to know about the famed musical? Prove it in a round of Fiddler trivia (with prizes).
The event starts at 6:30 p.m. with the lighting ceremony, opening remarks and trivia leading up to the 7 p.m. screening.
Giving us a moment's pause: Finally, a movie where no one will shush you.
The Menorah Lighting and Chanukah Extravaganza is Sunday Dec. 22 at 2nd & PCH; 6400 Pacific Coast Highway. The event starts at 4 p.m. For more information, including a map of where the ceremony will take place, click here.
Fiddler on the Roof Sing-a-long is Tuesday, Dec. 24 at the Art Theatre Long Beach; 2025 E. 4th St. For more information you can check out their Facebook event page, here.
5. STAR WARS: THE RISE OF SKYWALKER (Thursday-Saturday)
"It's a great time to be a Star Wars fan," said Michelle Waxman, executive officer of Sunrider Base, the Southern California faction of the Rebel Legion, an all-volunteer global costume charity organization that stations Stars Wars characters at movie premieres, conventions, gatherings for charity and high-profile events upon request.
Members will be trooping at Cinemark at The Pike Thursday through Saturday for the premiere weekend of "Star Wars: The Rise of Skywalker," the final episode of the nine-part saga.
To join, members must learn to make their own costumes, to precise specifications, under an assigned mentor. From matching the number of plates on a belt for Princess Leia, to the length of the sleeves on a Jedi's tunic, all costumes must be up to par with the Legion's standards in order to troop, the term used to describe showing up in full garb to the delight of fans.
"Rebel Legion–Sunrider Base does great work in and around our community and is fit with realistic and screen-accurate costumes," said Chanda Brashears, spokesperson for Cinemark.
While May the 4th is the Rebel Legion's busiest time of year—"It's like Christmas for Star Wars fans," said Waxman—having the release of a movie and being right in the throes of Disney Plus' The Mandalorian, requests are up for Legion members to spread the Star Wars cheer. (AM)
Another great thing: Want to know more about Sunrider Base? Check out our story here.
Giving us a moment's pause: By the time you're reading this, there may be few tickets left to see JJ Abram's conclusion to this epic saga, however, costumed characters will be in the lobby of Cinemark at The Pike for photo opps, whether you're a ticket holder or not.
Characters from the Rebel Legion's Sunrider Base and 501st Legion will pose for photos and add atmosphere to opening weekend of "Star Wars: The Rise of Skywalker" Thursday, Friday and Saturday, 7 p.m. to 9 p.m. at Cinemark at The Pike; 99 S. Pine Avenue. For movie tickets, click here.
6. KAYAKING WITH CHRISTMAS LIGHTS (Saturday)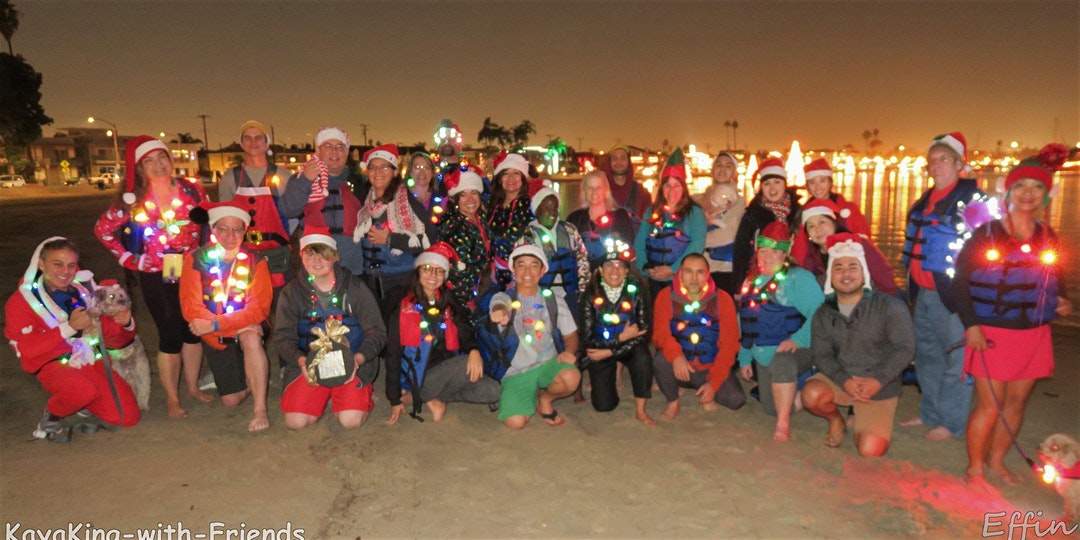 Look, if it's the last thing we do, we're gonna get you to Naples to look at holiday lights. In the near-past, we've suggested taking a stroll and attending the Naples Boat Parade, where you watch the festooned boats of others glide by in the canals.
Now, we're pushing that you head over to Kayaks on the Water, located at the Bayshore Playground, and be one of 30 people to jump in a  kayak, head across the bay, and see the lights while you glide by in the canal.
You may have caught that this is a limited event. Only 30 people will be allowed on this tour. What's more, the organizers require that you already know how to kayak and that you don't bring your own kayak. Everyone will be provided with their own double kayak to power with a buddy.
The tour costs $25 and begins at 4:30, so just about sunset; that'll be nice.
Another great thing: According to the Kayaks on the Water folks, kayaking is a "great arm workout."
Giving us a moment's pause: Hopefully, Saturday's not a "legs and glutes" day for you.
Kayaks On The Water is located at 5411 E Ocean Blvd. For more information or to buy tickets, click here.
7. CAMERATA SINGERS' HANDEL'S MESSIAH (Saturday-Sunday)
[SPONSORED] Kick off your holiday season alongside other Long Beachers with the Camerata Singers' performance of Handel's "Messiah" in partnership with Musica Angelica Baroque Orchestra. For more than a decade, the Camerata Singers have brought the wonderful, joyful experience of the oratorio to local audiences.
Another great thing: A pre-concert lecture on the history of "Messiah" will be held in English and Spanish at 3:30 p.m.
Giving us a moment's pause: We're good.
The concert takes place Saturday, Dec. 21 and Sunday, Dec. 22 at 4:30 p.m. at the Beverly O'Neill Theater, 300 E. Ocean Blvd. Tickets are $35/$45 and can be purchased here.
Add the "Today you should…" calendar

Subscribe through Google Calendar or your calendar app and get alerted to the best things to do in Long Beach. Updated 7 days a week.
This feature is experimental. Let us know how it's working.
Support our journalism.
Hyperlocal news is an essential force in our democracy, but it costs money to keep an organization like this one alive, and we can't rely on advertiser support alone. That's why we're asking readers like you to support our independent, fact-based journalism. We know you like it—that's why you're here. Help us keep hyperlocal news alive in Long Beach.