The 7: Things to do this weekend, including… Harry Potter and Cats! Yes, that Cats!
Did you have a nice Christmas? We hope so. OK, now that that's all behind us, back to our regularly scheduled programming.
1. POTTER PARODIES BURLESQUE (Friday)
The sorcerer's stoned in the "Chamber of Dirty Little Secrets." Whether that leads to Ron and Hermoine finally admitting their love for each other, you'll just have to find out at Harvelle's where Dirty Little Secrets Burlesque will bring to life a different kind of magic from the wizarding world with Potter Parodies. It's essentially "a magical adventure of boobs, brooms and evil," according to the group that performs their version of an epic wand waving battle complete with comedy and dance routines. (Asia Morris)
Another great thing: The need for a Potter parody has never been more timely. 
Dress however you please.
Call yourself whatever you like.
Sleep with any consenting adult who'll have you.
Live your best life in peace and security.
But force women out of their jobs for stating that sex is real? #IStandWithMaya #ThisIsNotADrill

— J.K. Rowling (@jk_rowling) December 19, 2019
Giving us a moment's pause: The show is in no way associated with Warner Bros.
Two showings of Potter Parodies at 8:30 p.m. and 10:30 p.m. take place at Harvelle's; 201 E. Broadway. Tickets start at $12, buy them here.
2. "CATS" YES, "CATS" (Thursday-Sunday)
On Friday evening, Dec. 20, my car broke down on my drive home. It broke down in the middle of a left turn lane, forcing me to stand at its rear bumper, redirecting agitated drivers with one hand while trying to communicate with the Auto Club on the cellphone in my other hand, struggling to communicate over the traffic whizzing by. Traumatic? Yes, it was traumatic, but, it was not the most traumatic thing that happened to me that night because, hours before, I had seen "Cats."
Is "Cats" bad? Yes. "Cats" is so bad. It is bizarre and unwittingly terrifying, like being forced to witness the consequences of a roadside collision between a packed clown car and the Oscar Mayer Wienermobile.
So, why are we recommending it? Because it is bizarre and unwittingly terrifying, like being fortunate to witness the consequences of a roadside collision between a packed clown car and the Oscar Mayer Wienermobile!
Nothing works. The dialogue is ridiculous and, in some instances, impenetrable. The story is… is there a story? Even the CGI doesn't work, since many times the actors portraying cats move like animatronic characters at a third-tier, defiled regional theme park.
It's so bad that there are times, many times, that their CGI feet, paws, whatever, don't seem to be actually on the CGI ground. And then there is the fact that the actors as CGI cats are the stuff of fevered dreams, so completely freaky that the experience of them was likened by Academy Award-winning actress Brie Larson as looking like the "dream you would have if you smoked meth in a Petco."
So, again, why are we recommending it?
Because there is no point during the proceedings that you will be bored. Not as Jennifer Hudson cries at every point she is on screen—happy, sad, attacked, triumphant, doesn't matter; sobs—not as Judi Dench seems as scared as we are about what is happening, not as you repeatedly ask yourself, "What the hell is happening?"
It will keep you thinking, keep you interested, fascinated and freaked, even through an interminable musical number featuring Taylor Swift in which the American pop star shows off the worst British accent this side of Dick Van Dyke in "Mary Poppins." Trust me, you will never say, or hear the phrase  "not there" the same again.
Is "Cats" bad? So bad. And that is so, so good. (Steve Lowery)
"Cats" is playing citywide.
3. ROCKY HORROR PICTURE SHOW LINGERIE NIGHT (Saturday)
It's just a jump to the left and a step to the right and a few pelvic thrusts to fit right in for a time-warped evening with Midnight Insanity for their lingerie themed iteration of "The Rocky Horror Picture Show."
Midnight Insanity puts on the midnight showing every Saturday, but this week they want you to join in on all the scantily-clad ensembles. Slips, corsets, even pasties are cool. No judgment with these guys.
For those who have never experienced the hilarity and absurdity that is a live "Rocky Horror Picture Show," we'll break it down for you. Shadowcasting a live screening of the movie are community actors who bring their own flair to the raunchy performance.
Audience partici…PATION means you can heckle, cat-call (they love that), sing and dance along and for a few bucks you can buy a prop bag that's filled with seemingly random household items designated for certain parts of the movie. (Hint, you get to throw toilet paper.) (Cheantay Jensen)
Another great thing: If you dress to impress, or maybe in this case, it's dress less to impress, you could win a cool prize.
Giving us a moment's pause: If you're not too keen on having a giant "V" scrawled on your face with lipstick, then first-timers or "virgins" as they are called, best keep that information to yourself.
Midnight Insanity's Rocky Horror Picture Show Lingerie Night is Saturday, Dec. 28 at the Art Theatre of Long Beach; 2025 E. 4th St. Show starts at 11:55 p.m., so arrive 30 minutes early to get a good seat. Tickets for the show are $12 and may be purchased here. Note, if you're under 17, you'll need to come with a parent.
4. LONG BEACH UNPLUGGED AT SONGBIRD (Friday)
This group of troubadours love jamming out around the city, bringing top 40 tunes and classic rock anthems all in the name of having a good time. Retro Row boutique, Songbird, is hosting the band in their modest storefront for a three-hour show that's sure to get you groovin' and erase the memory of all the Christmas earworms you've been subjected to for the past month and a half. Sweet relief.
Expect to hear catchy tunes from The Beatles, Led Zeppelin, Marvin Gaye, Elvis, Crosby, Robin Thicke, Prince, Pink Floyd, REM and dozens more. These guys have a song for everyone. (CJ)
Another great thing:
Long Beach Unplugged won't be the only reason you should swing down to 4th Street. This month's iteration of Fourth Fridays on Retro Row promises all the live music, buskers, drink specials, business deals, art shows and fun that bring the community to the cozy area.
Where to start? We suggest embarking form Portfolio coffee house where you can grab a cup of jitters and trek down the sidewalks of 4th street to check out everything each business has to offer. If you want to be thorough, you can cross the street at Cherry and wind your way back up.
Make sure to check out Long Beach Unplugged at Songbird for your rock n' roll fix or DJ Esuebio Akasa and Dust Digg (Dustin Rodriguez) at 4th Street Vine for all the funk, hip-hip, soul jams to swirl your glass of wine to. Shady Grove foods will also be selling their Southern-inspired comfort food.
Giving us a moment's pause: Don't request Long Beach Unplugged to play "Free Bird." Just don't.
Long Beach Unplugged performs Friday, Dec. 27 from 6 p.m. to 9 p.m. at Songbird; 2240 E 4th St..
Fourth Fridays on Retro Row is Friday, Dec. 27 from 6 p.m. to 9 p.m. between Junipero Ave. and Cherry St. on E. 4th St. 
5. KUB KAMP HOLIDAY PARTY (Saturday)
Those of the bear variety can be found at Kub Kamp, the longest-running bear dance in Long Beach, going on 15 years, offering the community and its fans a place to have a beary good time. This particular party is expectedly holiday-themed with Santa in town, VJ Fernando and several of Santa's elves (aka "THIC go-go kubs) providing the entertainment at Hamburger Mary's Saturday night. (AM)
Another great thing: If partying isn't quite your thing (or it is and you need a moment of zen before dancing your butt off at Mary's) we bet a nature walk with Mr. Long Beach Leather himself is the next best shindig to Kub Kamp. Take a break from the sounds of the city during this hike with other Leatherfolk through El Dorado Nature Center Saturday morning.
Giving us a moment's pause: We're good.
Kub Kamp is $10 at the door or $5 if you can show the gatekeeper your Growlr profile. The event runs 9:30 p.m. to 2 a.m. at Hamburger Mary's; 330 Pine Ave. For more info, click here. 
Saturday Morning Hike with Erik Crow, Mr. Long Beach Leather 2019 meets at El Dorado Nature Center, 7550 E. Spring St., between 9:45 a.m. and 10:15 a.m. For more info, click here.
6. FREE ADMISSION (FOR BANK OF AMERICA CUSTOMERS) AT MUSEUM OF LATIN AMERICA ART (Thursday-Sunday)
By contemporary standards, MoLAA is not expensive; its usual admission fee is less than a typical movie matinee and kids under 12 are always free. Still, with families, or anyone who has to watch each dollar coming in and out—so, pretty much anyone who hasn't recently sold something to Netflix—even that can limit your access.
That's why it's so great that Bank of America announced it was underwriting six days of free museum admission across the country, including MoLAA. From Thursday, Dec. 26 to Tuesday, Dec. 31 you'll be able to get in for free and see some terrific exhibitions including:
Floating Timeline: Quique Rivera Rivera is an animation artist, sculptor, photographer, and film director, who allows us into his world to not only observe his creative process but learn secrets of stop-motion animation. You'll observe unique characters, sensitive and strange at the same time, live beings, and unrecognizable objects tell a story of dreams and fantasy where the human tale and autobiographical story take us into an imaginary journey to his endearing and native Puerto Rico.
Arte, Mujer y Memoria: Arpilleras from Chile Arpilleras are colorful textile works backed with burlap. The one on view document the experiences of Chilean citizens throughout the brutal, 17 year Pinochet regime. This exhibition features more than 30 arpilleras made by Chilean artisans between 1976 and 2019. The arpilleras in this exhibition were gathered by Movement for the Emancipation of the Chilean Woman-Los Angeles, a local chapter of the global organization that works to amplify the voices of Chilean women.
Robert Graham: Civic Monuments You may not be familiar with the name Robert Graham, but if you live in and around Los Angeles, you've seen his work. He created the Olympic Gateway at the L.A. Coliseum in 1984 and the Great Bronze Doors of the Cathedral of Our Lady of the Angels among seven major works across the United States during his lifetime. This exhibition illuminates how each of these civic monuments transformed from first proposal to final execution, presenting models, maquettes, and photographic images of the massive installations. Each monument has made a significant and lasting contribution to the cities where they are located.
For more information on these, and other exhibitions, click here. (Steve Lowery)
Another great thing: Bank of America is sponsoring free admissions across the country. Locally, that means, besides MoLAA, you'll also be able to get into the Autry Museum of the American West, Los Angeles County Museum of Art and Laguna Art Musem for free.
Giving us a moment's pause: Can one have too much free art? No. One cannot.
The Museum of Latin American Art is located at 628 Alamitos Ave. For more information, click here.
7. DISNEY ON ICE PRESENTS MICKEY'S SEARCH PARTY (Friday-Monday)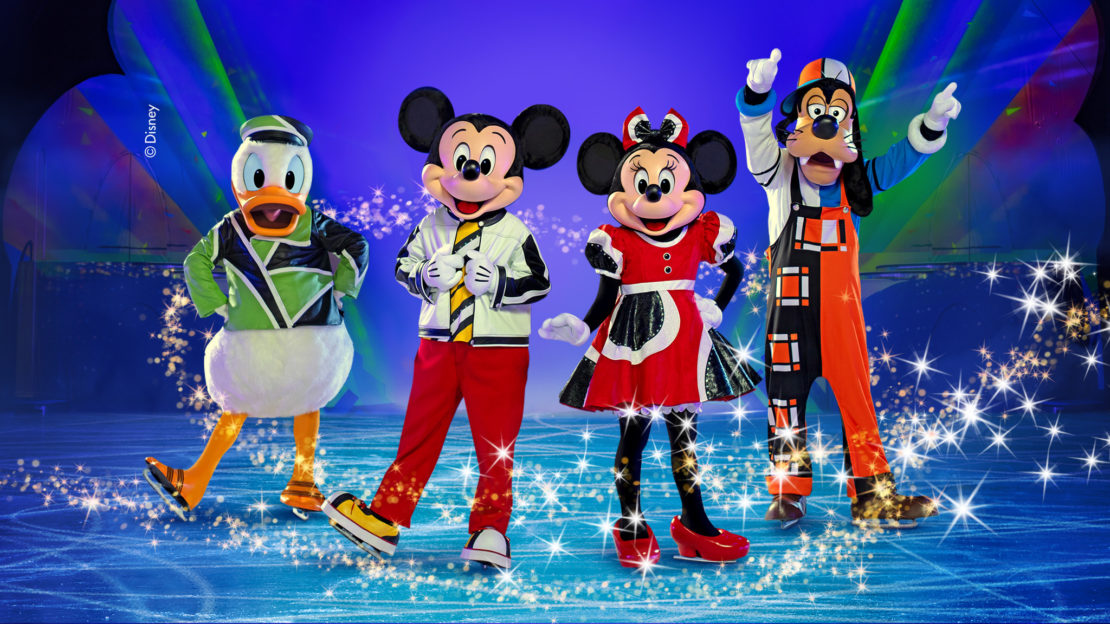 Join Mickey Mouse and his friends at Disney On Ice presents Mickey's Search Party, a brand-new adventure filled with world-class skating, high-flying acrobatics and unexpected stunts.
Help them follow Captain Hook's treasure map and look for clues in the search for Tinker Bell in immersive, fantastic worlds. Explore the colorful spirit realm of Coco in Miguel's Disney On Ice debut, sail away with Moana as she bravely savers her island, see Belle in the sky above you as the enchanted chandelier comes to life, and sing-along with Elsa in the icy world of Frozen. Make Memories with your whole family during Aladdin, Toy Story and The Little Mermaid as the search party becomes an all-out magical celebration on the ice, in the air, and all around!
Another great thing: Since this has a 3 p.m. start time, you'll still have time after to walk over to the Cinemark at The Pike and watch "Cats."
Giving us a moment's pause: Costumes are not permitted for guests 14 years and older… yeah, we have no idea what this is about.
Disney On Ice takes place at the Long Beach Arena; 300 E. Ocean Blvd. For tickets and more information, click here. 
Add the "Today you should…" calendar

Subscribe through Google Calendar or your calendar app and get alerted to the best things to do in Long Beach. Updated 7 days a week.
This feature is experimental. Let us know how it's working.
Support our journalism.
Hyperlocal news is an essential force in our democracy, but it costs money to keep an organization like this one alive, and we can't rely on advertiser support alone. That's why we're asking readers like you to support our independent, fact-based journalism. We know you like it—that's why you're here. Help us keep hyperlocal news alive in Long Beach.