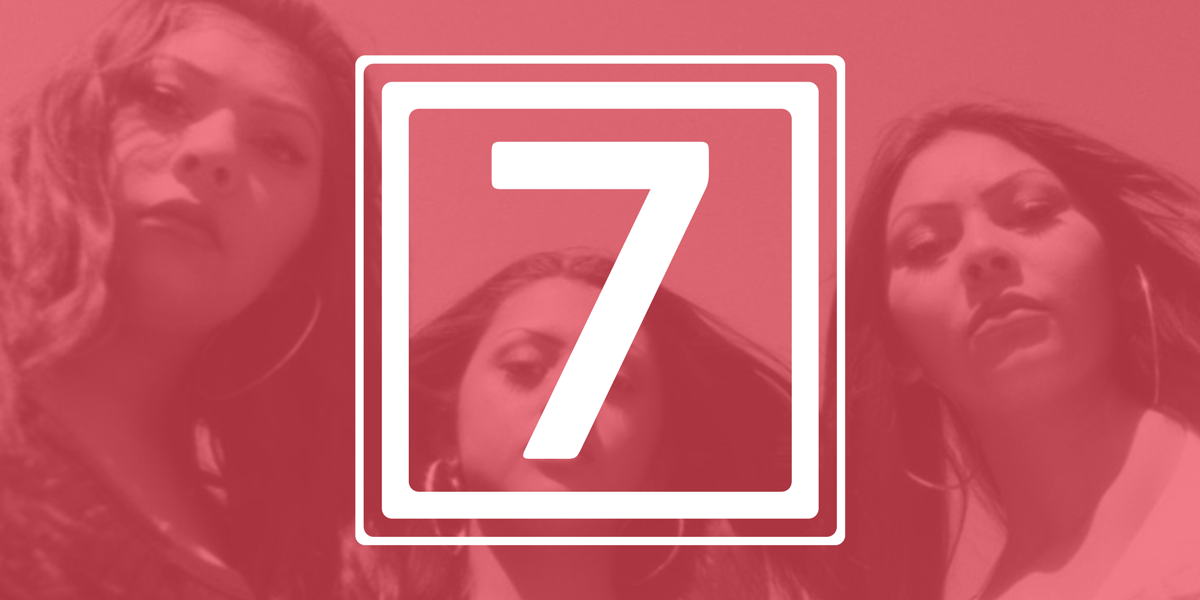 The 7: Things to do this weekend, including… rollerskating at sunset
This weekend check out a one-night-only photography show, a gallery of tiny terrors and, before the week's end, skate to your heart's content to disco music (on Thursday). And that's not all…
1. USUAL SUSPECTS (Saturday)
This one-night event features four Long Beach and Los Angeles photographers who attempt through their work to show the everyday lives of their communities, ones that are often assumed to be in conflict with each other.
Greg Bell took up a camera years ago when his parent's demolition business took a hit during the housing crisis. Valerie J. Bower focuses primarily on street culture, particularly the lowrider scene. Jose Cordon, former co-owner of clothing boutique 1897LB, is even more recent to the craft, having started in 2016, after his mother was diagnosed with cancer and he became a stay-at-home dad after selling his part of the business. Kevin Seng is a photography student at Cerritos College who started at young age as an assistant photographer shooting traditional Khmer weddings.
A temporary window into the lives of 1 woman and 3 men of color in the cities of LA and LBC. This is a one night showing only. All work has been shot on 35mm, medium and large format film.
We asked Jose Cordon a couple questions about the show which will also feature live acts such as poet and musician Micah Bournes and hip hop group East23rd.
All the photos in the exhibit were shot on 35mm. Why did you want to shoot in this format?
Everyone in the group feels strongly that shooting film not only makes you more involved in the process to get a photograph, but it's also a more intimate way to shoot since we all have our favorite films, cameras, film speed…
Can you explain how the idea for the show came about?
Greg Bell and I were talking about the racial attacks that were happening at LB Poly and the whole situation was upsetting for both since there's been a historical divide between blacks and Latinos for as long as we could remember. We looked at each other and realized that our group of friends was as diverse as the city's, for instance, Kevin Seng is Cambodian American, Greg Bell is black, Valerie J. Bower bi-racial and I'm Latino. We realized that, at one point in our lives, we may have considered each other enemies. So we came up with the idea of photographing everyday events we encounter and how they've shaped our lives. We strongly believe that our daily experiences give us an insight into how much more we're alike than different.
Another great thing: Jasper X, who is actually Jose's 11-year-old son, will be sampling and playing beats live intermittently throughout the show.
Giving us a moment's pause: Jasper X, who is actually Jose's 11-year-old son, is already way cooler than us.
Usual Suspects takes place from 6 to 10 p.m. at 333 Pine Ave., second floor. For more information, click here.
2. ROLLER DISCO ON THE BEACH (Thursday)
Cue up some jams, strap on those skates and roll on over to Bayshore Rink Party's weekly roller disco. Reminisce about teen nights spent at the rink while enjoying the added bonus of a seaside sunset. If you'd prefer to minimize roller-related injuries, show up at 5 p.m. for an extra hour of lessons and practice time. 
Another great thing: Skates are available to rent on a first come, first serve basis for $5; that's all eight wheels for a fraction of the price! 
Giving us a moment's pause: Though you can rent skates, protective gear isn't available, so make sure to bring a helmet, pick up some pads and/or pack some bandaids before donning those funky knee-high skating socks you have hidden in the back of your dresser.
Roller Disco on the Beach takes place at 14 54th Place from 6 to 8 p.m. Tickets are $5 at the door. For more info, check out this facebook event.
3. LB ARTWALK (Saturday)
You know the drill. On the second Saturday of every month artists and their artworks show up outside and in spaces called galleries along this seven-block walk throughout the East Village, there's also live music, performances, general weirdness and live painting. The Arts Council for Long Beach took over operations of this 20-something-year-old event in May and it's been pretty lit, at least in certain pockets, ever since.
Another great thing: The Arts Council for Long Beach partnered with Facebook comedian Cravion Davis for this month's Arts Park event, who every year throws "Cré Day" in celebration of Cancer Season and his own birthday. Expect "the juxtaposition of what is typically deemed high and low as we aim to highlight and uplight the melting pot of talents in our city," Davis stated, as in ballet from Sydney Wolford, a Long Beach native basically born and raised at Marilyn McDowell Studio of Dance performing during sets by local rappers and musicians Desi Mo, Frosty the Gloman, Rillo$, Devante Fields and Red Bag.
Doggystyle 005. "From Time" by @Drake ft. @JheneAiko prod. By @OVO40 ❤️🐶 pic.twitter.com/Whd0awQcKO

— Des. (@desimothedogg) February 16, 2019
Giving us a moment's pause: We're good.
LB Artwalk runs 5 to 10 p.m. in the East Village with hubs at the Arts Park (150 Elm. Ave.), MADE by Millworks (240 Pine Ave.), District Wine (144 Linden Ave.) and Hops & Vines (402 E. 3rd St.).
4. D.U.M. FEST (Saturday)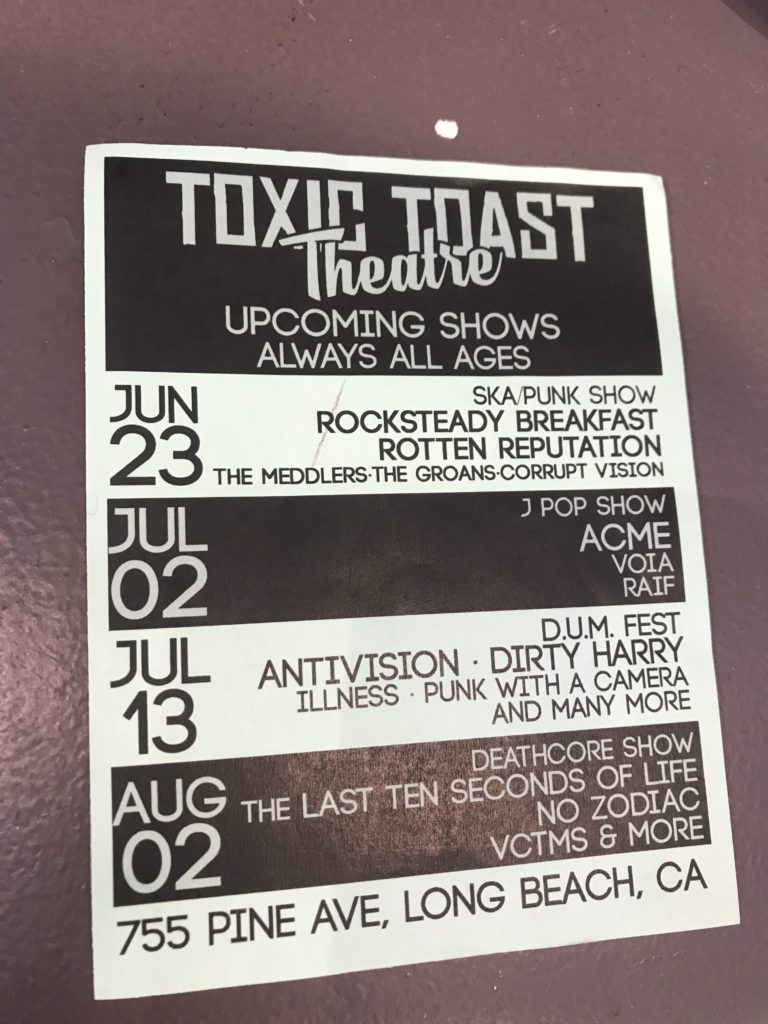 Las Vegas-based Anti-Vision, the five-person outer space punk band known for going barefoot, thrashing their long blonde locks and packing a punch into their less-than-two-minute tracks, is one headliner you won't want to miss. There's also Psyk Ward; the band's early songs were poems written by lead singer Alex Pedorro when he was institutionalized, before the band officially formed after garnering a following by jamming out of a little garage in Gardena. Their very first show was in a backyard in Compton, a set that inspired the band to more seriously pursue their music. 
Another great thing: This all takes place at Toxic Toast's all-ages venue, as in this thing is kid friendly, giving youth a chance to fully participate in the underground DIYness of it all (DUM stands for DIY Underground Music, after all). Don't you wish your parents let you go to punk shows when you were a kid? Would it be punk to have your parents' permission?
Giving us a moment's pause: "Vendors, punk rock and burritos! What more can you ask for?" asked Toxic Toast Records on Facebook. Well, probably a helmet. The last time we went to a hardcore show we got kicked in the head by a crowd-surfing teen who, of course, was wearing combat boots. Are we too old for this? Probably.
Doors open at 3 p.m., music starts at 4 p.m., at Toxic Toast Theatre; 755 Pine Ave. Tickets can be purchased online for $10 or at the door for $15.
5. TINY TERRORS 2 (Saturday)
Bring your glasses, because not one of the 300 works in this show exceed 10 inches, as in, expect to enjoy the opening reception with your nose close to the gallery wall, squinting at the tiny details within these already tiny works of art, some of which have already sold online. The Dark Art Emporium says this is a great show for burgeoning art collectors, with the most expensive pieces capping out at $300. 
Another great thing: This piece by Nori Yamamoto is calling our name; it sort of reminds us of a grosser, more tentacle-y Audrey Kawasaki aesthetic (in a good way).
Giving us a moment's pause: Looking through DEA's tiny art inventory, we're realizing we may be more into creepy art than we previously thought. 
The opening reception runs from 7 to 10 p.m. at Dark Art Emporium; 256 Elm. Ave. Check out the event page here.
6. BREATHLESS, ART THEATRE (Saturday and Sunday)
Released a year after Truffaut's "400 Blows," Jean-Luc Godard's "Breathless" solidified the French New Wave as a significant cinematic movement. Starring Jean-Paul Belmondo and Jean Seberg, the film was by young people for young people, as opposed to Hollywood youth films that were patronizing and insipid, i.e. every Elvis movie ever, except King Creole which is really quite good. No, seriously.
The Art Theatre will be screening "Breathless" 11 a.m. on both Saturday and, fittingly enough, Sunday, which is Bastille Day. Now, while you may enjoy the film—it's pretty hard not to—you may not understand what the big deal is in that it may seem like any other movie about a young, sexy couple mixed up in crime set at a frenetic pace. Just know that this was pretty much the first film to do this in that way, nearly 10 years before "Bonnie and Clyde" changed Hollywood forever.
Another great thing: "King Creole" was directed by Michael Curtiz ("Casablanca') and co-starred Walter Matthau. You looking for trouble?
Giving us a moment's pause: It's ironic that "Breathless" is credited with helping to create a new kind of cinematic storytelling since Godard loved Hollywood films, especially Westerns and gangster movies. In fact, he said he looked at "Breathless" as a way to replicate what Hollywood had already done. "The Americans are real and natural. But this attitude means something over there. We in France must find something that means something—find the French attitude as they have found the American attitude."
The Art Theatre is located at 2025 E 4th St. For more information or tickets, click here.
7. MUD MANIA: A CELEBRATION OF ADOBE (Sunday)
Prepare for the obliteration of the serenity of Rancho Los Cerritos during this year's Mud Mania. When you're not preoccupied with dodging swaths of mud-clad kiddos, celebrate 175 years of the adobe ranch house by running in mud relay races, constructing a mini-adobe home, panning for gold, throwing a clay pot, Mud Mania trivia and fossil-making. "De-mudding" stations will be provided, but towels and a change of clothes are strongly recommended. Throw in some food, a mud pit, and free parking and you're bound to be in for some good ol' summer fun.
Another great thing: Live music from GRASSLANDS, Southern California Bluegrass is set to supplement the celebration.
Giving us a moment's pause: Mud Mania Trivia?
Mud Mania takes place at Rancho Los Cerritos; 4600 Virginia Road from 12:30 to 4:30 p.m. Tickets are available here; $7 General Admission and $5 for ages 3-12. For more info, check out this facebook event.
Support our journalism.
Hyperlocal news is an essential force in our democracy, but it costs money to keep an organization like this one alive, and we can't rely on advertiser support alone. That's why we're asking readers like you to support our independent, fact-based journalism. We know you like it—that's why you're here. Help us keep hyperlocal news alive in Long Beach.