Los Angeles has Lasa. Santa Ana has Irenia. And soon, Long Beach will be home to the region's next great, modern-Filipino restaurant when pop-up chef AC Boral opens his first brick and mortar at 2741 E. Fourth St. at the end of the summer.
Since 2014, Boral, a Filipino-American originally from Oxnard, has been cooking his takes on the famously fusion cuisine he grew up eating, under the name Rice & Shine. Over countless brunches and eat-with-your-hands kamayan dinners—which popped up everywhere from Feastly's Venice headquarters to, most recently, Boral's own loft on Pine Avenue—the self-taught chef served creative dishes like sisig chilaquiles, sinigang lumpia and longanisa Scotch eggs along with a side of Filipino hospitality, history and culture. He's also the talent behind the multimedia Wu-Tang-Clan-themed tribute dinner series Enter The 36 Courses.
"I like to use tradition as an anchor for progress," Boral says. "There's always an aspect of education behind my food."
After producing hundreds of roving food events and schooling newbies on the complex fusion that is Filipino food, Boral knew it was time to find a permanent home for his popular menus. He spent the last few years searching for a location that would allow him to not only engage with new diners daily but also serve as his catering kitchen and as a community space for other up-and-coming chefs.
He signed a lease on the former Mr. Makoto Ramen location last month and this week, launched a Kickstarter to help him fund the remainder of the build out.
When it opens sometime next month (liquor license coming in September), it will be the first modern Filipino restaurant in the city, bringing Long Beach into a growing food movement of SoCal-raised Filipino-Americans who are sharing their stories on the plate.
It will also be a rare chance to try Filipino food without going to the Westside, where a half-dozen turo turo joints, bakeries and street food vendors hug the intersection of Santa Fe Avenue and Willow Street.
"I have an opportunity as a Filipino-American to share Filipino food with a bigger audience," he says. "That's all I want to do."
Boral's not saying what the name of the restaurant is yet, but he envisions turning the storefront into an extension of his own dining room with affordable pricing and casual table and counter service that can bring people together over family-style meals. More Destroyer than Bavel. More Cambodian banquet hall than Ellie's.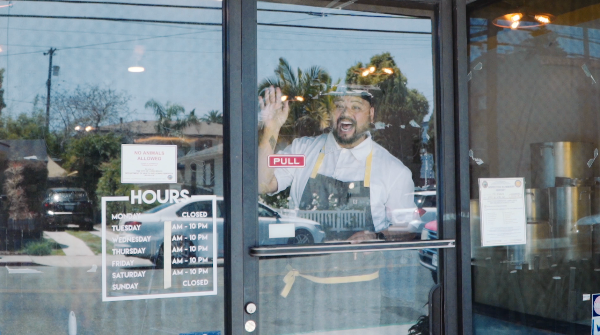 He promises that there will be some Rice & Shine favorites (with full brunch every weekend) along with a new slate of homestyle Filipino dishes, recipes he's reverse engineering from what he remembers his father cooking. On weekends, there will be a kamayan option, where piles of assorted fried meat and vegetables are lain atop banana leaves and, in the absence of plates or silverware, you dig in with your hands.
"For now, I'm calling the restaurant 'Filipino soul food,'" he says. "Everything I stand for I'm trying to condense into a single space."