Things to do in Long Beach this weekend including… Valentine's, Galentine's, Palentine's, Schmalentine's
1. CARDS AGAINST HUMANITY: SINGLES AWARENESS DAY EDITION (Friday)
We're not sure what takes more awareness: showing up to Hooters "for the wings" or showing up to Hooters to hang out with a bunch of other single people to play cards on Valentine's Day. But host TwoWheeledTourist—who appear to be fans of traveling by motorbike, their only baggage a depraved sense of humor—is urging singles to look on the bright side by playing Cards Against Humanity on Friday evening and avoiding the non-legal holiday designed only to convince couples to spend egregious amounts of money on each other for the benefit of not the relationship, but capitalism. Hot. (Asia Morris)
Another great thing: This won't just be a standard round of Cards Against Humanity, you'll have all four major expansion boxes to choose from.
Giving us a moment's pause: Those in a relationship are also welcome to join in, this group doesn't discriminate. They just assumed you'd be tied up staring into your partner's eyes over a vat of fondue and a candlelit dinner. But now that we're thinking about it, it would be a lot more fun to play cards.
Play Cards Against Humanity: Singles Awareness Day Edition from 6 p.m. to 9 p.m. at Hooters of Long Beach; 90 Aquarium Way. For more info, visit the event page here.
2. VALENTINE'S MOVIE NIGHT AT THE HANGOUT (Friday)
Fourth Street's The Hangout, a retail store that doubles as an intimate event space, hosting birthdays, crafts workshops, sometimes painting nights, invites those seeking refuge from the stress and anxiety of coordinating an elaborate (and expensive) Valentine's Day gesture, to sit back and relax at their little shindig.
What's more, their movie night checks off all the Valentine's Day requisites. Hot cocoa and DIY smores cover the chocolate component. Spinning vinyl love songs from the '60s, '70s and '80s is local DJ Toby (@livn_rm_show_lbc), so that takes care of romantic ambiance. What about flowers, you ask? The Hangout has an artfully decorated succulent garden in the patio area, where you'll be roasting those marshmallows.
The evening culminates with a projector screening of the 1986 film "Blue Velvet," a David Lynch psychological thriller that (if you've ever seen the cult classic you'd understand) lends itself to a scooting-yourself-closer-to-your-date type of scenario, or a post-film banter about why that movie was the best or worst thing you've ever seen. (Cheantay Jensen)
Another great thing: Tickets are an economical $14.
Giving us a moment's pause: Memories of high-school movie dates where no one ended up watching the movie.
Valentine's Day Movie Night at the Hangout starts at 7 p.m., Friday, Feb. 14. The film starts at 8:30 p.m. Tickets are $14. You can buy your ticket online here, or just show up and pay at the door. Once the movie starts no further entry will be permitted.
3. VALENTINE SCHMALENTINE (Friday)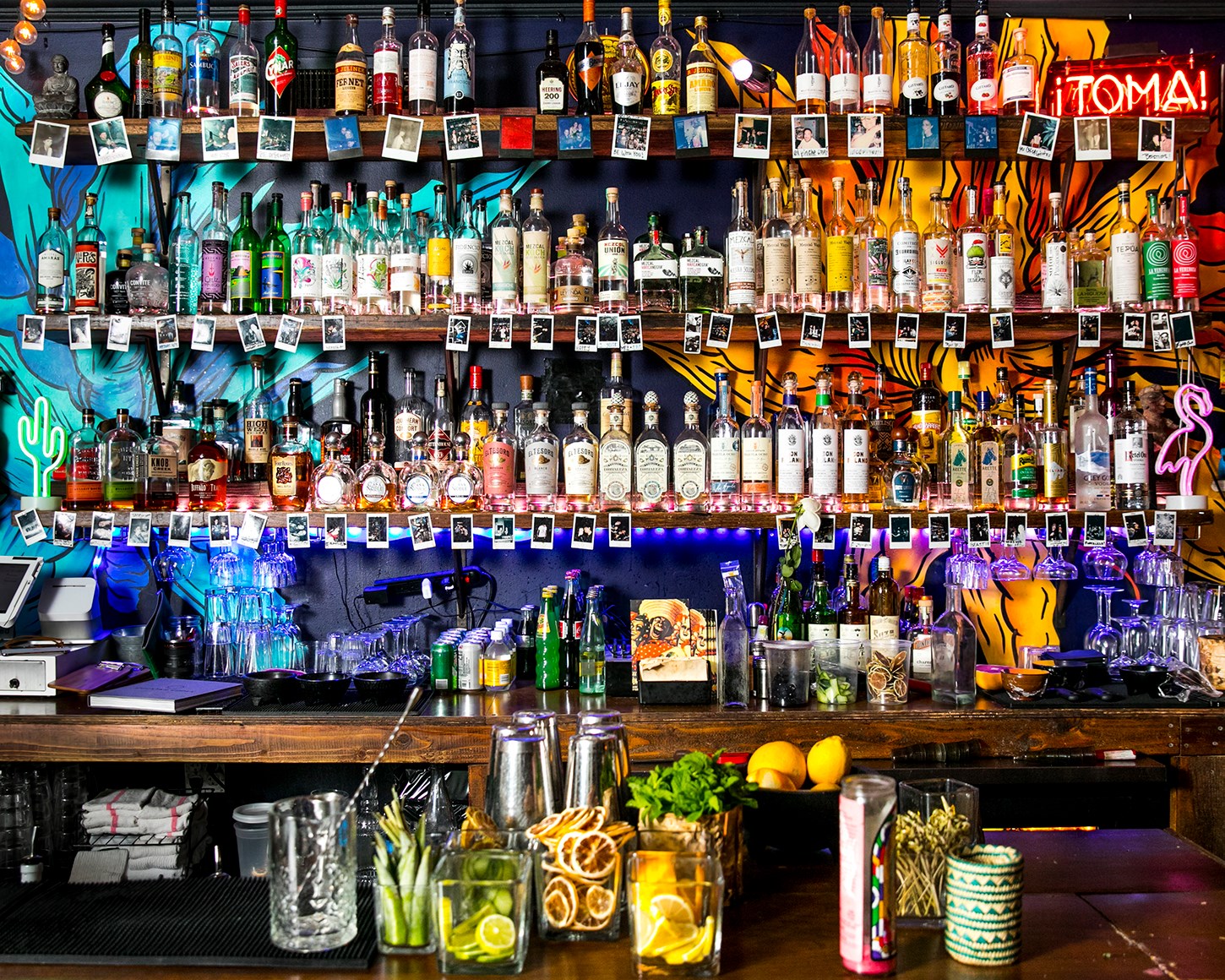 If Cards Against Humanity and "Blue Velvet" weren't enough of a clue, a lot of folks are simply not down with Valentine's Day. There were a lot of events and venues catering to this growing sentiment and segment, so we chose what's happening at Mezcalero because they don't in any way attempt to soft-pedal their intentions.
To begin with, the event is called "Valentine Schmalentine: Not Today Cupid!" Which, right there, tells you they're not playing around.
Mezcalero's is not hosting merely an Anti-Valentine's event, it is hosting a proactively Anti-Valentine's event. They aren't simply offering safe space for those who feel pummeled by corporately-mandated love, but a place to really let love have it.
You can write a note to an ex—or exes, you scamp—and post it on their "Go F*** Yourself Valentine" wall.
You can also bring a photo of said ex(es) and throw it in the Mezcalero fire pit and receive a complimentary shot on the house.
Sometimes spite feels, and tastes, so right.
Another great thing: The fun starts at 7 p.m., runs to 2 a.m. and there is no cover. DJ Soluz will be bringing the love all night, but you are under absolutely no obligation to accept it. This is all about you.
Giving us a moment's pause: This is a bar, so it's a 21-and-over event, which is just as well. If you're under 21, you still have so much hope. Man, do you have a lot to learn.
Valentine Schmalantine is at Mezcalero located at 525 E Broadway, from 7 p.m. to 2 a.m. For more information, click here. 
4. NIGHT DIVE (Friday)
Do not show up in or with a wetsuit to this event, we cannot stress that enough.
Yes, this event is taking place at the Aquarium of the Pacific, and yes, it's called Night Dive so yes, one could surmise that one will be going into one of the large tanks with the fish and the other things that live in the water but aren't exactly fish.
Night Dive is more a state of mind than a state of wetness. You won't be swimming, unless it's through lots of great art and food—Coastal Coffee & Desserts, Cocina Fresca, The Tropic Truck, Slamin Sliders, Deli Doctor—and wine—did someone say Rose Bar, where it's Rose all day (and night).
Another great thing: There will also be live music—Sheree & Sophisticated Soul, The Fully Fullwood Reggae Band—as well as DJs like DJ Halo, DJ Sickone, DJ Ayogabs, DJ CHIANTI—spinning.
Giving us a moment's pause: NO WETSUIT! Unless you're this guy. This guy makes it work.
Night Dive takes place from 7:30 p.m. to 11 p.m. at the Aquarium of the Pacific located at 100 Aquarium Way. You must be 18-and-older; admission is $19.95, members get in free. For more information, or to buy tickets, click here.
5. GALENTINE'S FLOWER ARRANGEMENT WORKSHOP (Saturday)
What's great about Valentine's Day (and Valentine's Day weekend) is you can interpret the celebration of love however you see fit.
If you're a fan of flowers but don't have a knack for arranging them, you can take this class at Cafe Sevilla offering guidance from an expert and the freshest flowers for you to incorporate into a masterpiece of your own.
Although your arrangement won't last, maybe the memories will. Since the event is called "Galentines," this may be an opportunity to corral all your best girlfriends together—if they have a cool $59-plus to spend on the YayMaker.com-hosted workshop—to have a few drinks and get creative. (AM)
Another great thing: Arranging your best buds for an outing is no joke.
Giving us a moment's pause: Any day can be a "yay day," if you believe.
The workshop is from 12 p.m. to 1:30 p.m. at Cafe Sevilla; 140 Pine Ave. For tickets ($59) and more info, click here.
6. PALENTINE'S PAWTNER WALK AND YAPPY HOUR (Saturday)
Valentine's Day, in its most altruistic form, is meant to remind us of our adoration and devotion to those we love. So it seems fitting to also direct that energy towards the creatures that we love and, in turn, love us unconditionally.
Dog daycare outfit GoFETCH understands this completely, so they're throwing a post-Valentines Day gathering at Ambitious Ales where pups can hang out while the owners eat, drink and slyly (or overtly, we don't know your house rules) feed their pets bite-sized "people food" under the table.
You'll start off with a 20-minute walk from the daycare down to Ambitious Ales, where the brewery's entire patio will be designated to the dogs and their owners. Those looking to forego the exercise are still welcome to show up at the brewery, but best arrive a little late to the party (say 12:30 p.m.) since the rest of the pack departs from the daycare at noon.
On-site will be VCHOS, a Salvadorian food truck serving traditional, Central American cuisine with a modern twist. (CJ)
Another great thing: The first 10 people to arrive at GoFETCH will be awarded a speciality gift bag that includes a $20 GoFETCH gift card, a tennis ball, bandana and a roll of dog waste plastic bags.
Giving us a moment's paws: I don't believe we've ever come across an event title with more dog puns in it than this one.
Palentine's Pawtner Walk and Yappy Hour starts at GoFETCH doggy daycare (3434 Atlantic Ave.) and ends at Ambitious Ales (4019 Atlantic Ave). The event runs from 12 p.m. to 4 p.m. Saturday, Feb. 15 and is free to attend, but does not include food and drinks. You can check out their Facebook event page, here.
7. VALENTINE'S DAY VEGAN CHEESE & WINE NIGHT (Friday)
If you're vegan, you've already adjusted your expectations of what the public dining experience can offer you. Sure, it's gotten much better in the past five years. And as the vegan lifestyle has gained more traction in the market economy there are more restaurants that are, if not entirely dedicated to a plant-based menu, offer some sort of viable vegan alternative.
Long Beach is no exception. But what of an occasion such as Valentine's Day when some wine and cheese is always in order? May we point you in the direction of the local wine bar, 4th Street Vine, that will have prepared a vegan cheese and wine pairing Valentine's Day event just for you. Snack on a platter of various vegan cheeses from Olive & Dot, a Long Beach pop-up dedicated entirely to concocting plant-based cheeses, while you sip from a selection of vino 4th Street Vine has curated to best compliment the cheeses you'll be devouring. (CJ)
Another great thing: And since the night is all about love and cheese, spinning vinyl from the '80s, the decade that gave us some of the most iconic and—yes, we're claiming it—cheesiest love songs, will be We're Science DJ's, Paul E Wog, Verdilak and Hell Cat.
Giving us a moment's pause: Turning '80s rock ballads into cheese puns. We're thinking Poisons' "Every Rose Has its Thorn" into "Every cream has its curdle." No? We don't know.
Valentine's Day Vegan Cheese and Wine Night is from 7 p.m. to 11 p.m. Friday, Feb. 14 at 4th Street Vine (2142 E. 4th St). Music starts at 8 p.m. No cover to attend.
Add the "Today you should…" calendar

Subscribe through Google Calendar or your calendar app and get alerted to the best things to do in Long Beach. Updated 7 days a week.
This feature is experimental. Let us know how it's working.
Support our journalism.
Hyperlocal news is an essential force in our democracy, but it costs money to keep an organization like this one alive, and we can't rely on advertiser support alone. That's why we're asking readers like you to support our independent, fact-based journalism. We know you like it—that's why you're here. Help us keep hyperlocal news alive in Long Beach.