Today, you should… try on Nike by Long Beach
TUESDAY, NOV. 5
Look, we're not telling you to go buy anything, we're well aware that you might not be a Nike person and, when sneakers are involved, a lot of adherents/zealots live in a consumer space that lies somewhere between brand loyalty and religiosity.
You should check out this store because it not only will give you a nice dose of local pride but a glimpse of where in-person, brick-and-mortar retail is headed. Nike by Long Beach is part of the company's Nike Live store brand. Right now, that brand has just three elements: one in Los Angeles, one in Tokyo and one at the 2nd & PCH retail complex in Long Beach.
That's it. That's the list.
Knowing that Nike is Nike and could put a store anywhere and that anywhere includes New York, London, Paris, San Francisco, et al.,  you might be wondering why Long Beach would rate a location before the others.
To understand that, you have to understand the nature of the shop. Traditional brick-and-mortar operations have found it near-impossible to compete with the virtual endless inventory flexibility of online retailers which allows them to feed any sudden whim or change among its customers.
Actual, physical stores, on the other hand, have always had to play a guessing game of sorts, attempting to anticipate needs or trends, always with a two-headed monster lurking: not stocking enough of what your customers want and, therefore, running out or, just as bad, having your backroom packed with things your customers have no interest in purchasing; the dreaded dead stock.
Nike Live stores attempt to counter this by engaging its customer base in constant, app-based conversation. Nike by Long Beach is described by company officials as having "data-informed product assortment," which means that what's stocked in the store will be based on what customers tell the company through the apps, allowing for stock adjustments every two weeks.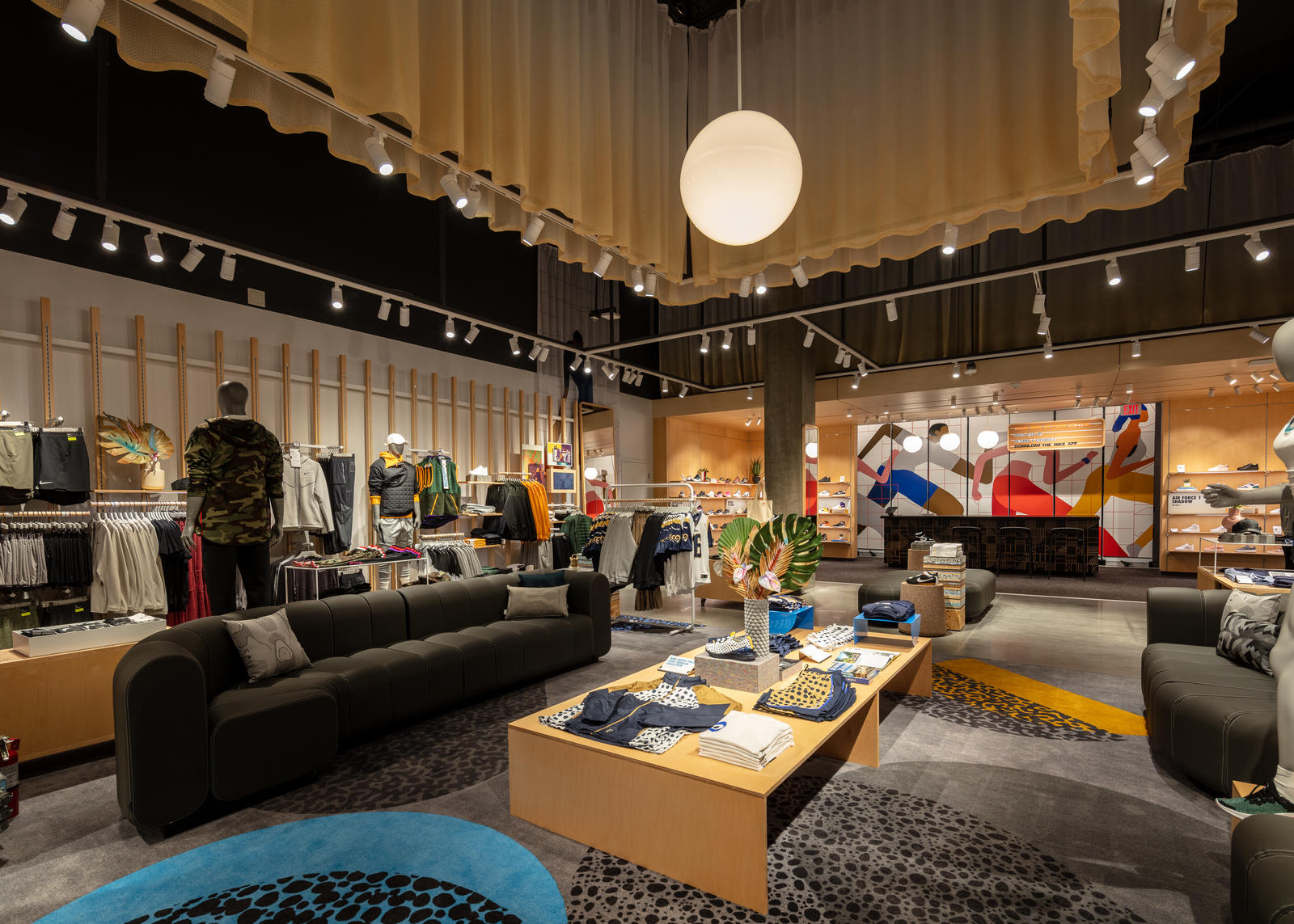 Customers can also learn about products, and order them, via the apps. Nike has a whole bunch of apps and, it turns out, Long Beach residents are very active on them. The city is well-known for producing professional and elite athletes of all stripes, but it is also renowned for having an active populace with a nationally recognized parks and rec department and vibrant local rec leagues. That kind of participation and passion for physical activity as well as seriousness of purpose looking for any edge or information, and often looking for it on Nike apps, convinced company officials that Long Beach would provide the kind of engaged, customer-partner a Nike Live store requires.
While technology determines much of what is in the shop, Nike by Long Beach also looks to take advantage of those elements that are unique to the in-person, neighborhood retail experience. The nearly 6,000-square-foot space has an aesthetic that is part loungey—there is a "Sneaker Bar"—part high tech and part grandma's house.
A vending machine that allows Nike app users to, once a month, use their cellphones to get a free gift—free socks, at the store's opening—is located at the front of the store next to a simple corkboard announcing upcoming store events.
The aforementioned Sneaker Bar not only allows those in a rush to pick up shoes they've ordered online—officials say they've timed some interactions in less than 20 seconds—it also allows customers to chat in-depth with a bartender about products.
And throughout the store, handwritten notes—yes, like written with a pen—offer staff recommendations. Oh, and three-quarters of the in-store staff hails from Long Beach to further feed the neighborhood vibe.
Another great thing: Nike by Long Beach officials say if local shoppers are unhappy with any of their purchases, they can bring them back within 30 days, no questions asked.
Giving us a moment's pause: Got that in an 11-wide?
Nike by Long Beach is located at 6440 E. Pacific Coast Highway in the 2nd & PCH retail complex.
Get the "Do This!" email

The "Today You Should" newsletter is now "Do This!" Subscribe and we'll let you know whenever there's something great to do in or around Long Beach.

---

Add the "Do This!" calendar

Subscribe through Google Calendar or your calendar app and get alerted to the best things to do in or around Long Beach.
This feature is experimental. Let us know how it's working.
Support our journalism.
Hyperlocal news is an essential force in our democracy, but it costs money to keep an organization like this one alive, and we can't rely on advertiser support alone. That's why we're asking readers like you to support our independent, fact-based journalism. We know you like it—that's why you're here. Help us keep hyperlocal news alive in Long Beach.