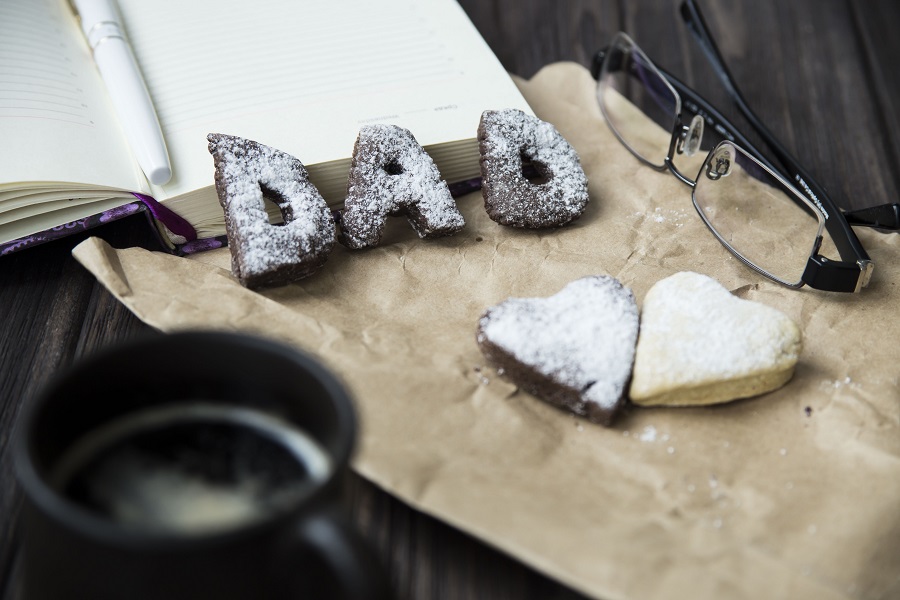 What and what not to do on Father's Day
All that stuff you hear about being a parent and having this sudden, extraordinary realization that you would gladly lay down your life for this spitting, pooping, flopping-about excuse of a human being, is all true.
And yet, through no fault of my children, I get royally screwed every Father's Day.
I was born on June 18. Ask any father born on June 18 what that's like and he'll tell you two things: we share a birthday with Paul McCartney and we get royally screwed every Father's Day. Why? Because the 18th always either falls a few days before, after or on Father's Day. I was actually born on Father's Day.
The result is the same as it is for those born around or directly on Christmas: gift-giving/event planning becomes nuanced, you know, in a royally screwed kind of way. Either you only get one gift and/or special outing, or if you get two, you can almost guarantee that these things will have an "A-" and "B-side" quality to them.
For instance, it's already been agreed that this dad will be taken to his all-time favorite breakfast spot, Arthur's, in the ancestral homeland of Downey on Father's Day. Great. Wonderful. Potatoes O'Brien; you know what I'm talking about, Downey.
But there has been no such decision, in fact very little discussion, about what will happen two days later on my birthday, and I'm starting to get a very distinct, Taco Tuesday-kinda vibe.
And there, I've outed myself. Yes, we dads always claim that we don't want you to do anything special for us, that we really haven't given it any thought, that it's just another day, but we're complete and total liars. Of course, we want you to do stuff! What are we, robots? Really looking good for our age, robots?
To that end, we asked a few of the folks in the office to tell us what they will, and will not be doing with their Pops.
Happy Father's Day!
Happy Birthday, Paul!
Playable Hazard
My dad never asked for much. He got up early every morning, made breakfast for me and my sister, drove off to work at a very Dad-like job having something to do with insurance and safety; one of those jobs where you wear a short-sleeved shirt and a necktie and keep careful track of your mileage in your company car.
Weekends, he puttered around the house, doing the vacuuming (yes, we had a mom, but she wasn't a make-breakfast or vacuuming-type mom. She'll be along shortly) and yardwork and, finally, around noon or so, flop into his La-Z-Boy chair, grab the remote, and watch sports on TV.
Watching golf was his favorite form of relaxation, and he got so into it that if his favorite player—Arnie at first, and, later, Jack—won a tournament, he would cry with a big grin on his face while watching the post-tournament interview.
I'm not sure what year it was when the worst Father's Day Ever occurred. It was sometime in the early 1970s and Dad had just sunk into his chair to spend Father's Day watching the U.S. Open on TV. It was like his Christmas, being left alone to listen to the soporific whisperings of golf announcers saying things like, "It looks like he's pulling out a 7-iron" with a Scottish accent.
And what made this the Worst Father's Day Ever was when my mom came bounding into the room with a huge surprise for Dad.
"Get up! I got us tickets to the Civic Light Opera doing 'The Pajama Game' (or 'The Flower Drum Song' or 'Carousel.'" It's not important. What's important was it wasn't the U.S. Open of Golf).
Anyhow, once he got the look of disbelief off his face, he got out of his chair and got gussied up for the performance. I'm sure he had a great time.
No, actually, I can't imagine that he did. I bought him a sleeve of Top-Flite golf balls for that Father's Day. Either that or a funny tie. The point is, at least somebody cared about Dad on his special day.
The final round of the U.S. Open at Pebble Beach airs from 11 a.m. to 7 p.m. Sunday on Fox.
— Tim Grobaty
Whiskey. Special.
My parents and I eat like birds. We rarely finish a full meal, we pick and chew our food quite slowly, oftentimes to the chagrin of most of our friends who usually eat at the pace of normal Americans, quickly and to the point of being very full. I blame my eating habits on my Dad who, to this day, says he's still traumatized by one of his family members who would save all her Halloween candy until everybody had eaten theirs and then flaunt the bag of remaining sweets in front of their faces. So now, he truly savors every last bite of whatever it is on his plate but maturely doesn't flaunt the leftovers.
You have to know all of this to understand why my Mom said no to my suggestion of going to Claire's brunch at the Long Beach Museum of Art for Father's Day. She said it didn't make much sense to waste a buffet on our finicky party of three (this is assuming Claire's is having a buffet equal to their Mother's Day event, if not, I'll try to convince mom we should show up anyway—since you can't make reservations for parties with less than seven people).
Instead, we're planning on going to Parkers' Lighthouse for lunch, or possibly Michael's on Naples, which has Father's Day brunch and dinner specials. A third option if plans fall through is The Social List, which is offering a whiskey special. If there's one thing my family doesn't ingest like birds, it's liquor, so the $20 Bushmills flight being offered at the Fourth Street restaurant is more than an appealing way to celebrate Dad.
— Asia Morris
Location, Location…
My Dad's a simple man. Give him a mechanical saw, a package of Oreo cookies and a 12-pack of Diet Dr. Pepper, and his heart is full. Father's Day is difficult for that reason. My instinct is to fill his day with activities—to shower him with my presence, bathe him in adoration or pamper him with indulgence. I must do something with Dad. It's a mistake.
Google "Father's Day events in Long Beach," and cross everything you see off the list. Dad does not want to take a pie-making class. He doesn't want to learn to paint watercolors. He does not want to go to a men's empowerment breakfast. Even shopping is tricky; another T-shirt? A package of golf balls? A personalized barbecue cutting board? He'll feign gratitude; he's nice that way.
Dad will maybe play a game of cribbage, and watch an episode of "Jeopardy!" He likes a sappy greeting card; write something meaningful and watch the tears seep from behind his reading glasses. Give him a leash and a dog.
I've learned my lesson. I'll take orders if he needs help holding the edge of a new shade for the outdoor windows, and I'll be patient as the screw squirts from its socket again, this time in the webbing of the barbecue. I'll play on my phone quietly as he watches golf and flips during commercials to Discovery Channel's "Fast N' Loud." Later we'll eat a steak slathered in his secret seasoning, and I'll hit the hay, quietly, when his snore hits an even stride. I know this: My Dad's just happy I'm there.
— Melissa Evans
Dog Days
My cats are not my kids, they're better—they're cats. But some folks consider their dogs, cats and rabbits as their kids. Humor these Dads, instead of breakfast in bed, take the guy's dog for a walk at 5 in the morning or change the litter box.
Get one of those "from the dog/cat" greeting cards—I found a "from the rabbit" one online—and write a message on it with your off, non-writing hand, making sure to reverse a couple of letters to show that it's really from someone with no opposable thumbs and who has to hold a pen in their teeth. Come to think of it, you can put that on the breakfast tray, but don't let the cat drag in the breakfast.
— Kate Karp
Support our journalism.
Hyperlocal news is an essential force in our democracy, but it costs money to keep an organization like this one alive, and we can't rely on advertiser support alone. That's why we're asking readers like you to support our independent, fact-based journalism. We know you like it—that's why you're here. Help us keep hyperlocal news alive in Long Beach.