Your complete guide to POW! WOW! Long Beach events July 21 – 28
POW! WOW! Long Beach is back in action for its fifth summer, bringing local and visiting artists together to paint murals throughout the city. While the artwork takes center stage (check our complete artist guide here) it's the events throughout POW! WOW! week that bring the artists, fans, volunteers and organizers together to get the most out of the much anticipated public art festival.
With new additions this year like POW! WOW! School of Photography and KCRW's Summer Nights dance party, there's plenty to do and see: here's our guide to everything happening starting Sunday, July 21 through Sunday, July 28.
SUNDAY, JULY 21: POW! WOW! Pop-Up Shop, Joon the Goon and "Movement" by Thinkspace
[easy-image-collage id=30000000716]
Get all your POW! WOW! merch during the start of MADE by Millworks' pop-up shop (it'll be up all week if you can't make it Sunday) and, in the same space, check out the grand opening of local artist Juan Alvarado's first solo show. More commonly known as "Joon the Goon," you might have seen his towering parachuters on the exterior of The Icehouse Arts Complex or the one inside the warehouse he painted during the inaugural Hello, Welcome mural show (it's since been painted over, sorry). Now's your chance to peruse some of his smaller, more detailed paintings and prints and get to know the guy.
The pop-up shop and art show is at MADE by Millworks from 6 to 10 p.m., 240 Pine Ave.
One block away you'll find a second art show called "Movement" curated by organizers from internationally-known Culver City gallery, Thinkspace. If you attended any of the Long Beach Museum of Art's Vitality and Verve shows over the past four years, you may recognize Thinkspace curator Andrew Hosner's work—there'll be a site-specific mural by CRASH ONE among installations by Balloonski and Spenser Little. "Movement" will feature new and old art by nearly 50 POW! WOW! artists that'll be on view throughout the week from noon to 5 p.m. each day, but make sure to visit Thinkspace's social media channels for nightly events, too.
"Movement" opening reception runs from 6 to 10 p.m. at Bevel (walk through Pharmacy Skate Shop) at 327 Pine Ave. More info here.
MONDAY, JULY 22: Press Preview
[easy-image-collage id=30000000713]
As is customary, Mayor Robert Garcia, Steve Goodling of the Long Beach Convention and Visitors Bureau, Intertrend CEO Julia Huang and other PWLB supporters will launch the fifth annual public art festival in the parking lot of The Varden Hotel, where two of the first murals were painted in 2015 by James Jean and Tristan Eaton. This is the part where officials get to say their thank yous and their this would not be possible withouts. PWLB's main sponsors include the City of Long Beach, Long Beach Convention Center, Montana Cans, '47, Port of Long Beach and Hawaiian Airlines. The list goes on to include the Downtown Long Beach Alliance, Clif Bar, Taiwan Ministry of Culture, KCRW, Thinkspace Gallery, Long Beach Museum of Art, Long Beach Transit and The Hi-lo among many others. Not to mention, it's important to acknowledge the more than 100 volunteers that sign up to buff walls, transport supplies and assist the artists every year with much of the heavy lifting.
The Varden Hotel (parking lot) is at 335 Pacific Ave. Preview starts at 9:30 a.m.
TUESDAY, JULY 23: Bicycle Mural Tours and The Business of Doing Art presented by yours truly, The Hi-lo
Starting Tuesday, Pedal Movement is teaming up with Clif Bar and Bike Share Bicycles to not only offer guided tours to PWLB murals, but free bike share rentals so you can come with! Tours are twice a day starting at noon and 5 p.m. through Saturday, and last about two hours. Personally, we'd choose the 5 to 7 p.m. tour since it's a little cooler, not to mention, the last tour on Saturday ends at KCRW's Summer Nights closing party (scroll down for more info).
Bicycles, scooters and other alternative mobility devices will be welcomed. Meet at the Bikestation in Downtown at 223 E. First St. Tour locations vary per day. For more info and to RSVP visit the Eventbrite link here.
In an exciting new partnership between PWLB and the Long Beach Post's recently launched arts and culture-specific site, The Hi-lo, our very own Brian Addison will discuss the business of art with none other than Bob's Burgers original character designer Jay Howell, who is also the art director, producer and writer for Nickelodeon's Sanjay and Craig. This event will be especially helpful for artists wanting to know more about how to navigate corporate involvement in their work. One of Addison's questions for Jay may go something like, "How do you still get the benefits of a corporate deal without also losing your soul?"
Make sure to RSVP here, space is limited. There's also info on this Facebook event here. The talk takes place at Bevel (walk through Pharmacy Skate Shop) at 327 Pine Ave. from 7 to 10 p.m.
WEDNESDAY, JULY 24: The Art of Bloom, Movies on the Beach
The Art of Bloom, an interactive art exhibit, opens to the public Wednesday in the Edison Theatre in Downtown. With both physical and digital AR interactions, real flowers, sensory technology and more, this one-of-a-kind experience is more than just an Instagram backdrop, but highlights the (sometimes) symbiotic relationship shared by humans and flowers; guests will leave with a deeper appreciation for our plant partners in crime. Designed and implemented by host and producer of POW! WOW! Long Beach, Intertrend, don't miss this "opportunity to connect with nature in an elevated environment."
The Art of Bloom opens July 24 and runs through Sept. 29. Tickets are available now, $24 for adults and $12 for kids 4-12 years old. For tix and more info, click here.
In "Boom for Real," not only do viewers get to witness a young Jean-Michel Basquiat before he found fame but the times that shaped him as an artist, when "to be a penniless but published poet was the height of success" in New York City. In partnership with Alfredo's Beach Club, this is an all-ages event. Don't forget to bring a blanket, snacks and refreshments to enjoy on the beach in Belmont Shore.
The event starts at 8 p.m. Walk down to Granada Beach from 5000 E. Ocean Blvd.
THURSDAY, JULY 25: Art, Design and Creative Spaces hosted by Poketo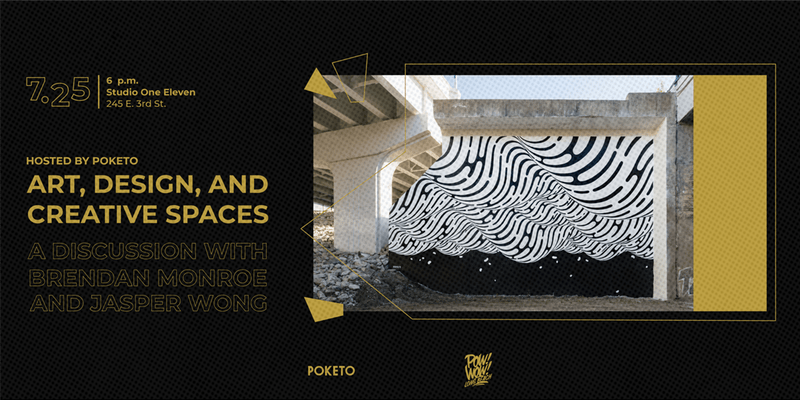 Poketo, where design, simplicity and functionality meet, has grown from a small startup to a major destination for artfully designed lifestyle goods. Husband-and-wife duo CEO Ted Vadakan and Chief Creative Officer Angie Myung named the company in 2003 after Myung's grandmother's mispronunciation of the word "pocket." Together, the two run and curate the online shop as well as Los Angeles, Koreatown, Culver City and Little Tokyo locations where they host art shows, workshops and more. The couple will be speaking with sculptor, painter and former PWLB participant Brendan Monroe, and PWLB founder and lead director, Jasper Wong about creative space.
The talk takes place at Studio One Eleven, 245 E. Third St. from 6 to 8 p.m. RSVP via the Eventbrite link here.
FRIDAY, JULY 26: POW! WOW! School of Photography
New to the festival this year is the very first POW! WOW! School of Photography. Along the same lines as POW! WOW! School of Music where a select group of young musicians get to learn from some of the best and brightest (you'll find this group performing throughout the week) the same applies here, but for aspiring photographers. Led by noted Los Angeles-based image taker Ja Tecson (@jatecson) and mentors including Carmen Chan, students will be given the chance to grow and get creative with their captures. A group show of student work from the week will take place at Port LBC during Fourth Fridays on Retro Row.
Port LBC is at 402 St. Louis Ave., 6 to 10 p.m. Learn more about POW! WOW! School of Photography here and follow along on Instagram @powwowphoto.
SATURDAY, JULY 27: KCRW Summer Nights, PWLB Closing Party
For the past 10 summers, KCRW has organized free, family-friendly outdoor performances in LA and beyond, curating bands, DJs and more for music-hungry guests. So what a perfect way to celebrate the 20-some murals PWLB artists will have executed by the end of the week (and the 100 murals since it launched locally in 2014) than with a KCRW Summer Nights dance party, the first ever in Long Beach. Station DJs Anthony Valadez and Mathieu Schreyer will be on deck alongside dancers from Homeland Cultural Center and live art from Tooth & Nail art battlers. Put on by KCRW, DLBA, Long Beach Transit and Long Beach Public Works, beer from Beachwood Brewery, wine from Hops & Vines and food from local eateries will be available for purchase.
Riding a bike to the event? Pedal Movement will provide free bike valet. Summer Nights runs from 7 to 10 p.m. at 235 Promenade North. More info here. 
SUNDAY, JULY 28: Swim Skool
Swim Skool at the Renaissance Hotel helps put The Standard to shame since people actually get in the pool for this as opposed to just posing around it. For Skim Skool host local DJ Eusebio Akasa, the music-centric event is more than just being able to hold a Bloody Mary above water, it's about introducing guests to new sounds. On Sunday, the lineup includes local DJs—Desirable D, Sidewords, Nilespeaker, Nicky Detroit, Vince Villanueva and Soul-O. Akasa said it'll be like a typical Swim Skool, but with a lot of POW! WOW! people; it's also sponsored by Sierra Nevada so… pace yourselves.
The 21+ pool party runs from noon to 6 p.m. at The Renaissance Hotel third-floor pool, 111 E. Ocean Blvd. Follow @swimskoollb for more info.
Support our journalism.
Hyperlocal news is an essential force in our democracy, but it costs money to keep an organization like this one alive, and we can't rely on advertiser support alone. That's why we're asking readers like you to support our independent, fact-based journalism. We know you like it—that's why you're here. Help us keep hyperlocal news alive in Long Beach.