Construction is underway on a seven-story mid-rise residential building on The Promenade in Downtown—only a few feet from popular restaurants between Broadway and Third Street.
The Inkwell, a 189-unit market-rate residential development at 201 The Promenade North, has been years in the making. First approved by the Long Beach Planning Commission in October 2018, the project includes 10,000 square feet of ground floor commercial space that will add to the Promenade's activated outdoor space.
The project was entitled by Raintree-Evergreen LLC, which then sold it to Newport Beach-based Alliance Residential Company 18 months ago. Jonas Bronk, who oversees development and acquisition for Alliance, said the company likes the original branding—Inkwell—but has considered a change in the name of the building, such as Broadstone.
The company did not give a timeline for when they expect the building to be complete. A typical timeline for a project this size is 18 to 24 months.
Alliance has not altered the original project, which includes a fitness room, club room, pool decks and a pool. The building includes three levels of subterranean parking, with 268 car stalls and 40 bike stalls.
But the construction site's proximity to restaurants on the Promenade could hurt business after what has already been a devastating year, one restaurateur said.
"It's definitely going to infringe on our business," said Christy Caldwell, owner of The Ordinarie. "Coming out of the pandemic, as soon as we start getting some relief from that … now we've got this."
Caldwell said the noise and dust generated from the construction site will likely keep patrons from eating lunch along his stretch of the Promenade, which also is home to Congregation Ale House, Beachwood BBQ and Michael's Downtown.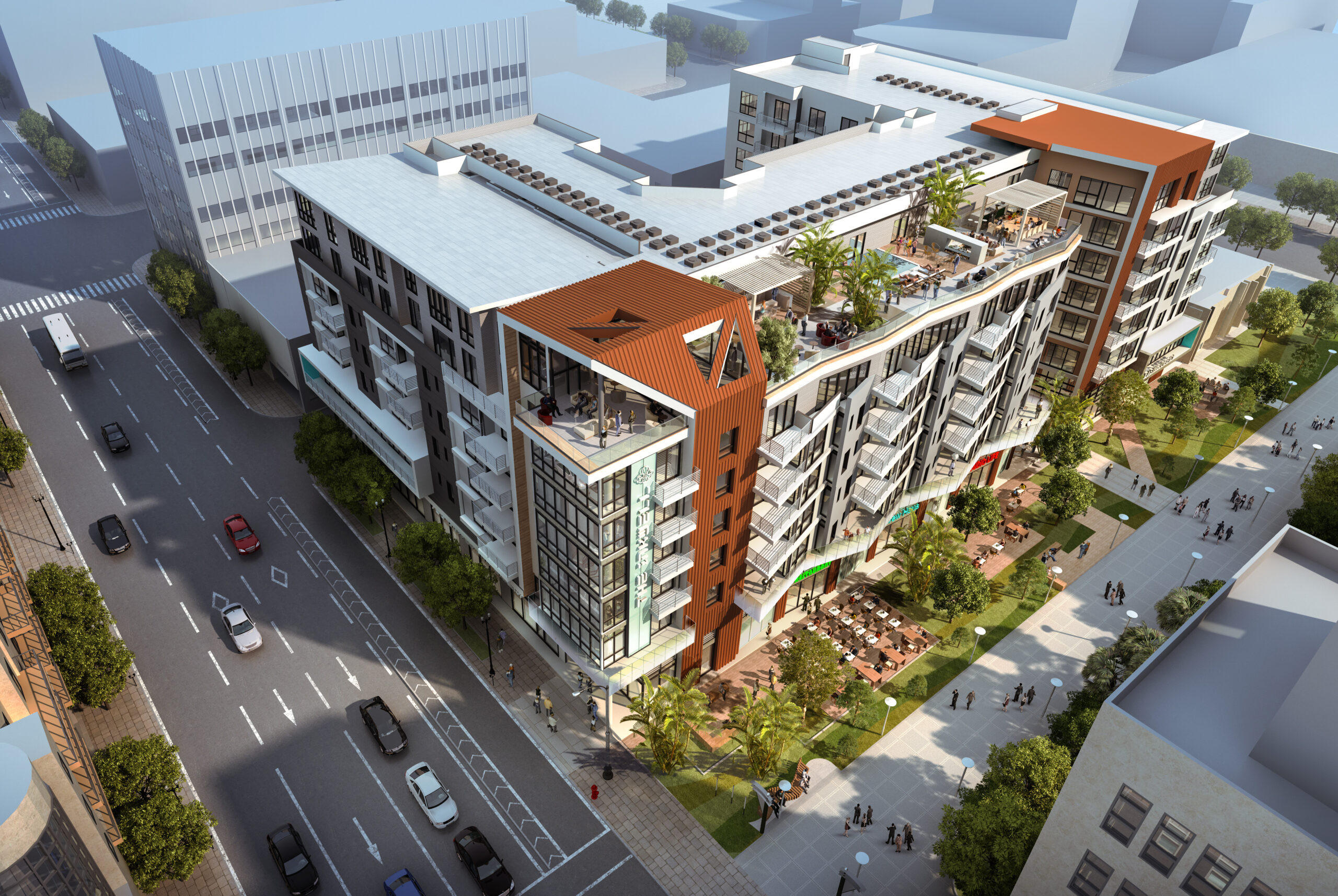 Concerns regarding noise are not uncommon during major construction projects, city spokesman Richard de la Torre said. The city, along with the developer, are working with business owners and residents to proactively address concerns, de la Torre said in an email.
"We want this project to be a positive addition to Downtown now and in the future," de la Torre said.
Construction permits issued by the city allow crews to work Monday through Friday from 7 a.m. to 7 p.m. and Saturdays from 9 a.m. to 6 p.m. All permits allow for crews to work six days per week, which is a decision made by developers, de la Torre said, adding that a six-day work week has  become commonplace.
"I saw them working Saturday and that was the first I knew there was going to be six days of work," Caldwell said. "I had hoped for five."
The Long Beach Health and Human Services Department has jurisdiction over construction noise, according to de la Torre. Should noise exceed certain thresholds, the Health Department would work with Development Services to address the issue, he added.
Caldwell said he would like to see a more substantial barrier between the construction site and the businesses, which would help mitigate noise and dust. But with construction work days typically ending between 3 and 4 p.m., Caldwell said dinner traffic should not be impacted.
"When it's done it will be great for the Promenade. It's a beautiful looking building," Caldwell said. "But I imagine about a year and a half of not much business during lunchtime."