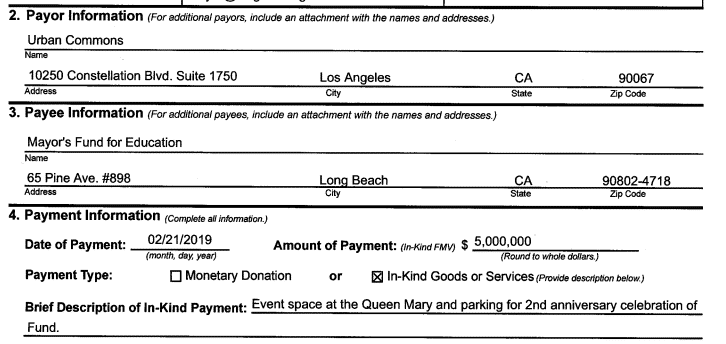 A $4,995,000 typo? And we thought we were bad at math
Our breaking news editor and reporter Jeremiah Dobruck was quietly going through California Forms 803 over the weekend—look, you have your hobbies, he has his—and he came across an item of interest. Forms 803 are filed when a state or local elected official solicits a donation to an organization that is used for legislative, governmental or charitable purposes.
It's not as exciting as it sounds.
But our man's eyes popped out of his head, almost, when he came upon a form showing that Urban Commons, the group that manages the Queen Mary now, was listed as providing "in kind services" to Mayor Garcia's Fund for Education's second anniversary party aboard the ship and that those services (valet parking for guests and use of the Queen's Salon room for the party) were worth $5,000,000.
That's right: dollar sign, 5, comma, three zeroes, comma, three more zeroes.
We smelled graft, collusion, fraud, money laundering, a Pulitzer.
We did some math to the best of our ability, but with our scant skills with numbers we were unable to figure how parking and the use of a smallish meeting room could be worth $5,000,000. We weren't even able to get to $10,000, but again, math is hard.
Eventually, we had to do what we've been trained not to do, and that's over-verify a good story. We got in touch with Karissa Selvester, the executive director of the Mayor's Fund for Education, as well as the mayor's chief of staff Mark Taylor, both of whom seemed as flabbergasted as they could sound via email, and both assured us the figure was a typo. The figure for the in-kind services was supposed to be $5,000.
To be honest, we're not entirely satisfied. Look, we all make mistakes, and we frequently call them typos. Tihs is a typo. A quick spasm of digital dyslexia. And we could've lived with $5,000,00, with the typo being a comma instead of a decimal point. But $5,000,000 doesn't wash as a typo. A mistake? OK, but a pretty bizarre one, and one that probably made it past at least a couple of people.
At any rate, everything's cool now. Before Urban Commons could scamper off and report the seven-figure amount as a charitable deduction, the Form 803 was amended Thursday to reflect in-kind services of a measly $5,000. And zero cents.
Support our journalism.
Hyperlocal news is an essential force in our democracy, but it costs money to keep an organization like this one alive, and we can't rely on advertiser support alone. That's why we're asking readers like you to support our independent, fact-based journalism. We know you like it—that's why you're here. Help us keep hyperlocal news alive in Long Beach.