Long Beach community groups announced Wednesday night that they would be pursuing a ballot measure for the November 2020 election that would finance a city children and youth fund if it were to pass.
The announcement was made at the People's State of the City event inside First Congregational Church in Downtown. It was the eighth annual event put on by Long Beach Rising, a coalition of organizations including Long Beach Forward, Housing Long Beach, Building Healthy Communities and others.
While the details of the measure have yet to be worked out—the ballot could be a new tax or just seek to divert money from the city's general fund—the goal would be to ensure continuing financing for the newly developed fund that was adopted along with last year's budget approved by the City Council.
That budget established a $200,000 fund for developing a youth-led strategic plan to invest in young people to help them succeed.
"But a bank account is nothing without direct deposit," said Dawn Modkins, who delivered the keynote speech. "Establishing a fund and a strategic plan is a great first step, but if we don't think about how we support young people in a more holistic way and transformative way, then we perpetuate this status quo where young people will continue to have fewer opportunities."
Community advocates call for permanent youth funding in city's budget
By pursuing a ballot measure the coalition could secure continuing revenue for the youth fund instead of depending on the City Council allocating money to it on a year-to-year basis.
"If we can give 44% of our general fund to the police department, can't we spend a little more on children and youth?" Modkins asked.
The annual event highlights the community groups' successes in helping to secure policy wins for the communities they represent and often paints a different picture than the shimmering portrait of the city displayed at the mayor's State of the City event in January.
While Mayor Robert Garcia touted the city's growth and development, with new luxury housing developments seemingly springing out of the ground over the past few years, Wednesday's event tried to contextualize those developments and how they are leading to the displacement of low-income communities that have called this city home for decades but are now being displaced by rent increases.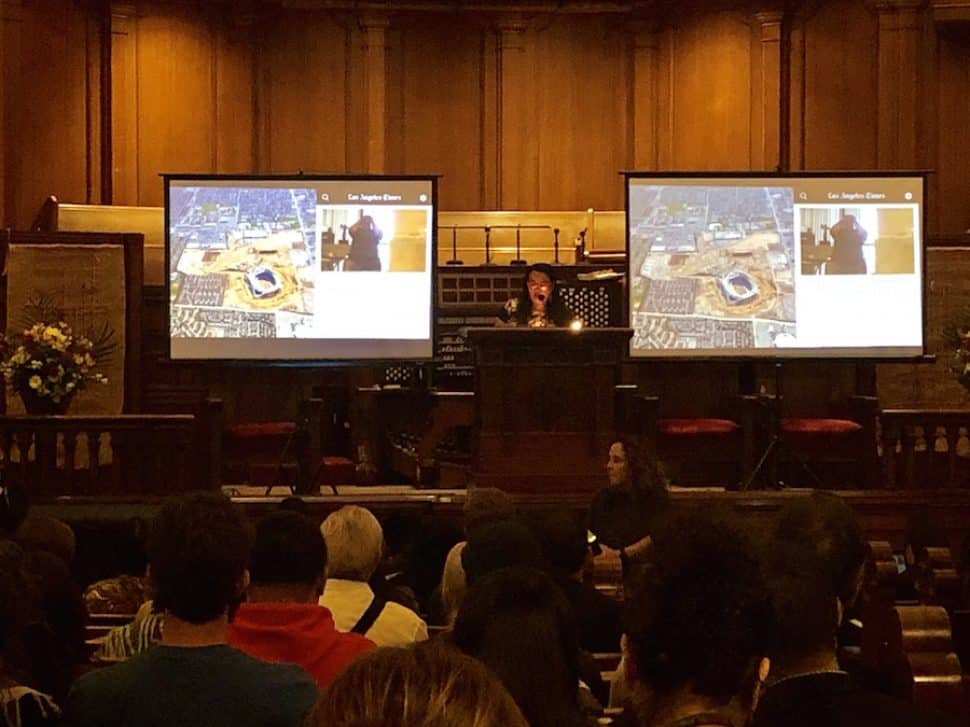 Speakers even gave a nod to developments that haven't broken ground and vowed to fight them, including a potential baseball stadium that is in the early stages of the city trying to woo the Los Angeles Angels to  Long Beach.
"Everyone knows we've been in a housing crisis," Cynthia Macias said. "But building an entirely new stadium for the Angels baseball team would speed up displacement of poor people and drive up rents even more, especially because our elected officials have come out against rent control."
The crowd of about 300 people cheered victories that have been secured by the coalition over the last year like Measure WW which established rules that require Long Beach hotel operators to provide workers with panic buttons and set limits on the amount of square footage housekeepers can clean in a single shift.
They also celebrated a settlement reached last year with the Long Beach Unified School District where community members had alleged that the district had misappropriated $24 million meant for high-needs students by spending the funds on textbooks and other materials meant for all students to use.
Long Beach renters win victory: Leaders agree to require assistance for some evictions, rent hikes
Just this month, member groups of the coalition secured a small win in the years-long standoff between renters and landlords after the city sided with tenants and voted to approve the drafting of an ordinance that would require landlords to pay tenants to leave buildings in certain instances of displacement including large rent increases.
Modkins closed the program by acknowledging that the coalition knows there is work to do whether it be with the upcoming census, which members feel is at risk of low participation because of fear that it will be used to target immigrants, or getting more equal representation on the city's Budget Oversight Committee from districts that represent West and North Long Beach.
"The challenges we face are systemic and penetrate nearly every corner of our lives, which is why sustaining our efforts in healing our communities is so necessary to seeing our vision become a reality," Modkins said. "A reality where the color of our skin, the amount of money we make, or the neighborhood that we live in doesn't determine our future opportunities."