Beards and brows: Some new looks from the evolving City Council
The Backroom is a column by the staff of the Long Beach Post with notes and analysis, along with bloops and blunders, from the city's political scene. It runs every Thursday. To contact us, email [email protected]. For questions or concerns, please contact Managing Editor Melissa Evans: [email protected] or 562-437-5814. 
OK, what's with all the fantastic facial hair being sported at the Tuesday night council meeting? Apparently Schickless for the new year are City Attorney Charlie Parkin and 8th District Councilman Al Austin, both of whom looked like Dollar Shave Club dropouts at the meeting with their 2020 beards. That's in addition to 4th District Councilman Daryl Supernaw, who started his beard back when they became all the rage with Major League Baseball relief pitchers.
We're not sure why they weren't joined by other male city officials, because if you're going to grow beards, you should make it an official thing with some sort of goal. Like, let's not shave until the Lakers win a championship or let's let our beards grow until Trump is out of office (or until he's reelected—either way, it's your face).
And as for the "other side of the aisle," councilwoman Mary Zendejas also arrived with a new look on Tuesday after getting her eyebrows tattooed Sunday by Veronica Anile, the owner of Naples Permanent Beauty. Anile is doing permanent makeup at no cost for disabled people all year, though Zendejas, in keeping with council ethics, paid $250 for the tattoo work by Anile, who she described as "caring, loving and efficient."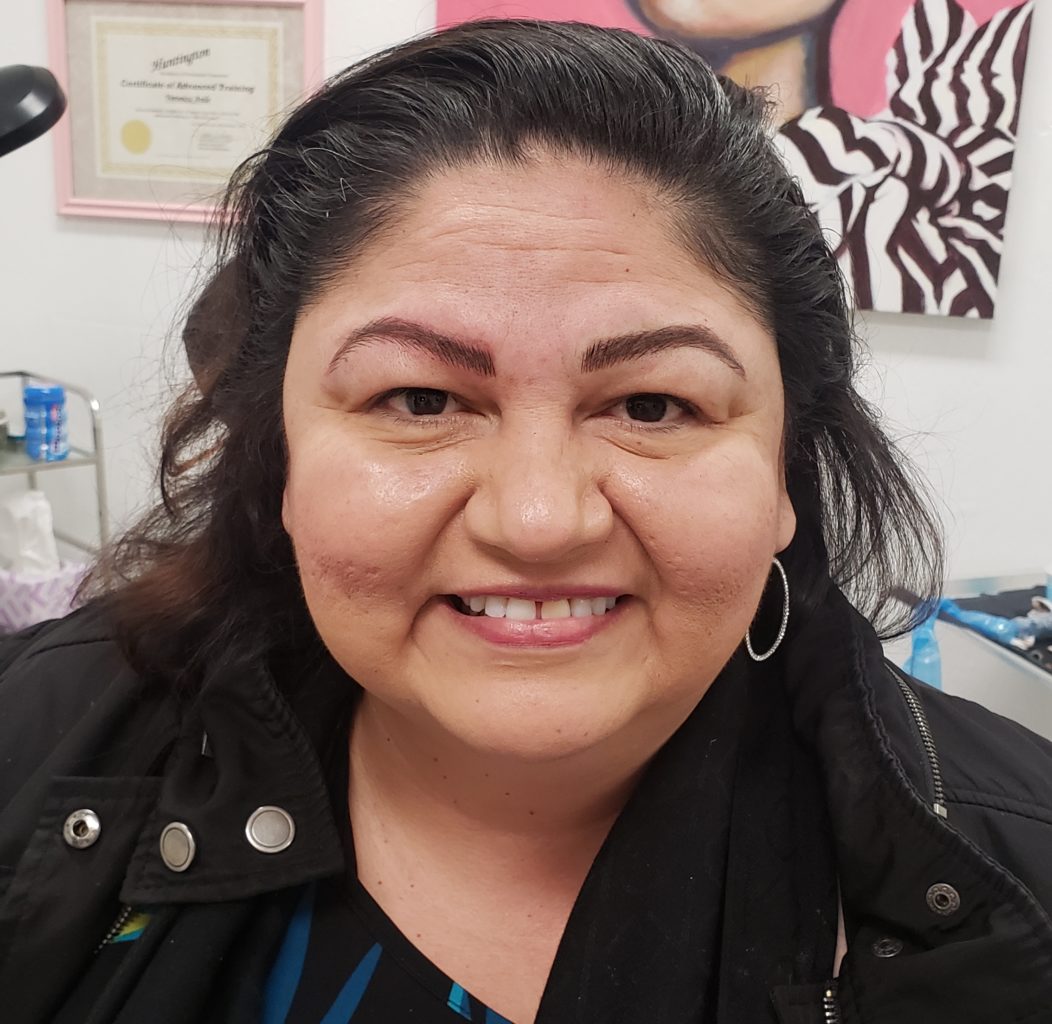 "It was amazing that the work was done while I was in my wheelchair," Zendejas said.
By year's end, we could have more changes on the council as there could be some new faces after the elections in districts 2, 6 and 8.
State of the City suspense
In other news, your mayor, His Honor, the always clean-faced Robert Garcia, will deliver his State of the City oration at 6 p.m. Tuesday in the Terrace Theater, immediately following a 5 p.m. reception. And the suspense is so thick you could cut it with a custard spoon.
Actually, there is a bit of true suspense surrounding which Broadway musical number the mayor will choose to have performed at the top of the program. Whattaya think? "Skid Row," from "Little Shop of Horrors"? "Big Spender" from "Sweet Charity"? "The Room Where It Happens" from "Hamilton"? Or the tired and overwrought chestnut "The Impossible Dream" from "Man of La Mancha"?
The combined staff of The Backroom has lived in Long Beach for more than a century (with a generous boost from Tim Grobaty who's outlived three city halls, three main libraries and 16 iterations of Pine Avenue) and there's one common thread through the states of the city we've sat through: Long Beach is on the move!
Those, we're guessing (and it's an educated guess) will be the lyrics to the same old song we'll hear from Garcia on Tuesday. He hinted as much in a pre-State of the City press release when he crowed that Long Beach is "poised to have the best decade the city's ever seen."
Last year's drinking game involved taking a shot of Malort, a famously nasty drink, every time the mayor, in his State of the City said the word "infrastructure." When it was over, they found us passed out  in a big, white furry chair in the Convention Center's hallway.
For this year's speech, the magic drinking word is "development" and you're gonna want to pregame on platters of pasta, salmon and eggs if you want to hang with the professionals.
It's a free event, but you still need to register, which you can do right here.
A signature moment
The Backroom has commitment issues. We can't decide if we want to continue down this semi-self-imposed path of veganism for the rest of the month or if we want to tear into a nice, meaty hero sandwich. Should we shower today, or wait until the price of water drops after a court ruling earlier this week declared the city's fee transfers unconstitutional?
Turns out we're not the only ones with this problem.
Vice Mayor Dee Andrews originally signed onto a housing bond item as a supporter, but his name mysteriously disappeared from the item by the time it appeared before the City Council for a vote Tuesday night.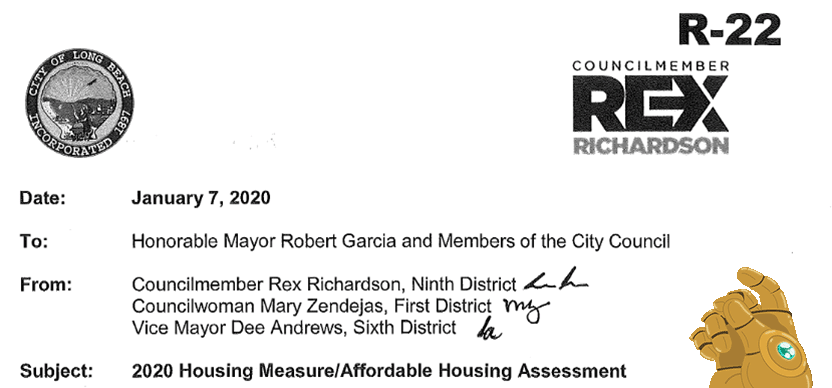 We have our forensics guy on it, but we're uncertain as of publication of this column if someone mistakenly handed Andrews one of those whimsical disappearing-ink pens or if he simply had a change of heart. We pursue all alternatives in The Backroom.
Maybe the Post's morale director, Senua the Office Dog, ate the original copy and Andrews wasn't asked to sign the replacement. Maybe someone spilled one of those infamous $10 lattes on it, obscuring his signature.
Our sources tell us that Andrews may have been weighing his re-election prospects when making his very silent decision to vote against the $298 million housing bond that could have financed affordable housing and shelter space for the city's homeless.
Andrews, a member of the council since 2007 is in a campaign cycle where for the first time in a while he faces a competitor in Suely Saro that threatens to unseat him. Saro has raked in endorsements, including the Los Angeles County Democratic Party and she's out-fundraised Andrews by about $42,000 heading into the new year.
If you subtract the $100 loan Andrews gave himself, he's raised $800, but funding could be on the way in from a political action committee formed in September to re-elect Andrews and Councilman Al Austin.
The latest filing period data has yet to be released, but we're assuming Andrews had a nice Christmas and he may even toss another $100 to his re-election cause.
Andrews' office did not respond to requests for comment Wednesday, but he did speak to another media outlet where he said that his about-face came as a result of talks with his constituents who "weren't excited" about the prospect of seeing their property taxes increase.
He added that there was no need to rush on such an important issue.
His vote, which was widely seen as the decisive vote in blocking the bond measure from advancing, may help keep him out of the political cold but it likely will do little to address the city's housing affordability issue.
Our home state
But enough about other people. What's the state of The Backroom?
Wobbly. Wobbly, but determined to press on through a year that has already taken several crocodile-size bites out of our usually cheerful and blithely unfounded optimism.
Just as Mayor Garcia will lean heavily on numbers in the State of the City speech (number of potholes filled, number of crimes down, number of days spent in the Hawkeye State stumping for Kamala Harris, etc.), we have a few numbers of our own that we posted in 2019 that we can be proud of:
1 week in which no one in city government did something to warrant a mention in The Backroom.
4 pets rescued by the staff of The Backroom (three cats and one dog).
1 office dog, Senua, acquired by the staff of The Backroom.
7 City Council members who hate us forever now because of at least one item in The Backroom.
2 arms we could've lost trying to get between LBCC trustees Sunny Zia and Vivian Malauulu.
5 Backroom staffers who inexplicably all decided to visit Rome at separate times in 2019.
50 great feature graphics for The Backroom by Dennis Dean (he missed one because he was inexplicably in Rome).
140 great memories that can never be taken away, including things relating to LBCC president Reagan Romali and her unrequited love for Miami; the indestructible cake modeled after the old City Hall that was too Brutalist for Mayor Garcia to cut with a mere cake knife; our warm welcome to hell for 3rd District Councilwoman Suzie Price; attending the Irish caucus at the California Democratic Convention; watching in horror as the city busted its own new style guide by hanging a Santa hat on the official city sign in the City Hall Plaza and so much more, including a lot of things that would just open new wounds if we were to reintroduce them in the State of the Backroom.
And now, let's all sing along to one of our favorites, "On the Street Where You Live," from "My Fair Lady."
Endorsements schendsoresments
Because we're hard-nosed newsfolk we don't jump on every candidate's BREAKING NEWS press release announcing each endorsement that flutters into their campaign offices from such groups as the Amalgamated Brotherhood of Carnival Ride Operators. Those kinds of stories are little more than filler for papers that need a lot of "content" to fill holes where ads and local journalism used to be.
Which isn't to say we totally ignore endorsements, and holy mackerel, have you taken a gander at the early endorsements for LBCC Board of Trustees Area 4 candidate Herlinda Chico hauled out when she announced her entry into the race on Tuesday?
She hit the ground running, with early nods from your mayor, six council members, Assembly Speaker Anthony Rendon, Sen. Lena Gonzalez and L.A. County Supervisor Janice Hahn, plus a handful of unions, including the firefighters'.
We would be overly impressed were it not for the fact that Chico had a similar barrage of names and organizations backing her when she ran against Daryl Supernaw in 2015 to represent the 4th District on the City Council. She got her head handed to her by Supernaw in such an electoral bloodbath that no one has messed with Supernaw since.
And we'd still like to know why anyone would want to join the feast of snakes that is the LBCC Board of Trustees.
Support our journalism.
Hyperlocal news is an essential force in our democracy, but it costs money to keep an organization like this one alive, and we can't rely on advertiser support alone. That's why we're asking readers like you to support our independent, fact-based journalism. We know you like it—that's why you're here. Help us keep hyperlocal news alive in Long Beach.