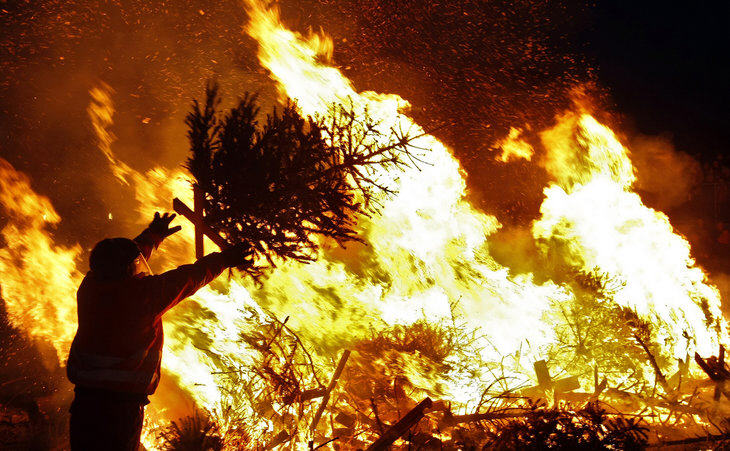 Your Christmas tree's long journey from burning to recycling
Two days after Christmas, the South Coast Air Quality Management District proclaimed that it was a no-burn day, and Christmas trees everywhere breathed a sigh of relief, though they needn't have. It's been decades since Long Beachers engaged in the barbaric practice of burning Christmas trees when they had overstayed their welcome in the corner of the living room.
These days we lay them gently at curbside for the city to take them away and use them for compost with the idea that they will, in a few years, become reincarnated as shiny new Christmas trees.
The question is, on what day do you take your tree down? Some people can barely wait to dispose of their faithful arboreal friend and haul it out to the street within hours of tearing open the last present. Some leave the highly flammable fir up until the Candlemas on Feb. 2. The answer depends on another question: How do you define "day?"
All of us God-fearing types will agree that the tree should remain in the house until Twelfth Night, per the instructions of the Second Council of Tours in the year 567, where it was decided that the celebration of Christmas should extend to the Epiphany, which led to the 12 days of Christmas (and further led to the song of the same name, which is the "99 Bottles of Beer on the Wall" of Christmas carols).
The squabble over which day is No. 12 comes from the fact that some religions and cultures have determined that Christmas is the first day of Christmas (which seems plausible), which would put Twelfth Night on Jan. 5; while others say Dec. 26, the day after Christmas, is the first day (which seems equally plausible), moving Twelfth Night to Jan. 6.
In any event, many people have determined that it's bad luck to leave your tree or any other Christmas decorations hanging after the Twelfth Night, and the whole business of observing Twelfth Night (actually, Twelfth Night Eve, just to get a safe jump on things), was a big deal in Long Beach and Lakewood back in the 1950s and a wee bit into the 1960s, when "no burn days" were not a thing yet, but yes-burn was a major civic event, as residents from all over the towns dragged their Christmas trees to one of several city parks for massive neighborhood bonfires.
In 1950, just to pick a year out of a hat, thousands of Christmas trees were burned in bonfires at Silverado, Houghton, Recreation and Cherry Avenue parks, as well as on a barge in Alamitos Bay.
Long Beach didn't leave residents much of an option other than a public burning. It sent out announcements declaring its trash collectors wouldn't pick up trees left curbside. Rather, people were encouraged to drag their trees to a local park to be bonfired in front of carolers and celebrants in what must have seemed like a crazed Druid orgy.
In nearby Lakewood, things were even more savage, as kids were awarded prizes, like bounties, for bringing in the most trees. In 1959, 6,000 trees were set aflame in Mayfair Park alone, with one kid scoring first prize by bringing in 1,057 trees.
As we got well into the 1960s, air pollution became all the rage. In 1957, backyard incinerators, which were heavily used by residents to make their trash disappear, were banned and the city beefed up their trash collections services and decommissioned Christmas trees began seeing the garbage truck as the end of the line.
And now, of course, we neither burn nor discard. We recycle. But to avoid bad luck an calamity, get your tree out of your house on Saturday or Sunday.
To recap: Through Jan. 11, Long Beach residents can drop off their Christmas trees at any of a dozen locations to be recycled as part of the city's annual Treecycling program.
Or, if waiting is an option, they can get free pick-up of trees from the city's refuse and recycling service on Saturday, Jan. 12. Trees must be set where your recycling bins are placed by 7 a.m. All decorations and stands must be removed from the trees. Trees over 12 feet tall have to be cut in half. Flocked trees will be accepted.
Long Beach residents can drop off their trees at the following locations:
El Dorado Park, 2760 N. Studebaker Road, South parking lot
CSULB Recycling Center, 5800 Atherton Blvd., east of Bellflower Boulevard
North Police Substation, 4891 N. Atlantic Ave., at Del Amo Boulevard; enter on 46th St.
Fire Station #14, 5200 Eliot St. at Colorado Avenue
City Operations Center Environmental Services Bureau, 2929 E. Willow St.
Bixby Park, First Street at Cherry Avenue
Cesar E. Chavez Park, Golden Shore Street at Fourth Street
Houghton Park, Myrtle Avenue at Harding Street
Hudson Park, Hill Street at Webster Avenue
Stearns Park, corner of 23rd Street and Roycroft Avenue
Veterans Park, 28th Street at Pine Avenue
Wardlow Park, Monlaco Road at Rutgers Avenue
Drop-off is available between 9 a.m. and 5 p.m. Monday through Friday and 9 a.m. to 2 p.m. on the weekend.
Support our journalism.
Hyperlocal news is an essential force in our democracy, but it costs money to keep an organization like this one alive, and we can't rely on advertiser support alone. That's why we're asking readers like you to support our independent, fact-based journalism. We know you like it—that's why you're here. Help us keep hyperlocal news alive in Long Beach.