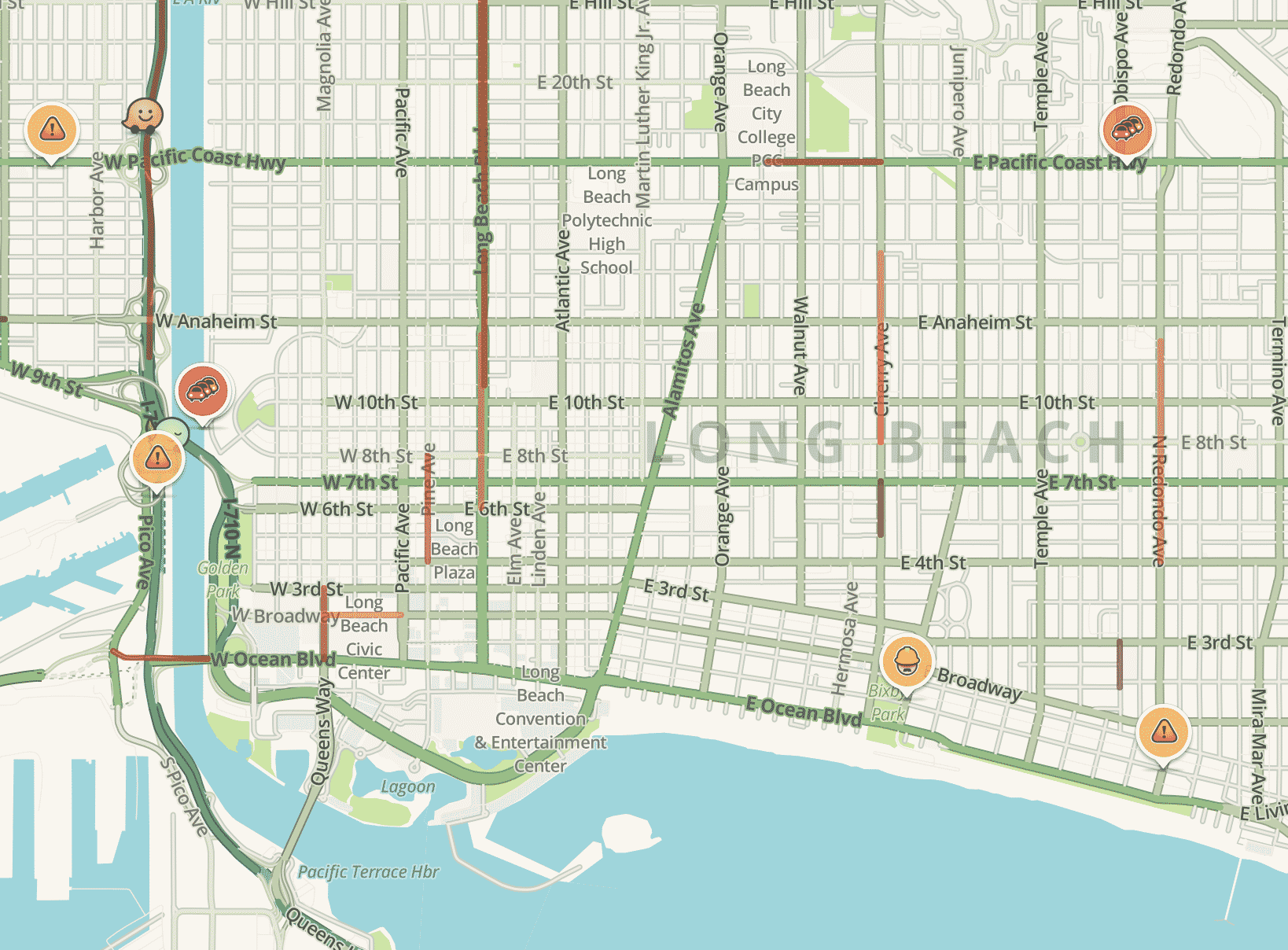 City could ask traffic apps to stop diverting cars onto residential streets
Navigation apps have become a crucial part of surviving Southern California traffic, but the routes on which they take motorists have caused a headache for some homeowners.
Councilwoman Suzie Price plans to ask the City Council next week to approve a motion that would direct the city manager's office to find an avenue to work with developers like Waze to reduce the amount of cut-through traffic that is diverted into the city's residential neighborhoods.
Price said that the apps, while well-intentioned, are diverting traffic onto streets in Long Beach that are not designed to handle the volume of larger arterial streets. She said it's leading to qualify of life impacts for residents who are being awakened by the sounds of traffic that didn't previously exist on their streets, and introducing safety issues for pedestrians and children at play.
"The solution can't be to divert traffic through residential streets," Price said.
She said that certain streets that run through her district—like Colorado Street, which tends to see a lot of traffic—are able to handle the load. But a more residential street like Sixth Street, which recently received a number of roundabouts and is one of the city's main bike boulevards, should not be used for cut-through traffic.
Price said preliminary outreach to app developers has been promising, but she noted that a sustained effort is needed to ensure that residential streets don't pop up as alternate routes.
Waze, an Israeli-designed traffic navigation app that was purchased by Google in 2013 for over $1 billion, has a large presence in Los Angeles County. The app relies on real-time input from users to everything from flag car accidents to a motorist changing a flat tire to determine the optimal routes for drivers trying to avoid traffic.
A Waze spokesperson said in a statement that the company is "happy to work with cities and municipalities to improve driving conditions for all," adding that it had a history of doing so.
They declined to specify what actions it had taken in the past when working with other cities to address concerns caused by the app's rerouting of traffic.
In recent years the app and its users that have clogged previously quiet residential streets has become the center of controversy for residents seeking a return to normalcy when the only cut through traffic could be attributed to crafty locals trying to avoid rush hour gridlock.
Cities across the country have taken a number of approaches to working with the app developer with varying degrees of success. City leaders in Los Altos Hills in Northern California petitioned Google to exempt certain streets from its algorithm. A Los Angeles city councilman proposed taking legal action against Waze last year citing the traffic it creates and safety issues it presents to neighborhoods.
In a more extreme case, the New York Times reported in 2017 that Leonia, New Jersey, a city located across the Hudson River from Manhattan Island, closed 60 streets to all drivers aside from residents during the morning and evening commute rush hours. Residents were issued yellow tags to hang in their cars that would exempt them from the $200 fines that await other motorists entering the neighborhoods.
When all else has failed, some residents have taken things into their own hands and used the app's crowdsourcing model against itself by reporting false accidents or hazards to divert traffic away from their neighborhoods. That method, though, only works temporarily as the developer has been able to weed out abusers of the app by confirming if the data was input by someone who was actually driving.
Eric Widstrand, a city traffic engineer for Long Beach, said that the increased traffic on residential streets definitely has an impact on the overall health of the street surfaces. Residential streets are not designed to handle the volume or the heavier vehicles that frequent larger arterial streets in the city.
While city staff is awaiting direction from the City Council before it starts seeking a deal it can broker with Waze and similar apps, Widstrand said there is a process that goes into every decision made regarding traffic impacts.
First they have to determine if there's a problem and then it typically seeks the least impactful measures to address it first.
"We don't want to do something that's going to slow down emergency vehicle response time," Widstrand said of the installation of speed humps, or bumps, a measure taken by some cities to make residential streets a less desirable alternative on apps like Waze.
"But there's also a certain level of noise that comes with installing those sorts of deterrents. Somebody is going to have those in front of their house and has to hear people going over those bumps."
He added that other measures like no turn signs or signs restricting thru traffic are taken on a case by case basis. But he cautioned that with signs also require people to obey them and may just result in diverting traffic into someone else's neighborhood.
Support our journalism.
Hyperlocal news is an essential force in our democracy, but it costs money to keep an organization like this one alive, and we can't rely on advertiser support alone. That's why we're asking readers like you to support our independent, fact-based journalism. We know you like it—that's why you're here. Help us keep hyperlocal news alive in Long Beach.