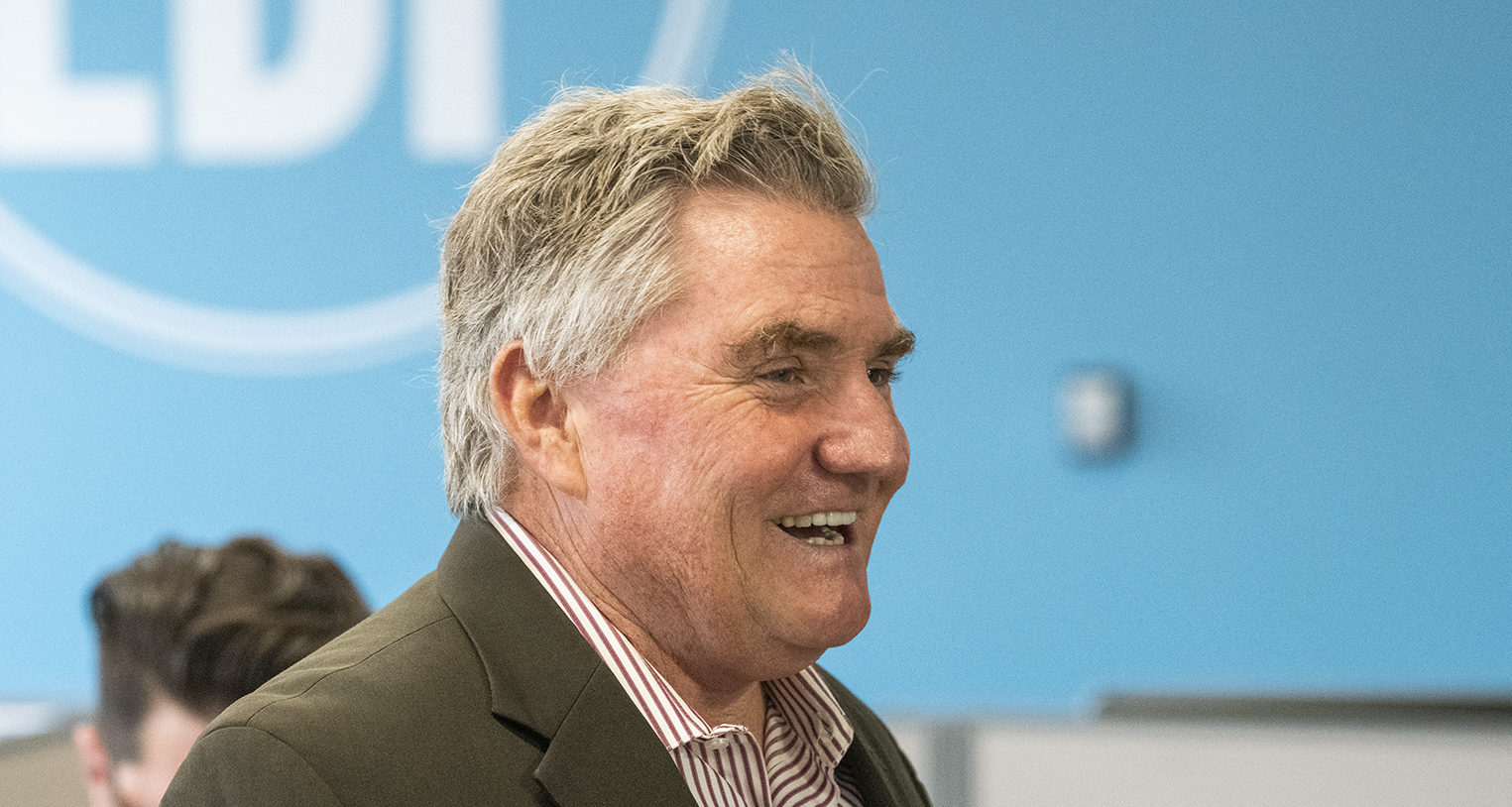 Outgoing City Manager Pat West: From Paramount's picket fences to Long Beach's high-rises
Nothing says low-crime like a white picket fence. Wrap your property in a white picket fence and watch crime plummet.
Late in the last century there were few picket fences in Paramount. Houses and businesses were instead barricaded with chain link or cinder block walls crowned with concertina wire. The city had fallen so far into disrepair, drugs and danger that it was horribly celebrated in a Rand Corporation report in 1982 as one of the worst suburbs in the nation.
When Patrick West was promoted from the city's parks department to run community development in Paramount in 1984, his mission was to transform the city back to a pleasant community where people felt not only safe but welcome. A major component of the transformation was Paramount's popular White Picket Fence Program, in which the city paid 75% of the cost to a homeowner who replaced a chain-link or otherwise ugly fence with a nice, clean white picket fence.
The program was a sort of corollary to social scientist James Q. Wilson's Broken Windows Theory which posits that visible signs of crime and anti-social behavior encourages more of the same. Paramount employed other civic-improvement weapons in its turnaround: Pocket parks, public art, fountains and a general scrubbing-up of the city.
The change was dramatic. In 2007, after West had been city manager of Paramount for 12 years, his city had gone from Rand Corp.'s whipping boy to having one of the largest gains in property values in L.A. County, and West's work in the city landed him a position in Long Beach as director of Community Development and executive director of the Redevelopment Agency in 2005 under City Manager Jerry Miller.
"I met him at Gateway Cities, a group of all the city managers in the southeast L.A. County cities and I really liked him and respected him," said Miller. "I was very jealous at how good Paramount was doing. The city had all these public improvements, the streets, landscaping, public facilities. It just looked really good. Everything, frankly, looked like Disneyland."
The admiration was mutual. "Jerry was a great city manager," says West, 65. "I owe him a lot for hiring me. He had and has a great reputation in the region."
After just a couple of years in development, West scored the job of city manager of Long Beach in 2007. On Sept. 20, he will step down from the job of running the city. His 12 years at the top equals the length of tenure in recent history of James Hankla, who was city manager from 1987 to 1999. After Hankla, Henry Taboada served from 1999 until he was fired by the City Council in 2002, and Miller was appointed as interim city manager and later was chosen by the council to lead the city from 2004 to 2007.
West recalled applying for the job in 2007. "The city hired an executive search team and I went through everything with all the candidates. I was interviewed by the search firm and made the cut, then I was interviewed by the entire City Council and Mayor Bob Foster, then I got called back for a second interview and finally I learned I was lucky enough to get the job. I was ecstatic," said West. "I was blown away, and I was scared at the same time."
Foster, who was mayor of Long Beach from 2006 to 2014, recalled West as a man who was easy to work with. "He was a good choice for this city at a time when we were doing a lot of building and renewal," said Foster. "He was a good person who really works hard. [He was involved with] a lot of the projects that are just coming into fruition now, the new civic center, the buildings across from the police department, the big tower on Alamitos and Ocean. He had a really good grounding in development. That's what he was all about."
West said he and Foster were good friends. On key issues, the two city leaders would sometimes argue about things, but, said West, "We'd have conversations and work it out and get along fine afterward."
West will end his career as Long Beach city manager with Mayor Robert Garcia. "Pat has been great to work with," said Garcia. "The thing is, he's a good person, genuinely a good person. He's kind and compassionate."
Garcia and West have talked at least once a day over the thousands of issues involved with running a city. "We have an official leadership meeting once a week, but we talk all the time. Pop into each other's office. It's more like a conversation that just keeps going," said Garcia.
Garcia said the proof of West's leadership is in results. He cited the city's growth, a decline in crime, managing the issue of homelessness, rising job growth. "He's a problem solver," said Garcia.
One key strength of West's throughout his tenure is his accessibility. People in the community, journalists, business leaders, all have his cell phone number, and he invariably responds quickly to calls.
When Blair Cohn became executive director of the Bixby Knolls Business Improvement Association in 2007, he sat down with West to describe how he wanted activate the community.
"West told his department heads, 'Whenever Bixby Knolls calls, call 'em back'," said Cohn. "He came to our programs, he was a cheerleader for us. He really opened doors for the BKBA. I feel fortunate to be a partner of West and City Hall."
Now, West is looking forward to having some spare time on his hands. Although he plans to continue working as a consultant, he also intends to relax. Spending more time with his wife Madelyn and playing with his two grandkids are on his dwindling things-to-do list.
"I want to enjoy my life whether it's going on bike rides or surfing. It'll be nice. There's just so much pressure with this job with things that land on your desk. I'm looking forward to handing the leadership to someone else."
He said he will miss the people he's worked with in City Hall throughout his career. "It's a fantastic team, they all love this city; they put their life's blood into it."
And he continues to have fond memories of Paramount.
"Paramount was wonderful," he said. "I never expected to be city manager of another city after Paramount. When we turned that city around after it hit bottom with the Rand Corp. report, I was a cog in that recovery and when I left it was no longer on the terrible cities list. You drive through Paramount now and you just smile, with all the fountains and parks."
And white picket fences?
"And white picket fences," he said. "It works."
Support our journalism.
Hyperlocal news is an essential force in our democracy, but it costs money to keep an organization like this one alive, and we can't rely on advertiser support alone. That's why we're asking readers like you to support our independent, fact-based journalism. We know you like it—that's why you're here. Help us keep hyperlocal news alive in Long Beach.