Read chilling excerpts from charging documents into foiled terrorist plot at Long Beach park
A 30-page affidavit charging a former U.S. Army infantryman with a terrorist plot contains chilling detail about the steps the suspect allegedly took to carry out the crime at a Long Beach park.
Officials on Monday announced the arrest of Mark Domingo, 26, of Reseda, on suspicion of providing material support to terrorists. He is accused of plotting to detonate a explosive at Bluff Park on Sunday in hopes of injuring or killing up to 50 people, according to court papers.
Read the full complaint here.
Domingo sought to purchase 3-inch nails to inflict as much damage as possible, according to the affidavit.

Domingo brought up the Boston marathon attack in 2013 in his conversations with an FBI informant.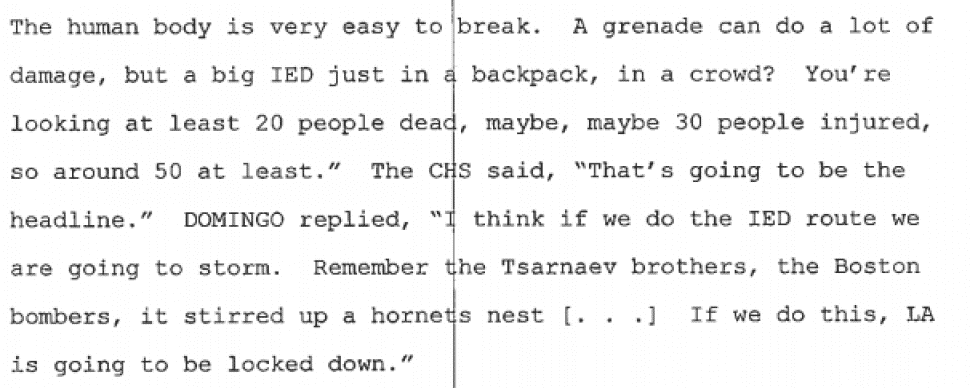 Domingo told a confidant—who was actually working with the FBI—that if they survived the attack, they could bomb other targets, including the Port of Long Beach.

Domingo allegedly said he planned to set a timer on the device so he could watch the carnage remotely.

Domingo and his accomplice allegedly discussed scenarios, including what would happen if they attended the Long Beach rally and how they would disguise themselves.

Toward the end of their plotting, Domingo and his accomplice allegedly began talking in code, referring to the bomb as "presents" and the rally as a "party."

Domingo was arrested Friday and is scheduled to appear in court this afternoon. The FBI had been monitoring him since early March.
Read full coverage:
https://lbpost.com/news/crime/feds-terrorist-long-beach-rally-white-nationalism/
Support our journalism.
Hyperlocal news is an essential force in our democracy, but it costs money to keep an organization like this one alive, and we can't rely on advertiser support alone. That's why we're asking readers like you to support our independent, fact-based journalism. We know you like it—that's why you're here. Help us keep hyperlocal news alive in Long Beach.