Jason Daniels sat in a Long Beach courtroom in a blue jumpsuit, alone on the defendant's side of the room. In his trial for the shooting death of his girlfriend's estranged husband, Daniels opted to represent himself. 
On the first day of trial Tuesday, prosecutors brought multiple witnesses to the stand who described the events leading up to and after the shooting death of 38-year-old William Hayes on April 19, 2017.
Prosecutors allege that Daniels, then 33, was at his girlfriend's home in Rose Park South that day when he saw Hayes visit the house. Hayes was the husband of Daniels' girlfriend, Shaunti Falconer, but the two had been separated for about a year, according to her mother. Daniels became "agitated" when he saw Hayes spending time with her 6-year-old son outside and shot him in front of the boy, prosecutors said.
He fled the shooting scene and was arrested two weeks later in Las Vegas, police said.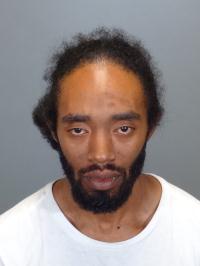 A month after the shooting, Daniels pleaded not guilty to charges of one felony count each of murder, child abuse and possession of a firearm by a felon, along with the special allegation that the defendant personally and intentionally discharged a firearm, causing great bodily injury and death. If convicted as charged, he faces a maximum sentence of life in prison.
Lorraine Jackson, the grandmother of the boy, told the jury that Daniels had spent the prior night at her home. He left in the early afternoon after he and Falconer argued before she left for work, she said. He returned around 7 p.m. and became agitated when Hayes came to visit the home unannounced.
Jackson's son, Jeremy Falconer, told the courtroom that the kids and family seemed excited to see Hayes.
Hayes stayed in the front yard and talked to the 6-year-old boy and Falconer's 12-year-old daughter. Jackson went outside to tell him he should leave because Daniels was acting more agitated, she said.
"He was cussing and fussing on the phone with Shaunti," Jackson said. "He came to the door and said, 'You aren't supposed to be here.' Then he shot him like this." She held both her arms out straight in front of her with her hands in the shape of a gun.
She recalled her 6-year-old grandson, who had been standing right next to Hayes, yelling, "He shot him! He shot him!" before she told the children to go inside.
Daniels then fled the scene in his SUV, she said.
Jackson told the court she had never seen the gun in Daniels' hand prior to that night, even though he spent most nights there. Jackson and her son both testified that they had seen Daniels be physically aggressive to Shaunti Falconer on other occasions.
Jeremy Falconer told the courtroom that his sister was about to break up with Daniels because he was "too aggressive with her."
When Daniels asked Falconer to describe what he meant, Judge Judith Meyer, asked him, "You sure you want that?" to which Daniels said yes. Falconer began describing incidents when Daniels allegedly choked Falconer and pushed her into a room before Meyer stopped him from going further.
Daniels also questioned Falconer's initial call to 911 after the shooting. Falconer had told the courtroom that he was in the living room plugging in his phone to charge it when he heard the gun go off. In the call recording, Falconer initially told the operator he didn't know who shot Hayes, but later told police he knew it was Daniels.
Deputy District Attorney Marlon Powers asked Falconer to clarify why he told the operator he didn't know.
"Panic," Falconer simply said, noting that he didn't see the shooting with his own eyes, but he knew who did it.
The trial is expected to continue through Friday.
Ex-Con Pleads Not Guilty to Fatally Shooting Man in Front of Young Boy