More than a decade after her death, the family of Tyquesha Myers filled a Long Beach courtroom wearing memorial shirts that said, "Rest easy, angel."
They were there to watch the arraignment of Carl Mayes, the man accused of killing Myers on July 14, 2006, and leaving her body alongside the 710 Freeway in Long Beach.
After 13 years, police arrested 41-year-old Mayes this month on suspicion of murder, a charge he denied Thursday as he opted to represent himself and entered a not guilty plea.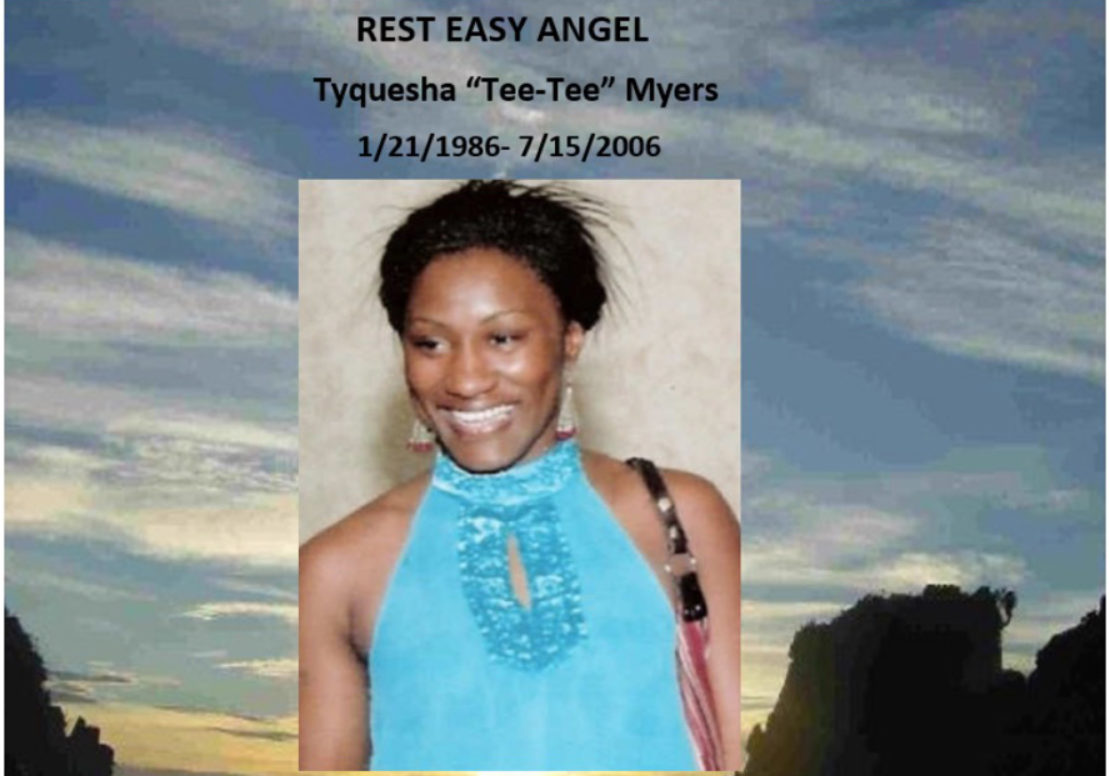 Myers' family had a long wait before arriving in the courtroom.
A few years ago, they had not heard anything new about the case for about a decade until Myers' sister Myeshia Aubert contacted police and found out the detectives originally assigned to the case had retired. A new detective promised her that he wouldn't let the case go unsolved, she said.
Aubert is unsure what new development led to charges against Mayes, and police have not revealed that detail, but the family members say they suspected him from the very beginning.
Mayes and Myers were married. They met when Myers took her young son to get a haircut at the barber shop where Mayes worked, according to Aubert. It didn't take long for them to wed in Las Vegas, her mother, Vanessa Garland said.
Soon, the family started seeing bruises on Myers, including black and bloodied eyes, Garland said. Myers' best friends alleged they'd even seen Mayes threaten to kill her while waving a gun, according to Aubert.
About three months prior to Myers' death, she and Mayes had gotten into a big fight and she moved out to Las Vegas to live with her sister, Aubert said.
"When she came to Vegas, she had to get away from him," Aubert said.
During that time, Myers got a job and her own apartment. Aubert recalled her sister as responsible and smart, working to become a pharmacy technician and then getting a job at a bank. The second-oldest of six siblings, Myers was known as the peacemaker in her family. Garland called her a "momma bear" for her siblings, saying she would do anything for them.
"Her smile would light up this whole room. Her son has her smile," Garland said while proudly showing a picture of her grandson, now nearly 20 years old. He was 6 when his mother died.
Once Myers was settled into her new life, she visited home to pick up her belongings that Mayes still had, said Garland said, who dropped Myers off at his house.
"She kissed me on the lips and went inside," Garland said with tears in her eyes. "That's the last time I saw her."
After driving home, Garland tried calling her daughter and got no answer. After getting no call back, she knew something was wrong.
"I felt it," Garland said. "Because she never called me back, and she always called me back."
She said the next day she called local police stations looking for her daughter when Mayes called her to ask where Myers was.
"Right away I thought [Mayes] did something because he would never [have] called me," Garland said. She and Mayes did not get along, she said.
On July 14, 2006, police told Garland that her daughter's body was in the morgue. Myers had a gunshot wound to her head. Long Beach police had found her dumped along a bike bath near the 710 Freeway. She was 20.
Prosecutors said Mayes had reported her missing to police.
Now, the entire family is relieved to see the case moving forward.
"Our whole family is broken because she's gone," Garland said. "It's been 13 years and my grandson needs justice. We all need justice."